Jim Corbett National Park located in Kumaon Hills of Uttarakhand in the district of Nainital.
It is spread across in approx. 520 square kilometers.
Jim Corbett National Park enriched with variant species of flora and fauna, birds and substantial wildlife.
Jim Corbett National Park is the first park to come under Project Tiger initiative and one of the biggest Tiger Reserve in India.
Decorated with riverine belts, lower Himalayan hills, marshy depressions, lakes and grasslands this park provides wonderful wildlife experiences.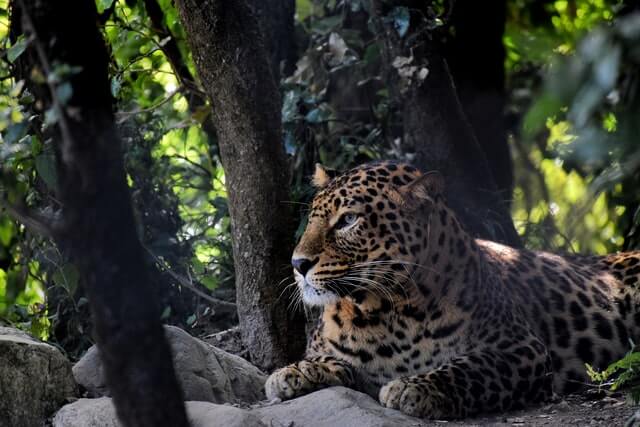 For wildlife lovers, naturalists, conservationists and birdwatchers Corbett is a heaven. Pawalgarh, Kumeria, Sitabani and Marchula provides enough treat to bird watchers.
Corbett national park has different safari zones Dhikala, Bijrani, Dhela, Jhirna and Durga Devi.
Apart from safari zones, there is a buffer zone of Sitabani to enjoy the wildlife in Corbett.
Another area which is very famous is "Kaath Ki Naav" where people go for safari and enjoy the Jungle trek as well.
Ramganga and Kosi rivers are the lifeline of Corbett Jungle and its nearby city Ramnagar, Kashipur, etc. In both these rivers different species of fishes
In recent years Corbett has come up with many beautiful resorts and hotels where nature enthusiasts can stay and enjoy the wildlife.
Most hotels and resorts in Corbett are well maintained and have all modern amenities. Corbett has both budget and luxury segment hotels.
These hotels and resorts in Corbett cater to the wedding and corporate events as well.
About Corbett Tiger Reserve
"Jim Corbett National Park" is India's first Tiger Reserve and one of the largest habitat of Bengal tigers.
But, we should not forget the passion of Sir Jim Corbett who devoted his passion to create a Tiger reserve.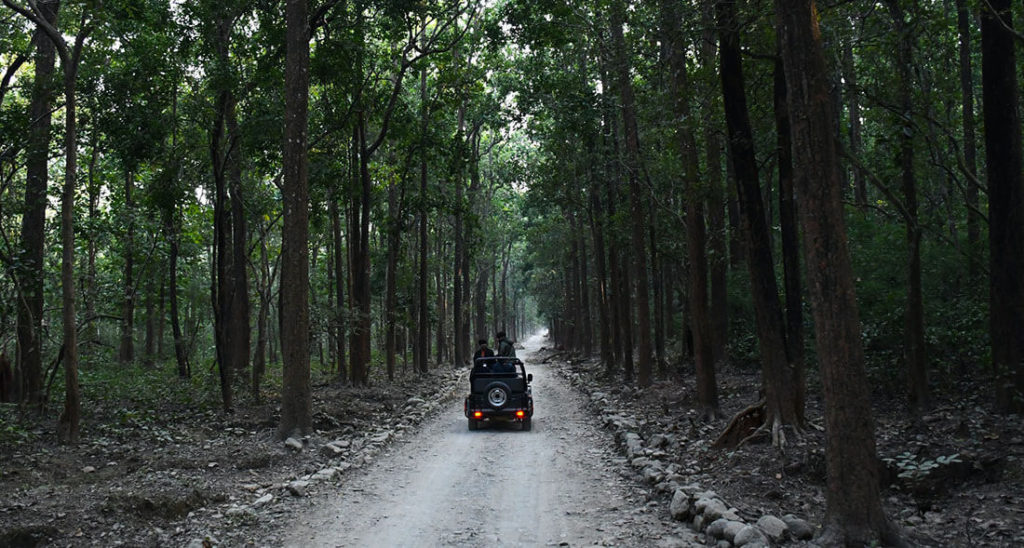 Jim Corbett National Park located in Uttrakhand was established in 1936, then government named it as Henley Corbett National Park.
In the year of 1930s, the demarcation of the area of the national park started which was assisted by Jim Corbett.
Sir Malcolm Hailey was the governor of United province and so Hailey National Park came into existence covering 324 sq. km.
In 1954 the reserve was renamed as Ramganga National Park and after two years this reserve got its current name of Jim Corbett National Park in the year 1956.
This new name was to honor Mr. Jim Corbett, a hunter, a naturalist, a wildlife conservationist and a great author who played a key role in creating this Tiger reserve.
Sir Jim Corbett, a British hunter who hunted a large number of man-eating Tigers and Leopards played a key role in protecting this beautiful species.
Later on in life, he turned into conservationist and a vivid writer and wildlife photographer. He wrote many books like Man-Eaters of Kumaon, Jungle Lore, The Man-Eating Leopard of Rudraprayag and many more.
Jim Corbett played a key role in establishing India's first National Park in Kummaon Hills.
Jim Corbett was well connected with the locals of this area and he empathized with people residing in Kaladhoongi.
Over the period, the area of the Jim Corbett national park increased and currently it is spread across in 520.8 km square.
In 1974 when Project Tiger was initiated then Corbett National Park was the first park to get covered under the project.
World Wide Fund For Nature under their Terai Arc Landscape Program covers Thirteen protected areas and Corbett National Park is one of them.
The objective of the program is to protect the Tigers, the Elephants and one-horned Rhinoceros.
Corbett has rich wildlife and shelters more than 600 species of birds and approximately 500 species of flora and fauna.
Tourists pour in every year to see the world's resplendent big cat "The Royal Bengal Tiger' in its natural habitat.
Corbett jungle safari gives you the opportunity to see Wild boar, Asiatic elephants, leopard and other wild animals.
During jungle safari, the glimpse of "Masheer" one of the most robust sporting fish, and small, agile birds complete the objective of Corbett tour.
Jim Corbett National Park is divided into 6 different safari zones
Dhikala
This Zone is largest and also has the most varied area in the Jim Corbett National Park and is located near the border of Patli Dun valley.
This zone is best for Tiger sighting. It is also famous for its natural beauty and offers the best sight of wildlife.
The entry gate of Dhikala is Dhangari gate and is 18km from Ramnagar city.
Bijrani
Bijrani Safari zone is the second most famous zone and it has dense forest area.
Jeep Safari in Bijrani zone gives you the opportunity to get very good wildlife sighting.
Its entry gate is from Aamdanda gate near to Dhikuli. It is approx. 01 km from Ramnagar.
Dhela
Dhela is approx. 20 km from Ramnagar and very famous for bird watching. Its entry gate is Dhela.
Jhirna
Jhirna zone is right beside Dhela zone and famous for excellent wildlife sighting.
Its entry gate is Dhela gate. This Zone is approx. 16km from Ramnagar city and located in the southern region of Corbett.
Durga Devi
Located on the hills, at the northeastern corner of the Jim Corbett National park and is well known for its landscapes.
Durga Devi zone allows for entry from Durga Devi gate. The Ramganga river and Mandal river tend to cross each other at several touchpoints in this zone, which adds to its beauty.
It is approx. 28 km from Ramnagar.
Sitabani Forest Reserve(Buffer Zone)
From the mountain hawk to the Asiatic Jackal and roaring Tigers, the destination is a spot for abundant wildlife and bird watching experience.
Places to Visit in Jim Corbett
Corbett Museum
Up for a heritage walk in the Corbett Museum? Well, you should be. There is no missing out on the marvels that this place carries.
Located in Choti Haldwani, approximately 3 km from its main town, the Jim Corbett bungalow turned museum very elegantly preserves Jim Corbett's personal belongings, including personal articles, paintings, sketches, manuscripts, and last hunt of its own.
The museum's gates flung open at 8 in the morning and stayed the same till 5 or 6 in the evening, depending on the season.
Near this beautiful museum, or should we call it a bungalow, you can walk into the village, which Jim Corbett donated to the people who lived there.
The most intriguing part of it is that they have begun organic farming there, so you might get to see a flour machine run by the river water stream.
Dhangari Museum
Dhangari Museum, located at 16km from Ramnagar, has an exquisite collection of Wildlife Reserve's history.
In this museum, the carcass of animals like tiger, elephant, wild boar, leopard, and deer can be seen who died naturally or in a fight.
There is a small souvenir shop where you can buy woodcraft items, books on Jim Corbett, etc. It can be covered in a time of 01 hours.
Corbett Waterfalls
25 km from Ramnagar, located near Kaladhungi, Corbett waterfall, is a scenic paradise.
While you can reach here through a road journey, you might have to trek for about 1 km to get to the waterfalls or 400 meters if you can drive into the harsh lands, which is mostly what people tend to avoid.
One phrase for this location: "It is beautiful". Click pictures, camp, enjoy the nature's bounty; the 20 meters waterfall is absolute bliss.
Garjiya Temple
What accredits to Corbett visits, even more, is the natural and religious history at its outskirts. Garjiya Devi Temple is one such attraction near Ramnagar.
The temple is surrounded by the Kosi river, naturally, which is incredible.
Garjiya Devi is the presiding deity and it is believed that Girija is another name of goddess Parvati (Girija- daughter of Giri Raj Mountain King Himalaya).
The unique feature in its architecture is the bridge that connects two sides of the temple, from where you can view the river waves and listen to the crazy sound of water.
Known to be controlling the anger of river Kosi in some folklores, the temple is amazingly beautiful.
Birdwatching
Corbett is known for its unique bird watching experience. Providing shelter to more than 600 species of birds, it is known as one of the richest bird regions in India! Birds like vultures, eagles, storks, species of Lapwings, sandpipers, etc. can be seen in Corbett's dense forest.
Haati Dangar, Kosi Barrage, Sitabani, and Kyaari provides an excellent bird watching opportunity. One of the best locations for bird watching is Pawalgarh, Kumeria & Kunkhet valley, Mohan, and Bhakrakot to Marchula.
Jungle Trek
Corbett is a nature lover's paradise, and trekking in Corbett jungle is one of the most adventurous activities.
There are many areas where people can go for a trek like Kyari, Marchula, Sitabani. You can drive up to Kath ki Nav and go for an enthralling trek.
While walk people cross the river and sighting of Masheer fish gives a great experience.
Safari
Corbett Jungle Safari is the best activity to do in Jim Corbett National Park.
Many tourists come to Jim Corbett Park with the prime objective to go for jungle safari.
Jeep Safari and Canter Safari give you a lifetime experience to see the wildlife and animals in their natural habitat. To get the enthralling experience of safari, it is advisable to do a Jeep safari in Bijrani, Dhela, Jhirna, and Durga Devi Zone and Canter safari in the Dhikala zone.
Where to stay at Jim Corbett National Park
Corbett is one of the best destinations for tourists who want to see wildlife. To accommodate tourists and nature enthusiasts, there are many hotels and resorts in Corbett.
Some of these resorts are very luxurious, equipped with all modern amenities, and some are in the budget segment.
Different categories of Hotels and Resorts in Corbett are capable of catering to the tourists as per their need and budget.
Luxury Resorts in Jim Corbett
Corbett is the best place for nature lovers, wildlife photographers, birdwatchers, and general tourists who come in search of fresh air and a pollution-free environment.
Some choose to enjoy the luxury stay, unparalleled comfort, and state-of-art ambiance in the jungle's lap. To satiate the desires of such tourists, Corbett has many luxurious five star resorts.
Corbett's five-star luxury resorts have all grandeur and splendor facilities if you want to soak yourself into an exquisite spa or sip the finest wine in elegant bars.
These resorts pamper their guests with the finest dining, great hospitality, and their splendid ambiance.
4 Star Resorts in Jim Corbett
Corbett national park offers its tourist a varied range of accommodation facilities.
Four-Star hotels & resorts in Corbett adorned with smart luxury rooms, beautiful lawns, and gardens, restaurants where you can get cuisines of a varied range, spa, swimming pool, and other modern amenities.
These resorts cater to all kinds of events like wedding, corporate, and other team-building activities.
Budget Hotels in Jim Corbett
Tourists from Delhi NCR, Haryana, Punjab, and Uttarakhand visit Corbett very often, and most of them choose to stay in budget accommodation.
In Corbett, there are many budget hotels and resorts that provide very comfortable accommodation to the guest and a fine restaurant where guests get mouthwatering dishes.
Budget hotels in Corbett have all facilities like a swimming pool, lawn, children games room, gym, etc.
These budget resorts in Corbett are known for their hygienic premises and friendly staff.