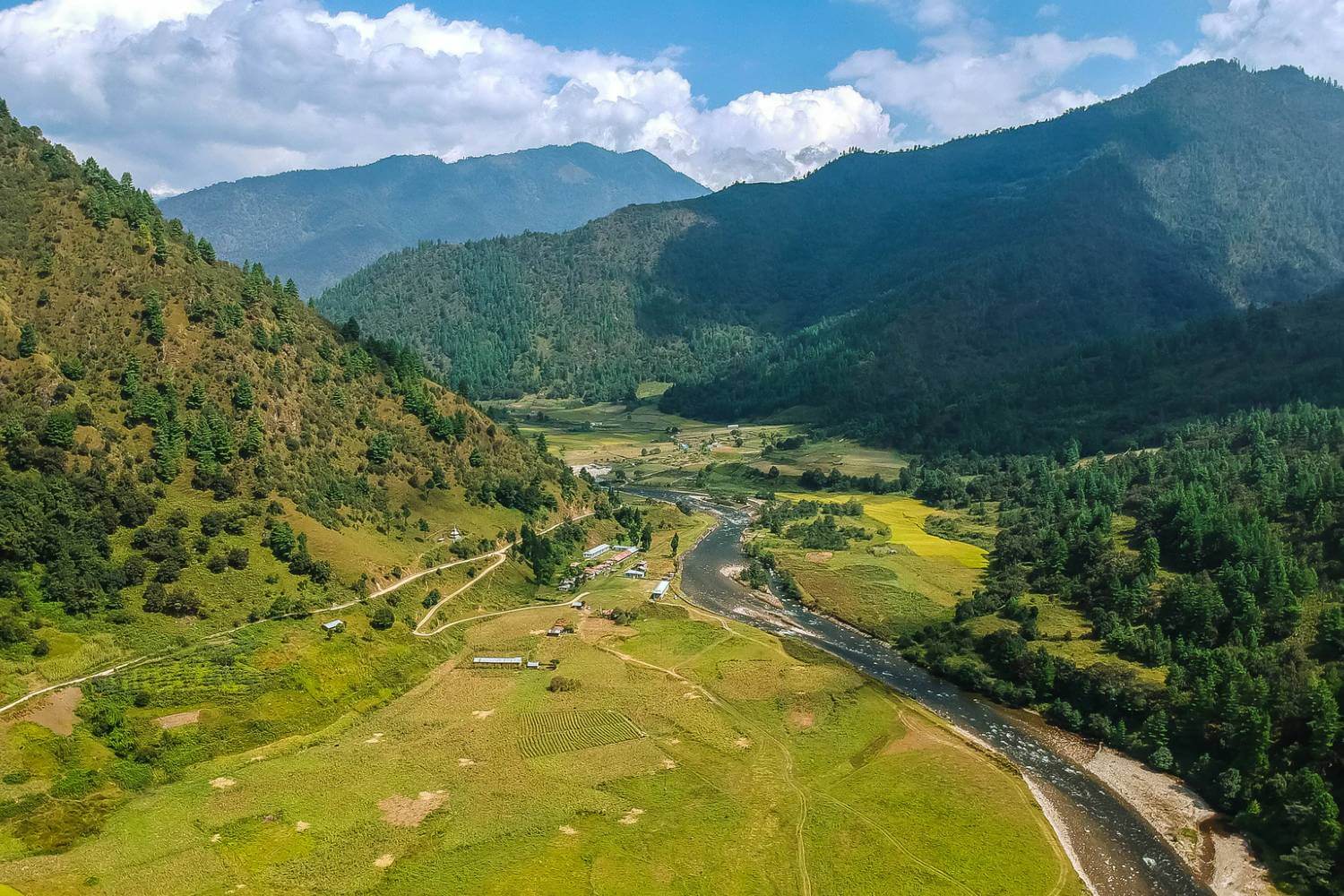 7 Sisters of India – A Journey of Northeast India
"The 7 Sisters of India are Arunachal Pradesh, Assam, Nagaland, Manipur, Meghalaya, Tripura and Mizoram. They span a vast area in northeast India."
Each state has its own distinct culture and geographical features that make them unique. In this blog post, I will provide you information about 7 sisters of India and information for visiting these beautiful places!
In 7 sister states: four in mainland India (Arunachal Pradesh) and three in the northeastern region of India (Assam, Meghalaya and Manipur).
They have their own distinct culture, which Buddhism primarily influences. Various tribes like the Adi tribe live on reservations to experience a traditional way of life for an authentic Indian adventure!
These 7 sisters of India are home to some fantastic landforms, incredible wildlife and diverse cultures.
In addition, once you get to know them, I doubt that you'll forget about them. You can have a perfect holiday with your family, friends or loved ones. Alternatively, you could enjoy a solo vacation.
This is a list of 7 sisters of India
Arunachal Pradesh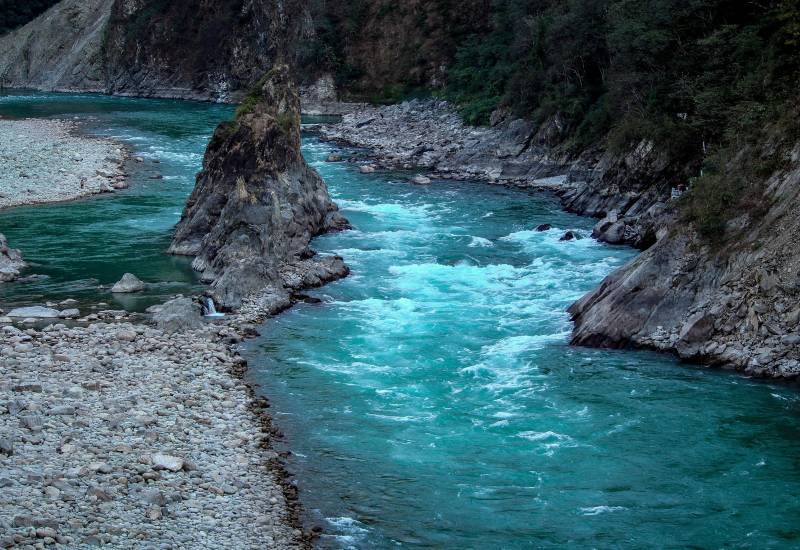 Arunachal Pradesh is the northeastern-most part of India.
It is the largest of India's states in the area and shares borders with Bhutan, China, Myanmar (Burma), and Tibet.
The name "Arunachal Pradesh" translates to "land of rising mountains" in Sanskrit.
Remarkable Fact about Arunachal Pradesh: One-third of this landlocked state lies above the snowline; some districts are entirely uninhabitable during winter months.
One of India's remotest states, Arunachal Pradesh, is the first Indian soil to greet the rising sun.
These proud and richly diverse states of India produce stunning displays of flora and fauna that will delight any tourist.
Arunachal Pradesh is home to more than 500 rare species of orchids.
The lush, green hills, gurgling rivers and sparkling waterfalls add to the natural charm of India.
Arunachal Pradesh has been mentioned in Hindu literature, such as Kalika Purana and the Mahabharata.
The history of Arunachal Pradesh is intertwined with Hindu mythology and legends.
Arunachal Pradesh has a strong history of being ruled by many dynasties. In Arunachal, there are innumerable historical monuments that bear witness to its rich cultural heritage.
Assam
Assam is a state in northeastern India. It shares its border with Arunachal Pradesh, Nagaland and Tripura on the east, Nepal to the west, Bhutan to the north-west and Bangladesh to the south-east of Assam.
The state of Assam in India is well-positioned along the Brahmaputra Valley.
Assam is a place with distinctive flavours and aromas. It has a string of Hindu temples that top the list of attractions.
There are no requirements for permits, and people are welcoming and hospitable. There is also a vibrant artistic heritage, and Assam's site is beautiful because it has distinctive dance forms.
If tea plantations and rice fields are your things, North East India's Assam is the place to head.
The highlands of Meghalaya and Nagaland, as well as the blue mountains of Arunachal Pradesh, contribute to this beautiful scenery.
Assam is home to one of the best heritage sites of Kaziranga National Park, which is famous around the world for its rare one-horned Rhinoceros.
Alongside having many different types of plants, Assam also has some other places that are worth noting. These include the Kamakhya Temple (Guwahati), Majuli, and Wildlife Safari.
Nagaland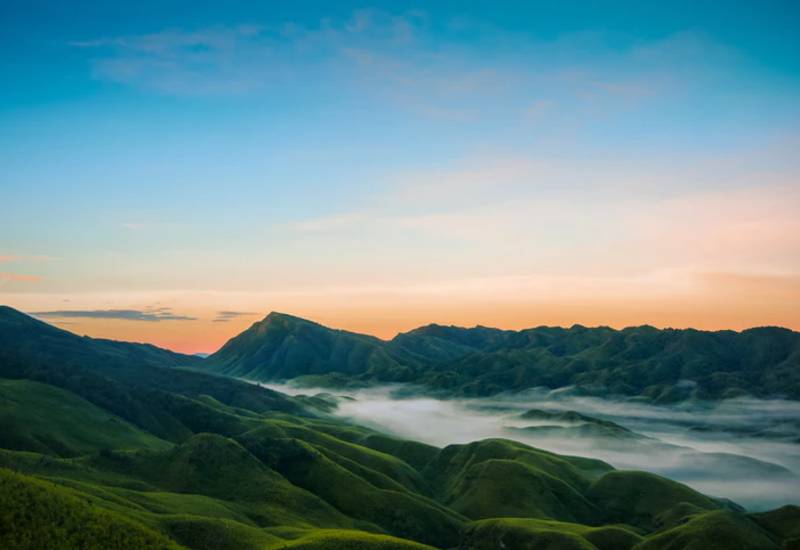 Nagaland is a state in northeast India, and it's the largest by area and population.
The region has many ethnic groups of people, including Aboriginals like the Naga, Angami, Sema, and Lotha.
Most Nagas are Christians, while other tribes practice animism, meaning they worship various gods and objects with religious significance.
Among other places in the district, it is home to Wokha town, which happens to be a centre for rural craftsmanship.
One of the most prevalent things in this small town is woodcarving. This craft can be seen from heavy brass-handled doors to intricate designs in handcrafted furniture such as tables.
Nagaland is known for its shawls, which are handmade using a technique that has been handed down from generation to generation.
And tourists can visit many attractions, including Mount Tiyi, Totsu Cliff and the Doyang River.
Among the places to visit in Nagaland are Kohima Museum, The war cemetery, Tuphema Village, Kachari Ruins, Triple Falls, Veda Peak and more.
Nagaland's excellence is noticeable in the most unassuming things. The valleys are usually encompassed with slopes that offer beautiful promise for their bounty.
Houses are made out of wood painted red on the exterior surface and decorated with decorative trimmings found in all houses belonging to the people residing there.
Manipur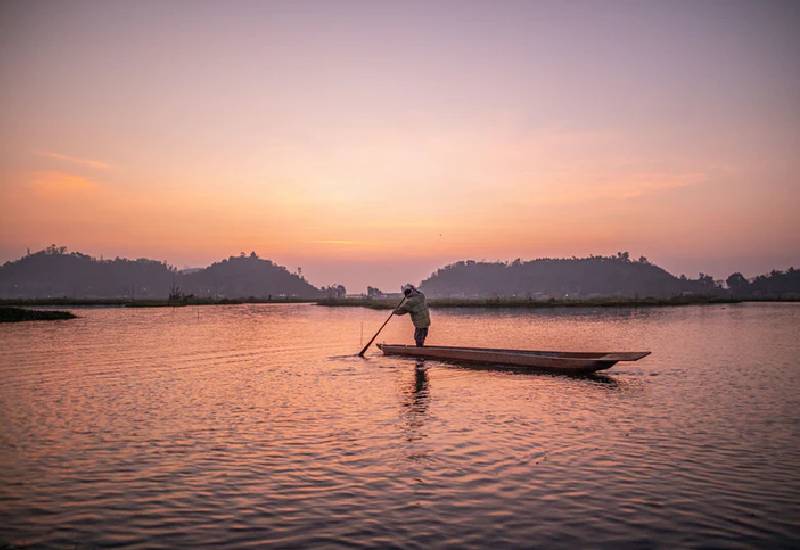 Manipur is one of the states in India, with Mother Nature being extra generous.
The state is characterized by misty hills, shining lakes, luscious green valleys, rushing rivers and covered in lush forests.
And Manipur is also known for its graceful classical dance, rich artistic traditions, and exquisite handicrafts.
Manipur in India is one of the best tourist destinations with its blue lakes and hills that look like a perfect photo.
The stunning, peaceful and serene atmosphere has made Manipur one of the gems in Northeast India.
It is covered by evergreen forests, and hence, superbly rich in the fresh air.
If you visit Manipur, don't miss boating in the Loktak Lake, theatre performances in Imphal, riding a chariot near Moreh Temple and Keibul Lamjao National Park.
The Khairamband Bazaar is a nearby market that spreads an all-female vibe and is entirely run by women.
Meghalaya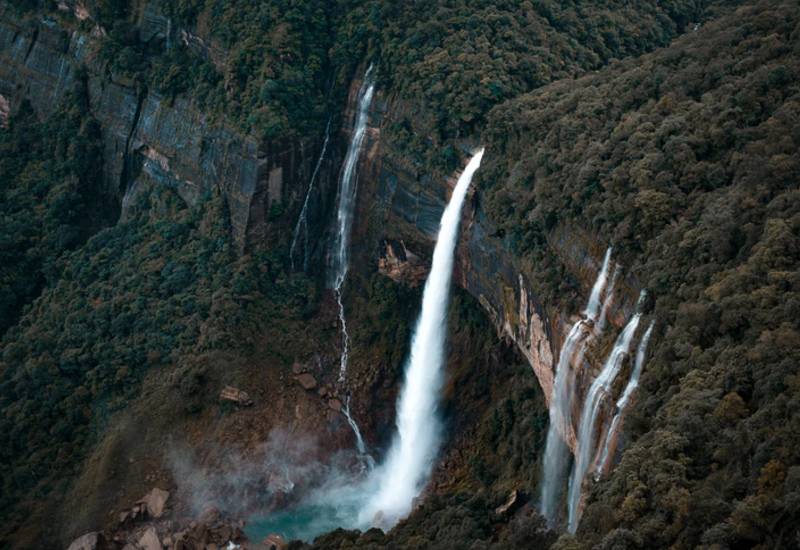 Meghalaya, known as "The Abode of the Clouds" ranks among the wettest places in the world.
The Cherrapunji belt in India is a popular monsoon travel destination for those who love the rain. This region receives the highest rainfall globally, so it has everything people need when visiting an area where they'll see that kind of precipitation.
The majority of the state's population are tribal people that predominantly earn their living from cultivation.
Meghalaya, one of the Seven Sisters of India, is home to an extraordinary diversity of peoples, including Khasi, Garo and Jantia tribes. It also provides a gateway for those looking for beauty and tranquillity.
The beauty of the landscape and its varied terrain will take your breath away.
The forests of Meghalaya are home to many rare species, including but not limited to: elephants, tigers, leopards, golden cats, binturongs (civets), slow loris's, monkeys, hornbills (large bird), partridges and quails.
Shillong features many tourist spots. The capital city of Meghalaya has plenty of beautiful sites, such as Lady Hydari Park, Elephant Falls, Ward's lake, a golf course that is considered one of the best in the country.
Tripura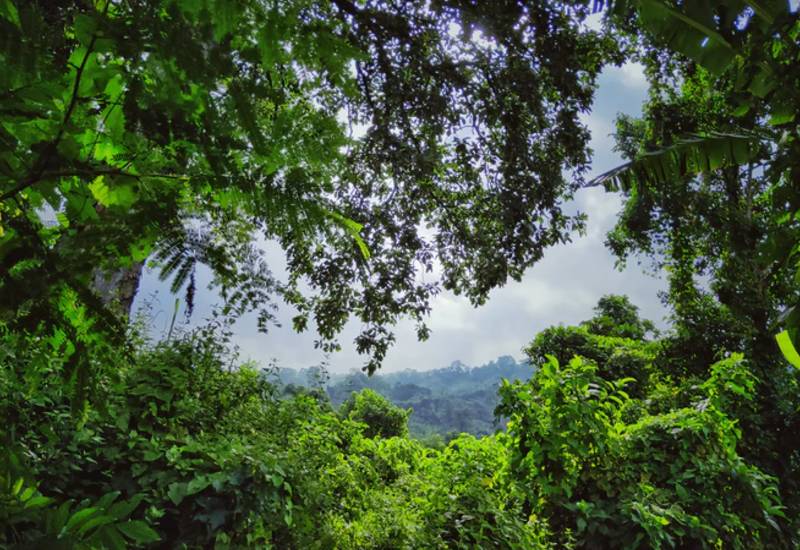 Tripura is located in the northeastern part of India. It shares a border with Bangladesh and Myanmar to its south and Assam to its west.
Tripura derives its name from two words – "tri" meaning three and "pur" which means town or city – hence it translates literally into the land where there are three cities.
This ancient tradition indicates that human settlements once densely populated this region for some unknown reasons.
The climate of Tripura ranges from tropical wet forest type along the southern reaches close to the Bangladesh border to a subtropical dry type in the north.
The state has been noted for its art and culture, such as tribal jewellery made from beads of china clay found in abundance along the southern reaches close to the Bangladesh border.
Tripura is also famous for high-quality silk saree that is woven by both men and women skilled at this ancient trade without using any mechanical devices or power looms.
These sarees have an exclusive design different from the other Indian States with distinct borders on either side of their vivid patterns, which can only be seen when they are held up against light – all done solely by hand!
Ujjayanta Palace, Unakoti, Neermahal, Jampui Hills are some of the destinations in Tripura, that welcome visitors.
Mizoram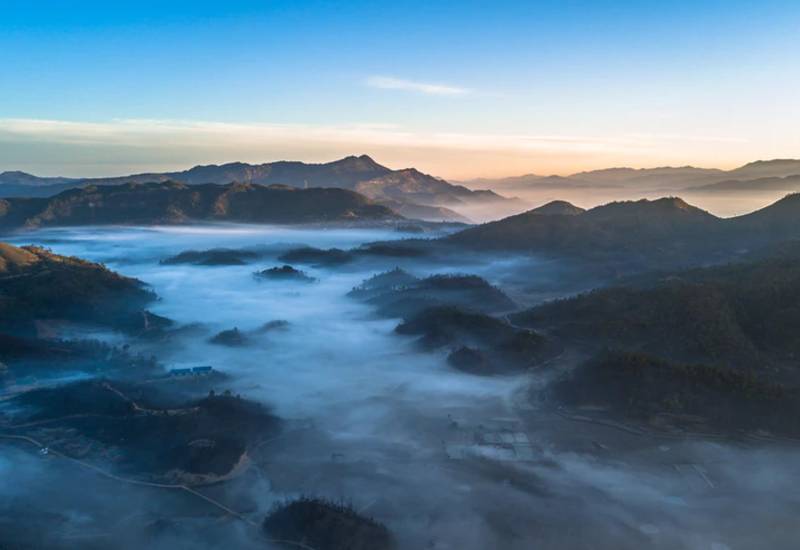 Mizoram is a part of the 7 sisters of India. The state was once known as Lushai Hills. The name Mizoram is derived from the Mizo word "Mi" which means people, and "Zo" meaning hill or mountain.
Until the British arrived in India, this region was covered with a dense forest that included semi-precious gems like topaz.
Mizoram also relies heavily on agriculture, with nearly half the land area being used for rice cultivation alone supplemented by maize and fruit plantations such as oranges and pears.
Mizoram is a typically peaceful state, and the people within it are welcoming toward tourists who come to them every year.
If you plan to visit Mizoram, do participate in the Chapchar Kut Spring Festival, which is the most celebrated celebration of the state.
If you want to experience Mizoram first-hand, visit the Palak Lake, Murlen National Park, Dampa Tiger Reserve, Phawngpui Hills (formerly known as Blue Mountain) Luangmual Handicrafts Center.
The culture of the 7 Sisters of India
Dress – Different dress in different regions
Arunachal Pradesh – Petticoat, Full sleeved embroidered jacket, Sleeveless Chemise, Mushaiks, Gurdam for Women; Shirt and Lungi with White Matka (traditional dress material) in red Yarns for Men.
Assam – Women wear Mekhela Chador (hand woven dress); men wrap themselves in Suria and Seleng.
Nagaland – Both males and female are seen wearing a blue skirt with tailored white cloth, black edging.
Manipur – Men typically wear a dhoti and jacket, while women wear the phanek (shawl) and wrap around skirt.
Meghalaya – Jainsen and Endi shawl for women; Dhoti, the traditional jacket and turban made of white cotton for men.
Tripura – Men typically wear a kubai, or a shirt, while women may wear one of two garments: the Khakloo (a knee length cloth) or the risa (a petticoat).
Mizoram – Panchei blouse made of cotton for women. Red and white colored coat with a wrap-around bottom for men.
These Seven States have their own dance form
Arunachal Pradesh – Chalo, Ponung, Pasi Kongki, Roppi
Assam – Bihu
Nagaland – Modse, Agurshikukula, Sadal Kekai, Kuki Dance
Manipur – Jagoi
Meghalaya – Ka Shad Suk Mynsiem
Tripura – Bizu, Hai Hak, Hozagiri, Garia
Mizoram – Cheraw Dance
Each of the following states has its own languages
Arunachal Pradesh – English (official language) and Nyishi
Assam – Assamese (official language)
Nagaland – English (official language), Konyak and Ao
Manipur – Meitei (Manipuri)(official language) and English
Meghalaya – English (official language), Khasi and Garo
Tripura – Kokborok and Bengali
Mizoram – Mizo and English