You must have heard a lot about the Pink City of India, and their beautiful best places to visit in Jaipur.
And I love to break it to you, that you heard it all correctly. The richness of culture, the beauty of architecture, and the essence of freedom that the pink city carries with itself are remarkable and uncomparable.
I have not visited many places in my lifetime yet, but from all that I have, I find Jaipur preserving its history in ways so extraordinary, like no other.
Let me give you a small glimpse of this hypnotizing terrain, with my experiences reflected in the next few words. It is like entering a whole new world if you ask me.
How to reach this wonderful place?
Like all other 'big cities' of India, this one has many ways of commuting, including, trains, buses, flights etc.

Being a major tourist attraction, It also has an International Airport if you reside outside India, which is just greaaat!
I personally choose Train as my way of commuting to the city because of being closely connected to it. For the residents of the city of Madhya Pradesh, Rajasthan is just a neighbor.
Being a resident of Indore city in Madhya Pradesh, I preferably traveled a few times to Jaipur by either Indore Jaipur Express (12973) or Ranthambore Express(12465).
If you live anywhere else in India, it still is quite reachable existing in almost the heart of India.
For train reservations, you can log onto www.irctc.co.in
IRCTC also provides the facilities for flights and ticket booking.
There are many other places over the internet to do the same.
Jaipur is lovely and worth that travel. I recommend you to make your arrangements ASAP.
An Overall View – 13 Best Places To Visit In Jaipur
Not a metro city yet, Jaipur still has a huge area covered under its pledge. In fact, it is a metro in the building.
From the heart of it which is all pink, to the nearby places like Nahargarh, Jaipur preserves its history and heritage in ways incredible.
Let us take a walk around its edges and take a short tour to this embodiment of culture and succinct down to earth environment.
4 days is what is required for you to witness the richness of this marvelous place. Let us begin?
Day 1
Albert Hall Museum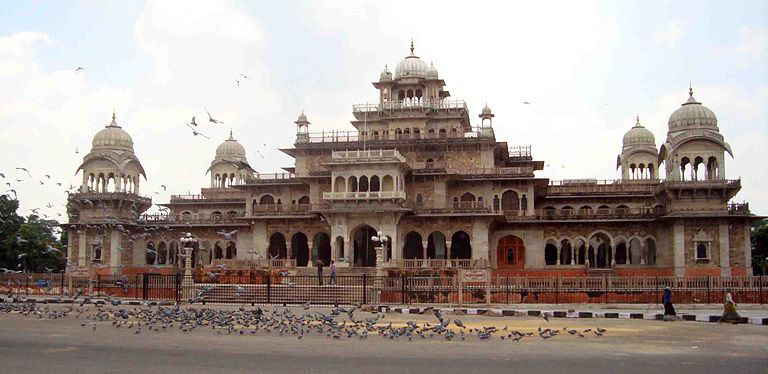 Let us avoid the historical background of the place here, even when it is an irony.
All you need to know about this place's history is that it was approved to be set as a museum by Maharaja Sawai Madho Singh 2 to display the artifacts of local craftsmen.
A few words are not sufficient to describe this place. The beauty of the 19th century has been captured in so many brilliant ways, it simply leaves you with awe.
From 'Madina Containers', to big swords with intricate craftsmanship, this place will leave you wide-eyed and with your heart filled with appreciation if you love art and history.

The Albert Hall opens twice on a weekday,
09:00 am – 05:00 pm | 07:00 pm- 10:00 pm
I would recommend you to visit it in the morning, at around 10:00 p.m., as the fares are quite high during the evening. Also, the fares for foreign tourists are more than that of local Indian tourists.
You will also get some equipment and other facilities while you visit Albert Hall, I recommend you to take them as you shall get to understand things better.
I personally spent 3 hours in this Museum, although people don't usually spend more than 1 hour here. The call is on you.
Oh and hey! The pigeons here like to talk. There will be numerous of these beautiful birds spread out of the building.
They are less scared and more free. That is something respectable 🙂
City Palace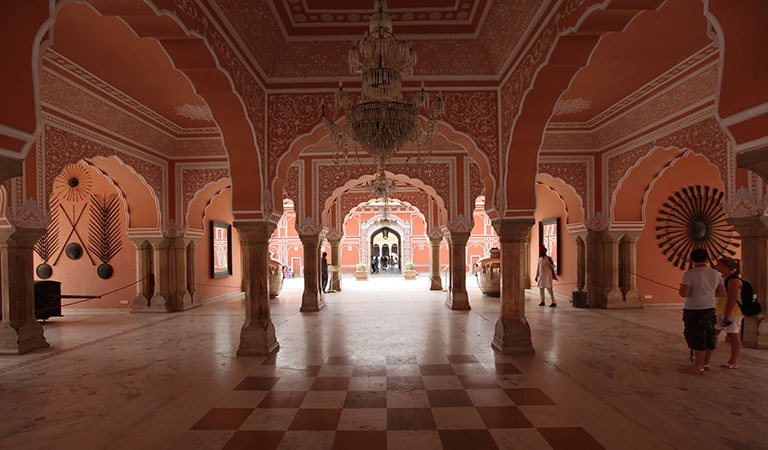 This beautiful Royal Palace was constructed by no other than Maharaja Sawai Jai Singh II.
I am a little bit in love with this ruler. The kind of constructions and reforms he has embarked on are exceptional and everlasting.
You might spend around 2 hours traversing through this place. If there was a nomination for the 'palace of the century', you would not want to miss out on the City Palace.
It is a fusion of Mughal and Rajput architecture. Enough said, if you enter Jaipur, do step into the city palace. Do not miss out!
It also is about 2.4 km from The Albert Hall Museum, so you won't have to travel much on this day.
Visit the places nearby and enjoy the richness of culture and history all along.
Jantar Mantar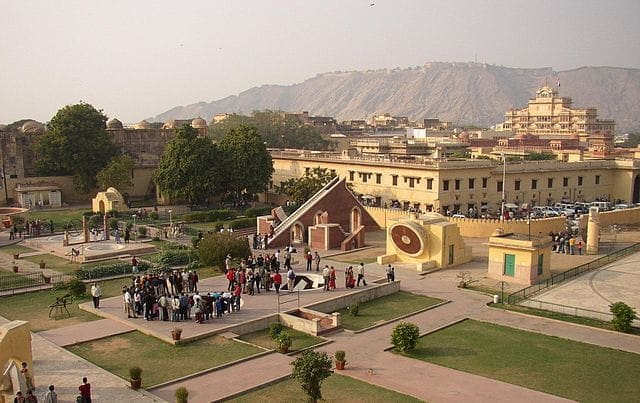 At about 1 minute distance from the City Palace, Jantar Mantar is another explicit monument by Maharaja Sawai Jai Singh 2.
He constructed overall 5 Jantar Mantar monuments, one of which (obviously) is in Jaipur. Why is Jantar Mantar so special? Well, Wikipedia can tell you in a better way. https://en.wikipedia.org/wiki/Jantar_Mantar
All I can tell you is, it is simply beautiful and mesmerizing.
Constructing something like this with such obsolete tools is not only impressive but also tells us how the ruler at the time, Maharaja Sawai Man Singh 2 respected science and always had a purpose of trying things the new way.
You might spend a little time here as compared to other places, but it is still worth a visit. Just go here!
Hawa Mahal
Again in the radius of 2 km is our next stop, Hawa Mahal. Built out of red and pink sandstone, this place is a major attraction for the people of Jaipur to simply walk in for dawdling.
Wikipedia explains all about it very nicely. Here is the link https://en.wikipedia.org/wiki/Hawa_Mahal
I only saw Hawa Mahal from the outside, as it wasn't 'that special'. I was wrong. It certainly is special and unique. Maybe you can visit here and tell me your story about this.
Birla Mandir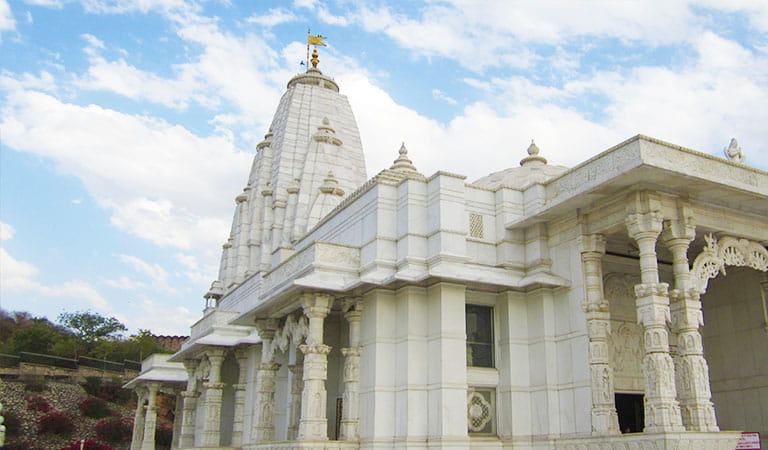 There is no better to end your first day at Jaipur than to visit the beautiful and alluring Birla Mandir. The Aarti starts at somewhere around 7, and you don't want to miss this.
People from all countries find peace here. It is a soulful place that leaves you in awe. All white and beautiful and amazing.
Simply Amazing. Don't even think of checking it out from your list. Also, you won't be allowed to click photographs, unlike other places, so better put the camera inside.
Day 2
Amer Fort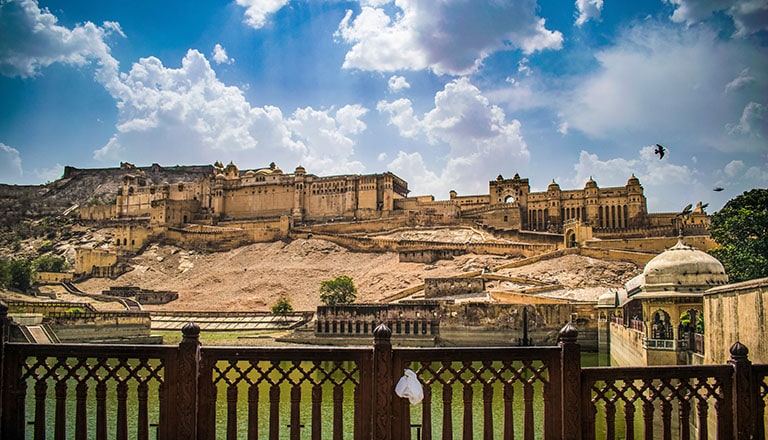 The best time to visit Amer would be in the morning. No, not the 10'o clock. I meant early morning.
You want to reach here before the sunrise, to see the sunrise above this extraordinary architecture with grace.
This fort is one of the most famous tourist attractions of Jaipur. You must have already heard all of that, so would say no more.
Jaigarh Fort
It is adjacent to Amer Fort or Amer ka Kila, as they call it locally. I would want you to note that, these forts open at 9 a.m.
You can roam around the outside of the Architecture as much as you wish to before that, and it is totally worth it. It is so lovely, that you feel like staying there forever.
The Heart of the Pink City
The afternoon and the evening if not spend wandering around the local and literally pink part of the city, would make an incomplete trip.
The shops, the squares, the houses, everything is pink. The name comes from the ancient architectures, the heart of the city is literally justifying everything.
From Johari Bazaar to other local markets, it is a beautiful place to shop. Just go out there and wonder. The pink city is waiting for you.
Day 3
Nahargarh Fort
Just like Amer, you would want to travel to Nahargarh early in the morning. I left Jaipur (Mansarovar) at 5 to reach here before sunrise during the month of April.
You want to travel here by car, like traveling by any kind of two-wheeler is pretty unsafe. Accidents happen and they never turn out to be good ones.
Yes, Nahargarh Fort is the same place where the famous scene from Rang De Basanti was shot and there is one good reason for it.
This place is just brilliant. It combines the intellectual insights of Maharaja Sawai Jai Singh 2, with the marvelous beauty that it encompasses within itself.
This whole huge fort in Nahargarh was constructed to harvest rainwater!! Can you imagine the kind of ruler that he was? I am in love with him. Yes, I am.
Once you visit this place, you sure will be too.
Also, Nahargarh is famous for its esteemed and inexpensive collection of jewellery and a lot many things.
Retailers in the similar business buy stuff from here. You could try doing that too. Just saying. 😉
Jal Mahal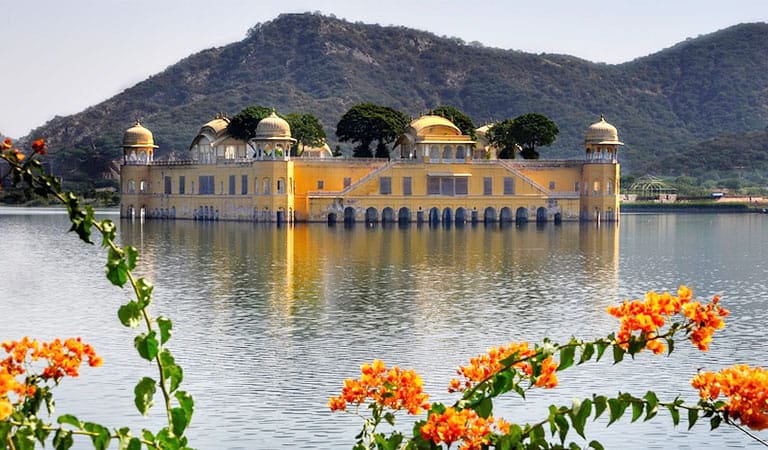 This pretty palace is built right in the middle of Man Sagar Lake in Jaipur city itself.
While returning from Nahargarh to Jaipur, you will pass through Jal Mahal on your way into the city. Do not forget to stop by and marvel at its excellence.
Although, people respect beautiful things only when they can carry those things with them. I visited it in mid-April.
I saw a lot of waste being thrown into the lake and it certainly was disappointing. It is tragic how we exploit our environment.
Anyway, that is a totally different domain to discuss. Do go here and don't throw any waste into the lake. Let it be beautiful 🙂
Akshardham
This temple is located more in the city. Vaishali Nagar is the place. As one of the major tourist attractions, this place justifies its magnificence with the alluring idols and architecture.
It is a beautiful place, it is. All the sculptures mainly depict Lord Narayan. Do pay a visit to the Hindu Gods here. You and them, both are going to love it.
Day 4
Birla Planetarium
Want to see the stars? Want to learn about the galaxies and far off asteroids and planets? Go to Birla Planetarium, but don't.
To be completely honest, I have been very disappointed by this place.
Although, it is a good experience to see a planetarium once in your lifetime, so I would recommend you to go here if you have never visited a planetarium before.
Else, you may skip this place. Learn more, here – http://birlaauditoriumjaipur.com/birla-planetarium-jaipur.htm
Jaipur On the ground level
As I mentioned earlier, there is nothing like the local Jaipur. With the tinge of Rajasthani, the place always feels like home.
I have always found the birds more free and brave here. There is a small place, a small square, where, in the middle of the road, you will find many pigeons crowded up.
They are least scared of the car and bike horns. I won't tell you where it is. Do find it. It gives peace.
Jaipur on its basic level is one of the most heart touching places. Some roads are literally made into the old castle.
Like, when you drive, you are driving into the castle. There is a lot more to it. Just go out there and explore!
Jawahar Circle
It's a public garden at Jawahar square, Jaipur. There can be no better way to end your day than to be here with friends or family.
Very beautifully constructed, and very large when it comes to spacing, this garden hosts a small little fountain show every evening at around 8.
Not that the fountain show would be way too unique, but it surely will be fun-filled and relaxing. Do visit this garden to marvel at its beauty and congratulate it on its huge size.
World Trade Park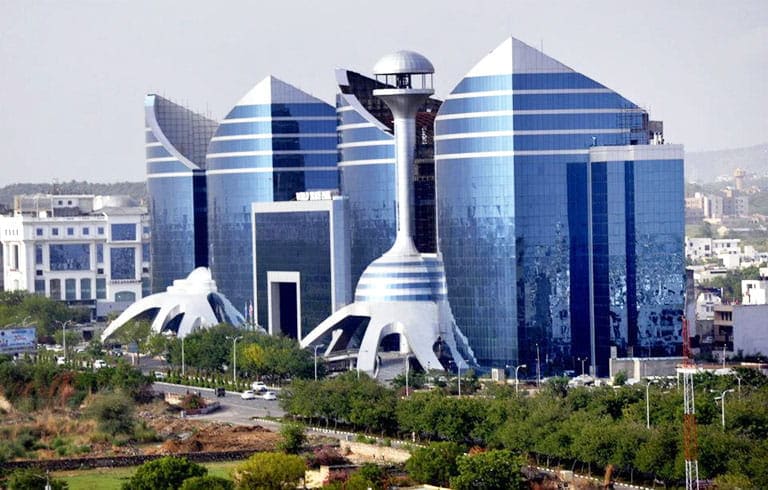 So this one is our final destination. You could visit WTP before Jawahar circle if you are to attend the fountain show.
You can call World Trade Park as an exceptionally constructed super mall. Its architecture is one of the main attractions of Jaipur.
Although, the prices of products are pretty high over here as compared to any other market, so I won't recommend you to shop from here.
You can always stroll through shops buying nothing, especially when the shops are so beautiful. Do visit here. At night, the lights add the nuts to the ice cream.
So that's that. It was a pleasure informing you about Jaipur and things to do in Jaipur, the extraordinarily pink city 😛
Hope your journey is pleasant. I will be signing off now.
Enjoy !!