Manali is considered as one of the most popular tourist destinations for people in and around India. And Manali trip plan is a perfect tour one can visit with family or friends.
People from mega-cities head to this beautiful place to beat the heat and spend quality time, but if you admire snowfall and cold weather, then October to February is considered as the most suitable time to visit this heavenly place.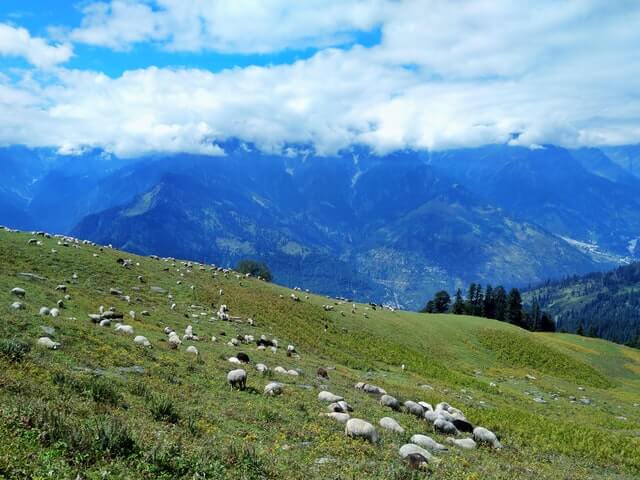 If you are staying near Himachal Pradesh, then you'll easily find Volvo buses to Manali at an interval of half an hour or so. And it takes 12-14 hours to ride to Manali from Delhi, the capital city of India.
Day 1
If you wish to explore every bit of Manali and nearby areas. In that case, 4 days and 3 nights Manali trip plan duration is a must that will not only let you explore things but will also help you get over with your stress and tiredness far away from the hustle and bustle of your current residence.
If you are traveling from abroad, book a flight to Delhi and then take a rental car or Volvo bus is the best way possible to enjoy your journey! And after a 536 km long journey you will reach the paradise of Himachal Pradesh, i.e. Manali.
You can easily get a 3 or 4-star hotels in Manali and even a 5-star places to stay. Give yourself some rest and good food, after that you would probably want to explore more about this city…..right?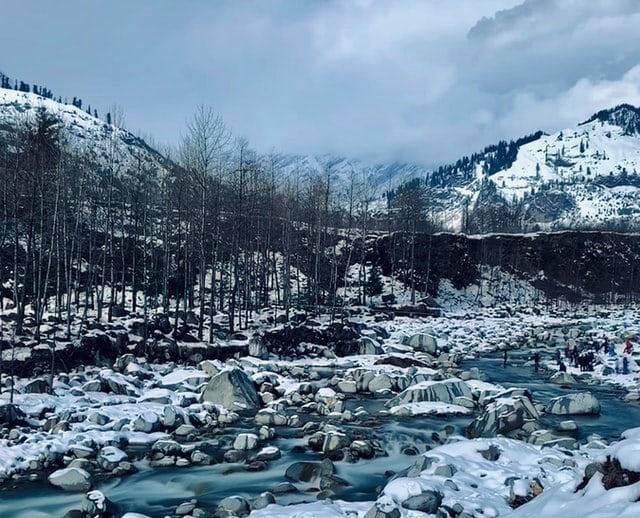 The first thing people would like to see will be the beautiful Solang valley that gives a glimpse of some amazing and breathtaking view along with a traditional dish "Mittha" made up of rice and raisins that will make you fall in love with this place. Mittha is a traditional dish of Himachal Pradesh. Mittha is the sweet spicy rice made on special occasions.
After that, you can visit Anjani Mahadev temple to get an insight of Indian tradition along with knowing about different mythology about lord Shiva before heading back to your hotel/lodge.
Day 2
Gurudwara Manikaran
On the 2nd day of your "Manali trip plan", you can plan an early morning trip to Gurudwara Manikaran which is around 2 hours and 30 minutes most breathtaking route and a total YES for adventure lovers.
Gurudwara Manikaran will give a good brief about the Sikh culture in India along with a beautiful view of the Vyas river flowing by this mesmerizing pilgrimage spot with several hot water springs.
Bijli Mahadev Temple
The next stop will be Bijli Mahadev temple which is one of the highest tourist spots at approximately 2460 meters above the sea level and is a perfect place for trekking freaks. After reaching there, you will get several local food options like magi and light snacks to eat before visiting this incredible place with mysterious history Bijli Mahadev is one of the sacred temples of the Indian state of Himachal Pradesh.
Bijli Mahadev temple is one of the ancient temples in India and dedicated to Lord Shiva giving a panoramic view of Kullu city; one will regret if he/she is not able to visit this mind-wobbling tourist spot.
After that you can visit the Kullu, you will find many beautiful things for shopping such as traditional handmade clothing as well as gift items that will attract one's mind at one sight.
Kullu Shawl
A Kullu shawl is made in Kullu, near Manali, India – which have various geometrical patterns and bright colours. Kulu shawls are crafted in yak's wool, sheep wool, Pashmina, and other handcrafted material.
Also, you will get some good option to buy pure pashmina shawls which is one of the specialities in Manali.
After some shopping and lunch lets head to another speciality that is the adventure sports activities which are a must on a trip to Manali, one cannot resist from taking part in these mind-wobbling sports until he has a fear of water or height, but all the safety measures are taken care of so there is no need to worry about.
Adventure Sports Activities in Manali
The top 3 most popular adventure sports activities here are river rafting, paragliding, and Zorbing.
River Rafting in Manali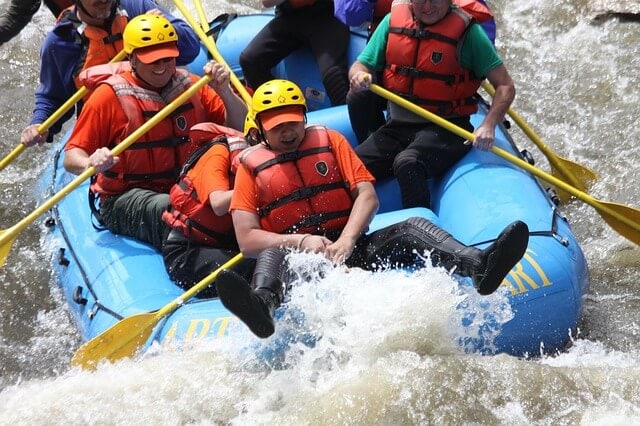 River rafting will take you to a great experience, once you land in the raging waves of Vyas River you'll be thrilled as well as amazed. The river rafting has three(3) levels according to its difficulty level as well as age group. The overall experience is adventurous and memorable.
Paragliding in Manali
The second activity is Paragliding on the beautiful valley, which will give you a heart-throbbing view of Manali and must say this activity is worth-able. Paragliding team will click some beautiful pictures of you that you can take back in your camera, mobile as well as in USB Pen-drive.
Zorbing in Manali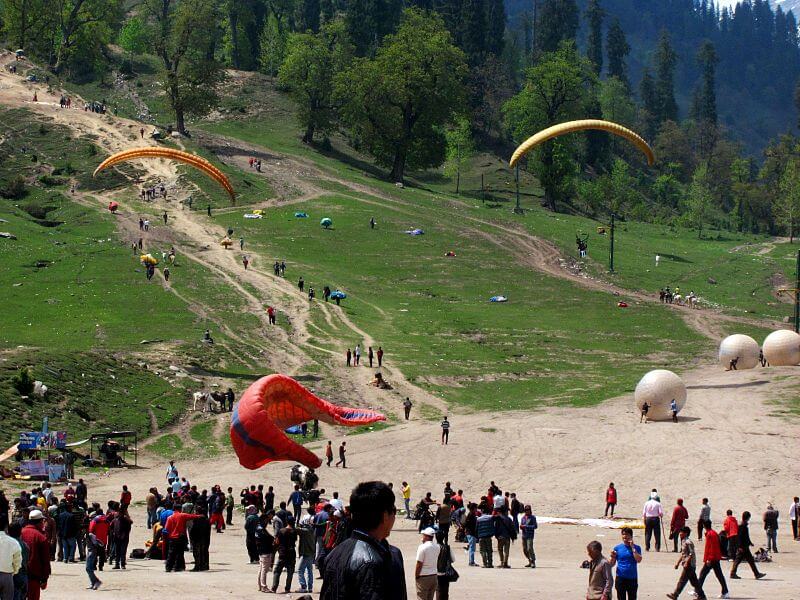 The last activity of the day is Zorbing which is divided into 3 stages too, at the first stage you and your trip mates will be divided into equal teams and will be placed in between a donut-shaped tube and the battle of pushing each other to the ground will begin.
The second stage is a sloping ride in which you will be covered in an inflatable ball and steadily along with maintaining balance; you have to walk down the slope.
The last segment is exciting as well as thrilling as you will be pushed into a pond but don't worry you are still in an inflated ball, this is a very new experience as we don't know how to balance in the water.
After all these adventure and tiredness activities, your day comes to dinner point at our hotel or any other eatery.
Day 3 of your Manali Trip Plan
Rohtang pass
The next day brings another adventure with a ton of warm clothes as we will be heading to Rohtang pass which is one of the most beautiful yet a difficult spot to reach as vehicles slip and slide due to heavy snowfall in this region.
After approx 2 hours ride from Manali we reach our dream destination – The Rohtang Pass, this place looks like a heaven on earth covered with the white layer of snow as far as we see.
You'll get a bunch of coffee sellers over there that will help you enjoy an astonishing view with a blissful coffee. You can also do several activities such as skiing, sledging and much more.
After spending some quality time at Rohtang pass, you can move to the next spot that is Nehru Kund which is a natural spring located on the Leh-Manali highway and is also one of the most popular places near Rohtang!
After having a cold adventure in Rohtang Pass, you can head to Manali Nature Park – Wildlife Sanctuary which is also attracting some tourists as spending some quality time under the lap of nature after a tiring trip.
Nature is the best therapy plus you can take several mind-blowing shots here which will make your social media feed a bliss to watch.
Day 4
Another day brings many reasons to explore this city and as this is the last day of our 4 days 3 nights Manali trip one should explore all the places left nearby.
Hadimba(Hidimba) Mata Temple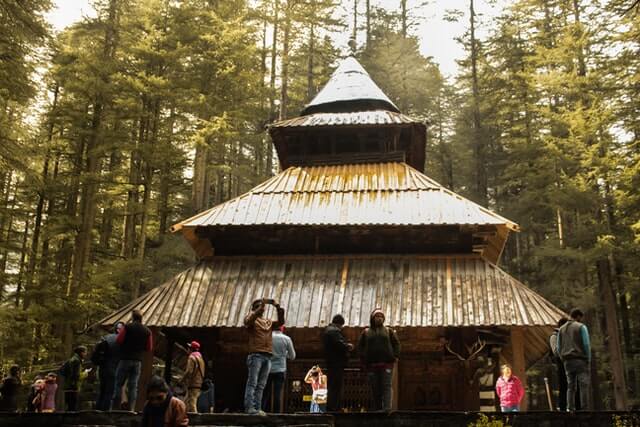 So the first stop for today will be Hadimba Mata Temple, it is an old temple with a number of religious believers and this place never fails to attract tourists because of its amazing sceneries and spiritual vibe which makes you stay longer at this place. You will see a number of animals such as rabbits and yaks here for photography purpose too.
Himalayan Nyingmapa Tibetan Buddhist Monastery
The next stop for your happy trip will be Himalayan Nyingmapa Gompa which is a Buddhist Monastery, will give you great insight of the Tibetan culture and Lord Buddha. This is one of the most famous monasteries situated in north India. You can stay there for some time and take meditation to get a glimpse into the peaceful lives of the Buddhist monks.
Mall road at Manali
The last stop before boarding the bus/cab from Manali to New Delhi will be the Mall road at Manali which is a great place to eat, shop, and have fun. From multi-cuisine restaurants to perfect gift shops and amazing avenue, this is a must-visit place to visit in Manali before leaving for your respective hometown.
Therefore to make this trip a success one must plan all the things in advance such as booking buses, hotels, and a local cab for sights seeing prior so that things will not get messed up at last moment plus people visiting from foreign countries can fly to New Delhi and can travel via road to make this trip an amazing experience.
Thank you!