Planning a destination wedding in India is the perfect way to make your wedding a memorable and grand affair.
The bride will have her dream dress; bridesmaids can wear their favourite colour saris while the groom gets his traditional sherwani ready for an unforgettable Indian-style ceremony.
India is full of diversity and culture, perfect for destination weddings with friends and family members.
Each place features its own charm and specialty event location and invites you to plan an unforgettable destination wedding experience.
In this blog post, we list the 10 best places for a destination wedding in India are well known for their exotic locations, a large variety of cuisines, and warm hospitality.
Kerala – God's Own Country
Rishikesh, Uttarakhand – Spirituality and Relaxation
Jaipur, Rajasthan – The Pink City
Udaipur, Rajasthan – Venice Of The East
Neemrana, Rajasthan – An Ancient Historical Town
Goa – Pearl of The Orient
Gujarat – Jewel of Western India
Shimla, Himachal Pradesh – Queen of Hills
Jim Corbett National Park – Oldest National Park
Andaman Nicobar – A Tropical Destination
1) Kerala – God's Own Country
Kerala is perfect for destination weddings. The tranquil beaches, beautiful backwaters and hill stations will make your big day unforgettable.
In Kerala, you can go to Kovalam or Kumarakom. These locations make it easy to find personalized options catering to your needs and interests with various activities and food for every taste; your guests won't be bored.
Kerala's inland water bodies are spread across the state. These backwaters are famous for their serene beauty and can be found all over Kerala.
Though destination wedding venue in Kerala are still a novice, the idea of an Indian beach wedding on the shoreline of Kerala will be fantastic.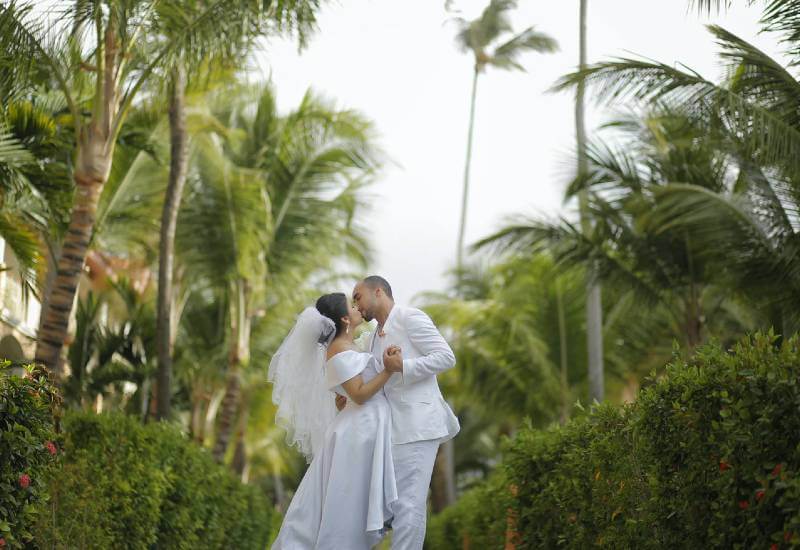 Best Options: Kumarakom Lake Resort, The Raviz Kovalam Hotel, Poovar Island Resort and Vasundhara Sarovar Premiere resort.
Best Time: If you are looking Kerala for a destination wedding location, the best time is between October and March due to the weather.
2) Rishikesh, Uttarakhand – Spirituality and Relaxation
The spiritual town of Rishikesh is a perfect place as your destination wedding in India. It has something to offer from spirituality, adventure and relaxation.
The town is an excellent place to live in because it has many yoga resorts, meditation centers and ashrams.
The most popular wedding spots are expensive where you might have to spend a lot of money. So for a small and intimate wedding, consider one of these offbeat locations such as Rishikesh.
Best Options: Ganga Kinare Hotel is on the banks of the River Ganges. It overlooks a national park and one of the most popular places for weddings in Rishikesh.
3) Jaipur, Rajasthan – The Pink City
Jaipur is the capital of Rajasthan. In India, Jaipur is one of the first places people think to have a grand palace wedding.
A destination wedding in Jaipur is an excellent idea if you're looking for an intimate affair. Jai Mahal Palace is among the best wedding destinations in Jaipur.
Pink City is beautiful all year. The best time to plan a wedding in winter, when the weather is good.
Best Options
Jai Mahal Palace: This heritage hotel offers six venues within its premises, so you can feel free to pick the perfect area to make your special day even more special.
Chomu Palace: With a luxury destination wedding like one at Chomu Palace in Jaipur, the importance of your big day can be doubled.
Le Meridien: Le Meridien Jaipur is one of the best wedding venues in Rajasthan. The hotel offers excellent location and service.
The Diwan-E-Khas offers the perfect venue for engagement or pre-wedding ceremonies, ideal for a small gathering and intimate affair.
4) Udaipur, Rajasthan – Venice Of The East
Udaipur is a city in Rajasthan, India. The town was founded by Maharaja Udai Singh II, who reigned from 1567 to 1611.
It's also famous for its rich heritage, culture and scenic beauty, with palaces and lakes dotting across the landscape.
Udaipur, surrounded by four lakes on all sides, is one of the most romantic cities in India and will leave you enchanted forever.
You can have your destination wedding at one of these historical beauties: Pichola Lake, City Palace or Jag Mandir Palace.
Best Options
Taj Fateh Prakash Palace: The palace is on the eastern shores of the beautiful Lake Pichola.A wedding in this location might be perfect if you're looking for a fairytale-themed event.
The suites and rooms have original paintings and furniture from the toshakhanas.
The Leela Palace: The Leela Palace, in the city of Udaipur, is a fantastic place. It is on the banks of Lake Pichola and has a view of the Aravalli Mountains.
Trident: Trident Udaipur is a good choice for people who visit Udaipur. They have many helpful things that make your wedding better, like a royal wedding.
5) Neemrana, Rajasthan – An Ancient Historical Town
On the outskirts of Gurgaon, Neemrana Fort is known for its splendid architecture and picturesque sights.
Neemrana Fort-Palace is amazing! Its photographs can't provide a good feel for what it is like. There are medieval, rustic parts perfect for outdoor garden settings and interiors ideal for a royal ceremony.
Famous for its quiet and natural beauty, this fort is a perfect place for photography. It's also popular among those craving a royal wedding. This is a beautiful place to have a destination wedding in India.
6) Goa – Pearl of The Orient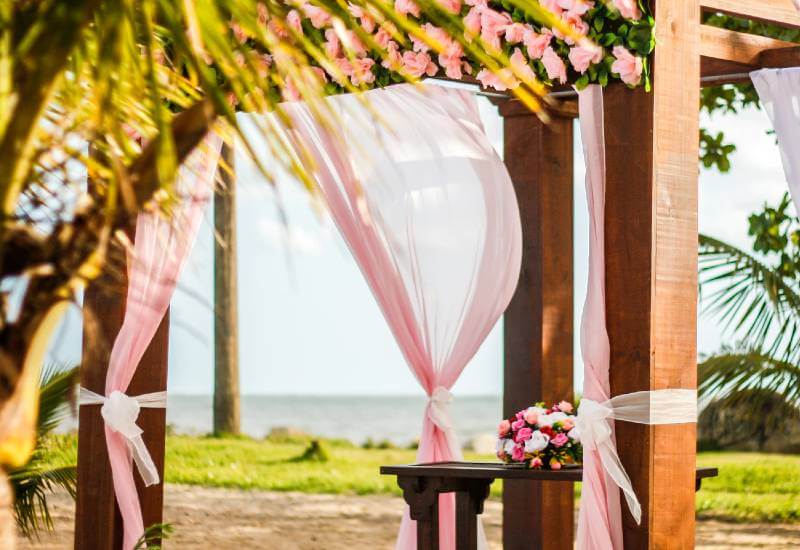 Goa is the perfect romantic city for a fun-filled wedding. There are many unique locations to have your special day, including Palolem Beach, which offers excellent backdrops and open spaces.
You can also get married at one of Goa's picturesque churches or even onboard a boat in the Arabian Sea!
In addition, there are plenty of activities that you could do before or after the ceremony, such as barbecuing with family members, swimming in rivers lined by coconut trees, going kayaking and elephant rides, among others.
The pristine beaches make this destination an ideal place to spend time with friends and loved ones celebrating your marriage vows for life together.
Best Options
Novotel Goa Resort & Spa: This property is an excellent place for families and couples to have fun. Both children and adults will enjoy the lush, green environment.
The Leela Goa: The Leela Goa is a hotel with beautiful landscapes and a fantastic view. You will see lagoons and a river with blue water.
Holiday Inn Resort Goa: Located on the beautiful Mobor Beach in South Goa, India. The Holiday Inn Resort has a traditional and modern blend of architecture.
Best Time: In Goa, there are a lot of events from November to February. Events like Sunburn Fest happen from December to January. From September to late October it is a good time for weddings.
7) Gujarat – Jewel of Western India
Gujarat has many destinations that can be used for destination weddings.
Indian cities like Ahmedabad, Jamnagar, Kutch or Rajkot are perfect wedding locations with the help of an experienced wedding planner to make your big day memorable.
Gujarat has many majestic forts, lavish and popular wedding venues, which offer visitors a colourful and splendid location to get married most royally.
Best Options for Wedding in Gujarat
– Kutch, Gujarat:
This destination is perfect for a large and lavish wedding. There are many luxurious hotels with mesmerizing architecture and marvellous restaurants to cater to your food needs.
The sea breeze will make it an unforgettable experience for you and your guests to enjoy the special moments in life together at this splendid venue.
– Rajkot, Gujarat:
Rajkot also offers various options of destinations like Gota Lake Palace Hotel that has been popular among tourists worldwide because of its royal ambience, excellent service with first-class amenities available onsite for weddings.
– Palitana, Gujarat:
Palitana is the place to get married with a view of scenic beauty that will make your wedding day stand out. The serene environment and natural beauty on display here are perfect for an intimate destination wedding in India.
The city has many lovely resorts and hotels to have luxurious accommodations while enjoying this gorgeous destination.
8) Shimla, Himachal Pradesh – Queen of Hills
Shimla is a beautiful destination for wedding.
The city also offers a breathtaking view of the Himalayas and some exciting landmarks, such as Christ Church, which was built in 1874 by a group of British missionaries.
Shimla is a haven for destination weddings with its peaceful environment, pleasant climate and snow-covered hills.
There are many hotels and resorts in this lovely hill station where you can stay with your family while enjoying scenic beauty during your wedding celebration or other ceremony.
Best Options at Shimla
WelcomHotel Resort: WelcomHotel Shimla is located amid lush oak, cedar and pine trees at an elevation of 2,100 meters above sea level, with views overlooking the majestic Himalayan range.
Radisson Jass Shimla: Attached to a forest of cedar trees, the Radisson Jass Hotel is located at an altitude of 2200 meters (2.5 miles) over mean sea level and offers 67 suites and well-appointed guests rooms that overlook magnificent mountains, valleys, and pine forests.
9) Jim Corbett National Park – Oldest National Park
Jim Corbett is known as one of the oldest national parks in India.
Book a fairytale-style wedding in one of the resorts in Corbett National Park. Corbett is a great destination for nature lovers.
Jim Corbett National Park is a popular wedding destination where the couple can enjoy their wedding with a stunning panoramic view of the majestic Himalayas.
An outdoor ceremony and reception with BBQ food will provide an amazing setting alongside the river.
Best Options
Corbett River Creek Resort: Resort located on the banks of Ramganga river and a small hill creek, surrounded by mountains and thick forest.
Corbett River Creek Resort is an ideal location for wildlife sighting, bird spotting and angling.
Aahana the Corbett Wilderness: Nestled in nature and surrounded by greenery, Ahana resort is a new place for those who are looking for a luxurious resort experience.
Namah Resort: Namah is with views of the Kosi River and Sitabani Hills. There is good food, a bar, rooms for meetings, a TV in every room, and a swimming pool. There is also an area for playing games or other activities.
10) Andaman Nicobar – A Tropical Destination
Andaman is best for a memorable Indian wedding, and you'll be rewarded with clear skies, palm trees, cerulean water, and beautiful sandy beaches.
Some of the famous beach-side places in Andamans are Havelock Island, Long Island Beach Resort and Radhanagar Beach.
There is an island named Neil where you can go for a day trip to enjoy the sun on your face while listening to the sound of waves lapping against the shoreline at Ross Bay.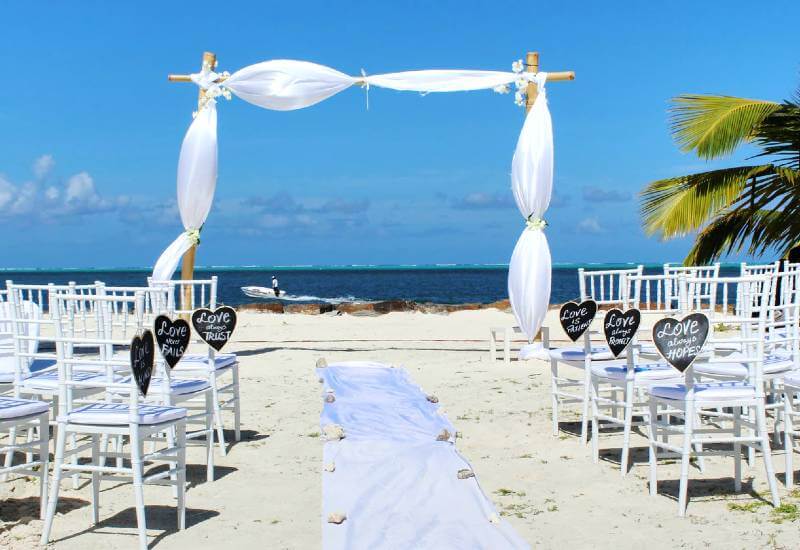 The best time to visit this destination during December – March as it will be dryer than other months with less rain so that you get good visibility from one end of Nicobar Islands to another.
Best Options
Havelock Island Beach Resort: The hotel is perfect for hosting your pre-wedding ceremony and wedding. You will get to have a very nice view. They also offer very good hospitality.
When you plan your destination wedding in India, make sure that you hire an experienced wedding planner to help with all the arrangements because these weddings are grand affairs and require expert planning.
Disclaimer: We do not take credit for pictures unless we say it. All of the pictures on this site are copyrighted to their original owners. We try to link back to the original site when possible. If you own any of the images that show up on TasteofTrip website, and do not want them to appear here, please contact us. We will take them down. We believe in giving credit to the people who created the original work.