Munsiyari: A Paradise for Trekking Enthusiasts in Uttarakhand
Munsiyari is located in the Kumaon Hills and is known for its scenic beauty and untouched landscape. This small hill town in the Pithoragarh District of Uttarakhand and is often compared to Kashmir for its natural beauty.
Situated at 2298 meters above sea level, this gorgeous hill station boasts breathtaking views of the Panchachuli Peaks, including Nanda Devi and Nandakot. Its scenic surroundings and picturesque landscape make it a sight to behold!
Munsiyari offers natural beauty and adventurous activities in the Kumaon Hills. Visitors can enjoy trekking on lesser-known trails, taking in scenic views, skiing, and even embarking on a Snow Leopard Trek during winter.
This travel destination is the 'Gateway to Johar Valley', home to famous explorer Nain Singh Rawat.
Munsiyari, located between the borders of India, Tibet, and Nepal, serves as a base for three glaciers: Namik, Milam, and Ralam Glaciers. The village offers picturesque views and pleasant weather all year round, with the stunning backdrop of Panchachuli, Nanda Devi, and Nanda Kot. Additionally, Munsiyari marks the beginning of the Johar Valley, which historically served as a trade route between Tibet and India.
Our Munsiyari travel guide is filled with information on the top places to visit and things to do, making it essential for travellers seeking a flawless travel experience.
Places to see in and around Munsiyari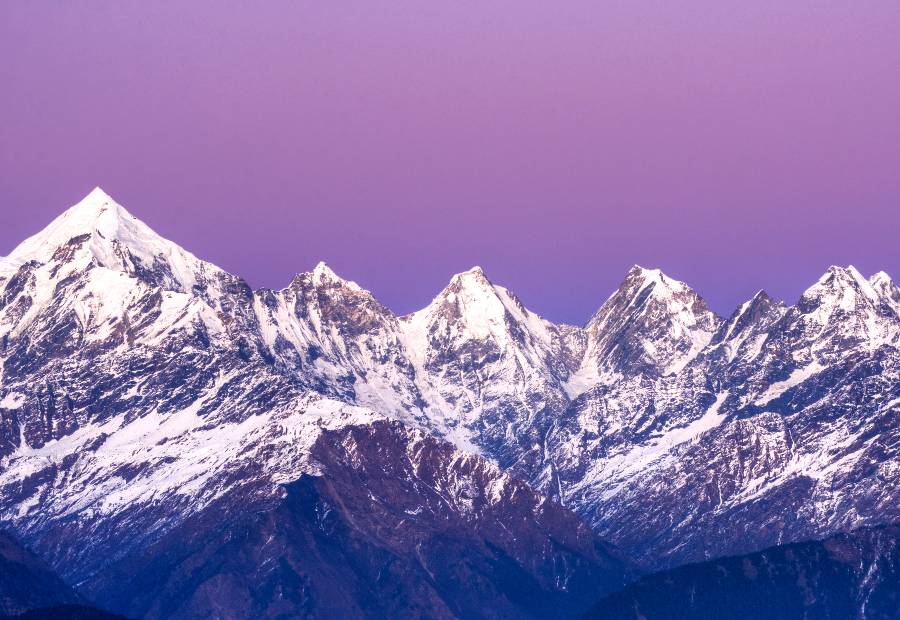 Munsiyari is known for its snowy landscapes, making it an exciting destination. The town of Munsiyari offers a beautiful landscape for nature lovers to enjoy. It also provides great opportunities for adventure enthusiasts, especially during the winter season when it is covered in snow and offers activities such as skiing and snow leopard sightings.
Madkot Hot Water Springs
Madkot is a hamlet 22 km from Munsiyari and a popular destination for photography enthusiasts. In addition to its picturesque surroundings and diverse plant life, Madkot is renowned for its healing hot springs.
Madkot hot water spring is a must-visit spot. It is situated on the banks of the Gori Ganga River, between Jaulijibi and Dharchula. The spring is believed to heal various ailments such as joint pain, muscle pain, skin eruptions, fibrous tissues, and Rheumatoid Arthritis. So, if you are in Munsiyari, why not take advantage of the healing properties of the Madkot hot water spring?
Nanda Devi Temple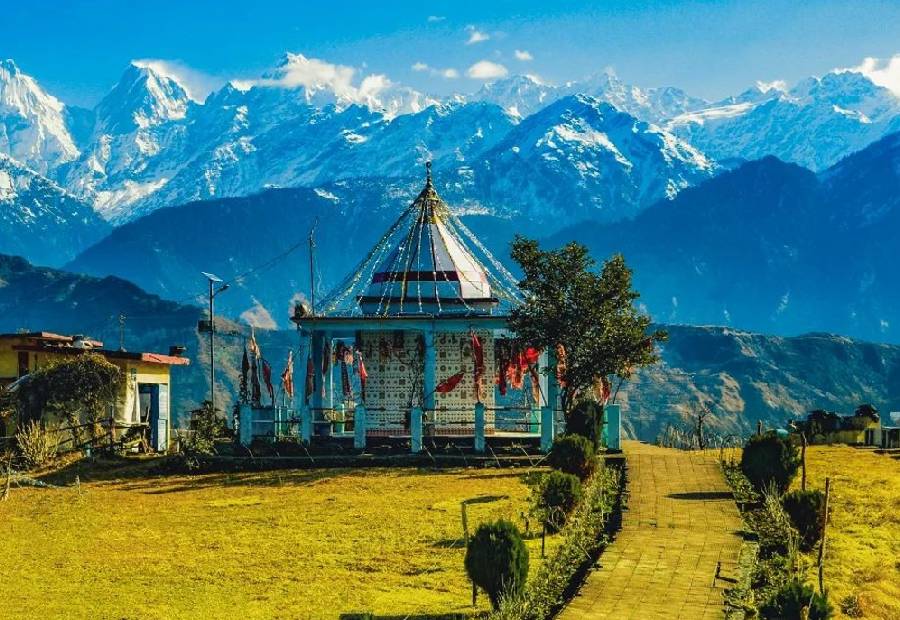 The Nanda Devi temple is a magnificent and sacred place of worship for pilgrims seeking blessings. It is an ancient temple, around 1000 years old, dedicated to Ma Nanda Devi, also known as the 'Destroyer of Evil'. According to popular belief, Nanda Devi is the Goddess of the Chand Dynasty, which ruled the Kumaon region for many years.
Temple is located in Dharanaula – Almora city, Uttarakhand. It is just 3km from Munsiyari and can be reached by a short trek. The temple sits at an elevation of 7,500 ft. You can see the Panchachuli peaks directly from the entrance, making it a beautiful sight.
The Nanda Devi temple has a captivating architecture with conical shape walls, stone carvings, wooden roofs, and life-like figures. There is also an annual Nanda Devi fair in late September where you can interact with many people.
In addition, Almora is renowned for its historical temples and beautiful landscapes that are worth a visit.
Khaliya Top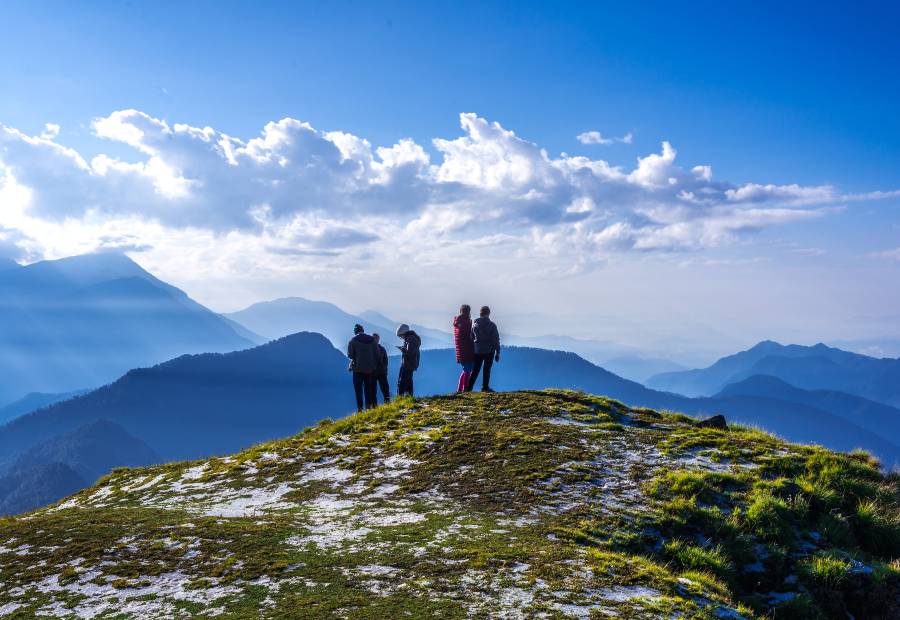 Khaliya Top is famous for its breathtaking hiking and trekking destination. You'll be treated to stunning panoramic views of valleys and peaks like Nanda Devi, Hardeol, Panchachuli, Nandakot, and Rajrambha.
Don't miss the chance to experience the awe-inspiring 360-degree views of snow-capped mountains from Zero Point, which sits at an impressive altitude of 4000m. And if that's not enough, you might spot exotic Himalayan animals like the Bharal and barking deer.
Khaliya Top is considered a great tourist destination due to its adventurous activities such as paragliding and skiing. Many people would enjoy experiencing these daring activities in life.
Birthi Falls
Near Munsiyari, there are several waterfalls, but the most impressive and accessible one is Birthi Falls. To reach it, you can take a short trek from Kalamuni Pass. Birthi Falls is 14km from Tejam and 35km before the Munsiyari-Thal road in Pithoragarh district.
Birthi Falls has a height of 126m. The stunning Himalayas, picturesque views, and lush green forests surround it. This attracts many tourists, both national and international. If you enjoy taking photos, Birthi Falls offers the perfect views to capture.
Dharchula
Dharchula is a city or town in Bijou that shares borders with India and Nepal, making it a unique location. It is situated 95km away from Munsiyari.
It is situated on the banks of the Kali River in Pithoragarh district. The route of the Kailash Mansarovar and Chhota Kailash Yatra passes through here. The river is also called Sharda River or Kali Ganga in Uttarakhand. It is located at an elevation of 940m above sea level. You can enjoy breathtaking views of surrounding peaks, such as Panchachuli Peak in the west.
Dharchula is known for its diverse culture and traditions, with various ethnic groups such as the Kumaoni and Shauna, also known as Bhotiyas. They are typically reserved and friendly, offering a unique cultural experience worth exploring.
Milam Glacier
Milan Glacier is a glacier treks in Uttarakhand. It is accessible and beautiful. It is ideal for those interested in glaciers and trekking. The glacier is located 60km away from Munsiyari. The altitude gain ranges from 3,870 meters to 5,500 meters. The Gori Ganga River originates from Mila Glacier and flows into the Kali River. Mount Trishuli's core is also found here. The trek covers about 120km and takes approximately 8 hours to complete. It is considered a moderate to difficult trek.
The route leading up to Milam Glacier passes through various terrains and landscapes, including forests, villages, snow-covered areas, bridges, rugged paths, waterfalls, streams, grasslands, and mountains.
Peaks such as Deo Damla (6,640m), Sakram (6,255m), Mangraon (6,570m), and Hardeol (7,150m) are visible from Milam Glacier, offering breathtaking views that are awe-inspiring.
Chaukori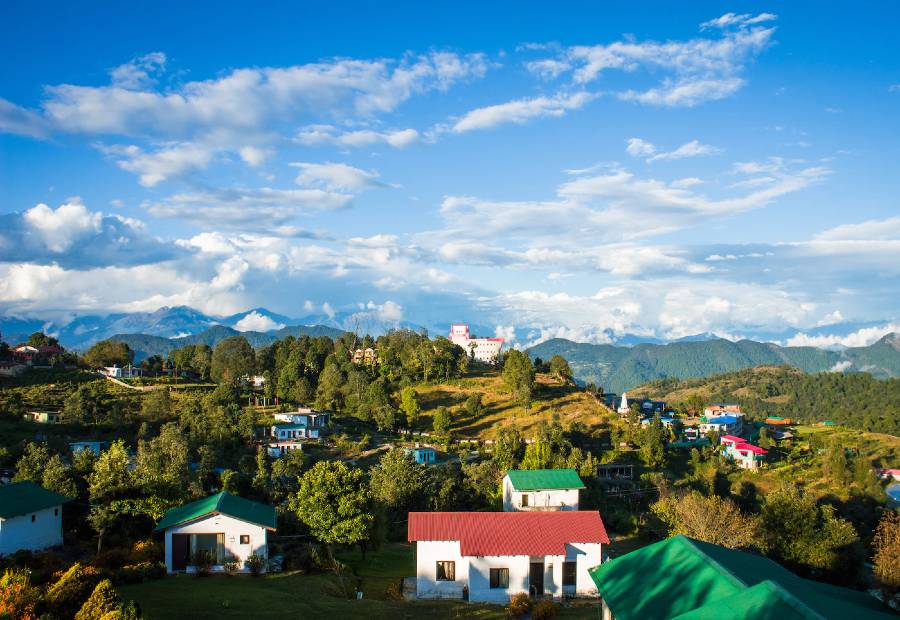 Chaukori is a beautiful destination in Uttarakhand, India. It is located at an elevation of 2010m in the Kumaon Region of Pithoragarh District. This charming place is just 97 km away from Munsiyari. If you love nature, Chaukori is the perfect place for you. You will be mesmerized by the stunning views of Himalayan peaks like Nanda Devi and Panchachuli Peaks.
Chaukori has a lot of major attractions. You can visit the Kapileshwar Mahadev Temple, Nag Mandir of Berinag, Gangolihat's Mahakali Temple, Ghunsera Devi Temple, Arjuneshwar Temple, and Chineshwar Waterfall. Don't forget to explore the Tea Estate and the beautiful tea gardens of Chaukori.
Chaukori is a must-visit destination near Munsiyari, offering breathtaking views of sunsets and sunrises. Don't miss out on this beautiful experience while you're there!
Tribal Museum
The Tribal Heritage Museum was established in 2000. You can locate it in Nanasen Village on Surender Singh Pangtey Road. Surender Singh Pangtey is the creator and owner of the museum. You can reach the museum easily by taking a short trek, just 2 km from Munsiyari's main market. There is no entrance fee to explore this museum.
The Tribal Heritage Museum is known for its collection of artefacts, including wooden utensils, brass hookahs, yak skin bags, spoons, bowls, kettles, cooking pots, saucers, dispensers, Tibetan Brick tea, and Himalayan flowers.
Darma Valley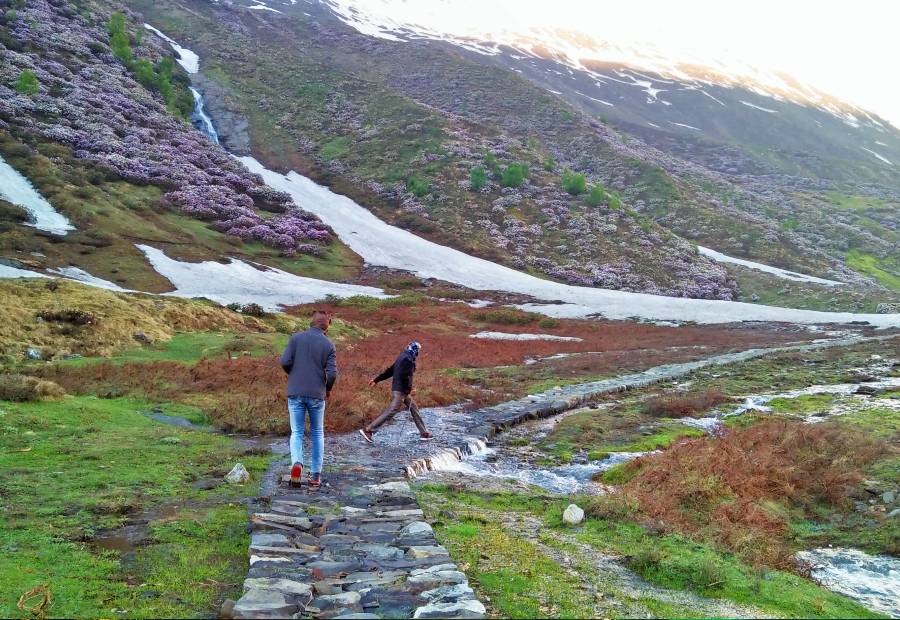 Darma Valley is located between Kuthi Yangti Valley and Lassar Yangti Valley, offering direct views of Panchachuli Peaks at an altitude of 3,470m.
The Darma Valley has a village called Dawe at its base. It is located on the Sino-Indian Border. The village has a small population of less than 1000 people. They mainly engage in rearing, trading, and farming. Due to the low population, you can experience rural diversity more clearly. The valley is surrounded by rich biodiversity, abundant flora and fauna, and various flowers and orchids.
Darma Valley is famous for its scenic landscapes, vibrant meadows, and camping sites. Perfect for short treks and creating unforgettable memories.
Thamri Kund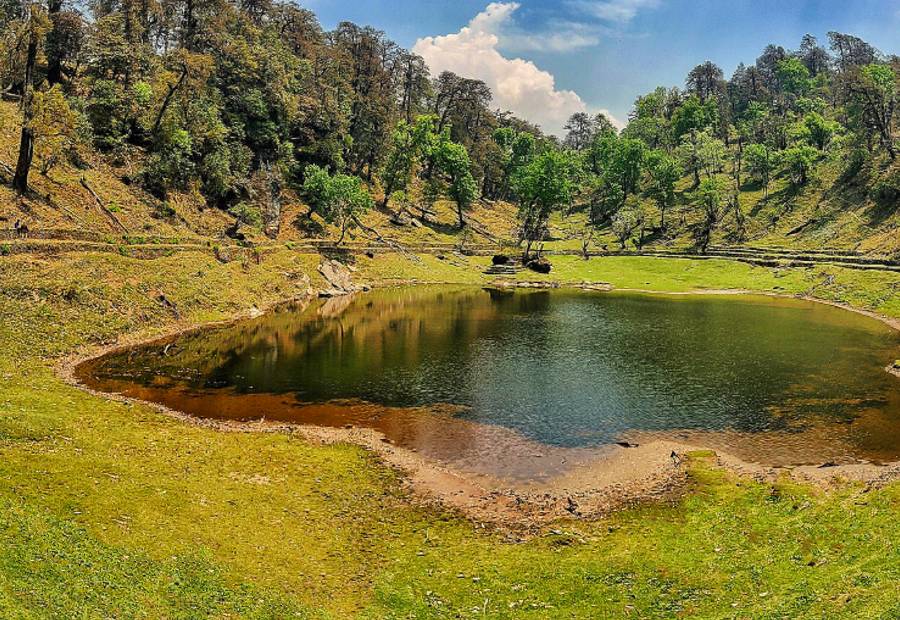 Thamri Kund, also known as Thamri Taal, is a small lake or pond in the Munsiyari region's dense forests. It is about 10 km from Munsiyari and can easily be accessed through a short trek or hike.
Tharmi Kund offers great serenity and is considered one of the best places to rejuvenate your spirits. It takes you through various landscapes, including lush green vegetation, forests, and snow-clad mountains, particularly the Panchachuli Peaks.
Activities in Munsiyari
Adventure and leisure activities, such as river rafting in the Gori Ganga River, skiing in Khalia Top, trekking, bird watching, and camping, are available.
Trekking in Munsiyari
Munsiyari is a paradise for high-altitude trekkers. It offers a variety of treks, ranging from moderate to high altitude. It serves as the base for numerous majestic Himalayan mountain ranges.
Munsiyari offers some incredible treks that are worth exploring. Some of the famous treks in Munsiyari are:
• Khalia Top Trek – via Balanti ( Half Day )
• Khalia Top – via Kalamuni (same-day return )
• Nanda Devi Temple Trek – via ITBP Danadhar Ridge ( 3-4 Hours )
• Thamri Kund ( 3-4 Hour Trek )
• Masterjis Museum & Darkot Handicraft Village ( 3-4 Hours )
• Maheshwari Kund Trek ( Half Day )
• Madkot Hot Water Spring ( Half Day trek to Matkot Village )
• Kalika Pass Trek ( 2700 meters )
• Trek to the alpine meadows of Chiplakot Bugyal ( 30 km )
Long treks from Munsiyari
• Milam Glacier ( 8 days )
• Ralam Glacier ( 8 days )
• Nanda Devi East Base camp ( 8 days )
Where to Stay in Munsiyari?
Munsiyari has only a few hotels; However, camping is an excellent choice if you're looking for a unique experience.
The best place to stay for tourists is in Pithoragarh. You can enjoy the cosy atmosphere and excellent hospitality in the town. Waking up in the morning and seeing the hills from your room is a captivating experience.
Pithoragarh offers accommodations ranging from 3-star to 1-star, with good amenities and a great experience. Camping is also possible in Pithoragarh and the surrounding areas, where you can enjoy the open sky filled with stars and the beautiful Himalayan range.
Best time to visit Munsiyari
The best time to visit Munsiyari is between March and June and September and October. During these months, the temperature is pleasant, with October being a beautiful month to witness the different shades of the fall season.
Summer
In summer, Munsiyari experiences pleasant temperatures with a maximum of around 27°C during the day and a minimum of around 7°C at night.
Monsoon
The monsoon season in this area occurs from July to September, resulting in the suspension of many activities due to heavy rainfall. The month of August typically experiences the highest levels of rainfall. Following the monsoon season, the weather conditions in October and November are pleasant, and the temperature remains low.
Winter
The winters in Munsiyari are characterized by extremely low temperatures, occasionally dropping to -3°C. However, if the sky is clear during the daytime, the temperature can rise to 15°C, making the daytime relatively warm.
How to Reach Munsiyari?
Munsiyari is conveniently connected to nearby towns such as Pithoragarh, Lohaghat, Champawat, Tanakpur, and Almora through roadways. Travelling by road is the most suitable option to reach this destination.
By Air
Pithoragarh has an airport called Naini Saini, which is currently under development and will be operational in the near future. The closest airport to Munsiyari is Pantnagar, approximately 188 km away. To reach Munsiyari from Pantnagar, one must arrange for transportation, such as booking a cab.
By Rail
There are two nearest railheads to Munsiyari: Kathgodam and Tanakpur. The distance from Kathgodam railway station to Munsiyari is 276km, and from Tanakpur railway station to Munsiyari is 285km.
There are three daily direct trains available from Delhi to Kathgodam.
Shatabdi Express
Uttar Sampark Kranti Express
Ranikhet Express
There is one daily train from Delhi to Tanakpur.
Taxis, personal vehicles, or public transport can be hired from Kathgodam or Tanakpur to Munsiyari.
By Road
The road connectivity in the area is satisfactory, and state-run buses are available to Pithoragarh that operate regularly from Haldwani/Kathgodam and Delhi. Taxis are also a convenient option for reaching Munsiyari.