What are the 10 best honeymoon resorts in Munnar? In this blog post, we will talk about them. There are many different types of resorts to choose from in Munnar, depending on what you want.
All of Munnar's resorts offer an array of amenities for guests to enjoy. Whether you're looking for a luxurious honeymoon or a more adventurous endeavour, there is something here for everyone.
There are plenty of hotels and resorts in Munnar to choose from for a honeymoon. – Tea County Munnar, Eastend Munnar, Elysium Gardens Hill Resort, Westwood Riverside Garden Resort, Abad Copper Castle Resort, Windermere Estate, Blackberry Hills Retreat and Spa, & more.
There is an endless supply of resorts throughout Munnar that are thoroughly equipped with all amenities to provide the best experience for travellers and be uniquely situated in the natural beauty and great weather.
The resorts in Munnar are mostly known for their adventure activities and luxurious services. If you are looking for a calm space to spend time with your loved one, these resorts in Munnar offer amenities like pools, spas and beautiful landscapes.
If you're looking for honeymoon resorts in Munnar, keep reading this article!
1) The Fog Resort & Spa Munnar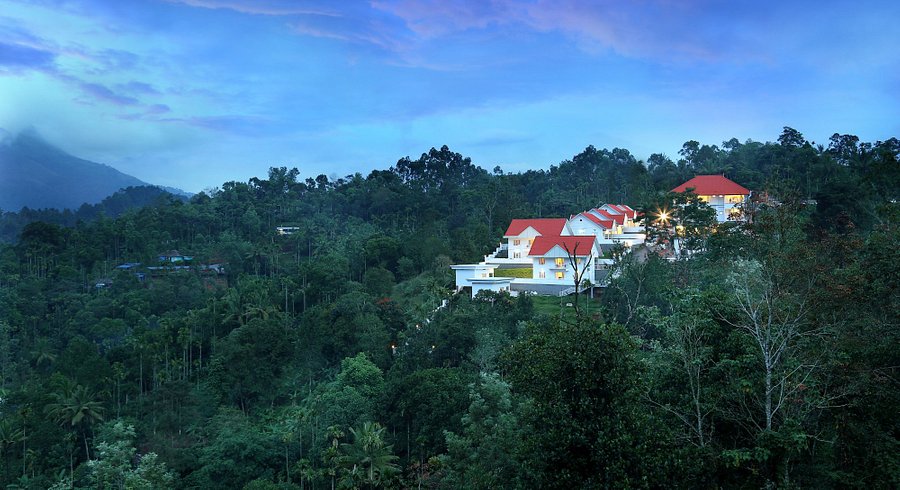 This magnificent 5-star resort is an inviting, luxurious abode with exquisite amenities and personalized service.
The Fog Resort & Spa is designed to treat you like royalty, and it makes for a perfect honeymoon environment.
The resort has a grand hall with conference facilities and accommodations, a health club, multi-cuisine restaurant with Arabic/Italian menus.
It also organizes activities for its guests, such as football, bicycle riding, basketball hoops and soft trekking. You and your partner can enjoy all the amenities at the resort, including a swimming pool.
One thing that guests love about this resort is the attentive service and activities available. Guests are constantly provided with live entertainment, billiards, chess, and cooking demonstrations.
Price: Starting from 6000 per person
Location: The Fog Resort and Spa, Eatty city Road,Chithirapuram, Munnar
2) Elixir Hills Resort, Munnar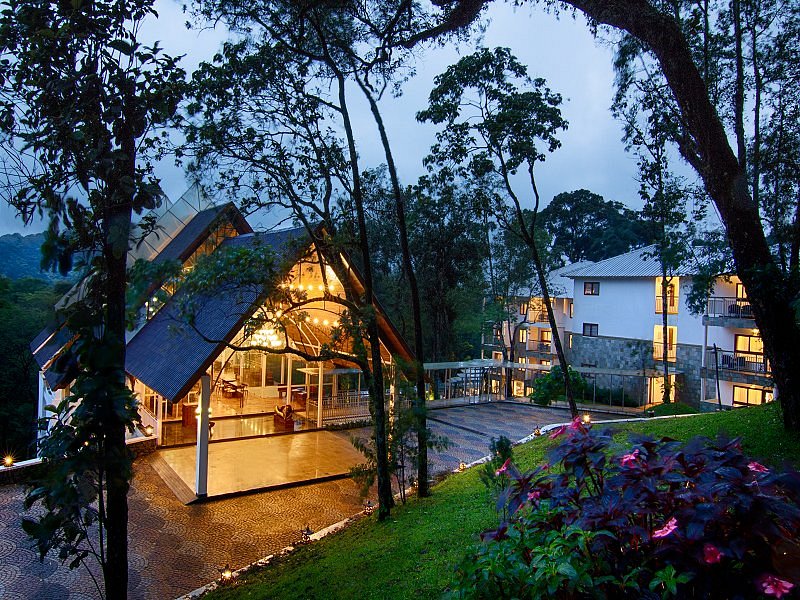 Elixir Hills Suites Resort and Spa and are located on Letchmi Tea Estate in Munnar. The resort surrounds you with the tall trees of the forested Munnar jungle.
The breathtaking scenery, wildlife and tea plantations make for a calming stay experience.
The resort's outdoor infinity pool sits among the beautiful scenery of this location. A sauna bath is also available for guests to enjoy, which is perfect for rejuvenation.
The lush, beautifully landscaped environment creates an inviting and romantic setting for couples to enjoy.
The resort has a big, expansive play area with an indoor games room for kids. There's also the in-house spa where you can enjoy authentic ayurvedic treatments.
Price: Starting from 7000 per person
Location: Near Letchmi Tea Estate, Mankulam, Munnar
3) Tea Valley Resort Munnar
Tea Valley Resort is the best honeymoon resort in Munnar because it has a private deck.
Nestled amid lush greenery and sprawling hills, Tea Valley Resort provides amenities with great hospitality. Once you have planned your Kerala tour, don't forget this beautiful place in Munnar.
Free high-speed internet is available all around the resort. The onsite meeting room can also be booked for business meetings and social events.
Cochin International Airport is located 102 km away from the property. Coimbatore railway junction is 166 miles away.
The resort is surrounded by a 6.5-acre tea plantation and can be easily reached from the town of Munnar. Its famous Pothamedhu View Point trails are 20 minutes' walk away from the resort.
Price: Starting from 3000 per person
Location: Bisonvalley Road,Pothamedu, Pallivasal,Munnar, Kerala, India.Pin Code – 685612
4) Chandys Windy Woods, Munnar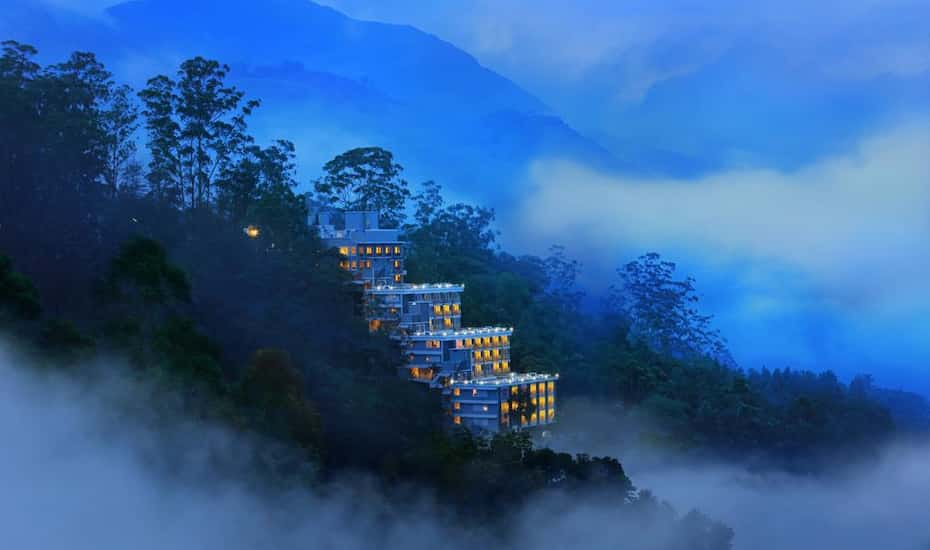 Chandy's Windy Woods hotel has rooms with splendid views. It also has spa treatments, forest tours, and traditional cuisine.
If you're looking for a 5-star hotel at Munnar, Chandy's Windy Woods is the place.
Windy Woods is surrounded by silver oaks and set on the slope of a Munnar hill. It is well-connected to Udumalaippettai Railway station (95 km) and Cochin International airport (99 km).
You can find major tourist attractions near the property. These include Chithirapuram (4 km), Attukad Waterfall (6 km), Pothamedu View Point (8 km) and Eravikulam National Park (17 km).
The resort features rooms categorized as Standard, Deluxe Rooms, Superior and Presidential Suites. The rooms contain ceilings-to-floor glass windows, balconies with awesome views and work areas.
One of the many amenities offered by Chandy Windy Woods is an exclusive swimming pool and spa. The hotel has conference and banquet facilities available for business meetings, as well as a games room.
The hotel provides many activities such as walking tours, bird watching, jeep safari and trekking to help guests experience the region's scenic beauty. The in-house restaurant offers multiple options for dining.
Price: Starting from 10,000 per person
Location: Pallivasal, 2nd Mile, Meencut P.O, Chittiarpuram, Munnar, Kerala 685565
5) Aranyaka Resort Munnar
Aranyaka Resort is located at an altitude of 4500-5000 ft. in eastern Kerala
It is a part of the Pullivasal Estate. It is the gateway to Tata Tea holdings in Munnar. This place is called "Three Rivers, Munnar" because three rivers meet there.
The services offered by the resort include free valet parking, a 24/7 front desk, private check-in and check-out, and baggage storage.
For every guest, there are countless services to offer. These include laundry, doctor on call and free internet. You can rent a bike from the hotel to get around the city.
Accommodations at Munnar offer a variety of amenities, including in-house restaurants serving tasty dishes and refreshing drinks. Guests can opt for a private table near the cottage or in the open, under the stars.
Price: Starting from 3000 per person
Location: Attukad Waterfalls Road, Pallivasal Estate Post, Pallivasal Estate, Munnar, Kerala 685612
6) Fragrant Nature Resort, Munnar
The fragrant Nature Resort hotel is located at Pothamedu in Bison Valley Road. This hotel is located 4.7 km from the Munnar Tea Museum and 3 km away from the Attukad waterfall.
This resort has a laundry service and dry cleaning services. And offers internet access as well as business services. This hotel has an indoor play area for children.
This hotel offers a restaurant known as Black Truffle that has a variety of dishes. A second restaurant is located in the hotel called "The Glass House" that offers grilled and steaks.
Price: Starting from 7000 per person
Location: Baisonvalley Road, Pothamedu
7) Nature Zone Resort, Munnar
The Nature Zone Jungle Resort is a beautiful property located in the lap of nature, only 20 minutes from Munnar town.
Beautiful scenery and a peaceful environment make it the perfect place for travellers seeking to escape the city din.
One of the best features of this resort is its accommodation units. Guests will also find 12 African safari tents and 5 bamboo/wood treehouses available. All are furnished with necessities and located in a serene environment to make your stay as memorable as possible.
This resort has a range of leisure activities from camping to soft trekking on its campus.
Moreover, outdoor activities like nature trails, bird-watching, rock climbing, trekking and camping can also be done.
The in-house restaurant serves authentic Kerala dishes next to Continental cuisine. So this resort in Munnar for Honeymoon provides a luxurious stay with many amenities.
Price: Starting from 8000 per person
Location: Pulippara, Pallivasal, Munnar
8) Spice Tree Resort Munnar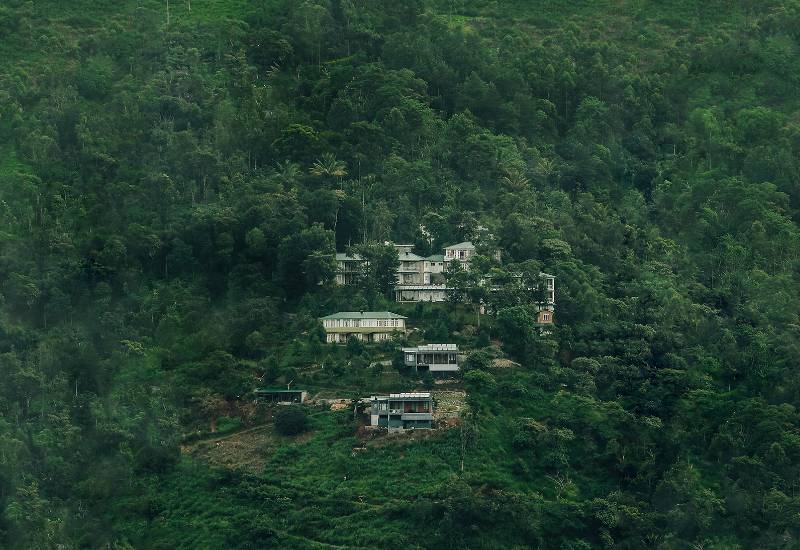 Spice Tree Munnar is located on the Periakanal-Muttukad Road, surrounded by the scenic beauty of Kanan Devan and Bison Valley Hills.
This one of the best resort from honeymoon resorts in Munnar. Travellers to this resort are provided with high-speed internet (Wi-Fi), free parking, and laundry service.
There are a lot of cool things in the resort. There's an infinity pool, a fitness centre, and also a library with books for you to read. And there is also a spa for when you need to relax.
Spice Tree Munnar provides luxurious accommodations, a multitude of recreational facilities and incredible dining options.
There are a variety of activities on offer at the resort to make your trip entertaining.
These activities include ethnic cooking classes, tea-tasting, soft treks, spa therapy, painting, yoga and meditation, reading at the library, or swimming.
Price: Starting from 11,000 per person
Location: Nadukkurissu, Muttukad-Periakanal Road, Nadukkurissu, Chinnakkanal P.O, Idukki, Munnar
9) Westwood Riverside Garden Resort, Munnar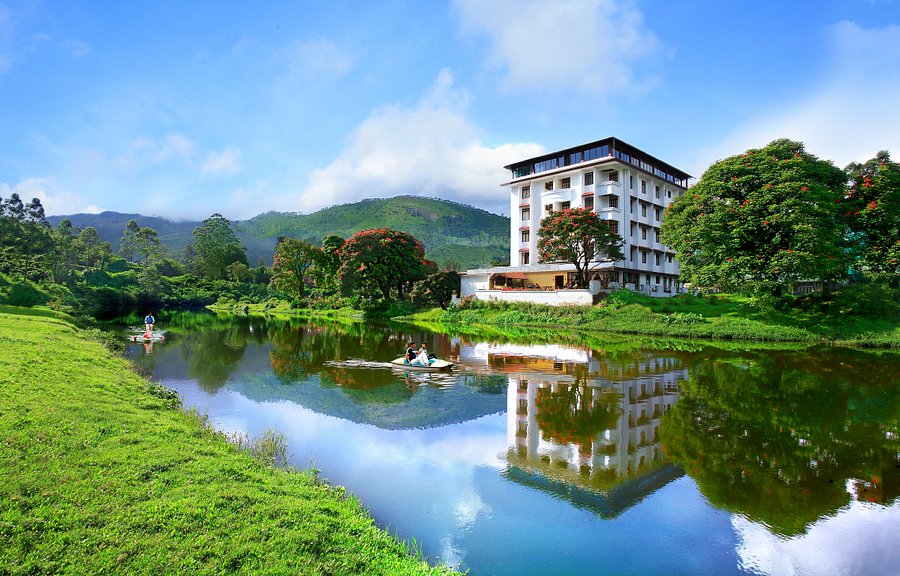 There are many premier resorts in Munnar, but Westwood Riverside Garden Resort, without a doubt, offers stunning views and facilities.
This ideal resort is located and provides the best of amenities to guests. Located in Munnar, this is the perfect place to explore the region by trekking and wildlife expeditions.
The hotel has a TV, wifi, a minibar and a spa with Ayurvedic massages. There is also a gym for you to relax after long days.
Many of the resorts in Munnar offer adventurous honeymooners, including outdoor camping, jeep safaris and sightseeing tours.
The resort caters to your every need with a multicuisine restaurant 'Wood n Spice' and an open riverside restaurant, Fire-Grill, serving barbecued vegetarian and non-vegetarian dishes.
For a day that starts leisurely, they offer kite making, glass painting, cookery classes and decorative jewelry making for the kids.
At night, different types of entertainment are offered, like a campfire with music, Kathakali performances, fire dancing and DJ Music.
Price: Starting from 3000 per person
Location: MSA Road, Old Munnar
10) Elysium Gardens Hill Resort, Munnar
This resort for couples in Munnar provides the best of the amenities to its guests. This is the best resorts for couples in munnar offers romantic views of rolling hill plantations and peace in comfy surroundings.
Elysium Garden guarantees a pleasant stay and an unforgettable experience with beautifully crafted honeymoon cottages, cozy interiors, and unmatched services.
This place is perfect for your honeymoon in Kerala. Guests can enjoy the resort's in-house wellness center, equipped with fitness enthusiasts.
The idyllic surroundings of the beautiful location offer a luxurious setting with the cozy ambiance of the home.
The easiest and most efficient route to the hotel is landing at Cochin International Airport and travelling about 75 km.
Located in Munnar, Kerala's lush Ikka Nagar is a popular destination for those looking for serenity.
The honeymoon resorts in Munnar are a comforting getaway for guests. The scenic beauty of tea plantations, mist-covered mountains and luxurious stay is always there to accompany you at any time of the day.
Price: Starting from 5000 per person
Location: Top Station Road , Munnar