Jim Corbett National Park is a vast jungle in northern India that offers endless possibilities for travellers.
Whether you're looking for some solitude, an adventure with the family, or luxury accommodation against a backdrop of natural beauty, Jim Corbett has something to offer every type of traveller.
About Jim Corbett National Park
Jim Corbett National Park is one of the most popular wildlife regions in India. It has many animals and plants, including tigers, elephants, leopards, and more.
Many tourists come to Jim Corbett Park with the prime objective of booking a jungle safari.
For a once-in-a-lifetime experience, try the Jeep Safari or the Canter Safari. These tours provide you with an opportunity to see wild animals in their natural habitat.
The natural beauty and abundance of wildlife attract many visitors each year – but what if you want to experience the best hospitality with something more than just nature?
If your answer is yes – then search no further! We have compiled a list of the best resorts in Jim Corbett that will make you feel like royalty as soon as you arrive.
Here are our favourite resorts set deep within the Park – luxurious lodges and hotels guaranteed to make your trip unforgettable!
Aahana Resort, Jim Corbett
Namah Resort, Dhikuli Road
Tarangi Resort
Paatlidun Safari Lodge, Mohaan
Lebua Corbett, Mohaan
The Solluna Resort, Marchula
Lemon Tree Premier Corbett, Mohaan
The Golden Tusk, Dhela
Brys Caves, Mohaan
Taj Corbett Resort & Spa, Near Garjiya Devi Temple
Corbett The Baagh Spa & Resort, Patkote
Corbett River Creek Resort & Spa, Marchula
Acorn Hideaway Resort & Spa
Corbett Riverside resort By Aahma
Aahana Resort, Jim Corbett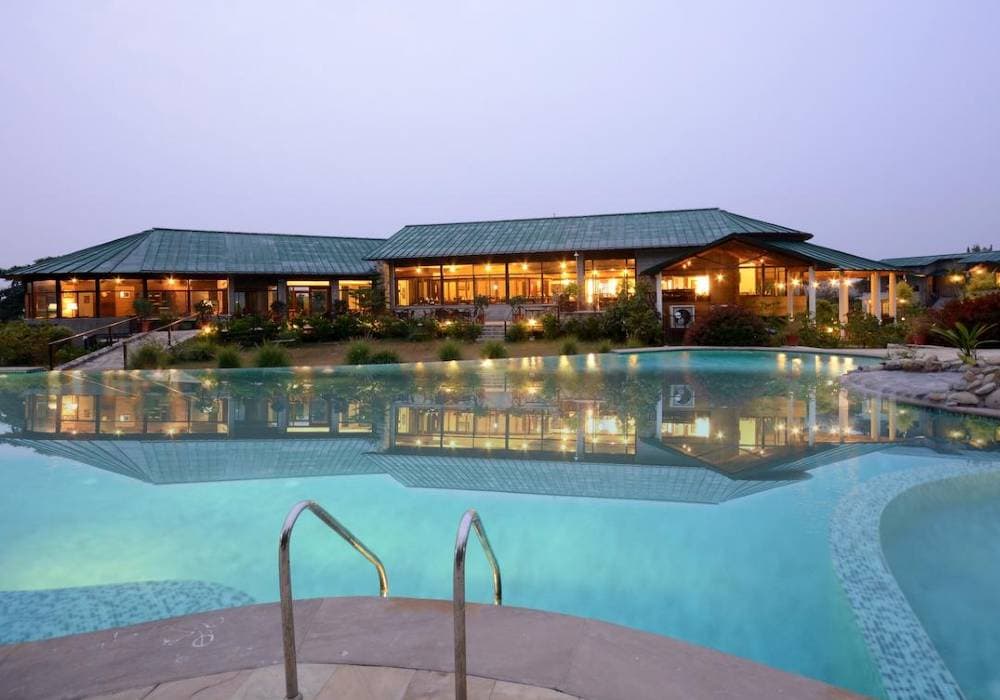 The Aahana Resort is located in Jim Corbett National Park, Ramnagar, Uttarakhand. The resort offers various amenities and beautiful gardens to make your stay as enjoyable and memorable as possible during your vacation in India.
Aahana resorts in Jim Corbett offer Organic Gardens, Accommodation, Activities & Excursions, Naturopathy Centre, Destination Weddings and conferences.
The resort offers five types of accommodation- Corbett Club, Jim's Retreat, Jungle Lore, Rangers Suite & Family Suite- all spread over a sprawling 11 acres at the southern edge of Corbett Tiger Reserve Uttarakhand.
Namah Resort, Dhikuli Road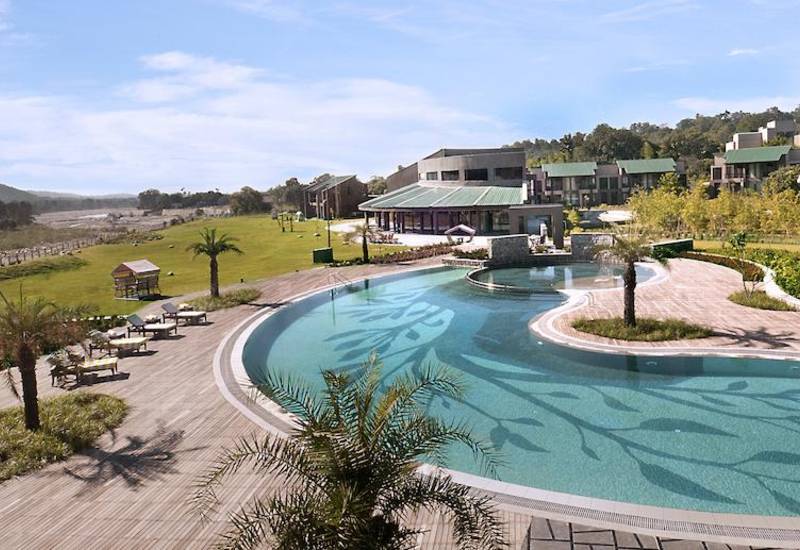 Namah Resort is one of the best from the list of best resorts in Jim Corbett. The resort offers gorgeous views of the surrounding jungles and forests, with the facilities of Spa, Gym, Recreation Activities, business centre and Swimming pool.
The resort organizes romantic wedding ceremonies set against the backdrop of beautiful mountains and the Kosi River.
Namah Resort offers accommodation options starting from Premium Room to Suite that are splendidly furnished and provide breathtaking views of the jungles around them.
Rooms have some of the amenities you would expect at a 5-star hotel, like a LED TV, laundry service, tea/coffee maker, free Wi-Fi, and a private sit-out area.
Tarangi Resort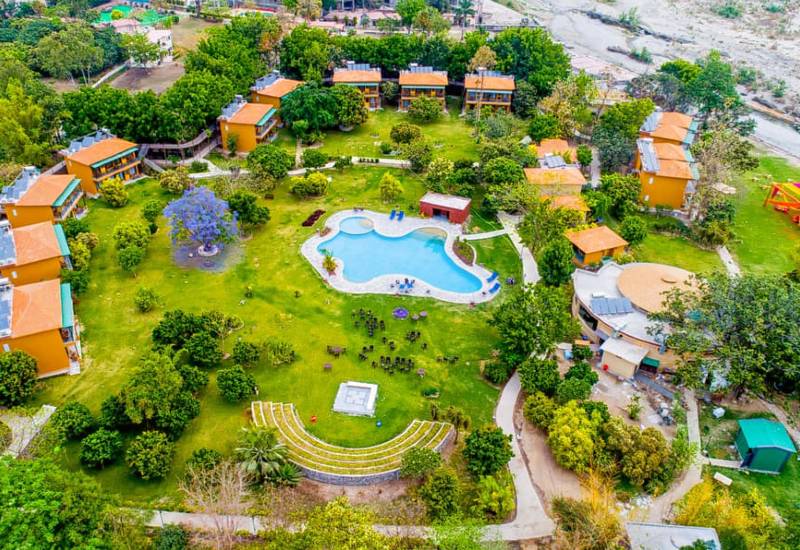 Set within the wildlife sanctuary with views of the river Kosi and Sitabani forest, Tarangi Resort and Spa is a serene getaway for nature lovers, photographers, couples, and families.
Greet nature in our verdant gardens and reflect on a fulfilling experience. The Spa provides personalized treatments using sparkling oils, herbs, flowers, leaves and other indigenous ingredients.
The hotel's rooms are classified into six categories: 1) Sarang, 2) Sarang Family, 3) Luxury Cottage, 4) River View Cottage, and 5) Jal-The Pool Villa, and 6) Whispering River View Villa.
Panorama is a multi-cuisine restaurant that serves a menu of Indian, Continental and Chinese cuisine with an unbeatable view.
Curley Chairs is another restaurant with outdoor seating that serves delicious grilled and barbecue dishes.
Paatlidun Safari Lodge, Mohaan
Paatlidun's Safari Lodge, jungle-style accommodations, help travellers to enjoy the sights and smells of Jim Corbett National Park.
This wildlife luxury hotel captures the essence of unspoilt nature and provides Kumaoni hospitality to guests.
This is the closest you'll get to the Corbett Tiger Reserve–the resort is located at the edge of the Park, which means guests often see tuskers and wild boars in their natural habitat.
Paatlidun resort offers 18 cottages that are categorized into three different levels of luxury – Bush Cottage with Jacuzzi, Luxury Cottage and Premium Luxury Cottage.
The resort has four types of restaurants for you and your family to choose from – Riyasa the Restaurant, Chakh the Bar and lounge, Bush Diner and Dhaba-Chah Pani.
Lebua Corbett, Mohaan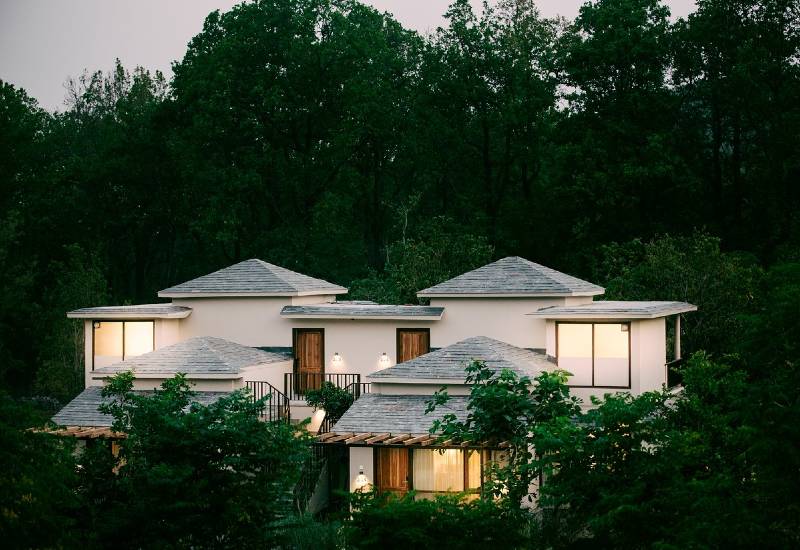 Lebua Corbett offers guests a rare and up-close encounter with nature at its most spectacular.
The hotel has 44 rooms and is spread out over 9 acres of land, of which the suites have a balcony to sit and enjoy clear views of the greenery, whereas residences have an additional terrace from where you can admire a breathtaking view of the night sky.
The resort offers bespoke jeep safaris, birding and nature walks, and guests are encouraged to explore the jungle either by vehicle or foot.
The property also includes two restaurants serving different types of food for travellers to enjoy authentic cuisine.
One restaurant is Azrak that serves dishes from the Kumaon and Garhwal cuisines cooked in their kitchen garden.
There's also an in-house bar with the name Saraca.
The Solluna Resort, Marchula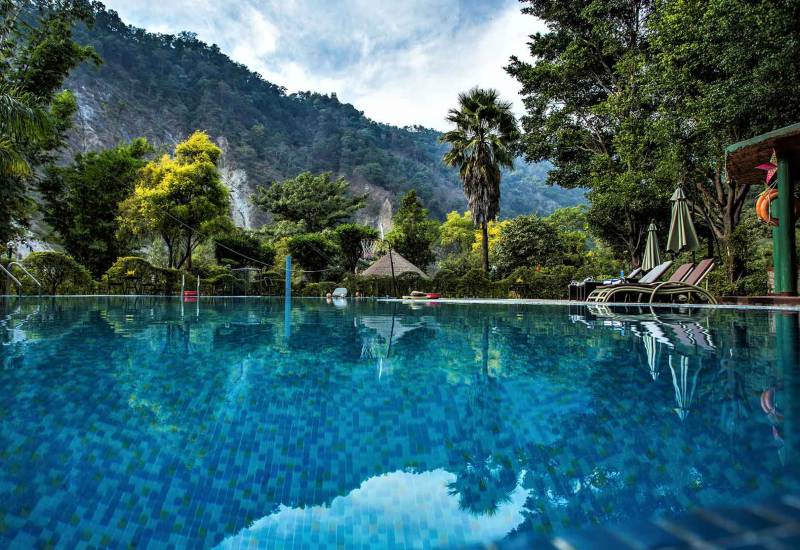 Solluna Resort is a perfect option for people who are looking for an exclusive and peaceful getaway to explore the beauty of Jim Corbett National Park with the excellent hospitality.
Whether it's bird watching or nature walks, guests can make the most out of their trip at this resort with its unique location in Marchula Valley.
The hotel offers luxury rooms that offer splendid views overlooking the Ramganga river and jungle surroundings.
Take advantage of excellent facilities like conference halls, coffee shops and recreational areas, including a library where you can sit back with a newspaper or book and enjoy pleasant serenity over tea.
The pavilion food court provides Indian, Chinese and Continental food that can be enjoyed, depending on the weather.
Dining at the Blue Lounge, a blue-lit restaurant with table settings for romantic dinners overlooking the gorgeous skies and pool.
Lemon Tree Premier Corbett, Mohan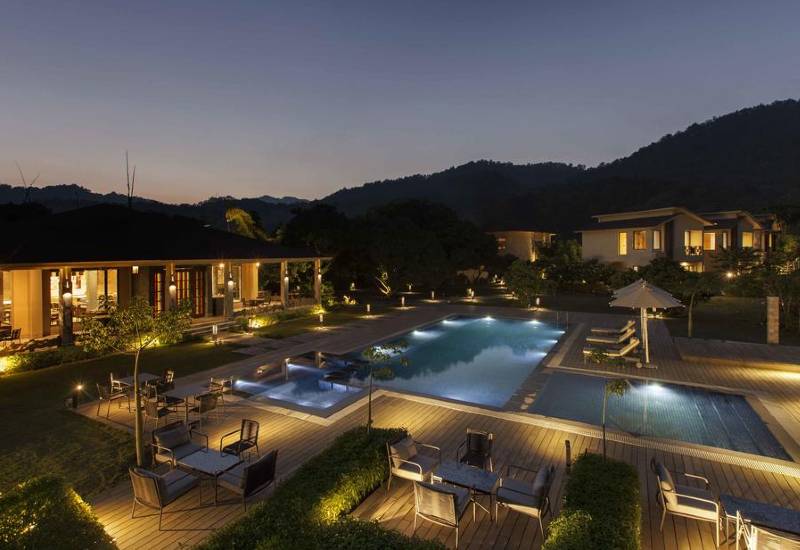 One of the best hotels in Corbett is Lemon Tree Premier, located on 5 acres of green space alongside Sal trees along River Kosi. It is a mere four kilometres away from the Dhikala Gate of Jim Corbett National Park.
The Lemon Tree resort features 68 suites with soothing decor and modern amenities. There are four room categories – Villas, Premier Rooms, Deluxe & Superior.
Rooms have amenities such as a LED TV, coffee maker, minibar and Wi-Fi.
Luxurious interiors are coupled with well-stocked minibars to ensure that every need is fulfilled at this premier Jim Corbett resort destination.
Kids at the resort can enjoy indoor games such as board games, pool table and table tennis or enjoy swings, slides, and monkey bars as the outdoor games.
The outdoor lawn can accommodate up to 500 people and is perfect for weddings and other social gatherings.
Citrus Cafe is a multi-cuisine coffee shop featuring authentic Indian, European, Pan-Asian, and American dishes. Pug Lounge is a snack bar with many drinks to choose from, such as juices, coffees and herbal teas.
Slounge is a recreational bar for those looking to relax and enjoy a drink or two. They offer many different beers, wines, cocktails, and other beverages and tasty Indian dishes in case you get hungry.
The Golden Tusk, Dhela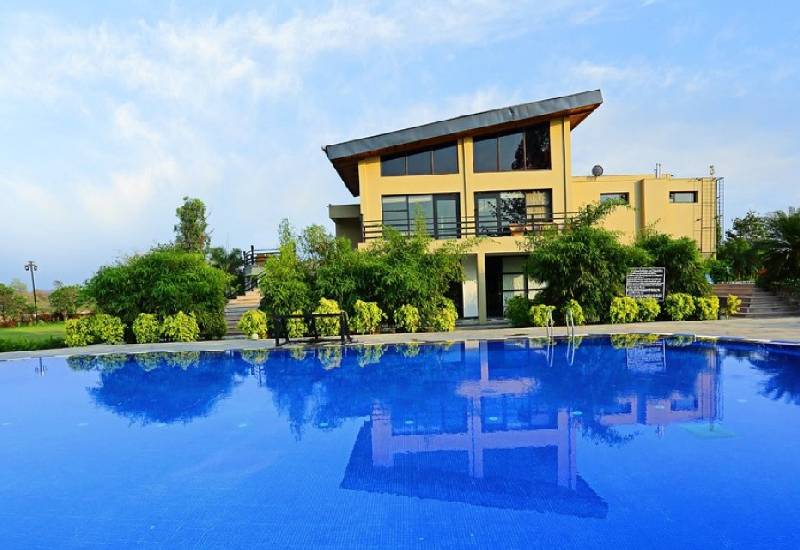 The Golden Tusk offers a stunning view of Jim Corbett National Park's lush foliage.
The Golden Tusk is a boutique resort that spans over 10 acres of meticulously landscaped estate. A short drive away from the Dhela and Jhirna Safari Zones, this venue offers guests an escape in India's most pristine forest with unmatched views and adventure opportunities.
The resort also includes an outdoor swimming pool and a gymnasium to keep you fit while on vacation.
The Golden Tusk provides travellers with options for modern hotel rooms and cottages, giving the added luxury of a breathtaking view.
Guests can choose from Country View Suite, Forest View Suite, Pool View Suite, Tiger Suite, Luxury Tents, Villa and Villa Grande with warm hospitality.
For an event, wedding or social gathering, the resort offers three rustic banquets.
Kumaoni cuisine is available upon request from the Golden Forest Restaurant, which also serves international delicacies.
The Deck – Grill and Barbecue is an open-air restaurant that offers a variety of mouth-watering grilled dishes.
The Gin Tree – You can order a drink at the Bar or enjoy music playing in the background.
So book your stay today to get deal on hotel packages.
Brys Caves, Mohaan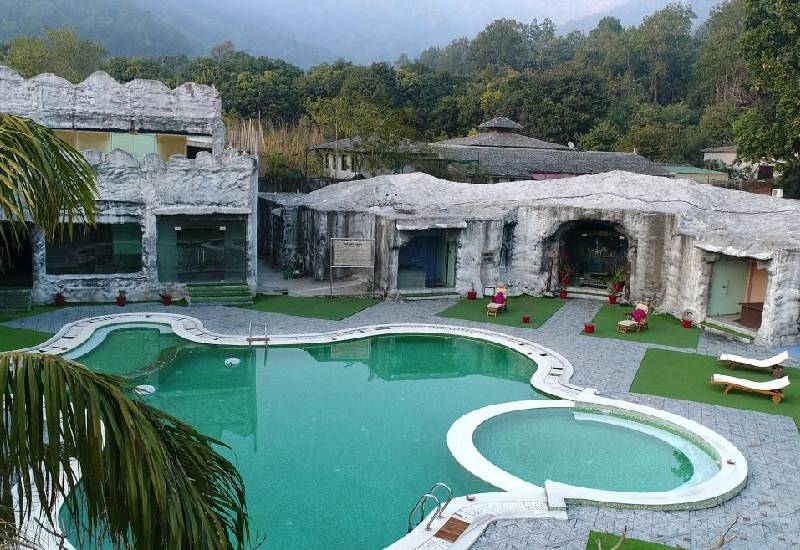 Brys Caves, Mohaan is one of the most Luxury Resorts in Jim Corbett near Ramnagar city.
This resort is designed on a cave theme, and it is a perfect place for an adventurous/romantic getaway. When you walk in, the place is cozily situated, with lush greenery around every corner.
The property offers a variety of 40 rooms or suites with dedicated options for single, double, and twin accommodations.
There are 16 Deluxe Caves, 16 Executive Suite Caves, 2 Family King Cave, 2 Family Shivalik Caves, 2 Family Queen Cave and 2 Family Tree House.
The Timberland restaurant is the on-site food provider for the guests of Brys Caves. Guests prefer to stay here because of the fantastic food they serve.
Taj Corbett Resort & Spa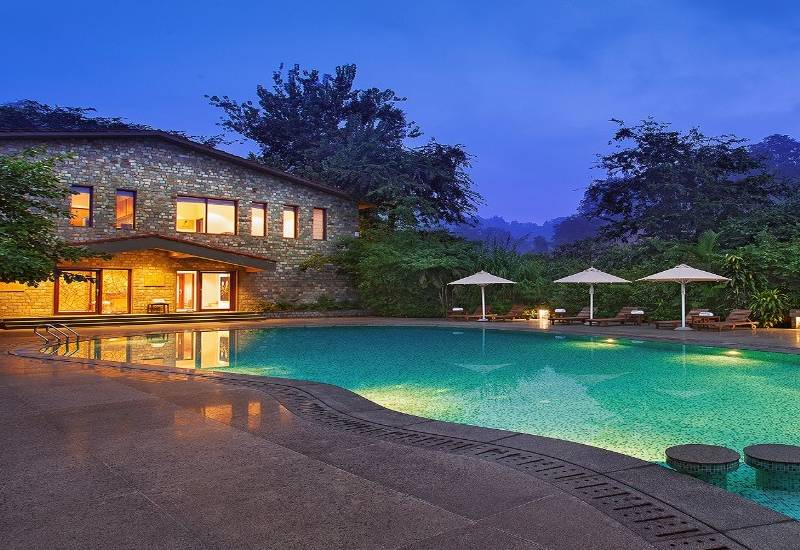 As one of the best resorts in Jim Corbett, Taj Corbett Resort & Spa offers travellers various experiences. This is the perfect place to escape from the hustle and bustle of everyday life.
Located in Jim Corbett National Park, this resort offers an authentic jungle experience with its lush gardens and wildlife. It's also close to Garjiya Devi Temple, one of India's most sacred Hindu temples.
Guests can indulge in rejuvenation and relaxation treatments offered at the resort; take an adventurous trip to explore different activities.
The resort features 61 rooms, including Superior Room, Deluxe Cottage, Premium Cottage, and the Corbett Suite.
The resort has a meeting room so you can host meetings or private events.
Outdoor pools are available at a five-star jungle resort for those wanting to indulge in a swim after a tiring day full of trips.
The on-site spa is perfect for soothing your jittery nerves and calming your soul.
Corbett The Baagh Resort & Spa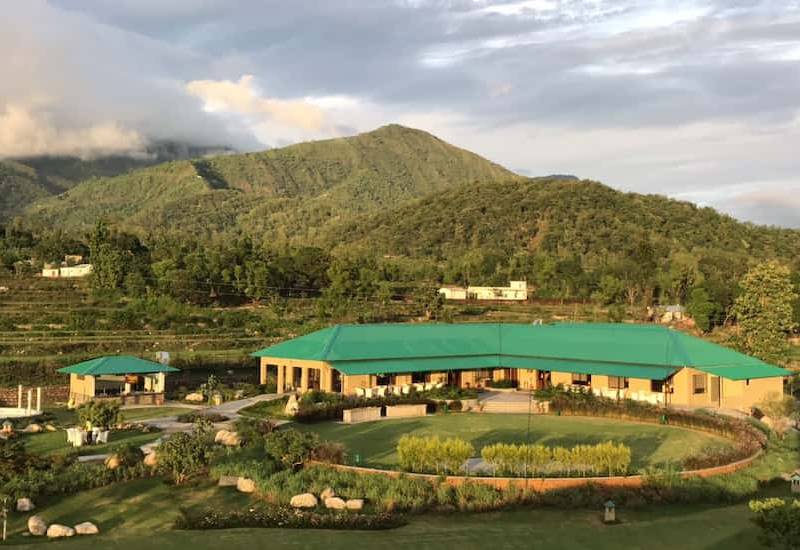 Corbett the Baagh Resort is a serene haven for nature lovers. You can enjoy all of the natural beauty and wildlife this area has to offer.
The resort offers plenty of amenities that will make your stay comfortable, including an outdoor pool with views of the forest canopy, spa treatments, games, sauna, horse riding and much more.
The Baagh Spa & Resort is perfect as a relaxing getaway to unwind in peace and tranquillity. Its elegant design features open spaces filled with natural light and flowing curves.
The resort offers 48 unique and unmatched rooms categorized into four themed areas: Jungle Cat, Leopard Cat, Leopard suite, and Baagh family.
Angar -The Grill Kitchen: The resort features a poolside restaurant with an open kitchen that cooks lip-smacking snacks and beverages using modern grilling techniques.
Corbett River Creek Resort & Spa, Marchula
The Corbett River Creek Resort & Spa is a 4-star luxury resort located in the northern periphery of the Corbett National Park. With its location on the bank of a beautiful Ramganga river and access to multiple jungle paths for exploration, this hotel fulfills vacationers' requirements for wilderness expeditions.
The rooms are spacious and well-equipped and have balconies that offer panoramic views of the surrounding forest and Ramganga river.
If you're looking for a perfect retreat deep within this beautiful region to explore the wildlife, forests, and river, then Corbett River Creek Resort will be a perfect choice.
With its private riverbank, this resort offers you an unforgettable experience with every stay.
The resort offers 32 luxurious rooms with modern bathrooms and amenities.
Resort offer a variety of indoor, outdoor and adventure activities like Rock Climbing, Rappelling, River Crossing, Flying Fox, Burma's Bridge.
The resort offers a range of luxury rooms, including Deluxe Room for single travellers or couples and Family Room for parents with children. Guests can also select from Luxury Rooms or Royal Room options.
Vadanya is a multi-cuisine restaurant with menus that include Indian, Chinese, and continental dishes. This restaurant uses only natural ingredients in its preparation.
Samara is a restaurant with an open-air dining area where guests can enjoy succulent kebabs amidst the green forest.
Book your stay today at Corbett River Creek Resort & Spa at best price!
Their official website is www.corbettrivercreek.com
Acorn Hideaway Resort & Spa, Jim Corbett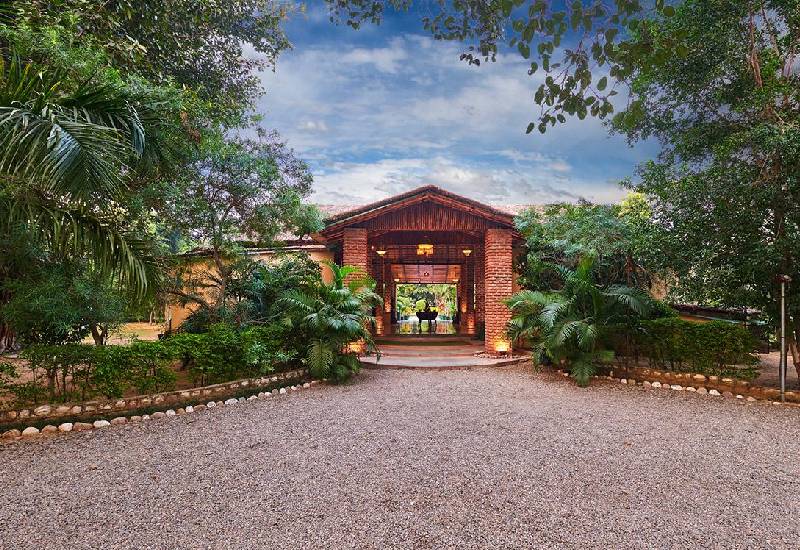 The Acorn Hideaway Resort and Spa in Corbett is a 5-star hotel that provides value for travellers because of the serene atmosphere.
Be surrounded by lush gardens, have an exotic outdoor pool, and be rustic with stone and wood interiors.
The outdoor swimming pool is perfect for refreshing laps in the morning.
The on-site gymnasium is best for fitness enthusiasts and Spa, offers a variety of Ayurvedic treatments and deep tissue massages.
This five-star hotel redefines the terms of luxury and indulgence with its luxurious grandiose lodging in each of its 43 soundproof rooms.
Rooms come in several variations, with Acorn Family Suites, Acorn Suites, Luxe Rooms, and Wilderness options. There is also an option for Luxury Tent Accommodation that falls more towards luxury than affordability.
You can experience the most delicious food and beverages at their poolside restaurant.
Corbett Riverside resort By Aahma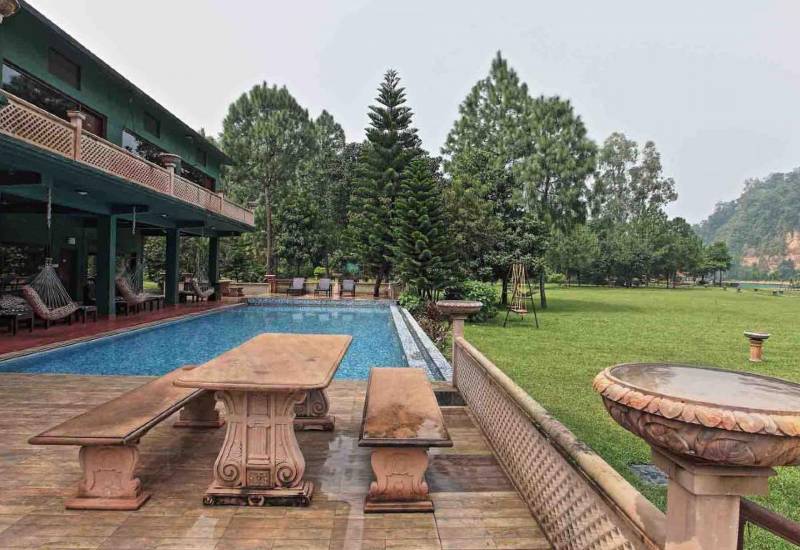 Riverside Resort is located next to the Kosi River and close to Jim Corbett National Park.
Facilities like spa treatments and a swimming pool make this resort the perfect place for relaxation and rejuvenation.
Riverside by Aahma offers comfortable accommodations and luxurious suites in several styles, including Standard, Deluxe, River View Room, and Tigers Den Suite.
The Wild side Alfresco Restaurant has live music, a beautiful atmosphere, and fantastic food.
Amongst other things, Riverside by Aahma offers horse riding, swimming, cycling, billiards, table tennis and spa treatments.