10 Best Resorts Near Mumbai To Rejuvenate Yourself
Mumbai is a city that has lots of people and traffic. The city is filled with people who are chasing their dreams. They want to make a small home here at this place.
After a long week of work, everyone needs to take a vacation to relax. When you go on vacation, you will be refreshed and feel better.
If you need an escape from the hustle and bustle of your daily life, then head out on vacation! But it's not always easy to find the right resort that can offer all the luxuries of home with just as much excitement and adventure.
Mumbai has a lot of hotels and resorts for families and couples to stay in. The hotels are both luxury and budget. This will make your weekend getaway relaxing and rejuvenating.
In this blog post, we will discuss some of the best resorts near Mumbai where you can take life by the horns once again and enjoy yourself.
Luxury Resorts near Mumbai
1) Hilton Shillim Estate Retreat And Spa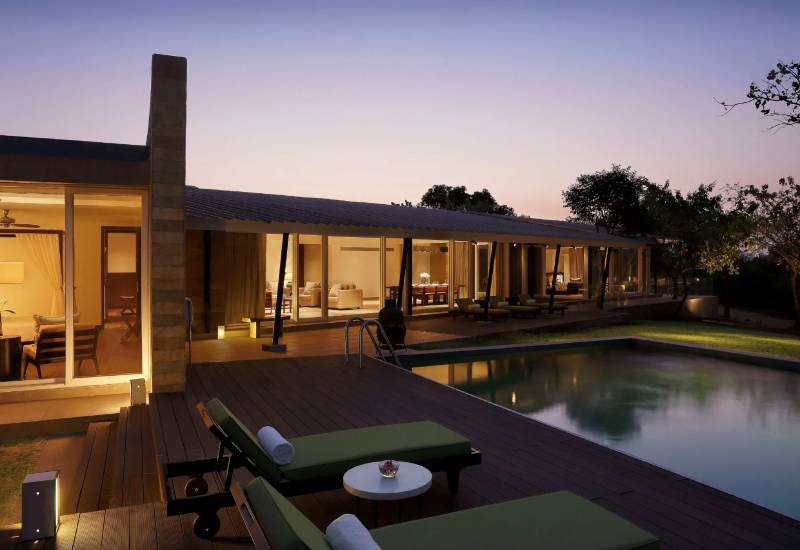 Located in the lap of Western Ghats, this luxury resort provides a good stay. It is not too far from Mumbai, and it offers some good options for rest.
You can get away from the busy city of Mumbai by driving for a few hours and entering this luxurious villa. There are many things to do, like organic food, meditation, and yoga. You will be peaceful here for the rest of your weekend.
Their kitchen has ingredients from the farms. They use organic food.
Location: Pawana Nagar, Taluka Maval, Shilimb, Maharashtra 410406
Approximate Distance from Mumbai: 110-115 km
Approximate cost for a night: Starts from INR 15,000
2) Aamby Valley City, Lonavala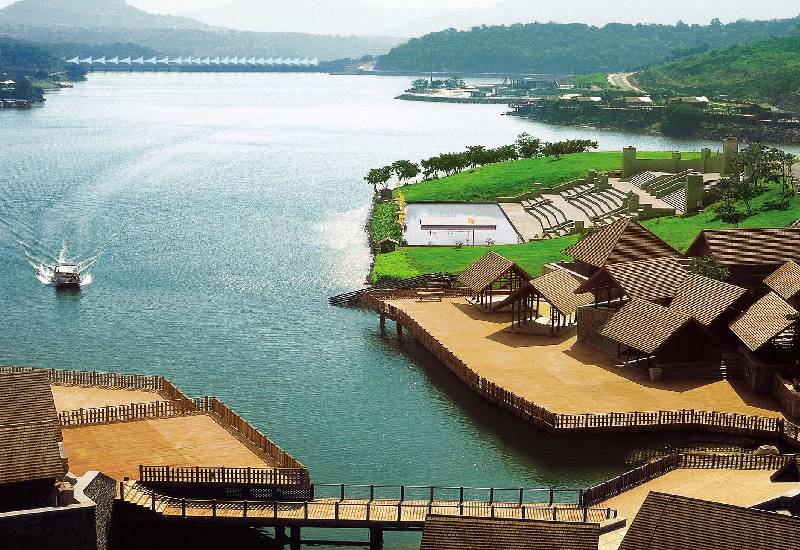 Aamby Valley City is a new Hill City. It will take up 10,600 acres (4,294 hectares) of land.
Aamby Valley is a place that says luxury. It is not far from Mumbai, and the drive there is filled with sharp valleys, great roads, and even monkeys!
You can pick a room from the Burmese suite or maybe you would prefer a Spanish-style room. Aussie Room is a house with a king-size bed. It has wood furniture, and it's big.
Wetlands at the resort offer a lot of water sports. Guests can enjoy them with their families and kids.
Woodpecker is the hotel's restaurant that offers food and drinks from all over the world. They are good, and they have a nice atmosphere. And Manuhaar is an Indian restaurant. It has a lot of different kinds of food. The decoration in the restaurant is really nice.
If you want to have a quiet evening, we recommend golf. If you want to be more adventurous, there are lots of things to do like rappelling or ziplining.
Location: Taluka Mulshi Lonavala, Aamby Valley City 410401 India
Approximate Distance from Mumbai: 105-110 km
Approximate cost for a night: Starts from INR 7,000
3) Amanzi Boutique Resort, Lonavala
Amanzi resort is a great place to refresh and recharge. They have 12 rooms, and space is spread over 4 acres.
This luxury resort is about two kilometres away from Pavana Lake. The Lonavala city centre (famous for Lonavala Chikki) is just 1.9 kilometres away.
The property has a place for kids to play outside. There is a seesaw and swings, as well. There are also board games like chess and carom.
Accommodation can be divided into different types: Garden Villa, Deluxe Villa, Premium Deluxe Villa, Cocoon and Luxury Suite.
Arches, The resort's restaurant offers a lot of good food. They have Indian recipes, South Asian coastal dishes, and other food too.
Location: 440 Tikona Peth, Pavana Dam, Gevhande Khadak, Maharashtra 410406
Approximate Distance from Mumbai: 120-125 km
Approximate cost for a night: Starts from INR 16,000
4) Radisson Blu Resort and Spa, Karjat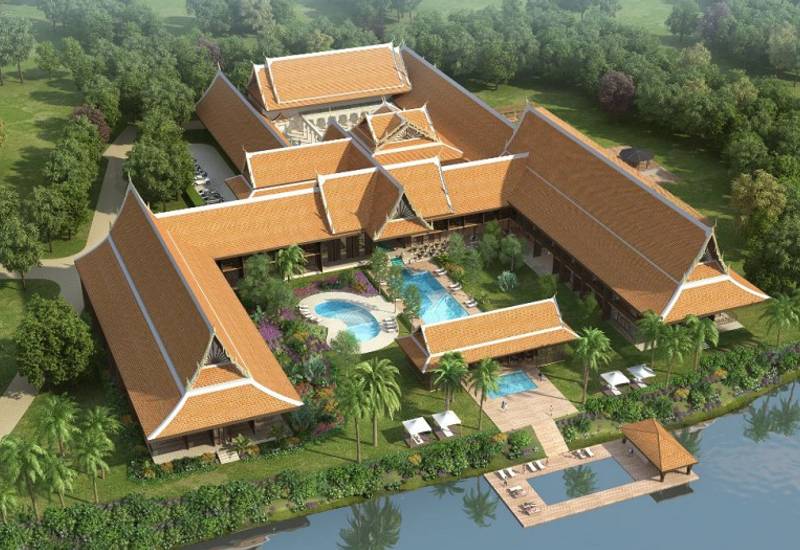 Radisson Blu Resort and Spa is in the middle of Mumbai and Pune. It is 4 km away from the Ulhas River, which has beautiful views.
The Chhatrapati Shivaji International Airport in Mumbai is 76 kilometers away. The Karjat Railway Station is 6.1 kilometres away from this resort.
The 5-star property has two floors with 102 rooms. They have air conditioning and have high ceilings, wooden floors, and contemporary lighting.
There are five rooms: Deluxe Room, Superior Room, Business Class Room, Suite and Suites with Two Bedrooms.
Spend time with your kids in the gaming area – play outdoor games like badminton and table tennis.
Palms – There is a restaurant that offers different foods. It has a buffet and also food to order.
Pool Bar and Grill – A pool-side bar with snacks and drinks.
Location: Village Khandpe Karjat, Karjat, Maharashtra
Approximate Distance from Mumbai: 70-75 km
Approximate cost for a night: Starts from INR 12,000
5) Le Méridien, Mahabaleshwar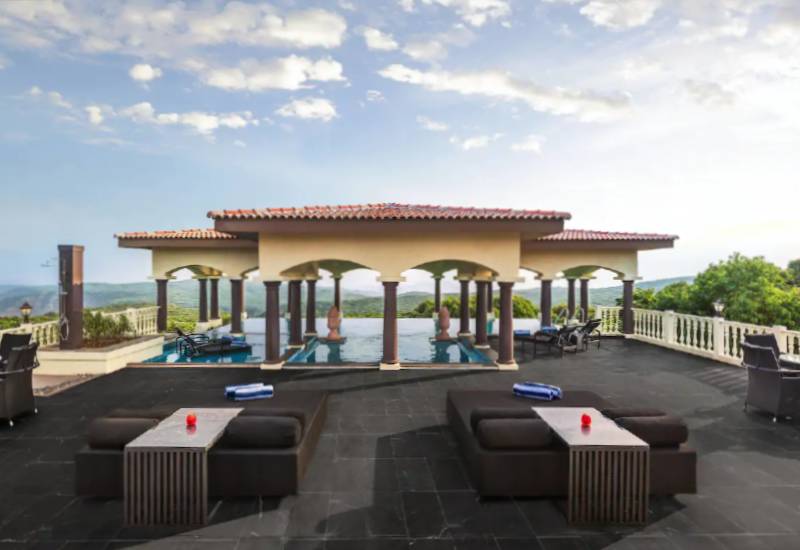 Le Meridien Mahabaleshwar Resort and Spa is a beautiful resort. It is near the city center on Satara Road in Maharashtra.
Le Meridien Resort & Spa is on 27 acres of land in Mahabaleshwar. It is a very nice place with lots of activities. This resort is pure magnificence, grandeur, and luxury.
The resort has a fitness center with the latest workout equipment. There are two well-maintained swimming pools for those that want to swim on a warm day and two big ballrooms which can be used as dance floors or even wedding ceremonies.
The resort offers modern rooms and suites, luxury facilities, deep soaking tubs, and private balconies with Western Ghats views.
The rooms are called Classic Forest King Room, Classic Forest Twin Room, Classic Valley King Room, Tranquility Suite and Sanctuary Suite.
It also has a luxurious spa section, where you can avail yourself of relaxing Couple Massages and Beauty Treatments.
The Mahabaleshwar temple is 7.7 km away, and the Lodwick Point is 5 km away.
It has a Chingari Restaurant with a rustic look and catering to North Indian, Awadhi and Hyderabadi cuisines.
Plunge Bar, located next to the infinity pool, serves mouthwatering beverages and snacks with a view of the hills.
Location: Satara-Medha-Mahabaleshwar Rd, Mahabaleshwar, Maharashtra 412806
Approximate Distance from Mumbai: 260-270 km
Approximate cost for a night: Starts from INR 15,000
6) Fort Jadhavgadh at Pune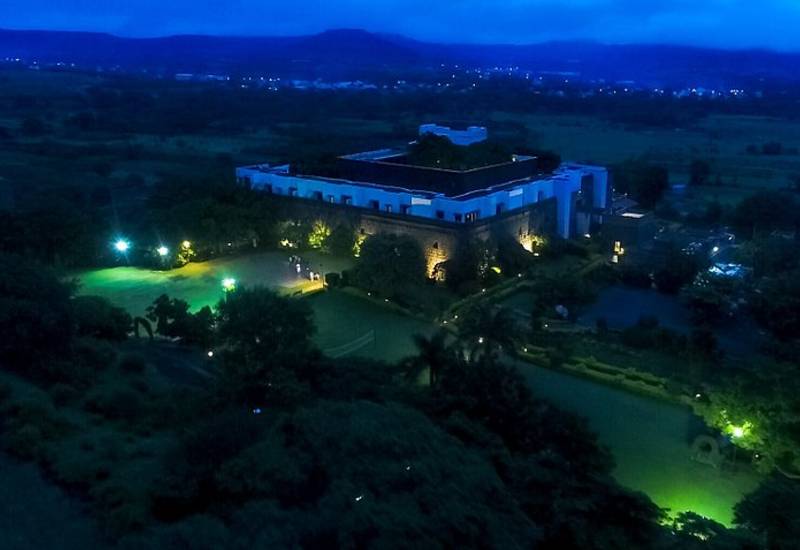 One of the best getaways in Maharashtra, Fort Jadhavgadh, provides a glimpse into Shivaji's reign. This resort has preserved its royal feel to generate a one-of-a-kind, majestic ambiance.
This area also includes a museum that displays artifacts from the Maratha period.
Accommodation options range from Maharaja suites to Royal tents.
The resorts offer adventure activities like bullock cart rides and treks around the fort for those looking for an adventure. Additionally, they also host martial arts shows as well.
Fort Jadhavgadh is an ideal getaway for a weekend away from the hustle and bustle of Mumbai. Ideally best for spending time with loved ones, the resort is 22 kilometres away from Pune.
Location: Hadapsar – Saswad – Jejuri Rd, Jadhavwadi, Maharashtra 412301
Approximate Distance from Mumbai: 190-200 km
Budget Resorts near Mumbai
1) Verandah in the Forest, Matheran
This is a big house that was built in the 1800s. It was originally for someone who was in the British army. A rich Parsi family owned it for a long time, too.
Matheran is located in the Sahyadri ranges of the Western Ghats at the height of 800 m above sea level.
The property provides a secluded location away from the crowded city of Mumbai. It gives you an opportunity to experience nature and get closer to your loved ones.
This property features 11 heritage-style rooms with modern amenities and private outdoor space.
With rooms in three categories, such as Heritage Rooms, Heritage Superior Rooms, and Elphinstone hotel suites, guests can find the appropriate accommodations.
The resort's restaurant 'The Verandah in the Forest' offers a range of dishes from Indian to European to Parsi.
Location: Charlotte Lake Road, Matheran, Maharashtra 410102
Approximate Distance from Mumbai: 80-85 km
Approximate cost for a night: Starts from INR 12,000
2) Monteria Resort, Khopoli
The Monteria resort is located four minutes from Nilishad Water Park. This resort has clean rooms with many other amenities to ensure visitors have a pleasant stay.
The Monteria Resort is a day trip destination where one can find respite and peace of mind away from the hustle and bustle of their busy lives.
In the distance, you'll see landmarks like the Gateway of India and the Prince of Wales museum.
Location: Adjacent to Nishiland Water Park Vinegaon, Khalapur, Maharashtra 410206
Approximate Distance from Mumbai: 55-60 km
Approximate cost for a night: Starts from INR 5,000
3) Eskay Resorts, Borivali
Eskay Resorts in Mumbai, is a luxurious hotel where you can rejuvenate while basking in the luxuriant greenery.
The resort is near religious sites, like the Kalavati Aai Mandir (located at a 5-minute drive), Eksar Gaon Devi Temple, New Life Fellowship Church and many more.
The resort, with its beautiful architecture and modern design, caters to any type of guest.
There are 36 well-appointed rooms with plenty of options: Tulip Room, Orchid Room, and Lotus Room.
The Samtem Kyil is a garden that has beauty and peace. It can be booked for various events to host its guests.
We recommend the Jade Bowl for authentic cuisines from Indo-Asian, Chinese, Thai, Burmese and Vietnamese styles.
Lotus Leaf is a restaurant with an impressive menu that will please any guest. Grab a cup of coffee or tea to unwind after a hectic day.
It's also located next to famous attractions like ISKCON and Bombay Exhibition Center.
The closest airport to the resort is Chhatrapati Shivaji Maharaj International Airport. The airport is 19 km away from the resort, and the Borivali station is 3.7 km away.
Location: The E-Hotel at, Eskay Rd, Resort, Mumbai, Maharashtra 400091
Approximate Distance from Mumbai: 25-30 km
Approximate cost for a night: Starts from INR 6,000
4) Zara Resort, Khandala
Khandala is a safe bet for a brief escape from the city. Leave the pressures of life behind and prepare to become one with nature at Zara Resort.
The well-manicured gardens and tile roofs will distract you from your life enough not to want to leave this place.
The resort offers various accommodation options – Deluxe Room, Super Deluxe Room, Vintage Room, Moghul Room.
The hotel features an outdoor swimming pool and offers a variety of refreshments to enjoy. The resort has a designated game room for guests to enjoy casual games.
Rajmachi Viewpoint is 500 meters from the resort, where it's possible to explore Rajmachi Fort across the valley on the opposite side. Chatrapati Shivaji built this fort.
The resort boasts about its taste tantalizing delicacies, providing authentic Indian flavours and cuisines worldwide.
Location: Pune-Mumbai Road Near D.C. High School, Khandala, Maharashtra 410301
Approximate Distance from Mumbai: 75-80 km
Approximate cost for a night: Starts from INR 5,000