Dandeli is a small and famous town in the Western Ghats and is home to some of the most amazing natural beauty.
Dandeli, also known as "the pearl" by locals, has plenty to offer visitors looking for an adventure!
The beauty resides significantly in its green environment and adventurous hikes that are available to explore.
Many activities can be done around Dandeli, such as bird-watching, trekking through forests, boating and canoeing for those who love adventure!
If you want a more relaxing day, then there are options such as bird-watching tours or spending time at one of the many resorts in Dandeli.
The most popular attractions in Dandeli are the Kalva Caves, Ulavi Temple, Satholi Falls and the famous Sykes Point.
Dandeli is well-known for its trails and hiking. There are many beauty in this place. The adventurous hikes and mountain views that can be seen from the accessible parts of Western Ghats.
The Dandeli Wildlife Sanctuary is another exciting thing to do in the Dandeli region.
This place is perfect for people who love nature and you can see animals, like bisons and black panthers. There are beautiful plants there too.
Flora at Dandeli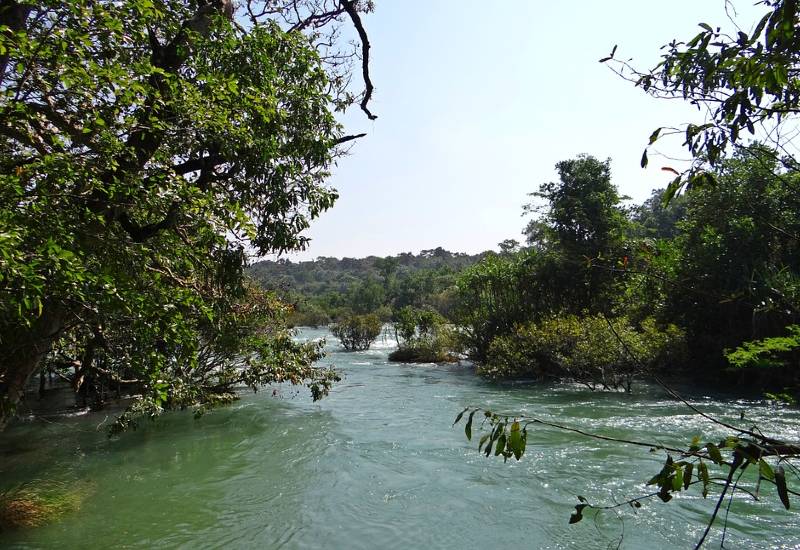 Dandeli is a popular spot to visit because of the biodiversity. It has various species like palms, bamboos, and others near extinction in India due to deforestation.
Plant species such as eucalyptus, Tectona grandis, Grevillea robusta, T. bellerica, Adina cordifolia, Mitragyna parviflora and various types of orchids can be found at Dandeli wildlife sanctuary.
It also has herbs, climbers and bamboos with other wild and medicinal plants.
Fauna at Dandeli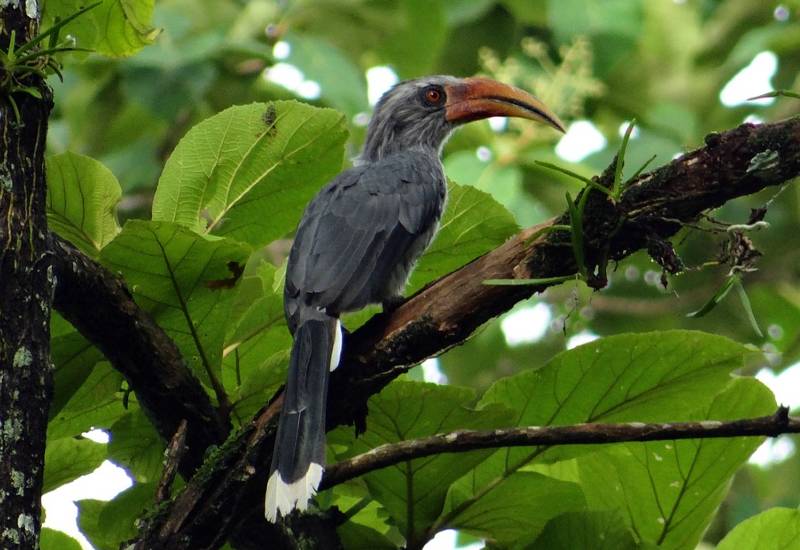 The number of bird and animal species in the Dandeli Wildlife Sanctuary makes it a regional hotspot for ecologists.
Dandeli is a nature's paradise where the commonly seen faunas are Malabar Giant Squirrel or Ratufa Indica, Barking Deer, Gaur, Indian Pangolin, tigers cubs and flycatchers.
Dandeli offers plentiful opportunities for birding and wildlife photography, offering an escape to nature with breathtaking scenery.
One of the most intriguing birds found here is the Malabar Pied Hornbill.
Apart from the curious avian, this place is also home to some other birds like blue-throated barbet, peregrine falcon and great hornbill.
Places to visit in Dandeli
In Dandeli, there are many places to visit. Many people come here to find adventure and fun.
Dandeli Wildlife Sanctuary
Dandeli has an area of 834.16 square kilometres that is made up of both rugged and heavily forested trails and the Western Ghats.
The Dandeli wildlife sanctuary was made in Karnataka. It is one of the biggest ones in that state. It's on the banks of River Kali and has a lot of animals.
If you go on a jungle safari in a jeep, you will see different animals and hear things.
It is surrounded by forests and hills in the Kanada District. There are many kinds of plants and animals near the forest.
The place is full of many plants and animals. Tigers live here, but also elephants, deer, antelope, lizards and birds.
There are over 300 species of birds that nest in the forest at The Dandeli Wildlife Sanctuary. It is a paradise for bird watchers!
This place is perfect for people who want to do something fun, like white water rafting or bird watching. It is also a good place for someone who needs to relax and get away from the stress of everyday life.
You can see some animals in the sanctuary that are not like other animals – for example, sloth bears and Malabar giant squirrels.
It's not hard to get here because it is on the rail and road networks. This makes it easy for travellers from different places to come.
Shivaji Fort
Located at about 22 kilometres from Dandeli, the Shivaji fort was built by Maratha ruler Chhatrapati Shivaji, and it remains one of the country's most visited destinations.
It is a great escape for people who like to hike and explore. Once they get there, they can see the strong fort where some warring techniques and architectural marvels are seen.
This fort is in Karnataka. It is well-maintained and old. You can see a good view of the area from here.
Magod Falls
Magod Falls is one of the most famous waterfalls in Dandeli. It is 200 meters tall, and it can be found just an hour's drive from Dandeli.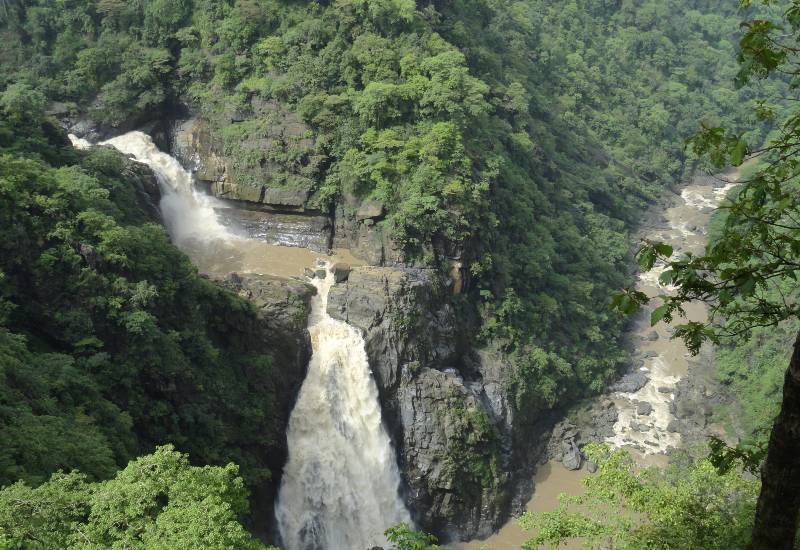 The falls are an excellent place to go for picnics. The views of the surrounding areas are beautiful. There are also hiking trails for people who want something more active to do than sitting by the waterfall.
The area around the falls can be slippery. People should be cautious while walking there.
There is also Magod Lake, which is downstream from the fall. It has beautiful blue water and green surroundings.
Apart from the difficult trails, this captivating waterfall has so much to offer.
It is hard not to take a photo of something you want to remember.
Ulavi Temple
One of the holiest places for pilgrims in Karnataka, Ulavi Temple, is an important tourist attraction in Dandeli.
Ulavi is a religious place for the Lingayat sect of people in Karnataka and one of the best places to visit near Dandeli.
The Samadhi of Channabasavanna, one of the most revered saints of the Lingayat faith, lies here.
At Ulavi, there are Samadhi and a temple dedicated to Channabasavanna. Originally, the temple in Chalukyan style had been renovated and coloured.
The temple has statues of Shiva Sharanas (Devotees of Lord Shiva). Ulavi Jathra is a very famous festival that happens on Magha Purnima in February.
Ulavi Temple is visited by thousands of people from all over Karnataka during the Ulavi Jathre or congregations.
The temple is surrounded by forests that are covered with evergreen trees. The Western Ghats, mountains, are in the background of the landscape. The temple is very pretty. It is a place to get away from the city.
These forests also happen to be a natural habitat for many rare wild animals, like cheetahs, cobras, tigers and elephants.
The temple is in the Chalukyan style, and there are lots of caves for tourists to explore.
Ulavi Temple can be visited by tourists all year long.
Kavala Caves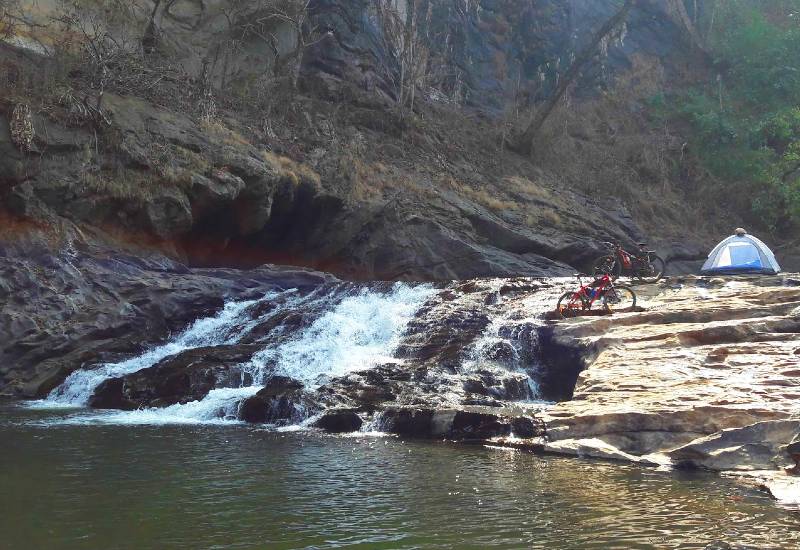 One of the most popular destinations around Dandeli is Kavala Caves, which features beautiful caves and hiking trails.
The cave remains open from sunrise to sunset. The caves are believed as one of the oldest rock-cut temples.
The Kavala Caves is a temple on top of the hill. Since it usually remains closed other than Shivratri, there is a government-sponsored trek to Kavala caves every day at 6 AM.
Maha Shivratri is a big event. People come to visit the caves. They don't have any restrictions on when they can visit during Shivratri.
It consists of three sections which we can reach by going up 375 steps through forest ground; each section has its prayer hall or room where people prayed during ancient times too.
Syntheri Rock
There is a big rock in Dandeli that is called Syntheri Rocks. The river Kaneri goes through the inside of it.
Syntheri Rock is a 300-foot tall monolithic granite structure. This rock is situated deep within the dense forest covering Dandeli Wildlife Sanctuary, and it enjoys a scenic view of the Kaneri River.
After a downhill walk of about 200-250 steps, you reach the Kaneri. If you love the outdoors, set aside some time to explore this beautiful place. The adventurous trails and the flowing river will relax and renew you.
It is near Ulavi temple, and the forest has many bird species. This place is located 35 kilometres from Dandeli and can be reached by hiring a jeep or walking down 200 steps from Ulavi temple.
Mini Tibet
Mini Tibet is one of the places to visit in Dandeli. It is sure to be worth your time!
It's a place for people who love culture and history. If you go there, then you'll have the best experience of your life.
This place is also called Mundgod (Mundgod is a town in Tibet where Tibetan culture lives on. There are many peaceful places to go, and it's good for escaping stress.)
After exploring this place for the entire afternoon and even taking some breathtaking photos, it is still hard to understand how one can think of such an amazing analogy that perfectly fits Mini Tibet in Dandeli.
Moonlight Boat Ride
A moonlight boat ride can be romantic. But it may be more surprising than you think.
This activity involves boating at night. The ride will make your heart race. It is exciting and fun, even for people who are not usually adventurous.
While you are on the water, you might need binoculars to see. And there will be animals in the water, but they will not hurt you.
The location of Moonlight Boat Ride is Ganeshgudi near Supa Dam, Dandeli. You can easily reach the location by private and public transportation.
Sathodi Falls
Sathodi Falls is one of the most popular attractions in Dandeli.
The picturesque beauty of the falls is a sight. The waterfalls from a great height and then goes into the clear blue pool.
There are a lot of trails that lead to the waterfall. It is not close. You must walk a long way before you see it.
There is a picnic area in front of the waterfall with water and rocks. You can see part of the waterfall from there.
It is impossible to get close to the water stream of the falls because a huge rock and some bushes are blocking it. You can't go past them.
Where to stay near Dandeli Wildlife Sanctuary?
Bison River Resort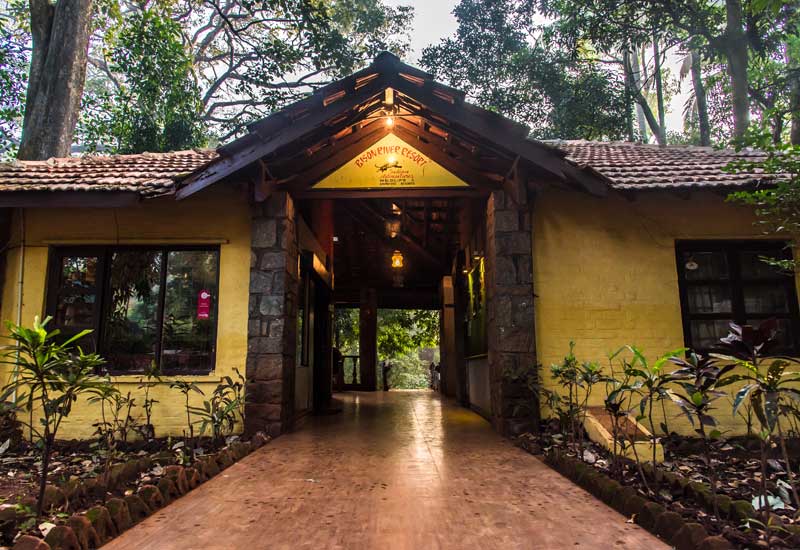 The Bison River Resort is a beautiful place. Staff make sure that you feel welcome and comfortable. They work with an unbiased attitude and a goal to deliver the best service possible.
This place is suitable for people who need to take a break from work. You can spend time here and have fun while you are on vacation.
Most of the rooms here have a balcony. It is suitable for staying close to nature and for enjoying the beautiful views of rivers nearby.
Whistling Woodzs Resort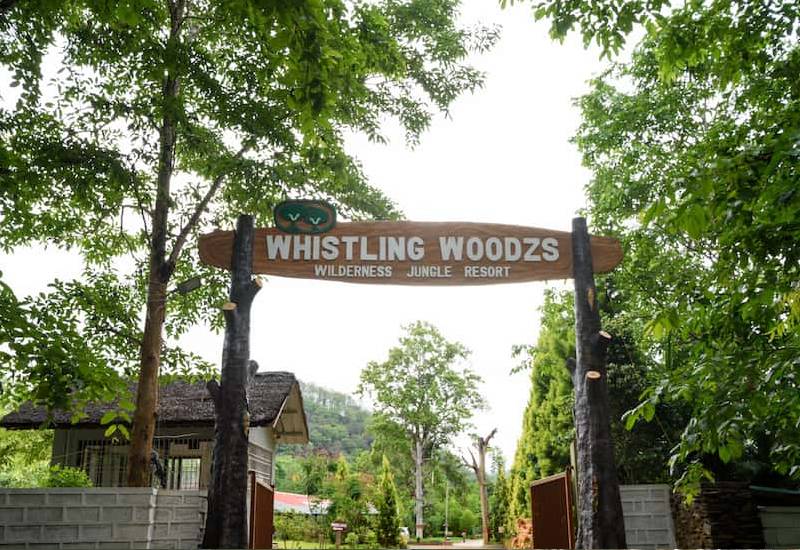 It is a Wilderness River Resort, which is in Dandeli, Karnataka. It's the perfect place for family vacations and adventures.
The resort is in the Dandeli Forest. It takes up 7 acres and is an excellent place to stay because it is far away from people.
The resort will give you an easy and comfortable place to stay. There are animals and plants in the background.
There is a food court and a recreation area. They are primarily for relaxing, but they also have other things to do like eating food and playing games.
Panther Jungle Resort
Panther Jungle Resort is a perfect base for exploring Dandeli, being located in the jungle. One can take up the activity of their choice like nature walk or playing games and activities made available at the resort itself.
The property has modern amenities such as accommodation with double beds, air conditioning, hot water showers and wireless internet connectivity to ensure guests have all they need during their stay.
At the resort, there are lots of free things to do. For example, you can go on a jungle trek or go to the waterfall. There is also rafting and archery.
Magenta Resort
Magenta Resort is a high-end resort. Resort is surrounded on all sides by jungle.
Many people book their stay here in the summer. This resort is perfect for people who want to go on vacation and spend time in nature.
It has water sports and indoor activities. You can be entertained for a long time.
The amenities and activities at the resort include archery, zip lines, kayaking, and more.
Star Riverview Resort
This resort is near the Kali River and has lots of trees and jungles. You can also get help from the staff there.
This resort has both pools and conference rooms. People can stay for personal reasons or work.
The resort provides big and beautiful rooms with all the amenities.
Frequently Asked Questions About Dandeli
——————————–
Why is Dandeli known as the adventure capital of the South?
Dandeli has lots of things to do. You can go to a wildlife sanctuary and have a hike. You can also go watersports or visit the Kavala Caves. Dandeli has a lot of adventures, and it is a place where people can relax. It is a big adventure in the South.
How can one visit the Dandeli wildlife sanctuary?
The Dandeli wildlife sanctuary is 75 km away from the nearest airport. It is easy to get to the Dandeli Wildlife Sanctuary by train. It is 32 km from Alnavor station and 48 km from Londa station.
What is the best time to visit Dandeli wildlife sanctuary?
The best time to visit the Dandeli wildlife sanctuary is from October to February because you can enjoy it then without being too hot.
Are there tigers in the Dandeli wildlife sanctuary?
Yes, there are tigers at Dandeli wildlife sanctuary. There are 11 of them! You can also find 2 more tigers in the neighbouring Anshi national park.
What is the total distance between Bangalore and Dandeli?
Bangalore is 472 kilometres from Dandeli. Most people want to go to Dandeli from Belgaum, which is 96 kilometres away.
How far is Dandeli from Goa?
The distance Between Dandeli to Goa is 110 km.