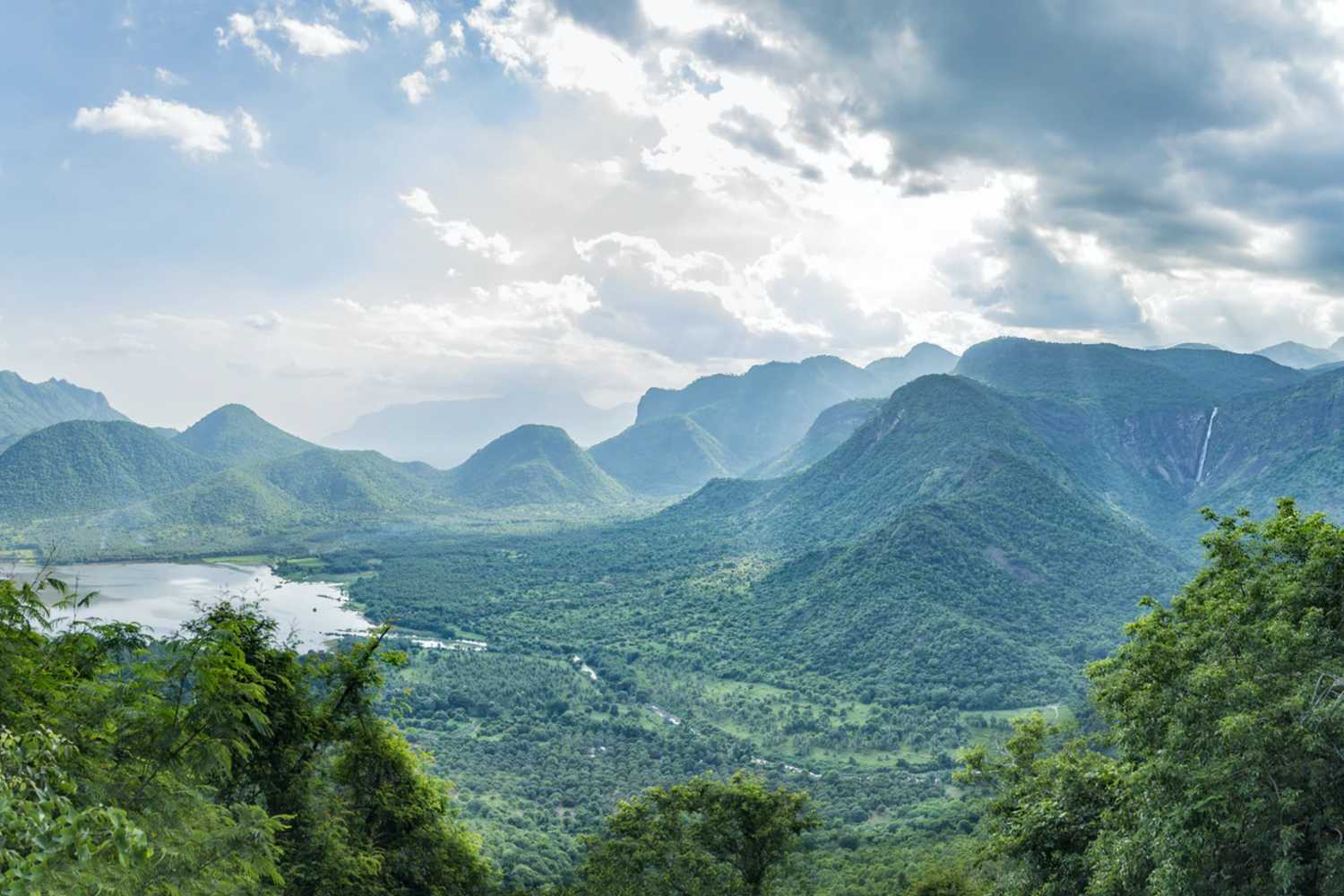 25 Best Places to Visit in Kodaikanal with Your Family and Friends
Kodaikanal Lake, Silver Cascade Falls, Bryant Park and Dolphins Nose are just a few of the many points of interest in Kodaikanal.
Kodaikanal is a hill town in Tamil Nadu that possesses an abundance of wonder. People also refer to Kodaikanal as 'The Princess of Hills.'
It is full of green plants and hills. There are also waterfalls there. Kodaikanal has many visitors every year.
Newlyweds travelling to Kodaikanal for their honeymoon will find many places to visit due to the romantic atmosphere it holds.
Besides this, visitors can also have the opportunity to boat on Kodaikanal Lake or pray in the Subramanya Temple or Mother Sallette Church.
The weather in this area is calm and pleasant year-round, which allows you to explore the Canopy Hills or spend time at Moir Point anytime.
It is also important to remember that the best time for travel according to weather conditions is during the summer months.
Here are some of the best places to visit in Kodaikanal
Green Valley View
Green Valley View is one of the few spots in Kodai that offers a bird's eye view of the Vaigai Dam.
Apart from that, it is a one-stop shop to get a full view of the beautiful jungle, the valley with clouds at its height and lush mountains behind.
One of the dangerous viewpoints is that the route up to it is tricky, and standing there also at a great height makes it unsafe.
The mist sometimes covers the crowd. The people might not be able to see well.
Kodaikanal Lake
You will see the Kodaikanal lake and be amazed. The water is shaped like a star. It is the most beautiful thing about this city.
What makes this place stand out among other places to visit in Kodaikanal is its historic man-made construction.
The Palani Hills serves as a beautiful backdrop for the Kodaikanal lake.
One can be a spectator, wander around, or go boating which is a chargeable activity.
If you have the necessary permissions, then you can fish at the lake.
Kodaikanal Lake is well-known for preserving the Kurinji Flower, which only blooms once every twelve years.
Flower shows and boat pageants are summertime favourites for many people.
Bear Shola Falls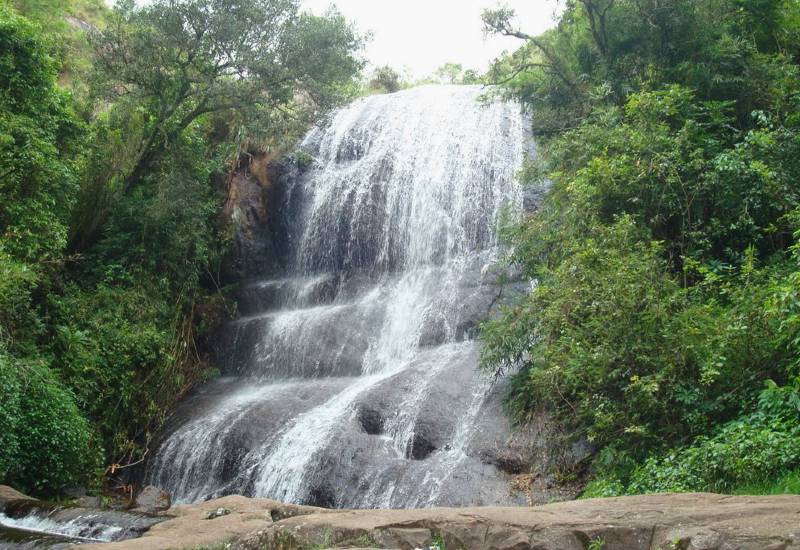 If you are looking for privacy, serenity, a glimpse at nature's beauty and want to say hello to some exotic species and fauna, then visit Bear Shola Falls.
The water body gets its attention-grabbing name from the fact that bears used to come here to drink.
As the rain falls, this spout breathes to life in the green mountain range. Streams of water flow elegantly down its cliffs and across colourful rocks.
This area has white water. It will take you through a forest. This is a good place for sightseeing in Kodaikanal.
One needs to wear comfortable shoes when hiking in this area. It is slippery, and monkeys are there, so watch out!
Pillar Rocks
These rocks tell a story about the love between two people. Many people still remember this story, and it touches their hearts.
The tall mountains have hills with pillars on them. The pillars are as high up as 400 feet.
Once there was a white wooden cross that rested on these rocks. These rocks were a symbol of love. But time has taken the cross away.
It's a perfect spot for picnics and also has small gardens to entertain tourists further.
Thalaiyar Falls
You might not have ever seen a waterfall like Thailayar Falls. It is one of the widest, but it has been cut off to fall like a narrow stream at high speed.
This is the highest waterfall in Tamil Nadu. It is 297 meters high. That makes this a good place for sightseeing.
If you see it from a distance, you can tell that it is a long strip in the middle of nowhere. It is in the middle of Palani ranges, and it goes out to nowhere.
Hiking the trail that runs along the base of the falls is a great way to cover 15 km!
Berijam Lake
Everyone who loves nature should go down to the reservoir. It was made by a dam that gave us this beautiful view of Mother Nature's work.
This lake is in the forest. And you can do lots of things there like bird-watching, taking pictures and relaxing.
The friendly fishes might come to the riverbank to see you, and they might want to play.
To go to Berijam Lake, you will need to plan. The lake is not open after 3 PM because there is fog in the area after 1 PM.
They do not let many people in at once, so it is best to go early in the morning.
Coakers Walk
Kodaikanal is a tourist destination that shows off the scenic beauty of nature in its purest form. Coaker's Walk, one of Kodaikanal's main tourist destinations, best embodies this natural beauty.
Driving through the mountains can be rewarding, but for a heightened sense of adventure, walk an entire kilometre on that path while experiencing the oxygen-rich air.
The telescope House makes the view of the valley better. It is expensive but worth it!
The weather is pleasant year-round, but it is cold and foggy during the winter due to its high elevation.
Silent Valley View Point
Silent Valley View Point is nature's best, with breathtaking views of the white-capped mountain peaks.
The pea-green valley below makes this point one of the most outstanding areas in Kodaikanal.
You can see the sunrise and sunset in the city. This is a good way to know you are in the "princesses of hills."
When it snows, the white snow covers up everything. The valley looks beautiful, and some people think the view is like nothing else they have ever seen.
You will be forced to stay for more than your estimated hours. You may not believe what you are seeing!
Bryant Park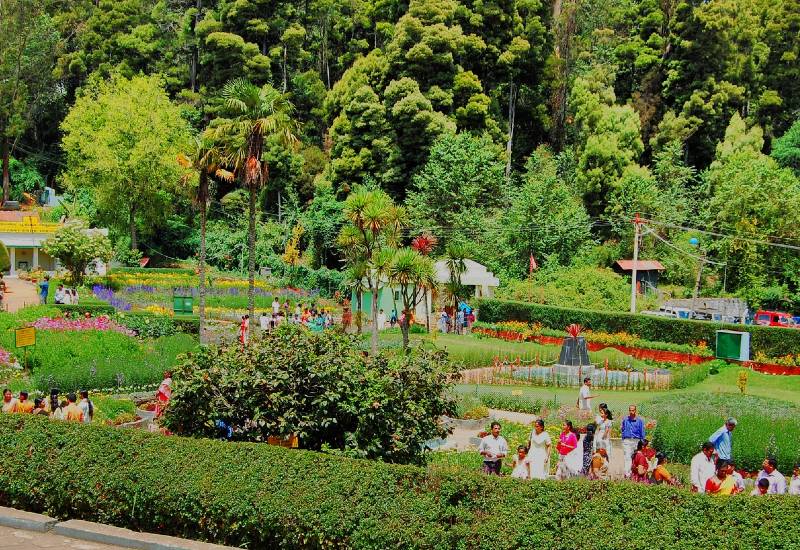 It's no surprise that people visit to experience captivating scenery such as Bryant Park and the gardens, but there are other reasons too like education, picnicking and gardening.
The park has many varieties of plant and shrub life, which leaves one in awe.
Plenty of horticulture and gardening enthusiasts visit this place.
The Botanical Garden is a great getaway for anyone interested in learning more about flowers, trees, and other plants.
It is one of the few sites that preserve green roses, among its latest additions.
The Horticulture Show, conducted each May, attracts the attention of people from around the world.
Canopy Hill, Vattakanal
One of the best places to visit in Kodaikanal is a place that shows you the beauty of nature. You can hear the birds singing and if you're lucky, maybe even see some animals.
The summits of the mountains are covered with green grass, moving clouds and fresh air.
You quickly spot wildlife, like Bison, wild goats and porcupines during a 15 KM trek in the Western Ghats forest.
You can visit a small village after completing your first 10 km of the trek; people are very friendly. These villagers sell a variety of spices and fruits.
They have various fruit, including oranges, butter fruit, papaya, banana, guava, passion fruit and jackfruit.
Silver Cascade Falls
The Silver Cascade waterfall is a perfect match for its name.
It's a scenic stop on the way to Madurai, and it captures your attention like nothing else!
This waterfall is unimaginably beautiful at 180ft high. It gets its water from an overflowing Kodai Lake and rushes down with loud thuds.
Walking by the vendors who sell homemade chocolate and herbal oils will make you want to buy some of their wares for when you get back home.
Sitting by the lake and eating at waterside restaurants is a binding memory!
Dolphins Nose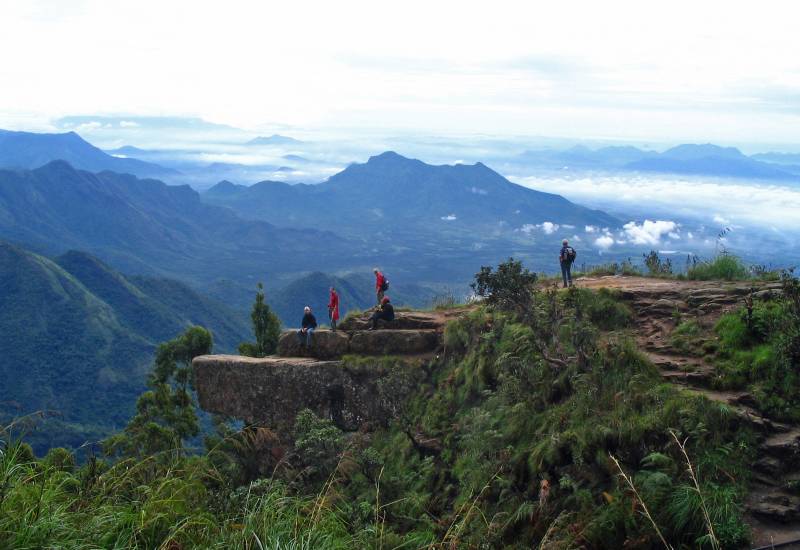 Dolphin's Nose in Kodaikanal is one of many named viewpoints on a rock that forms the shape of a dolphin.
Several people hike up this route to reach this point.
Hikers who find themselves tired or worn out will know they've reached the end of their trek as soon as they hear the sound of Catherine Falls.
Many people find the hike challenging because one has to go back up the steep slope.
If you want to see a scary but beautiful view, then go to the end of the dolphin's nose.
Kodaikanal Solar Observatory
Built-in the Palani Hills, Kodaikanal Solar Observatory offers a vantage point for studying solar activity.
Professionals go to this place to find accurate observations of the sun. The observatory is placed in a good location that helps study the sun and anything else in space. It is open only during the day.
Many national and international conferences are held here; its larger-than-life library is laden with lots of data.
If you can pull some strings, you may see stars at night under the right conditions.
Kurinji Andavar Temple
One of the most visited places in Kodaikanal is Kurunji Andavar Murugan Temple. It's one of the best Kodaikanal attractions for those who want to feel south culture.
This temple, dedicated to Lord Murugan, acts as the spiritual link between the hills and the lord of the residents.
This place is called Kurunji because it has a Kurunji flower that blooms every twelve years. You can relax at the park or the shrub garden after praying.
Camping Amidst Pear Orchard
Based on the outskirts of Kodaikanal, it is not very far from the central city. It's a beautiful campsite surrounded by many natural wonders, and it has a lot of adventures for you.
You can pick pears off the trees yourself. You'll see rice terraces around you. This is one of the best places to visit in Kodaikanal.
In addition to exploring with bullock carts, you might also enjoy additional excursions like trekking, hiking and mountain biking.
Moir Point
Kodaikanal is a hill station with a lot to offer, such as various points at different heights with which to take in the beauty of nature around you.
One of the "must-visit" tourist spots in Kodaikanal, Moir Point, was named after Sir Thomas Moir, who started construction on the Goschen Road in 1929.
It is at the entrance of the forest that leads to Berijam Lake. It will take one hour tour, and you can go any day of the week.
Pambar Falls
The Pambar Falls, one of the best Kodaikanal sightseeing sites, is located 4 miles away from Kodaikanal.
You will get the chance to walk through a steep and dangerous path. This beautiful cataract flows over a series of zig-zag rock formations.
You can take a bath in this swimming pool. It is made of water, and fresh flowers are all around. Birds and butterflies are here too.
Fairy Falls
It is 6 kilometres away from the Kodaikanal bus station and 5 kilometers from Kodai Lake, one of the major attractions in the town.
You can see this mesmerizing waterfall any day. It is the source of the Pamber River which eventually meets up with the Vaigai river.
This place has got a climate that's warm, calm and pleasant where everyone enjoys swimming.
You can come here anytime, but it's best to come during or right after the monsoon. That is when things are prettiest.
Mother Salette Church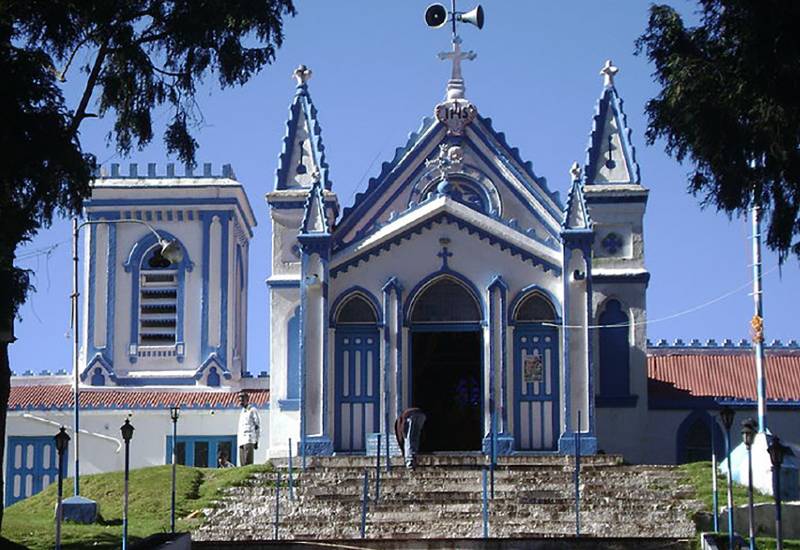 This Tamil-French architecture stands as one of the attractions in Kodaikanal, amidst 'The Gift of the Forest.'
It is 133 years old. It was built part by part as you see it now, making it the work of delicate and continuous work to strive for perfection.
After all, this is the first catholic church ever built in Kodaikanal.
This church welcomes visitors year-round, but it is advisable to visit during the 9-day festival that concludes on August 14th and 15th.
Tourists from all over South India are drawn to this festival, regardless of their religion, caste or creed.
Subramanya temple (Kartikeya Temple)
One of the best places to visit in Kodaikanal is Sivagiri Temple, located about 65 kilometres away and dates back over 3000 years.
When Lord Kartikeya lost the golden fruit to his brother Lord Ganesha, he ran from Kailash Parvat in anger.
It has an artistic and eye-catching design engraved on its top, as well as the view is always breathtaking from that height.
You will need to climb a lot of steps before reaching the temple.
You can go to the temple anytime, but it is best to visit in January and April when they have festivals.
Vattakanal Falls
This pleasant white place is an excellent option for those travelling to Kodaikanal.
You can view Vattakanal Falls and eat tasty food (locally-made) while admiring the falls.
Hiking the trail of the falls is an option, and it is enjoyed by many.
There are numerous perspectives on the way up that testify to the splendour of this city.
If you want to take a swim, then go to the bottom of the falls. There, the water becomes a pool.
In the monsoon, the cold water is refreshing and energizing.
Bison and other wild animals are active at night around the falls. If you go on a hike, stay on watch for them.
Kukkal Caves
The Kukkal Caves is another popular tourist destination in Kodaikanal date back to the Palaiyar tribes' time of refuge and is a popular tourist attraction for people in nearby cities.
There are paintings on the walls of these caves that point to the presence of this tribe long ago.
The caves have incredible biodiversity, and many visitors come from around the country to study them.
The place is so refreshing because it's located on one of the highest elevations in the mountains, which means that it experiences lower temperatures throughout the day and year.
The Forest Department preserves these caves so that people do not interfere with them.
Kurangani Hills
Kurangani Hills is among the tourist hotspots in Kodaikanal. It can be accessed from Bodinayakanur in Theni District.
You can get to Kurangani village from here. From there, you can start a trekking trip that will take about 4-5 hours.
The trekking woods offer you to watch the coconut trees, mango trees, and other spices.
The hilltop is famous because it changes quickly. It has low clouds, chilly air and strong winds. The hilltop is also rich with plants and animals.
Mannavanur Lake
Mannavanur Lake is another best attraction in Kodaikanal. It is 34 kilometres away from Kodaikanal.
This lake is located next to a sheep farm. If you take a walk around the lake, both sides are lined with eucalyptus and pine trees.
You can easily spot some sheep grazing on the lush meadows and birds cherishing their freedom.
Near this lake, there are many vegetables grown. Some of them include carrots, cauliflower, cabbage, peas and potatoes. There is even a field that grows broccoli and French beans with butter beans.
You can enjoy many different activities in the Lake District like a ride in a coracle, horseback riding, visiting sheep farms and having a picnic with your loved ones.
Upper Lake View Point
Settled 3.2 km away from Coakers Walk, the Upper Lake viewpoint is worth visiting.
You'll be amazed by how beautiful the lake is in this natural environment, designed by Sir Vere Henry Levinge in 1863.
This place is perfect for a photography session. You can do other things like boating, cycling and horse-riding at the top of the hill.