The Hill Stations near Delhi are an incredible destination for those seeking to escape the heat of the plains.
These Hill stations are situated in the Himalayas and offer a cool, refreshing climate perfect for spending time outdoors or taking long walks.
Best Hill stations near Delhi can be found at Uttarakhand and Himachal Pradesh. Still, we will focus on some of the most popular Hill Stations for Delhi people, such as Mussoorie, Dehradun, Nainital, Shimla and Kausani!
Hill Stations near Delhi within 300 KM
1) Rishikesh, Uttarakhand (263 Km from Delhi)
Rishikesh is a tiny town on the Ganges river banks in Uttarakhand that serves as the foundation of all spiritual quests. It's conveniently located near the mighty Himalayas.
This city is the place of origin for many Hindu myths and legends, with stories involving Lord Vishnu, Lord Bharat, and other prominent sages.
The picturesque city looks suspended between the stunning riverside promenades, acres of forests and lush mountains.
The city is known for its grand temples, architecture and religious rituals. The Ram and Lakshman Jhulas are remarkable feats of engineering in themselves.
Besides nature's beauty, Rishikesh has enjoyable adventure activities too. A trip to the temple that hosts spectacular rituals is not missing as well. If you are the spiritual type, don't miss attending the Maha Aarti.
The best time to visit is from October-February because they are superb and sunny days with temperatures dipping as low as 6°C.
| | |
| --- | --- |
| Places to Visit in Rishikesh | Laxman Jhula, Ram Jhula, Tera Manzil Mandir, Shri Bharat Mandir, Triveni Ghat, The Beatles Ashram, Shivpuri, Neelkanth Mahadev Temple, Jumpin Heights |
| Things to Do in Rishikesh | River Rafting, Camping, Giant Swing, Bungee Jumping, Flying Fox, Spiritual Walk Tour In Rishikesh, Ganga Aarti at Triveni Ghat |
| Best Time to Visit Rishikesh | October to February |
| Rishikesh distance from Delhi | 263 km |
| Best Hotel at Rishikesh | Aloha On The Ganges, Rishikesh |
2) Nahan, Himachal Pradesh (254 Km from Delhi)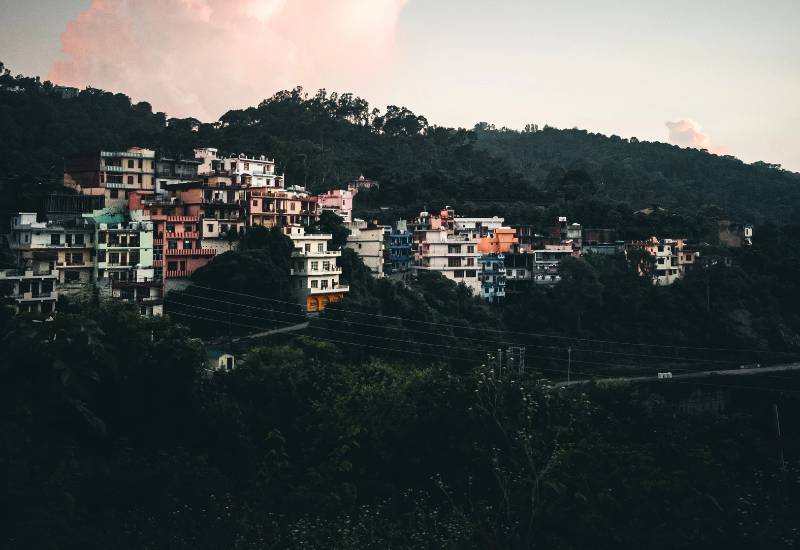 Nahan City is a quaint town, hill station near Delhi in Himachal Pradesh, India.
Close to the Himalayan ranges, this hill station is a favourite getaway for many.
Being a hill station, the weather remains cool throughout the year. The rain season coincides with the monsoon, making it an ideal destination all year round.
Places like Renukta Lake and Ramban's Tal offer natural beauty, while Renuka Sanctuary provides an opportunity to explore wildlife nearby.
In addition to these, the many temples, including Jagannath Temple and Trilokinath Cave Temple in Nahan, are excellent choices for a peaceful and relaxing trip.
Nahan as a tourist destination has seen a rapid spike over the years with various visitors from families, couples, honeymooners and young people visiting this peaceful town.
| | |
| --- | --- |
| Places to Visit in Nahan | Shivalik Fossil Park, Renuka Wildlife Sanctuary, Renuka Temple, Rani Tal, Jagannath Temple, Churdhar Peak, Jamu Peak, Renuka Lake, Rajbans, Trilokpur Temple, Dhaula Kuan, Triloknath Cave Temple, Jaitak Fort |
| Things to Do in Nahan | Boating, Trekking, Explore |
| Best Time to Visit Nahan | Throughout the year |
| Nahan distance from Delhi | 254 km |
| Best Hotel at Nahan | The Sirmour Retreat |
3) Lansdowne, Uttarakhand (280 Km from Delhi)
Lansdowne is a town in the Pauri district of Uttarakhand. It's well known for having pine trees and for the rich history of Garhwal rifles.
In Lansdowne, you can see oak forests and hills. The views will make you feel like you are closer to nature.
The picturesque Lansdowne is a solution to experiencing the best of attractions and memorable experiences.
You can hike on the trails of Lover's Lane and explore Lansdowne Main Market, or visit the holy shrines Jwalpa Devi and Durga Devi Temple. There are many ways to do things in this snow-covered place.
Here you can see some beautiful animals such as tigers, barking deer, and porcupines.
| | |
| --- | --- |
| Places to Visit in Lansdowne | Tadkeshwar Mahadev Temple, Bhulla Tal, Darwan Singh Museum, Tip N Top, War Memorial Lansdowne, St Johns Church, Kaleshwar Mahadev Temple |
| Things to Do in Lansdowne | Camping, Nature Walk, Birdwatching, Religious Tour, Jungle Safari, Trekking |
| Best Time to Visit Lansdowne | March to September is an ideal time to visit Lansdowne. |
| Lansdowne distance from Delhi | 280 km |
| Best Hotel at Lansdowne | Blue Pine Resort |
4) Kasauli, Himachal Pradesh (286 Km from Delhi)
Beautiful Kasauli is a picturesque town and cantonment in the state of Himachal Pradesh.
Many beautiful attractions close by in Kasauli, but it is primarily known for its spectacular view.
The lush green environment, snow-covered mountains and bubbling streams give the hill station a picturesque beauty.
When you are in Kasauli, you will be able to see the beautiful green scenery and hear the sounds of birds. No other place can give you as much peace as Kasauli.
Kasauli is 65 kilometres away from Chandigarh and 77 kilometres away from Shimla.
| | |
| --- | --- |
| Places to Visit in Kasauli | Gilbert Trail, Sunset Point, Manki Point, Christ Church, Sunrise Point, Gurkha Fort, The Mall Road, Kasauli Brewery |
| Things to Do in Kasauli | Trekking Tours, Nature Walk, Toy Train Ride, Kasauli Tibetan Market, Tibetan Food, Photography at Gurkha Fort, Kasauli Brewery |
| Best Time to Visit Kasauli | Throughout the year |
| Kasauli distance from Delhi | 286 km |
| Best Hotel at Kasauli | Glenview Resort Kasauli |
5) Dhanaulti, Uttarakhand (289 Km from Delhi)
Dhanaulti is a sleepy, little town. It has sat on the Chamba-Mussoorie road. You can find this town at an altitude of 2,250 metres above sea level.
The landscape is defined by virgin forests with towering trees of deodars, oaks and rhododendron.
A short walk away from town; you're sure to find quaint meadows with gurgling streams among dense jungles and other stunning wildlife.
There are many different places in Dhanaulti where you can stay. They offer a lot of options like hotels and camping sites.
You can stay in a resort with amazing views or sleep in a tent under the stars when you come here.
Some places take you on amazing adventures. You can skywalk on the peak, hike in the forest, climb a mountain and sled down a slope.
| | |
| --- | --- |
| Places to Visit in Dhanaulti | Eco Park, Deogarh Fortm Surkanda Devi Temple, Dhanaulti Adventure Park, Tehri Dam, Kanatal Adventure Camp, Dashavatar Temple |
| Things to Do in Dhanaulti | Sky Walk, Sky Bridging, Zip Swing, Zip Line, Trekking, Rappelling, Camping, Village Tour |
| Best Time to Visit Dhanaulti | March to June is the best time to visit Dhanaulti |
| Dhanaulti distance from Delhi | 289 km |
| Best Hotel at Dhanaulti | The Hermitage Kanatal |
Hill Stations near Delhi within 400 KM
6) Mussoorie, Uttarakhand (314 Km from Delhi)
If you appreciate the outdoors and are a fan of romantic literature, then Mussoorie is your type of town.
Located at the height of almost 1900 meters from sea level, this landscape of nature has become a paradise for tourists in recent years.
Mussoorie is also known as the "queen of hill stations."
When you stay in a Mussoorie, more than 15 attractions full of nature, religion and culture are just outside your doorstep.
This hill station is near the Yamunotri glacier and Gangotri glacier, making it a great place to spend summer vacations.
| | |
| --- | --- |
| Places to Visit in Mussoorie | Kempty Falls, Lal Tibba, Gun Hill Point, Company Garden, Kempty Falls, Camel's Back Road, Mussoorie Lake, Mall Road, Cloud's End |
| Things to Do in Mussoorie | Trekking, Hiking, Adventure Sports, Paragliding, Shopping, Boating, Horse Riding |
| Best Time to Visit Mussoorie | Summer season from April to mid-July |
| Mussoorie distance from Delhi | 314 km |
| Best Hotel at Mussoorie | Mosaic Hotel Mussoorie |
7) Nainital, Uttarakhand (306 Km from Delhi)
Thanks to the mighty mountains of the Himalayas, there is never a shortage of hill station options near Delhi.
Nainital, a hill resort town in the district of the same name, gets its name from the emerald lake.
With the best tourist places to visit in Nainital, one can go for a scenic experience that is soothing and pleasant.
Nainital's beauty is quite dreamy.
The British elites used to stay here during the brutal summers of India. Indian people and our foreign guests also use it as a retreat.
With the changing climatic patterns, there are now more hot summers. Nainital is an excellent place to go on vacation because it is easy to get to and affordable.
Nainital is an excellent place to visit because it has many places to see. There are things for people who want adventure, like the Snow Viewpoint.
It also has temples for those who are religious, such as the Naina Devi temple. And there are more shops and markets than just Mall Road Market.
| | |
| --- | --- |
| Places to Visit in Nainital | Naini Lake, Tiffin Top, Snow View Point, High Altitude Zoo, The Mall Road, Eco Cave Gardens, Naina Peak, Kilbury Bird Sanctuary, St John's Church |
| Things to Do in Nainital | Nainital Ropeway, Shopping at Mall Road, Rock Climbing, Boating in Nainital Lake, Horse Riding in Nainital |
| Best Time to Visit Nainital | The best time to visit Nainital is between the months of March and June for your summer vacation |
| Nainital distance from Delhi | 306 km |
| Best Hotel at Nainital | Royal Heritage Hotel |
8) Bhimtal, Uttarakhand (317 Km from Delhi)
Whether you want to escape the digital world or just need some time away from crazy life challenges, one of the best hill stations near Delhi is Bhimtal.
Bhimtal is a remote destination that has the calmness and serenity for your vacation.
This treasured location is about 23 miles from Nainital, and the tranquil aura makes it one of India's most coveted destinations.
The Himalayan range borders the northernmost area of this town referred to as Almora and Pauri Garhwal.
Bhimtal is also set in a natural lake, but this one's larger than the lakes of other hill towns.
The town is 4,500 feet above sea level. People from all over the country come here all year long.
| | |
| --- | --- |
| Places to Visit in Bhimtal | Garg Parwat, Nal Damyanti Tal, Hidimba Parvat, Bhimtal Island, Bhimtal Lake, Bhimeshwar Mahadev Temple, Naukuchiatal |
| Things to Do in Bhimtal | Boating, Fishing, Camping, Paragliding, Hiking, Trekking |
| Best Time to Visit Bhimtal | The best time to go to Bhimtal is from March – June and September – December |
| Bhimtal distance from Delhi | 317 km |
| Best Hotel at Bhimtal | Country Inn Bhimtal |
9) Naukuchiatal, Uttarakhand (325 Km from Delhi)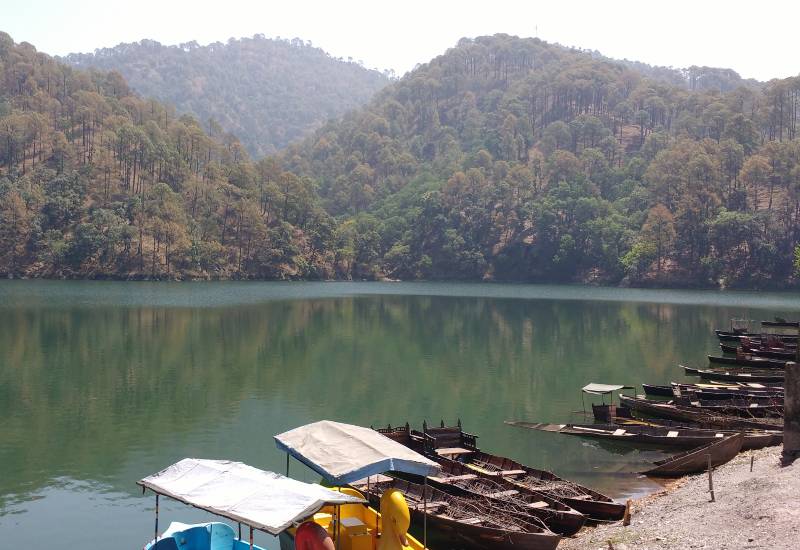 Naukuchiatal is popular among visitors for the pristine green-blue lake, which is distinguishable from other lakes on its nine corners.
Naukuchiatal is an excellent place to visit in March-June. It is dry and cool.
And there's the music festival, 'escape,' fills the valley with soothing beats that many people go to in this time.
This region offers many eye-catching areas, including the Jungliagaon Hill Station and Bhimtal, Sattal and Mukteshwar.
Naukuchiatal is the perfect getaway for those seeking to escape the heat of northern India, offering a variety of outdoor adventures in a great natural environment like boating, angling, fishing and bird-watching.
| | |
| --- | --- |
| Places to Visit in Naukuchiatal | Naukuchiatal Lake, Garg Parwat, Nal Damyanti Tal, Hidimba Parvat, Bhimtal Aquarium, Bhimeshwar Mahadev Temple, Naukuchiatal |
| Things to Do in Naukuchiatal | Boating, Fishing, Camping, Paragliding, Hiking, Trekking |
| Best Time to Visit Naukuchiatal | The best time to go to Naukuchiatal is from March – June and September – December |
| Naukuchiatal distance from Delhi | 325 km |
| Best Hotel at Naukuchiatal | Country Inn Naukuchiatal |
10) Sattal, Uttarakhand (332 Km from Delhi)
A little ahead of the famous Hill Station Nainital in the state of Uttarakhand, which is called Sattal. This idyllic body of water contains 7(seven) lakes altogether and is just one reason to make a stopover.
It is about 23km from Nainital with an average altitude of 1370m.
If you love nature and being in the wilderness, this is an excellent place to visit near Delhi within 400 km.
Sattal is a fantastic destination for families looking for a quiet getaway. Whether you want to explore on your own or spend the day with loved ones, Sattal will make your trip worth it!
Sattal offers the perfect opportunity to engage in adventure sports like rappelling or trekking in the surrounding mountains and hills.
| | |
| --- | --- |
| Places to Visit in Sattal | Seven Lakes, Butterfly Museum |
| Things to Do in Sattal | Paragliding, Trekking, Fishing, Boating, Kayaking, Bird watching |
| Best Time to Visit Sattal | Pleasant weather wise, summer and winter are the best times for a holiday here in Sattal. |
| Sattal distance from Delhi | 332 km |
| Best Hotel at Sattal | Sattal Forest Resort |
11) Mukteshwar, Uttarakhand (342 Km from Delhi)
Located in the foothills of the Himalayas, Mukteshwar is a popular hill station situated near Delhi. The name comes from Mukteshwar Dham temple, which is 350 years old and houses Lord Shiva's idols.
The famous saint Mukteshwar Maharaj Ji lived in this town. It is the home of the Veterinary Research Institute of India, IVRI.
As soon as you enter Mukteshwar, the fragrant orchards of apples, plums, and apricots will greet you with their pleasing fragrance.
You know it's the perfect summer escape when you can combine time at a mountain resort with equally adventurous activities!
| | |
| --- | --- |
| Places to Visit in Mukteshwar | The beauty of Sitla, Chauli ki Jali, Mukteshwar Temple, Indian Veterinary Research Institute, Nanda Devi peak |
| Things to Do in Mukteshwar | Trekking, Paragliding, Rock Climbing, Visit Ancient Temples |
| Best Time to Visit Mukteshwar | Best time to visit Mukteshwar is march to may |
| Mukteshwar distance from Delhi | 342 km |
| Best Hotel at Mukteshwar | |
12) Ranikhet, Uttarakhand (314 Km from Delhi)
Ranikhet is one of the most attractive places in Uttaranchal that has unparalleled scenic beauty.
This is the perfect getaway for someone who needs some detoxification.
Ranikhet is located in the district of Almora in Uttarakhand.
13) Chail, Himachal Pradesh (335 Km from Delhi)
Chail is an unexplored hill stations in Himachal Pradesh that lies about 63 km from Shimla.
Located in the Shivalik regions of Himachal Pradesh, Chail is spread across three hillocks – Sadh Tiba, Pandewa and Rajgarh.
It covers an area of 72 acres and overlooks the Bay of Canyon River.
Chail enjoys agreeable weather all around the year and is thus visited by tourists and by the locals.
Furthermore, it also provides scenic and elegant views of the enclosing countryside.
Shimla, Chail and Kufri are known as the Golden Triangle of Himachal Pradesh.
It is a beautiful, peaceful Hill Stations free from the crowds who flock to popular destinations such as Shimla.
One of the most significant tourist attractions in Himachal Pradesh is Chail, which offers breathtaking views of mountains and natural beauty.
14) Shimla, Himachal Pradesh (349 Km from Delhi)
Among the world's most popular hill stations, Shimla holds a special place owing to its charm.
Located 349 kilometres from Delhi, Shimla is a great weekend getaway because there are so many places to explore.
The picturesque landscape of this beautiful hill station makes it an ideal destination for photographers looking to explore how nature looks untouched and for those who want to escape from the heat of the plains.
Shimla has emerged as a popular destination for offbeat travel due to the plethora of activity options.
Shimla is also home to some beautiful places with spectacular views, and you can find some magnificent specimens of architecture in this location.
People visit Shimla from all over India to experience adventure, making it a hotspot for adventure activities in northern India.
Shimla is a place that offers many exciting things to do, so it can be difficult for you to feel bored while visiting.
Previously, Shimla was famous among families as a summer getaway. Today, due to the popularity of adventure activities in Shimla for tourists and locals alike, it has earned a reputation as an adventure destination.
Shimla stays beautiful during all seasons and is an ideal destination for a lazy, cold vacation. Whether you visit it in winter or summer, Shimla will always have something to offer tourists.
15) Auli, Uttarakhand (390 Km from Delhi)
Auli is a hill station in Uttarakhand, India. It's on the slopes of hills with far-reaching meadows that look breathtaking to the eyes.
The countryside is beautiful. It has many natural resources like grass and trees.
The hill station is filled with hundreds of unique wildflowers and an array of trees, including deodars, oaks, conifers, and pine.
The Himalayan peaks of Nanda Devi, Kamet, Dunagiri and Mana Parvat can be seen surrounding the mountain slopes.
India's highest and longest mountain is there. It is beautiful to see the Himalayan peaks in their views.
Auli's artificial lake can be found against the backdrop of one of the world's highest artificial lakes.
During the winter, visitors are drawn from worldwide to experience this exciting day and night.
The altitude of this area significantly influences the rate at which wind blows in its vicinity.
16) Kufri, Himachal Pradesh (364 Km from Delhi)
Kufri is in short distance from Shimla; this scenic town is a popular travel destination for honeymooners to Himachal Pradesh.
Located near the Himalayas, Kufri is among the most beautiful places to visit in Himachal Pradesh.
The small town's green hills are still green in the warm months and white during winter. They are beautiful.
Several species of wildlife are found in the valley, including a variety of pines and deodars.
Unlike most towns in higher mountains, Kufri has plenty of hotels and places to stay and sporting activities for tourists.
Kufri is a popular destination for ski-enthusiasts, housing some of the most attractive skis run in Himachal.
One of the most activities in Kufri is taking a ride to Mahasu Peak, which is the tallest peak in this area.
As spring progress and summers approach, Kufri experiences the onset of a cool climate with moderate temperatures and occasional rain.
17) Almora, Uttarakhand (382 Km from Delhi)
Almora, one of the many Hill stations near Delhi, is a perfect escape from your hectic busy life.
The Almora is an iconic hill station in Uttarakhand, providing unmatched year-round beauty and a pleasant climate.
A famous Hindu temple, Nanda Devi, is located in the heart of this town.
Almora has hotels and resorts that make staying there comfortable.
If you love shopping, be sure to visit the street side shops in Almora.
Another market is Lal Bagh. You will find many things that you can take home.
18) Solan, Himachal Pradesh (304 Km from Delhi)
Set in the foothills of the Himalayan mountain range and named after Hindu Goddess Shoolini Devi, Solan is located between Chandigarh and Shimla.
This small town with pine forests boasts a stunning natural beauty in the backdrop of white Himalayan hills.
The town is home to several historical architectures, preserving culture and heritage since it offers various monuments.
A visit to the Mohan National Heritage Park provides a wonderful experience of life in Solan.
Solan's traditional architecture is reflected in the many temples found here, including the Shoolini Devi Temple.
Solan also houses the oldest brewery in India, Mohan Meakin Brewery.
Solan is one of the most popular tourist destinations in Himachal Pradesh because of its rich architectural heritage.
One of the most popular activities for residents of Solan is trekking and camping, with beautiful high-altitude destinations such as Barog or Chail offering a perfect spot to go.
Hill Stations near Delhi within 500 KM
19) Palampur, Himachal Pradesh (487 Km from Delhi)
The bustling town of Palampur is famous for its tea gardens and towering deodar forests.
One of the many incredible attributes of this city is its lush greenery and amazing landscapes.
Palampur is an incredible destination for those who are looking for adventure and the chance to escape.
Rafting, paragliding, mountain trekking and skydiving are activities you can enjoy while in the mountains.
Travellers looking for somewhere that is peaceful and serene should explore the unexplored destinations in Palampur.
You can explore forests by going on paragliding. They look fantastic, and you can go up high too.
Palampur is situated in the lower Western Himalayas; it features moderate weather to enjoy year-round.
20) Chamoli, Uttarakhand (489 Km from Delhi)
One of the most popular spots for those seeking refuge from a city lifestyle is the province of Uttarakhand.
Chamoli offers a cool, refreshing climate perfect for spending time outdoors or taking long walks while on holiday.
This place is 1300 meters up from the sea. It is on the bank of the holy river Alaknanda.
The city offers the divine beauty of nature and a soothing environment perfect for visitors looking to get away from it all.
It is extremely rich in flora and fauna. It has been called a green haven on Earth because it features such diverse vegetation.
It is home to many Hindu temples and shrines like Gopinath Temple and Gopeshwar that offer blissful benefits.
I would recommend visiting the Valley of Flowers over here, which is a paradise for nature lovers.
This scenic hill station offers enthralling activities to visitors. One thrilling activity that often gets overlooked is the fantastic trekking available in the region.
21) Kausani, Uttarakhand (434 Km from Delhi)
Kausani in Uttarakhand is absolutely beautiful and distinct from other hill stations.
The mystic Himalayan peaks, calmness and serenity, pine tree forests, lush green valleys and creeks make Kausani the perfect place to visit for anyone seeking peace!
Uttarakhand's very popular mountain peaks can also be seen from Kausani – Nanda Devi, Panchachuli and Trishul.
Kausani is an amazing destination for any nature lover or anyone wanting to enjoy the views of rural India.
22) Chaukori, Uttarakhand (485 Km from Delhi)
Chaukori, as its name suggests, is a tiny hamlet enveloped by the Himalayas with snow-capped mountains in all directions and surrounded by lush green meadows.
Visitors can enjoy beautiful fruit orchards, a diverse range of plant life and animal species, and dense pine and oak forests surrounding Chaukori.
Some of the best sunset views can be seen from this place.
Even the nights are a joy as one can see the galaxy opening its heart for us, to steal a miraculous glimpse of it.
Chaukori is one of the few villages in Kumaon where you can find lush green gardens and tea plantations.
These tea gardens were established at the time of British occupation.
Breathe in the fresh mountain air, listen to birds chirping, and watch the sun's rays kissing the white Himalayas.
23) Dharamshala, Himachal Pradesh (472 Km from Delhi)
Dharamshala is located in the Himalayas, which offers a refreshing and beautiful climate.
Dharamshala is situated at an average altitude of 1,475 meters above sea level, and the environment offers visitors a spectacular landscape.
Dharamshala is the holy residence of the exiled Tibetan monk Dalai Lama.
With the breathtaking Dhauladhar ranges in the background, Dharamshala is one of the most tranquil destinations in North India.
Its natural beauty and cultural offerings make it an excellent choice for anyone looking to balance their surroundings without sacrificing culture or modern conveniences.
The town of Dharamsala is divided into two parts: the lower division, which is Dharamsala, and the upper division, which is Mcleodganj.
It is blessed with a spectacular natural setting. Dharamshala is a beautiful town in India that attracts many tourists. People come here both from within India and also from other countries.
The best places of Dharamsala attract many tourists every year from all over the world.
24) Binsar, Uttarakhand (402 Km from Delhi)
True to its name, Binsar is a pleasant place that offers tranquillity among the hills.
The fresh pine forests will welcome you on your approach to the destination as you take the Delhi-Almora road further up.
The drive passing through mountains is in itself a delightful experience that shows lots of natural beauty.
The forests are filled with lush oaks and Deodars, and the cheerful cacophony of bird songs punctuates the air.
These forests alone are home to over 150 species of birds and more.
In Binsar, there is a wide range of stay options at different price points.
My favourite thing about this place is watching the sunrise and sunset.
Hill Stations near Delhi within 600 KM
25) Kasol, Himachal Pradesh (514 Km from Delhi)
Kasol offers a year-round destination that is beautiful, serene, adventurous and provides all that you would want to see in one trip.
This beautiful hill station sits on the banks of the Parvati River and has welcomed many travellers over the years, including those from India and beyond.
Kasol, Himachal Pradesh, is a favourite destination among backpackers and budget travellers.
It can be proclaimed a whole adventure in itself, with a vast number of places to visit. In Kasol, it can ultimately serve as an ultimate destination.
Kasol welcomes people from all around the world. In addition, Kasol is a small village that has mountainous ranges surrounding it, which provides an amazing hiking experience for all levels of skill and adventure.
It's great for people who love doing outdoor activities such as mountain climbing or trekking.
Kasol is the ultimate destination for those looking to escape their daily grind and relax with friends.
26) Manali, Himachal Pradesh (537 Km from Delhi)
Adventure seekers and those looking for a true Himalayan escape will appreciate the natural beauty and rich heritage.
Manali has some of the best architecture in India and a promising landscape that shares its history through traditional buildings.
Religious devotees come to pay tribute at temples like Hadimba, Manu, and Shiv temple.
Adventurous activities such as paragliding, mountain camping and river rafting are available to appease the thirst of those hungry for adventure.
It is more prevalent among backpackers because it offers various things to enjoy, such as thrilling experiences, nature, wildlife and tranquillity.
This all makes Manali an excellent honeymoon destination for romance that's balanced with adventure.
Furthermore, the regional cuisines are greatly influenced by Punjabi and Tibetan tadka, making it taste better.
27) Dalhousie, Himachal Pradesh (560 Km from Delhi)
Sometimes it's easy to overlook the Dalhousie Hill Station. With its serene and calm location, this is an ideal place to harmonize your soul.
This stunning hill station is a prime spot to enjoy with the whole family and as a couple.
Breathtaking greenery and a lush ambiance make this one of the most beautiful places in India.
Activities like paragliding, zorbing, and trekking are regularly organized in different locations of Dalhousie.
Hill stations in the Himalayas are perfect for trekking and escaping the heat.
The beauty of these stunning creatures is enough to send chills down anyone's spine. Dalhousie, a prime location in Himachal Pradesh, offers everything a traveller could ask for.
28) Khajjiar, Himachal Pradesh (575 Km from Delhi)
Khajjiar is a popular hill station located 24 kilometres away from Dalhousie in Himachal Pradesh's Chamba District.
It conveniently sits on a plateau with a small lake in the center, so its beauty and uniqueness are uniquely preserved.
Forests and meadows surround this hill station. While Khajjiar is beautiful, it's also a rare mixture of the three natural ecologies: forests, lakes, and pastures.
It is situated in the western Himalayas foothills and at an elevation of 6500 feet, which leads to mesmerizing views of massive peaks.
Khajjiar is so popularly known as the 'Mini Switzerland of India' because of topography similarities.
All in all, Khajjiar is one of the most conveniently travelled hill stations near Delhi to be explored on the weekend.
29) Munsiyari, Uttarakhand (596 Km from Delhi)
The sight of snow-capped peaks punctuates the drive up to the Munsiyari through Almora and up to Bageshwar.
The most popular trekking destination in the North of India is Munsiyari.
Passing by each vista tantalizing the senses, the valley with mountains starts to unfold and reveal new views of unparalleled beauty.
The peaks of the Himalayas are a constant presence that can be seen throughout Munsiyari.
One of the most popular destinations in this region is the Panchachuli peaks.
The Panchnachuli is said to be where the Pandavas cooked their last meal before going to heaven.