Nestled in the foothills of the Himalayas, Nainital is a city that offers innumerable things to do.
Whether you are looking for adventure places in Nainital or want to relax with some tea at one of its many lakeside hotels, there's something for everyone in this beautiful part of India.
We have compiled 18 places that you should not miss when planning your trip to this popular tourist destination!
List of Places to Visit in Nainital
1) Nainital Lake
Several lakes in the country offer tourists a glimpse of its natural beauty; Nainital is among one these.
Along with the Nainital Lake, there are three other lakes in Kumaun Hills, including the Sattal Lake, Bhimtal Lake and the Naukuchiyatal Lake.
In addition to being mentioned in ancient texts, Nainital's lake is a significant feature in many poems by prominent writers.
The Naina Devi Temple is believed to be the spot at Lake where Sati's eye fell, after which it turned into the water body that became Lake Nainital.
The lake is surrounded by green hills, contributing to the mesmerizing landscape.
For those fascinated by the natural beauty and serenity of lakes, Nainital is an enticing destination.
One of the most popular attractions in Nainital and an absolute must-do, if you are visiting, is a boat ride on the lake.
This is an excellent opportunity to enjoy scenic views of the Lake District and take well-framed photographs.
Explore the landscape around this beautiful lake with fresh air and sunshine before embarking on your day of adventures in Nainital.
And in the evening you can walk by the lake, which is just as charming as the brightly lit night sky.
2) Naina Devi Temple
One of the most revered temples in northern India, the Naina Devi Temple, is located near the North shore of the Naini Lake.
It hosted a Shakti Peeth of the Hindu religion and drew devotees from all over the country.
It is believed that this is where Sati's eyes fell when Lord Shiva carried her.
As you enter the temple, you will see a vast peepal tree, and across it is an idol of Lord Hanuman.
The inner sanctum has sculptures of three different gods. The one on the left is called Mata Kali Devi, and the one on the right is Lord Ganesha.
The temple organizes a big fair during Nanda Ashtami, which runs for eight days.
During holy occasions like Navratri and Chaitra, a lot of people visit this sacred temple.
The temple complex is enormous. It stretches around a lake. The size of the temple is 1567 yards long, 167 yards wide and 93 feet profound lake.
Devotees can visit the temple between 06:00 AM and 10:00 PM.
3) Tiffin Top (Dorothy's Seat)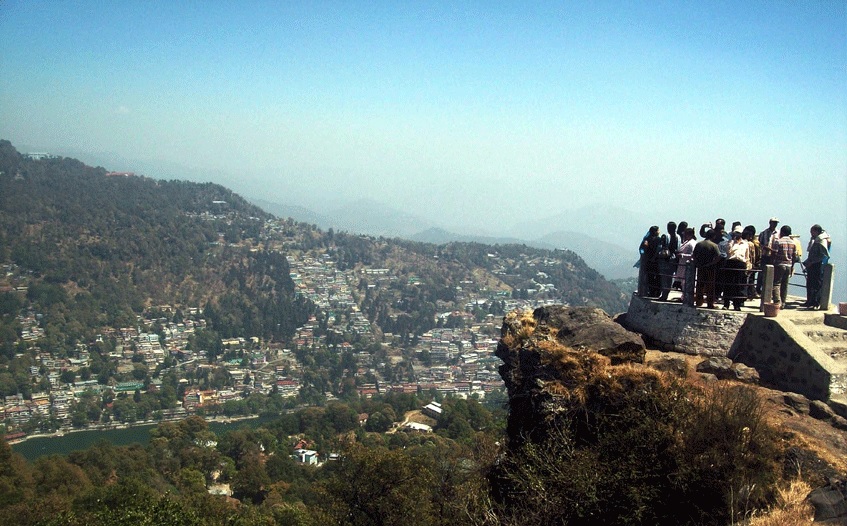 A popular place to picnic in Nainital, Tiffin Top offers spectacular views of the city from its highest point.
It's also called Dorothy's Seat and is located in the Ayarpatta Hills. With a 360 degree view of the Nainital Lake District, it's part of what makes this destination so beautiful.
The Kumaun Hills which surround this location gives the place a tranquil setting.
If you adore hiking, the Tiffin Top is a 4 km ride from the main city where you can go by foot or hire a pony and have them picked up at the Mall Road.
The horse riding up the hill is full of adventure and fun, especially when you go with friends or family.
Other activities on this trek also include are Rock Climbing and Rappelling. However, most exercises are recommended for daytime trip lengths to take advantage of the views.
With so many tourist places near Nainital to explore, this is a perfect summer vacation destination.
Visitors to Nainital are sure to enjoy the beauty of this place which resonates with peace and beauty.
4) Snow View Point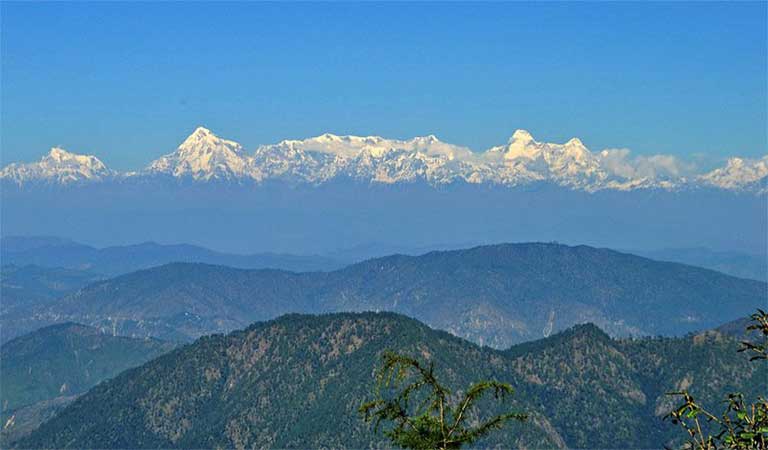 One of the most well-known tourist attractions to visit in Nainital is, without a doubt, Snow View Point.
The mountain also has a temple. You can see the Nainital lake while you move in the cable rope.
The point is around three kilometres from the town of Nainital. You can get there either by cable car or through your vehicle.
From atop the mountain, you can get a full view of the city, which looks just marvellous. Before Sikkim became one of the states in India, Naina Devi was the highest mountain in India.
5) High Altitude Zoo
The High Altitude Zoo, also known as GB Pant High Altitude Zoo, is a one-of-a-kind zoo that fascinates visitors with its location at 2,100 meters above sea level.
Providing more than 4 acres of lush grounds, the zoo was built in 1984 and is one of three high-altitude zoos in India.
The zoo is the home of many rare species of birds and animals. You will see tigers, wolves, bears, pheasants, and more.
Most of the animals in the zoo are either adopted by animal organizations or individuals.
Nainital's zoo provides its visitors with a scenic backdrop to marvel and gets lost in.
6) The Mall Road
Mall Road is the main street through Nainital. It goes by the lake and connects two parts of the town.
It is now called the Govind Ballabh Pant Marg. It is one of the most vibrant places in Nainital. Mall Road, Nainital's busiest street, is home to many restaurants, hotels and shops.
You will find some of the best hotels and restaurants, all within walking distance, located on Mall Road.
It is one of the busiest and crowded during daytime hours. Parking is not allowed here during the peak season because it would be too hard for people to walk alongside the lake on this famous road in Nainital.
A walk to the lake is always stimulating and refreshing, but it's incredibly comforting at night. One of Nainital's key attractions is its shopping center, which provides a stunning view of the Nainital Lake.
You can find many unique items here, including candles in different shapes and sizes. Shopping for wooden artwork and locally made handicrafts are popular among tourists.
There are many good shops here. Tourists like to buy things while they're vacationing. This place is also interesting because many movies like Kati Patang and Koi Mil Gaya were made here.
7) Eco Cave Gardens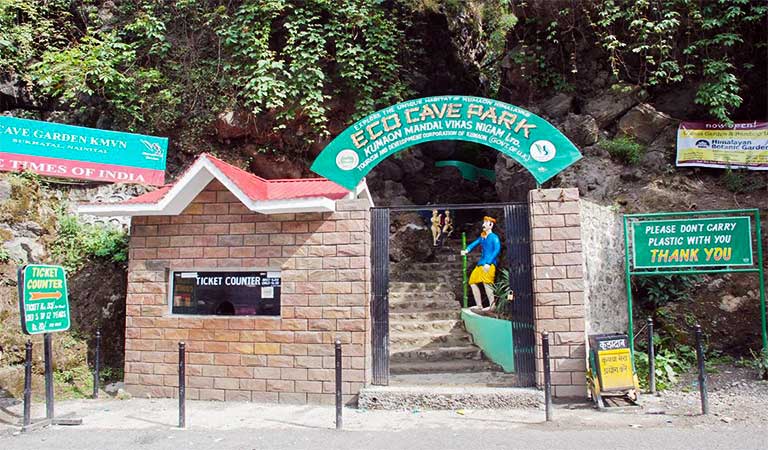 Situated in a place close to the Mall Road, Eco-Cave Garden is one of those tourist places in Nainital that have become important recently.
Eco Cave Garden is a place in the ground with 6 caves. It looks like animals made them. Children can go there and see what it would be like to be an animal.
Eco Cave Gardens, adorned with a musical fountain and exquisite hanging gardens, is one of the many natural attractions in Nainital.
The Eco Cave Gardens in Nainital are essential to the wildlife. Many animals are living there, and it is perfect for tourism.
Price: INR 60 for adults, INR 25 for children, INR 25 for the camera.
8) Nainital Ropeway
Nainital has many tourist attractions for visitors, but one of the most visited by families is the Nainital Ropeway.
There is an aerial ropeway in Nainital. It takes you from Mallital to Snow View Point. The ride lasts for three minutes, and it offers one of the best views in the city.
Located at the top of a hill, this system offers two cabin cars holding a maximum of 11 passengers each for fast trips in and out.
The starting point for the ropeway has shops with candles and souvenirs. The Snow View Point at 2270 meters above sea level gives you a clear view of the Great Himalayas.
9) Naina Peak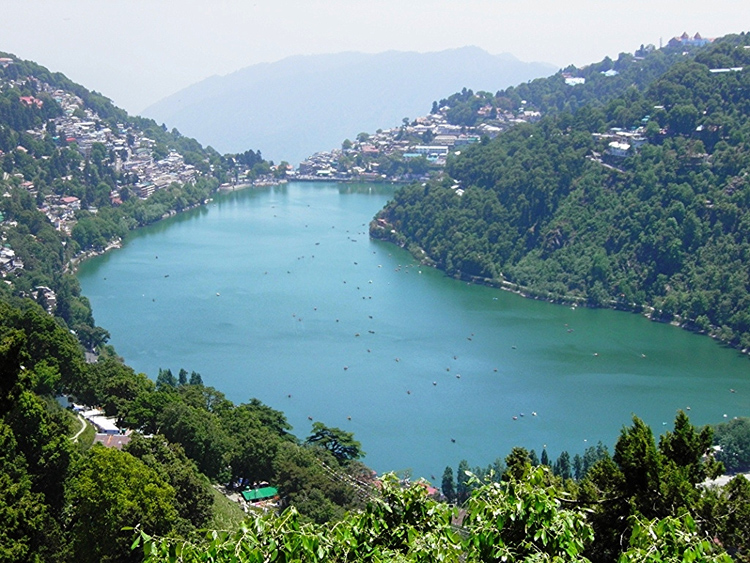 Situated at an altitude of 2,615 km, Naina Peak has a beautiful view of the town and the Himalayas. It also offers a beautiful view of the Terai area in Kumaon.
The Nanda Devi Peak and the snow-covered peaks of the Tibet border can be seen from this peak.
The mountain is called China Peak before the 1962 Indo-China war. It is 10 km from Tallital Bus Stand of Nainital.
The famous place is one of the places that we recommend you to visit when you are in Nainital on vacation.
Anyone can go for long strolls, breathe fresh air and appreciate the beauty. Naina Peak is one of the most popular trekking destinations in Nainital.
If you are thinking of going to Naini Lake, you should know that it is a 6-kilometre walk from Mallital.
You can reach this place by riding a horse or walking down the sloping ways. If you want, you can hire ponies or horses to visit the peak.
10) Bhimtal Lake
It is a famous lake located in the town of Bhimtal. The dam built in 1883 allowed for good storage capacity and easy access. It has an area of 17.12 sq km, one of the largest in India.
Bhimtal is a famous town in Nainital District. It is more than 22 km away from Nainital, and the nearest railway station is Kathgodam at 20 km from the lake.
The lake helps local people provide drinking water and makes sure that the different types of fish can live here.
11) Sattal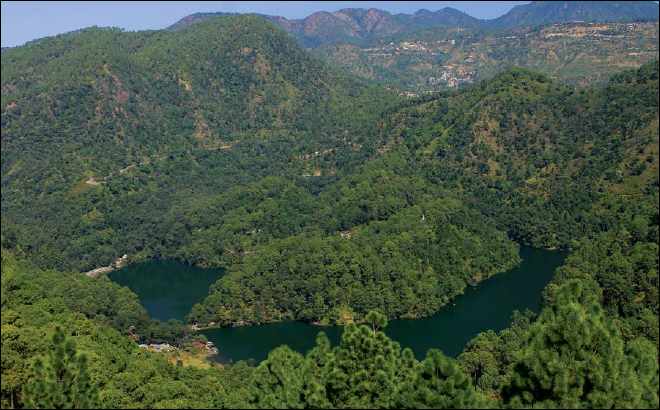 Sattal is a place where there are 7 lakes in the Himalayas. The location is near a town called Bhimtal. It is in the district of Nainital.
One of the few unpolluted and unspoiled freshwater areas in our country, Sattal is a fantastic destination for any nature lover.
The River of Bodies is situated at 1370 meters above sea level, and it's located below the lush orchards in Mehragaon.
The lake has fields of oak and pine trees surrounding it, which makes for a pleasant visit.
If you are a person who likes to watch birds, this place will not disappoint you. There are many types of birds near here.
In Sattal, the best time to visit is early in the morning or just before dusk. This is when you will see lots of birds and be calm.
12) Kilbury Bird Sanctuary
Kilbury bird sanctuary is a place for people who love to watch birds. There are many different types of birds, and it is also called the bird watcher's paradise.
This sanctuary is a place where people come to watch birds and do other things. It is in the middle of a forest called Nainital.
Kilbury Bird Sanctuary is 12 KM away from Nainital. You can choose to come here using a public or private vehicle. There are many taxis available in Nainital that will bring you to the bird sanctuary.
The bird sanctuary has more than 580 different kinds of birds. This is good for people who like birds a lot.
Some of the most famous birds at this sanctuary are brown wood owls, white-throated laughing thrushes, and forktails.
13) Kainchi Dham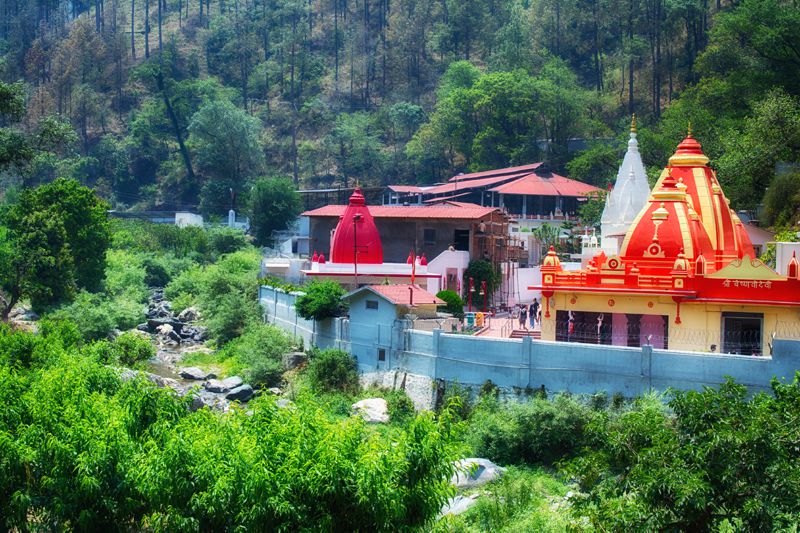 One of the important religious sites in Nainital is Kainchi Dham. It was built in 1962 by Neem Karoli Baba, the founder of Hanuman Garhi.
Beautiful, green hills surround this temple and ashram. There is a temple near the river. It is for the god Hanuman, and many people go there to pray.
In the 1970s, Steve Jobs travelled to India and visited this temple. Facebook's CEO, Mark Zuckerberg, also went to this temple in India. Every year, there is a big fair on the 15th of June attended by locals and visitors alike.
14) Gurney House
One of the most important places to visit in Nainital for architecture enthusiasts is Gurney House, a heritage site and the former summer house of Jim Corbett.
The house is close to Mall Road. It was built in the 1800s, and it has been preserved. You can see how people lived back then.
You can see some of Corbett's favourite things in the house. These include his books, furniture, fishing rod, trophies and an African drum. Though there is no entry fee to the house you need to make an appointment to visit this colonial marvel.
15) St John's Church
Nainital has a beautiful church called St John Church. It was built in the 1800s.
The church is called after a bishop from Kolkata. It can take you back to a different time. You can take your time inside to think.
A place where people go to pray, the site is best enjoyed when you are at a prayer service.
Photography inside the church may not be allowed, but it is still a good idea to take pictures of the landscape. You must take photos of the outside too.
16) Bhotia Market (Tibet Market)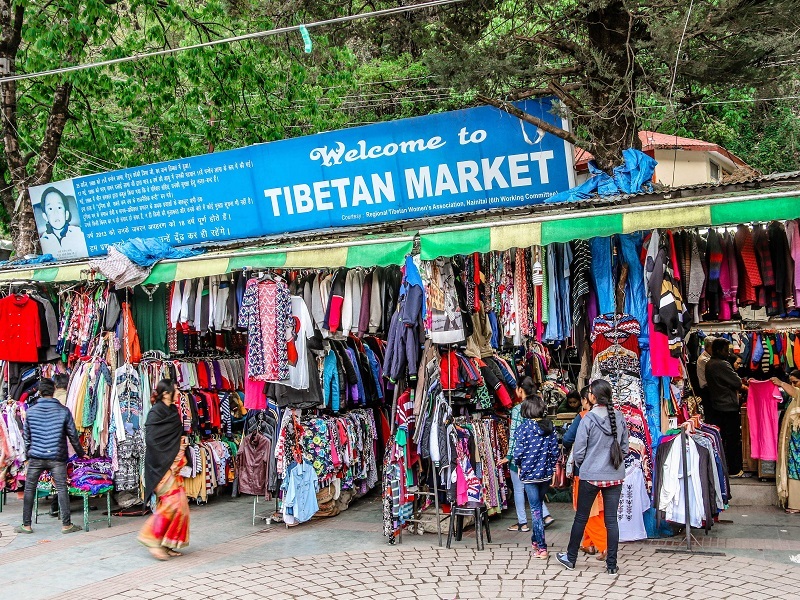 Bhotia Market is one of the most famous shopping destinations nearby Naina Devi Temple.
With so many shops in this place, it is not difficult for shoppers to find great bargains.
If you are looking for beautiful scarves, fashionable bags, and winter clothes like shawls or mufflers, then this is the place where you should go. It has many types of things for sale.
Artificial jewelry and artifacts are favorite items that you can buy while shopping here.
There are some other unique things here. You can buy some wooden pieces or eat at one of the famous restaurants.
The place is a good one to visit after visiting the Naina Devi Temple or during an evening stroll. You can buy souvenirs that will remind you of your trip.
17) Naukuchiatal
Naukuchiatal is a hill station in Nainital District. It is called that because of the lake there. That lake is the deepest in Nainital.
It is very peaceful and beautiful here. It has many exciting things to do for people who like adventures.
Naukuchiatal has a lake and views. It's an excellent place to go bird watching or fishing.
Some other things to do in this area are fishing, paragliding, rowing and parasailing. Every year in May the festival called 'Escape Festival' is held here.
18) Raj Bhawan- Governor's House
The Raj Bhawan is a popular place to visit in Nainital. British people made it to be the home for the Governor of the North West Province of India.
Raj Bhawan was designed to look like Buckingham Palace.
This place is over 200 acres. It has a famous golf course, and many golf tournaments are held there.
Some of the other places in our complex are a swimming pool, garden, Jhandidhar Modi Heights and Munshi heights.
The green area is decorated by Deodhar and oak trees which gives it a peaceful landscape. It looks nice because you can see the calm scenery around it. People visit this place for its architecture too.
It is the only Raj Bhawan in India that people can visit. Sarojini Naidu was the first occupant of this place after independence.