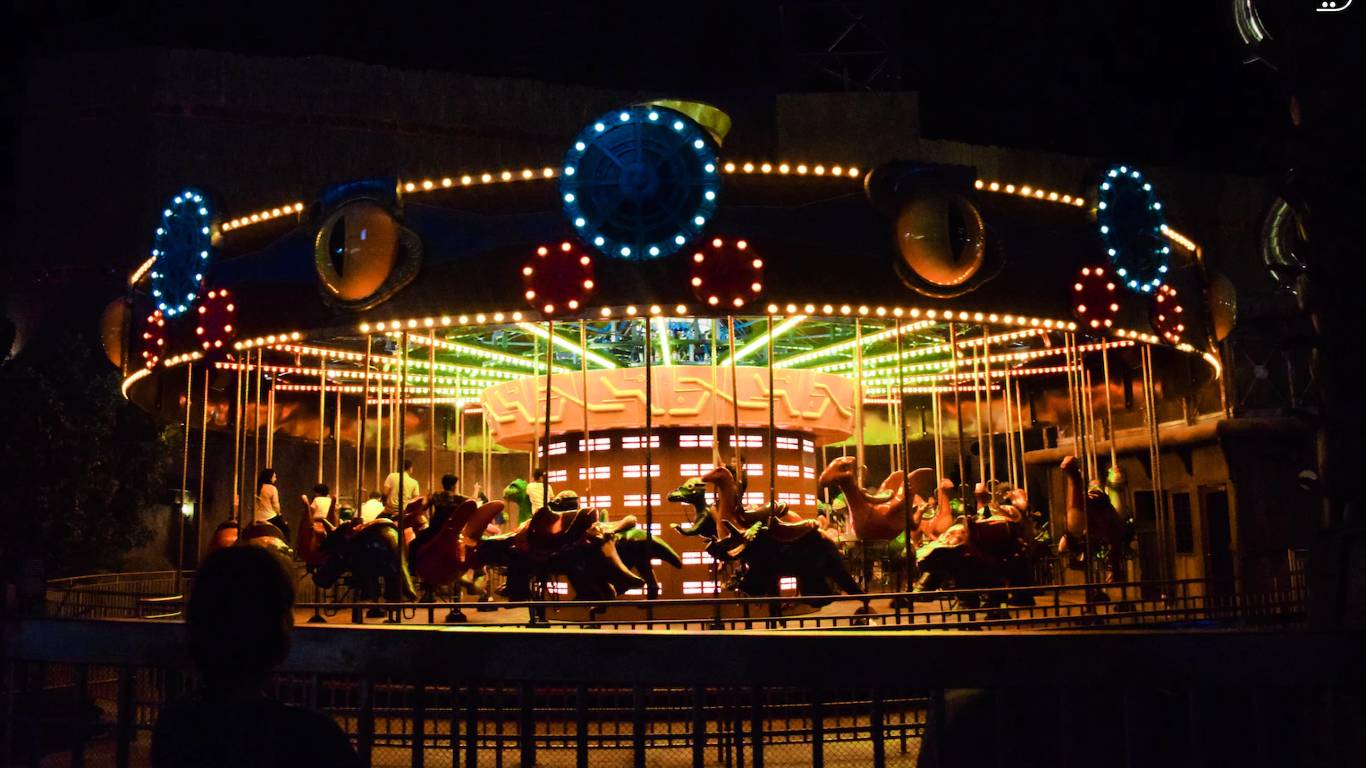 Best Theme Parks in Dubai: Thrills and Entertainment
Most of us envision Dubai as a land of the most astonishing sights. It is largely due to its glittery cityscape, dominated by avant-garde and intricate architectural marvels, including the world's tallest building (Burj Khalifa).
It makes sightseeing in the city a delight. But this emirate is not just about its architecture. Dubai offers everything tourists seek: sightseeing, adventure, culture, food, and shopping.
Theme parks are great crowd-pullers, and just like everything else in the city, Dubai theme parks are magnificent, innovative, and unique. It is not an exaggeration to say that Dubai boasts some of the world's best theme parks.
Ski Dubai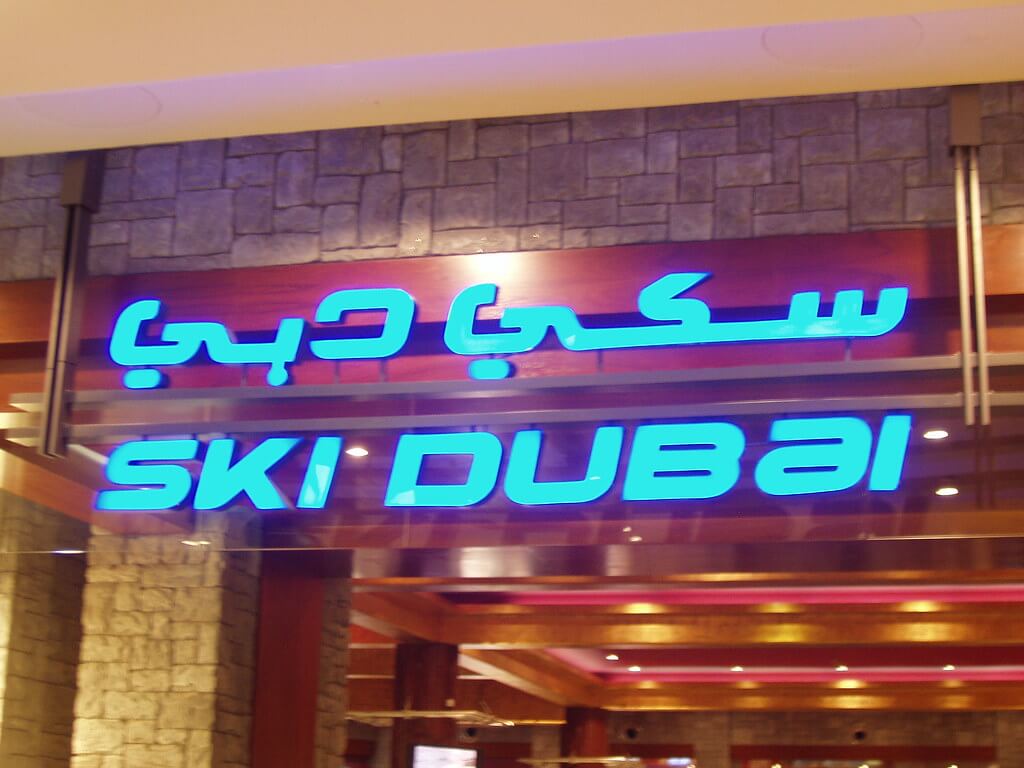 Skiing and snowboarding are two things that not many associate with Dubai. But Dubai is not the one to go with the obvious. Hence, the presence of Ski Dubai is not entirely surprising. Ski Dubai is an indoor ski resort within the Mall of Emirates.
Its 85-meter-high ski mountain has different slopes to aid skiing and snowboarding for everyone, from beginners to experts. The chair car ride to the top of the mountain is as exciting as the skiing experience.
Those not interested in skiing can have fun exploring the various attractions of the Snow Park. Plenty of thrilling activities are here, from tobogganing and zorbing to bullet train riding.
Apart from all this, you can play in the snow and even meet penguins at Ski Dubai. It is best to book your Ski Dubai tickets online to get good deals and save time.
IMG Worlds of Adventure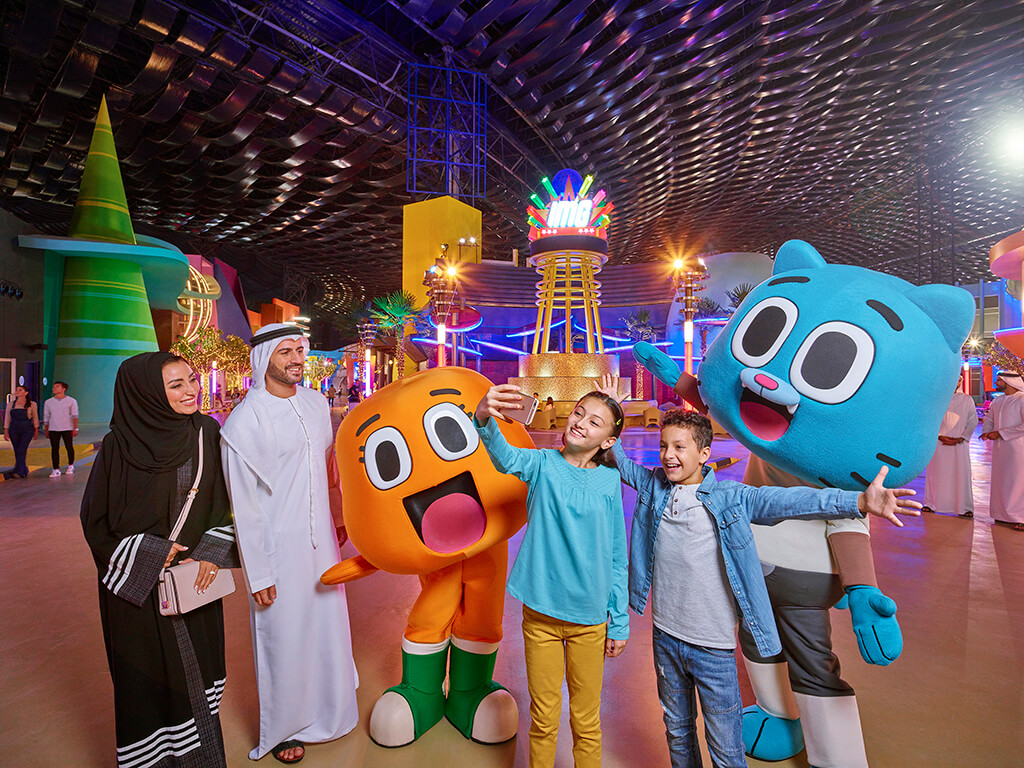 Dubai has many fantastic outdoor attractions. However, the heat makes it difficult to spend time outdoors during the day, especially in the summer.
This is why IMG Worlds of Adventure has become a blessing for tourists with little kids. It is an indoor theme park, the largest in the world. It was opened in 2016 with four zones: the Marvel Zone, the Lost Valley Zone, the Cartoon Network Zone, and the IMG Boulevard.
Today, the park has two more zones: the Haunted Hotel and the IMG Kids Zone. The zones have rides, attractions, and stores as per the theme. When you are not on the rides, you can explore the shops and restaurants at IMG Boulevard (or in the zones) to buy theme-related merchandise and delicious food and beverages.
Dubai Miracle Garden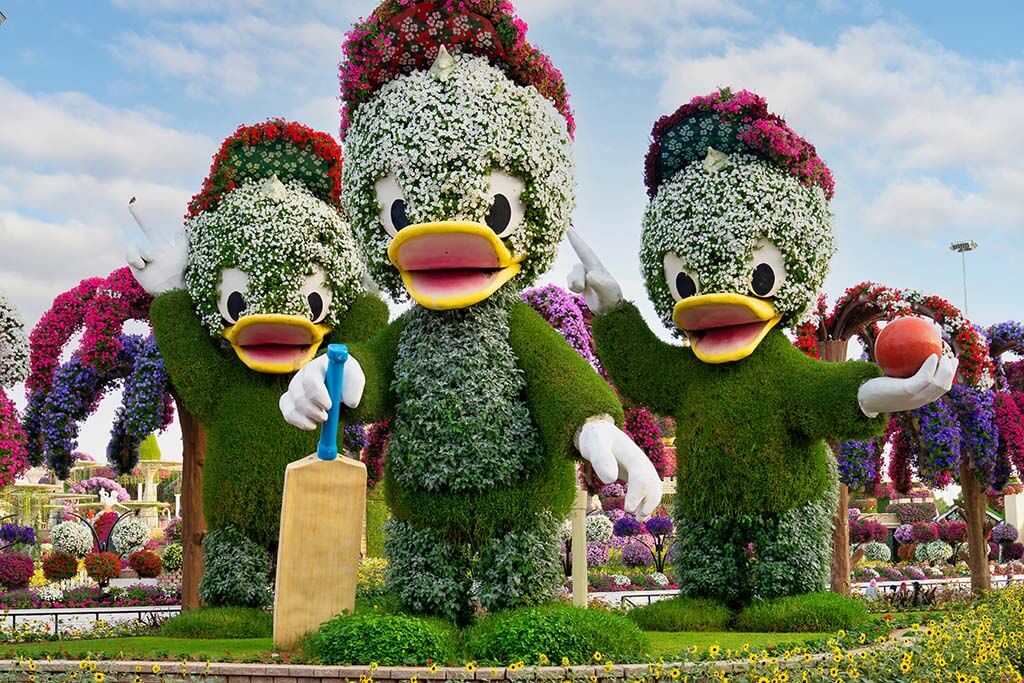 Dubai is known to make the impossible possible, and the Dubai Miracle Garden is a perfect example. It is the largest natural flower garden to exist on earth.
The garden was opened to the public in 2013, and as it is a seasonal attraction, it opens every year in October and closes before the onset of summer. The Dubai Miracle Garden is expansive, with 72,000 square meters and 150 million flowers and plants.
You will see colourful flowers, lush green plants, and beautifully landscaped trees throughout the area. But the massive and unique floral structures bring people to this wonderful garden.
You will see a floral clock, floral houses, floral castles, floral Disney characters, a huge floral teddy bear, a floral Emirates A380, floral heart passages, etc. Every corner of the Dubai Miracle Garden is worthy of adorning your Instagram account.
Motiongate Dubai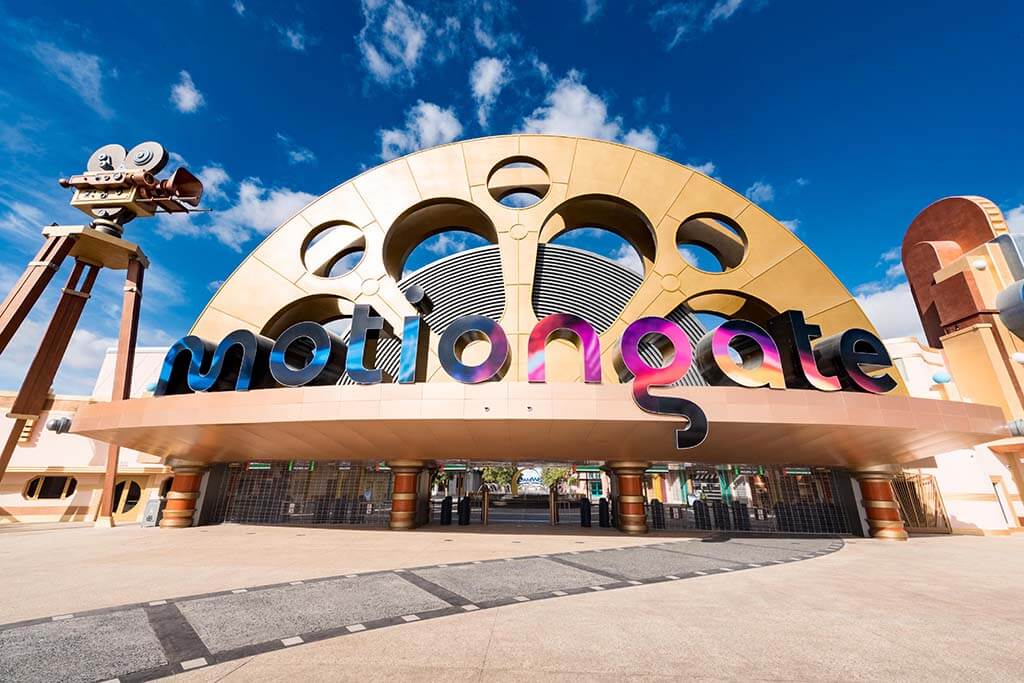 Motiongate Dubai is a Hollywood-inspired theme park in Dubai Parks and Resorts. This amusement park has five zones: DreamWorks, Colombia Pictures, Lionsgate, Studio Central, and Smurfs Village.
As the zones depict some of the iconic production houses, the rides and attractions in each zone are also related to the famous movies of these productions. Colombia Pictures will take you into the world of movies like Hotel Transylvania, Green Hornet, Ghostbusters, etc..
At the same time, DreamWorks lets you enjoy cool rides and attractions related to blockbusters like Shrek, How to Train Your Dragon, Kung Fu Panda, and Madagascar. Lionsgate is where you will find some of the most thrilling rides, and Smurfs Village will let you explore the world of the endearing blue characters.
Some thrill rides here are Now You See Mee, Capitol Bullet Train, Zombieland Blast Off, Ghostbusters: Battle for New York, The Green Hornet: High-Speed Chase, and Flint's Imagination Lab.
Legoland Dubai
Legoland Dubai, just like Motiongate Dubai, is a part of Dubai Parks and Resorts. It is one of the best theme parks in Dubai, exclusively made for kids between the ages of 2 and 12.
The park is based on the Lego theme, a toy or game associated with kids for several decades worldwide. This theme park has six zones. The Factory is where you can see how the Lego blocks are made and pick one for yourself.
Miniland is where you will see popular landmarks in Dubai and worldwide, built completely with over 20 million Lego blocks. Zones like Kingdom, Imagination, and Adventure are where you can enjoy fun rides and experiences.
Then there is LEGO City, where kids can become adults for some time by getting a driving license, becoming a firefighter, steering a boat, or flying a plane. You can also stay at the Legoland Hotel for the ultimate Lego experience.
Play DXB Dubai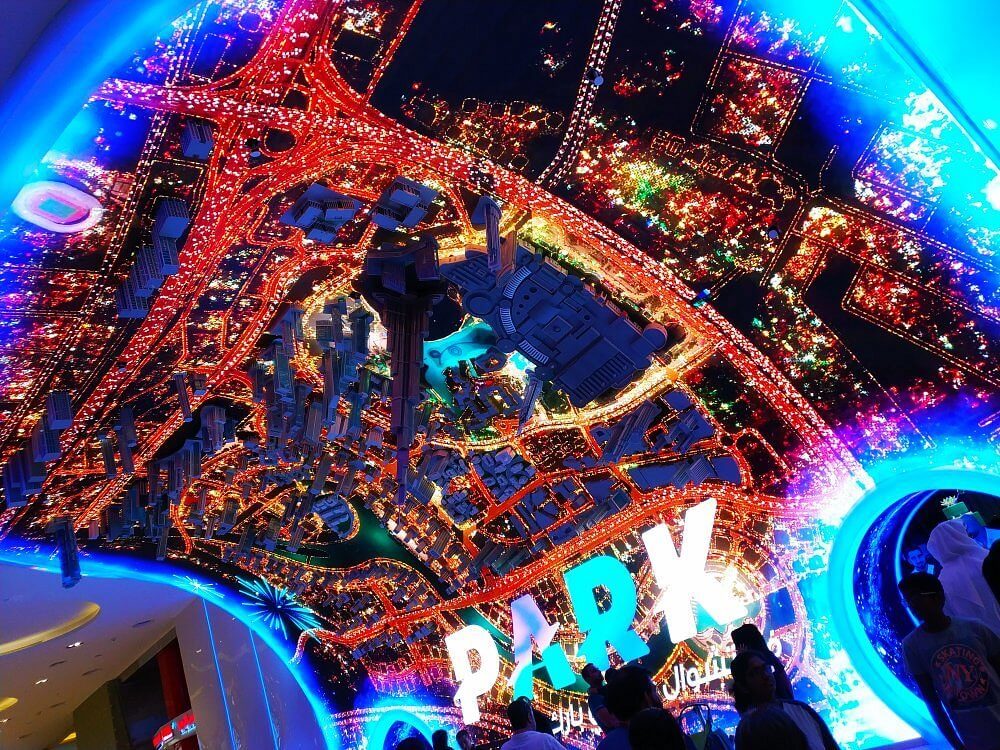 Another indoor attraction that is a hit among kids and adults alike is DXB Dubai. It is an indoor virtual reality zone, one of the largest in the world.
This theme park is spread around various levels of the Dubai Mall and has over 30 super cool games and rides. The thrill rides at DXB Dubai, including Burj Drop and APE-X, will give you an adrenaline rush like no other.
But it is popular and offers challenging games to enjoy with your group. You will have an amusing session playing James Wick Chronicles, PAYDAY: The VR Heist, The Walking Dead VR Outbreak, The Raft, etc., with or against your friends and family.
For little ones, DXB Dubai has an inflatable park where they can bounce around to their hearts' content. Entry to Play DXB Dubai is free, but you must pay for the rides and games you want to try.
KidZania Dubai
Children are fascinated with the adult world, as adults do not have to go to school and instead go to work, earn money, and make all their decisions independently. You can also let your kids become adults for a few hours at KidZania Dubai.
KidZania is a mini-city where children can learn about the adult world. They can be doctors, nurses, shopkeepers, radio jockeys, media professionals, dentists, courier delivery personnel, firefighters, and 40 other professionals.
Kids get work experience and earn money through KidZos (KidZania currency). They can save it in KidZania's bank and earn interest. KidZania Dubai is entertaining, educational, and safe, making it perfect for kids to explore independently.
Dubai Garden Glow Park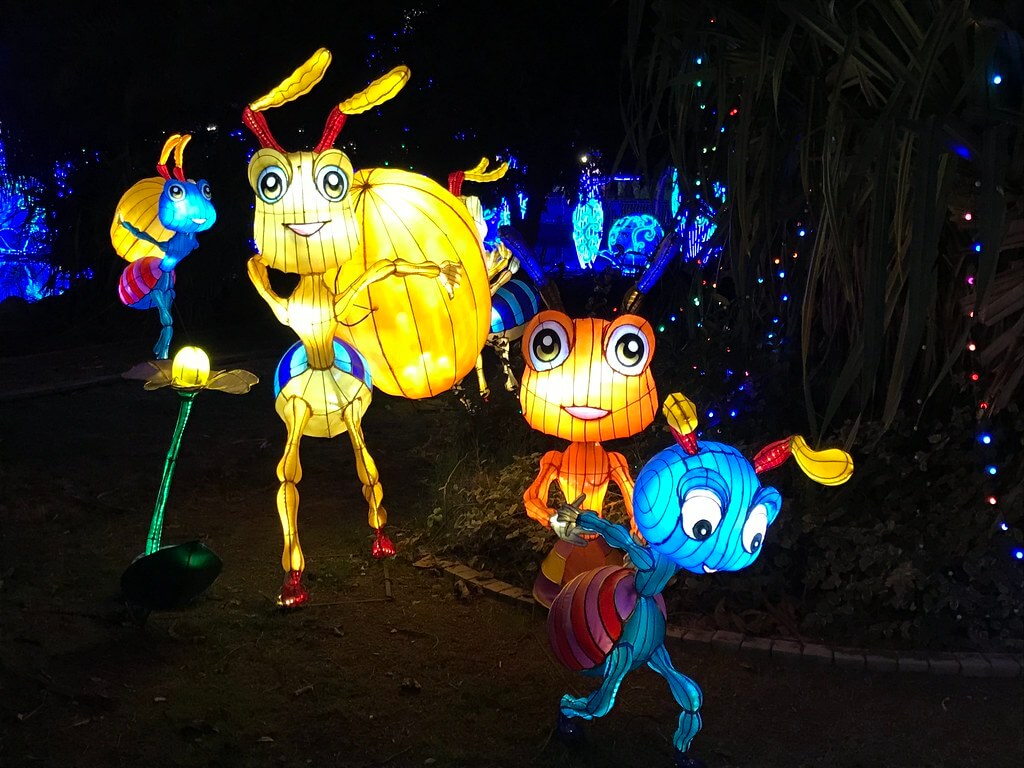 Dubai Garden Glow Park is a fascinating place to visit in Dubai. The park has several zones, but Glow Park is the most popular and interesting.
This section is home to art installations that glow in the dark. It is also an eco-friendly park, as the glowing structures are made of sustainable or recyclable materials. The life-size animatronic dinosaurs at Dinosaur Park will impress the little ones.
There is also the Ice Park, with magnificent ice models and sculptures. The Magic Park in Dubai Garden Glow will not fail to awe you with its 25 exhibits that showcase optical illusions and visual arts.
Art lovers should not miss visiting the Art Park, which brings unique art to you in an eco-friendly manner.
Dubai Global Village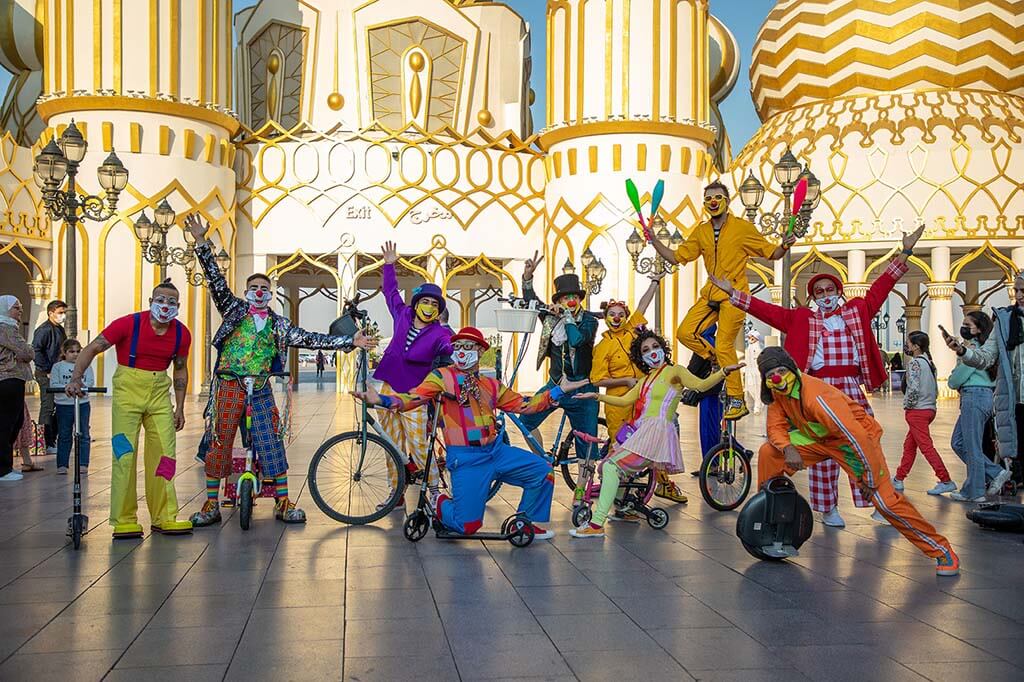 Dubai Global Village is an entertainment and theme park like no other. It is a seasonal attraction that opens its doors to visitors from October to May. During these months, you can enjoy everything from shopping to dining at this amazing entertainment destination.
Dubai Global Village celebrates the cultures, traditions, and customs of different parts of the world through its close to 40 pavilions. Here, you can buy local stuff, eat local dishes, and watch cultural performances.
The Carnaval is a family favourite with numerous rides, arcade games, and attractions. It also has Ripley's Believe It or Not Museum for the brave-hearted.
Fireworks, concerts, competitions, food festivals, and raffle draws make it the perfect place to spend the winter evenings in Dubai.
Conclusion
Dubai is a sought-after tourist destination. This means most of the theme parks mentioned here are likely to be crowded. Make sure you book your tickets in advance online to avoid waiting in queues for a long time.
You can book a ticket to the Museum of the Future, IMG Worlds of Adventure, Ski Dubai, KidZania Dubai, and every other attraction through a trusted travel company.