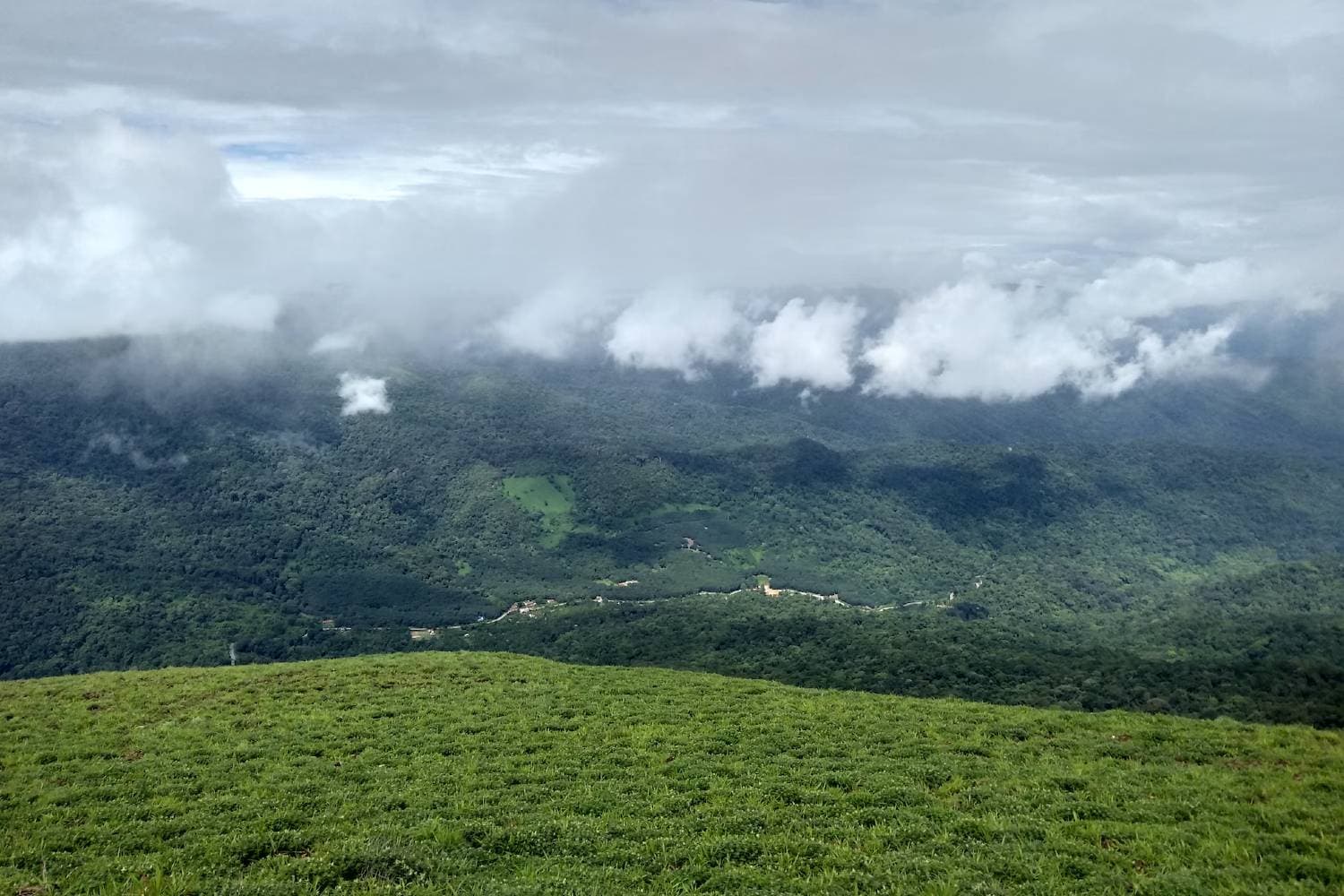 Unveiling Natural Wonders: The Best Nature Places in India to Explore
The connection between nature and the human mind creates memorable moments. These moments are filled with visions of meadows, trees, rivers, backdrops, and hills.
Unleash your inner nature lover and explore the incredible beauty of the Indian landscape. These treasure troves answer questions we haven't even thought of yet.
Some of the best nature places in India include:
Coorg, Karnataka
Coorg, known as the 'Scotland of India', is a hill station in Southern Karnataka. It is famous for its lush coffee plantations, breathtaking landscapes, charming villages, and pleasant weather. The region has several stunning waterfalls, including Abbey Falls and Iruppu Falls. Nature enthusiasts can also explore the diverse flora and fauna at Nagarhole National Park and Talakaveri Wildlife Sanctuary.
Coorg is an ideal destination for those looking to escape from the hustle and bustle of daily life and reconnect with nature. Whether you want to relax amidst the serene coffee plantations, embark on a trekking adventure, or spot wildlife in its natural habitat, Coorg has something to offer everyone.
Khajjiar, Himachal Pradesh
Khajjiar is a popular destination in India known for its beautiful landscapes, including dense forests, green meadows, and snow-capped mountains. Visitors can enjoy various adventure activities like zorbing, trekking, paragliding, and horse riding. The area is also home to attractions such as the Kalatop Wildlife Sanctuary, Khajji Naga Temple, and Khajjiar Lake, surrounded by hills, grasslands, and deodar forests.
Pithoragarh, Uttarakhand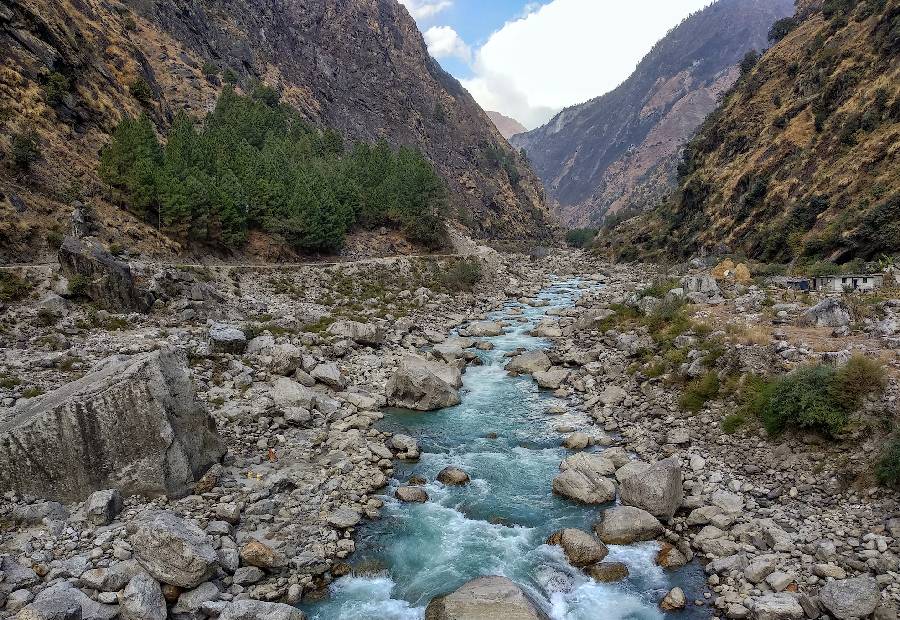 Pithoragarh is in Uttarakhand, known for its natural beauty and historic charm. It is the starting point for treks to Kailash and Mansarovar. You can see the mighty peaks of Nanda Devi, Appi of Nepal, and Panchachuli. Tourist spots include Pithoragarh Fort, Askot Sanctuary, and Kafni Glacier Trek. This nature retreat also offers adventure activities such as hiking, skiing, canoeing, kayaking, and fishing. It provides the perfect opportunity for travellers to engage in outdoor adventures and enjoy the beauty of nature.
Kaas Plateau, Maharashtra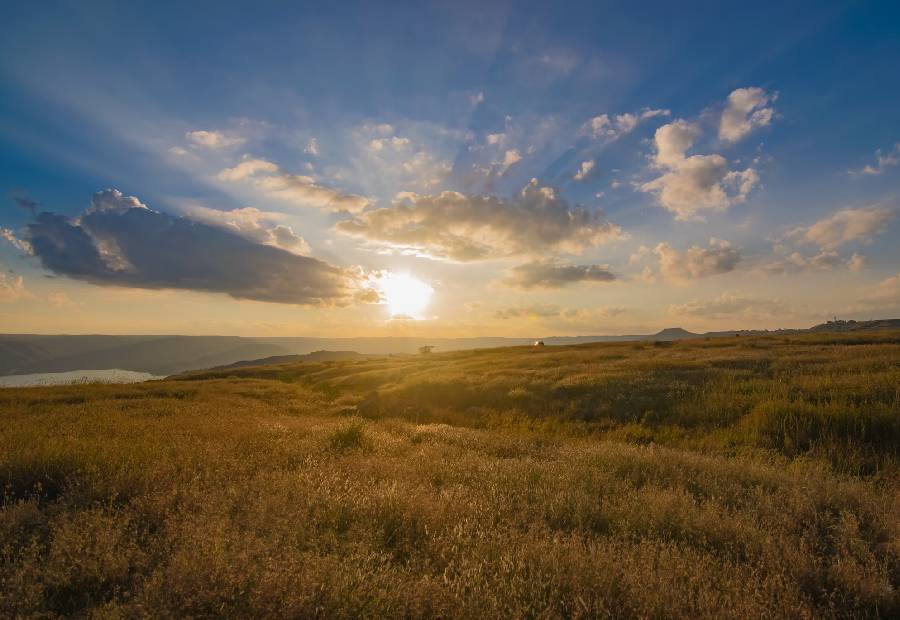 The Kaas Plateau is a UNESCO World Biodiversity Site famous for its breathtaking beauty. Kaas Plateau is one of the most beautiful nature places in India. It is home to over 850 species of flowering plants, making it a paradise for nature lovers and photographers. The plateau is especially captivating when these flowers are in full bloom, which typically occurs in the months of August-September. The sight of the colourful flowers is incomparable and offers a serene and peaceful experience. Additionally, the air in the area is fresh and unpolluted, allowing visitors to immerse themselves in the natural beauty of the plateau fully.
Munnar, Kerala
Munnar is a hill station in South India that is famous for its tea and spice plantations. There are plenty of activities to enjoy in Munnar, such as camping, parasailing, birdwatching, trekking, wildlife spotting, fishing, boating, and rock climbing.
Two popular attractions in Munnar are Echo Point and Kundala Lake. At Echo Point, you can enjoy the natural beauty of rolling hills and even hear your own voice echo. Kundala Lake offers boating opportunities and stunning views of the surrounding landscape.
In the nearby town of Devikulum, you can explore temples, visit the Attukad Waterfall, and hike up the Anamudi Peak, the highest peak in South India.
A visit to the Tata Tea Museum is a must for tea enthusiasts. Here, you can learn about the history and processing of tea and even sample different tea varieties.
Overall, Munnar offers visitors a wide range of activities and attractions, making it a popular destination for nature lovers and adventure seekers.
Valley of Flowers, Uttarakhand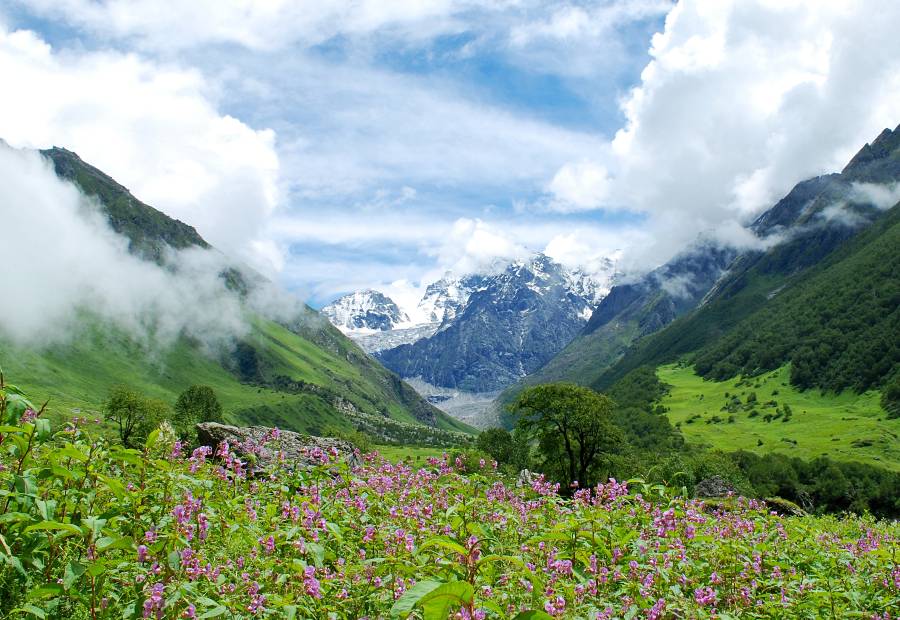 The Valley of Flowers is a stunning natural wonder in the Nanda Devi Biosphere in Uttarakhand, India. It is renowned for its unparalleled beauty, featuring various alpine flowers and diverse flora, including medicinal herbs. This valley is also a sanctuary for endangered species such as the snow leopard, Asiatic black bear, blue sheep, and musk deer. Furthermore, the area boasts numerous waterfalls and streams, adding to its scenic charm. It's important to note that trekking in the Valley of Flowers is restricted from July to September.
Chail, Himachal Pradesh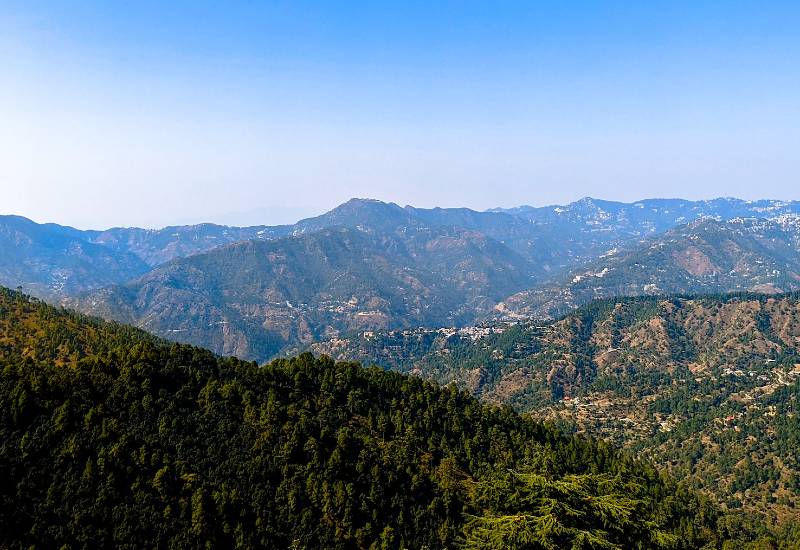 Chail is a serene and secluded hill station nestled in the Shivalik hills. It was originally a summer getaway for the Maharaja of Patiala. The town is surrounded by beautiful deodar and pine forests, offering breathtaking views of the mountains. For nature enthusiasts and photographers, Chail is a paradise.
When visiting Chail, make sure to explore Sadhupul Lake, which is a popular tourist spot. The Chail Palace is also worth a visit, as it showcases the rich history and architecture of the region. Another must-see attraction is the Kali temple, known for its religious significance and stunning views. Don't forget to explore the Chail Wildlife Sanctuary, home to various flora and fauna.
Overall, Chail offers a peaceful and picturesque experience for those seeking solace in the lap of nature.
Ziro, Arunachal Pradesh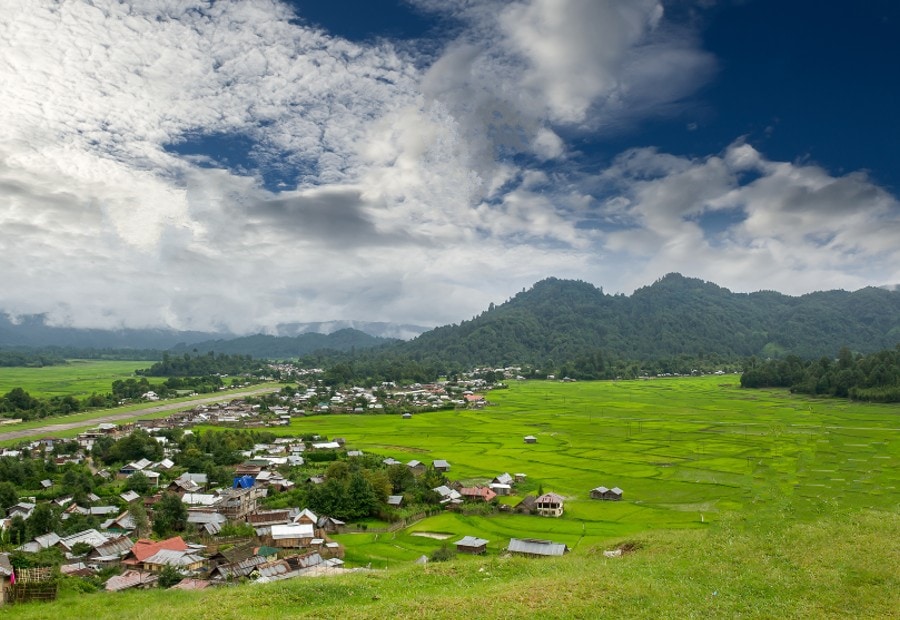 The Ziro region in northeastern India is known for its untouched natural beauty. It is characterized by vast paddy fields, picturesque green hills with diverse flora, charming villages, and its unspoiled environment, making it a popular destination for nature enthusiasts. Adventure seekers, trekkers, and wildlife explorers are also drawn to this region. Some of the must-visit attractions in Ziro include the Talley Valley Wildlife Sanctuary, which is home to a wide range of exotic plants and animals; Kile Pakho, where visitors can immerse themselves in the stunning natural surroundings; and Dolo Mando and Midey, which are ideal for trekkers looking for a thrilling experience.
Araku, Andhra Pradesh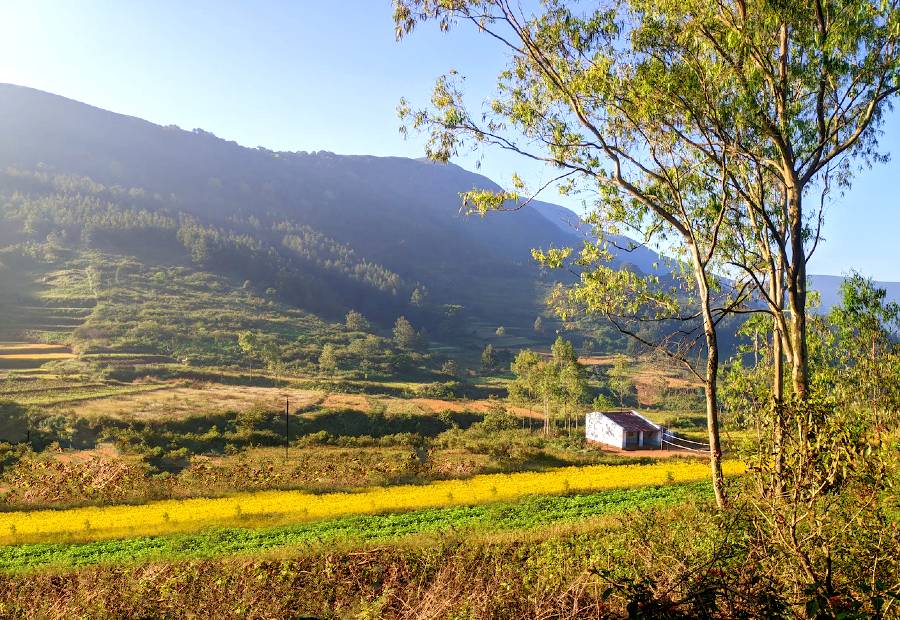 Araku Valley is known for its stunning natural beauty, including vast grasslands, rose gardens, coffee fields, fruit orchards, waterfalls, and diverse flora and fauna. Popular attractions in the area include coffee plantations, Padmapuram botanical garden, a Tribal museum showcasing tribal lifestyle and handicrafts, and nearby Borra Caves.
Yumthang Valley, Sikkim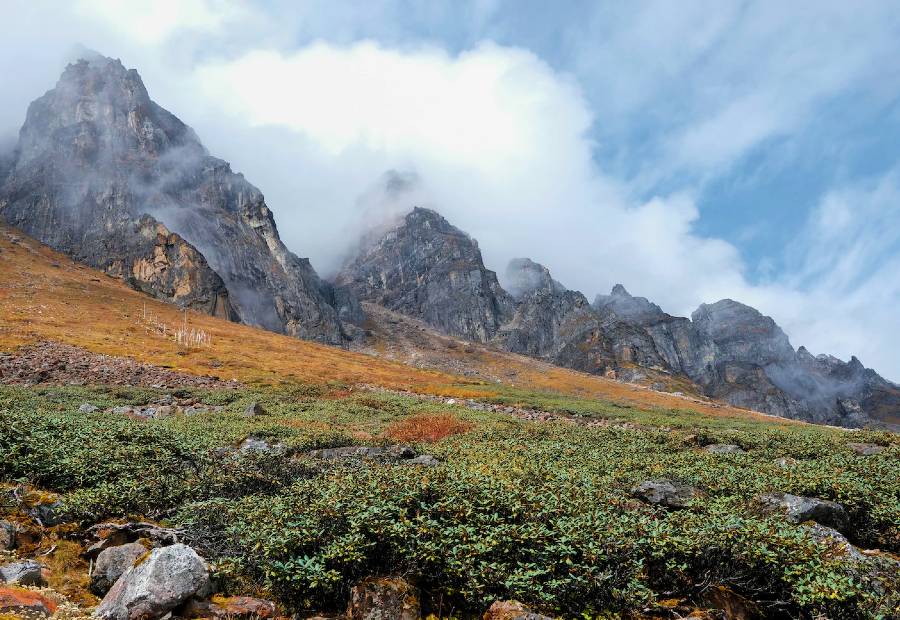 Yumthang Valley is an awe-inspiring nature place in India. The river and millions of flowers create a tranquil vibe. The breathtaking vistas of mountains will leave you breathless. It is one of India's best places for photography, offering jaw-dropping backdrops. The valley is located in Sikkim. The best time to visit is between February and March to capture the best view.
Nubra Valley, Ladakh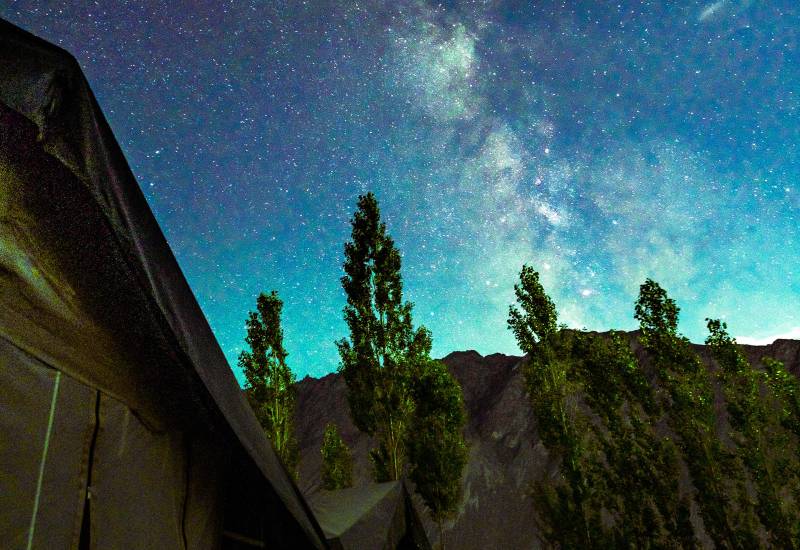 Nubra Valley in Ladakh is known as the Valley of Flowers and is located in the northeastern part of Ladakh Valley. It offers stunning views of snow-covered mountain ranges, Bactrian camels, and expansive orchards. It is considered one of the best natural places in India and has attractions such as Klosters, dunes, and an abandoned palace. Visitors to Nubra Valley can enjoy the beauty of nature, go on camel safaris, take in the panoramic view of Panamik village, and visit the Samstanling Monastery. Travelling to Nubra Valley is a truly unforgettable experience.
The best time to visit Nubra Valley is between June and August, when the weather is most enjoyable and the valley is at its most beautiful. Don't forget to bring a camera with you as plenty of stunning sights can be captured in the valley.
Dudhsagar Falls, Goa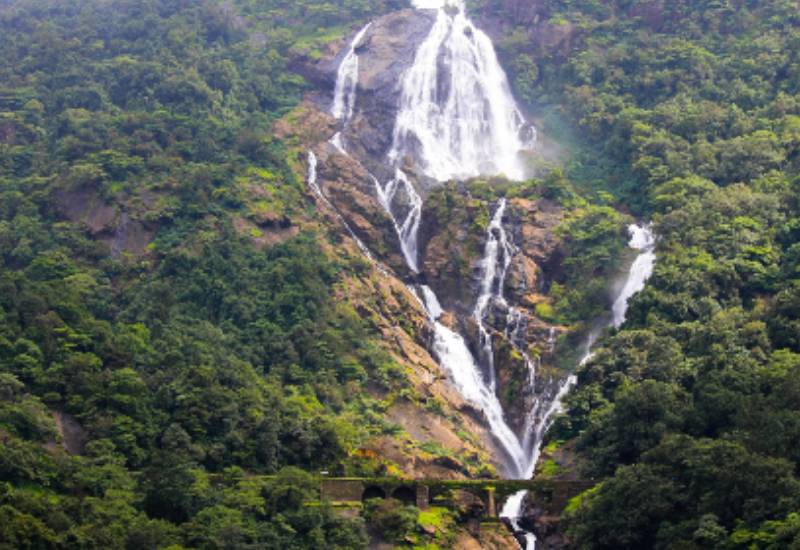 Dudhsagar Falls in Goa is a must-visit for waterfall enthusiasts. Located in the Bhagwan Mahaveer Sanctuary, this four-tiered waterfall is a stunning display of nature's beauty. Hikers and trekkers often consider it a favourite destination, but getting there requires some skill. The falls are surrounded by deciduous green forests, creating a haven for wildlife spotting.
The optimal time to visit Dudhsagar Falls is from mid-November to mid-February.
Loktak Lake, Manipur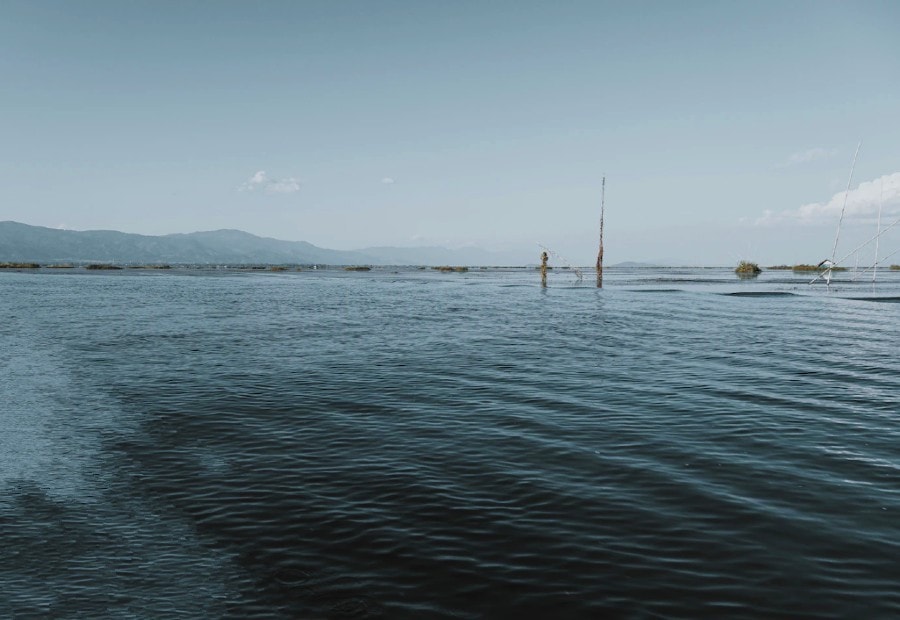 Loktak Lake is one of the largest lakes in northeastern India. It is known for its serene vibe. Located in Manipur, it is considered one of the best natural places in India. This lake is unique because it is the only floating lake in the world. It is also the largest freshwater lake in India. The lake is famous for its floating Phumdis, which showcases nature's abundance and uniqueness.
The optimal time to visit Loktak Lake is from November to May when you can fully appreciate its undeniable beauty.
Lonar Lake, Maharashtra
Lonar Lake, also known as Lonar Crater, is located in the Buldhana district of Maharashtra. It is the oldest meteoric crater in the world and the largest basaltic rock crater, with an average depth of 148 meters and a length of almost 1832 meters. It is considered one of India's most scenic natural tourist destinations, and the lake's unique ecosystem is truly remarkable.
The optimal time to visit Lonar Lake in India is November to January.
Gurudongmar Lake, Sikkim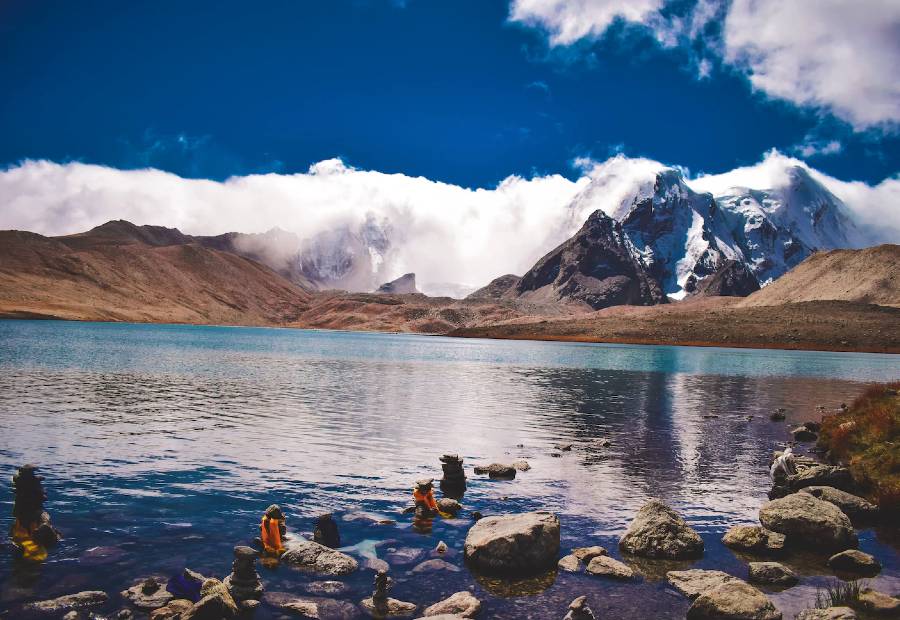 Snow-clad mountains and glaciers surround the Gurudongmar Lake in Sikkim. It offers breathtaking views and has sparkling and icy water with curative properties. The lake is named after Guru Rinpoche, the founder of Tibetan Buddhism. It is considered sacred by Buddhists, Sikhs, and Hindus. Gurudongmar Lake is a less explored attraction in Sikkim. It offers a combination of religious aspects, scenic beauty, and enduring treks. The lake sits at an altitude of 5425 m near the Tibetan border.
The recommended time to visit Gurudongmar Lake is from November to June.
Dzukou Valley, Manipur–Nagaland border