India is a land of dazzling beauty. It is a place where one can find natural and man-made wonders, such as the Taj Mahal and the Red Fort.
Travellers worldwide come to India for its rich history, diverse culture, ancient monuments, and architectural marvels.
Monuments of India are not just historical buildings or sculptures; they also represent an era when people were still discovering themselves while defining their future through artistry.
From the north to south, east and west you can find many different kinds of buildings. In each region, there are mosques, forts, museums, mausoleums and more.
The historical monuments in India are a significant part of Indian culture. They can also be an important tourist attraction.
This article aims to provide you with an overview of some such historical sites in India and their significance.
List of top Monuments of India
Taj Mahal, Agra
Red Fort, Delhi
Qutub Minar, Delhi
Agra Fort, Agra
Golden Temple, Amritsar
Konark Sun Temple, Odisha
Khajuraho Group of Monuments, Madhya Pradesh
Amber Fort, Jaipur
Gateway of India, Mumbai
Monuments of Hampi, Karnataka
Lotus Temple, Delhi
Jaisalmer Fort, Jaisalmer
Sanchi Stupa, Madhya Pradesh
Hawa Mahal, Jaipur
Ajanta and Ellora Caves, Aurangabad
Charminar, Hyderabad
City Palace, Jaipur
Mysore Palace
Basilica of Bom Jesus, Goa
Taj Mahal, Agra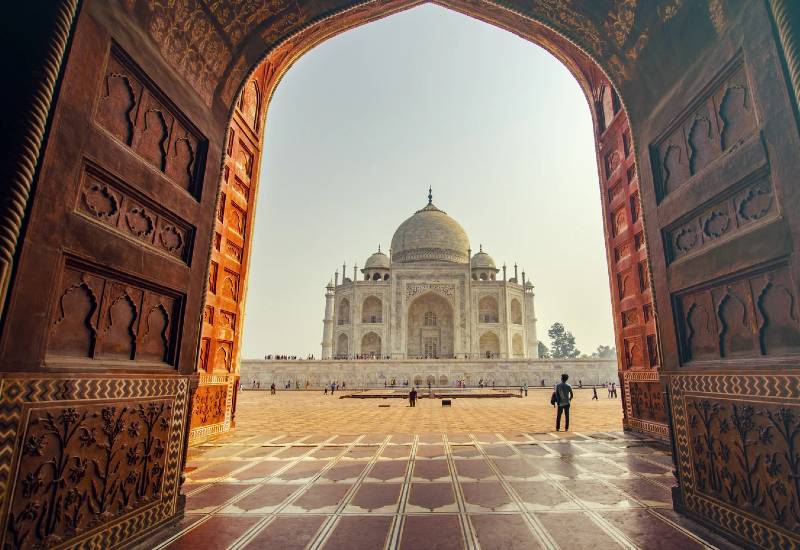 Located in Agra, Uttar Pradesh, the monument was built by Shah Jahan for his wife, Mumtaz. It is a symbol of love, and one can find its reflection in India's architecture even today.
The white marble mausoleum stands on a square plinth, and it has four minarets at each corner.
The dome of the building offers stunning views of the city below, but the entry to the tombs is restricted now; you can walk around the grounds of the Indian monument and look at all the beautiful designs on the mosque.
The Taj Mahal is located on the southern bank of the Yamuna River. This monument of India is one of the Seven Wonders of the World.
Red Fort, Delhi
The Red Fort is a historical fort in the city of Delhi in India. It was used as a house by Mughal Emperors.
The Red Fort of Delhi, a UNESCO World Heritage Site, is testimony to the power and glory of the Mughal Empire.
The Mughal emperor, Shah Jahan, ruled for 11 years in Agra. He then decided to move to Delhi and started building the Red Fort.
The fort has been through many battles but still stands as one of India's most impressive buildings till date.
Every year on August 15th, the Indian prime minister hoists the national flag at the Red Fort. Then he gives a speech from its ramparts.
Qutub Minar, Delhi
Qutub Minar, also known as a victory tower. It is the tallest brick minaret in the world, and it's the highest one in Asia. The Qutub Minar is 72.5m high.
Although many natural disasters have destroyed it over the years, the tower still attracts tourists.
A UNESCO World Heritage Site, it is located in Mehrauli, Delhi. It was first built in 1192 by Qutb Ud-Din-Aibak, who founded Delhi Sultanate.
Later, various rulers built the tower. Seeing this tower reminds you of the rich history of India.
Agra Fort, Agra
The Agra Fort is a historical fort in the city of Agra, India. It was the home of the emperors of the Mughal Dynasty. But in 1638, they moved to Delhi.
Before the British captured it, it was ruled by Indians. The last people to rule before the British were the Marathas.
The Agra fort was inscribed as a UNESCO World Heritage site in 1983.
The fort is 2.5 kilometres northwest of the more famous sister monument, the Taj Mahal. It can more accurately be described as a walled city than just a fort itself.
Golden Temple, Amritsar
Amritsar is world-famous for the beautiful and highly revered Golden Temple or Sri Harmandir Sahib, one of the country's most famous spiritual sites.
A large holy lake surrounds the temple, and people come from all over the world to experience its peaceful surroundings.
Konark Sun Temple, Odisha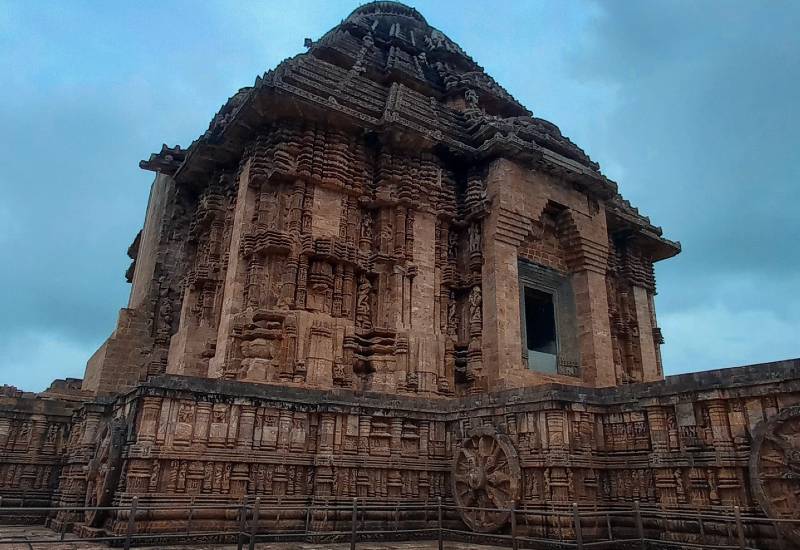 Konark Sun Temple is one of the most famous temples in India, dedicated to the sun god. The temple is shaped like a giant chariot. The whole temple is covered with beautiful carvings.
The Konark Sun Temple in Orissa is the most popular tourist destination. It has been a World Heritage Site since 1984. It is located in Konark village, which is 35km north of Puri.
The walls of the temple are decorated with reliefs, many of which are small and very detailed.
This temple follows the style of Kalinga architecture. It is oriented to the east so that the first rays of sunlight will hit it.
Khajuraho Group of Monuments, Madhya Pradesh
The Khajuraho Group of Monuments is a group of Jain temples and Hindu temples. They are in Chhatarpur district, Madhya Pradesh, India.
The Khajuraho Group of Monuments (Temples) in Madhya Pradesh is an impressive group of buildings that are all made from stone. People come from many places to see them.
These temples have a history of 1000 years and are an example of India's artistic and cultural heritage.
Erotic sculptures in these temples are some of the finest in the world and fascinating for their incredible architecture.
Undoubtedly, Khajuraho is one of the country's top heritage monuments.
Amber Fort, Jaipur
Amer Palace Fort is a tourist attraction in Jaipur. It's located on top of a hill that is about 11 km away from the city.
Amer Fort is an enormous palace made of sandstone and marble. It is in pale yellow and pink. The fort is divided into four different parts that each have a courtyard.
There are a number of places to visit at the Amer Fort, including the Diwan-e-Aam; these include Mandir and Sheesh Mahal.
Amer Fort is also home to some tunnels that connect it to Jaigarh Fort. A part of these tunnels has been restored and is open to the public.
The Amer Fort is an excellent example of Rajasthani architecture. You should visit this place. The sound and light show at the Amer Fort are lovely. People can see the history of the fort.
Gateway of India, Mumbai
One of India's most iconic landmarks is the Gateway of India, which stands in Mumbai. Located on the southern end of the city, the gateway overlooks the splendid Arabian Sea.
This wonderful famous building was built to honour King George V and Queen Mary when they visited India in 1911.
It was designed by George Wittet and took around 13 years to complete. It was inaugurated on December 4th, 1924. This building has been made using yellow basalt stones.
The Gateway of India has an archway that is 26 meters high. The Gateway of India is one of the most popular places in Mumbai, and it's a favourite among historians, tourists, and photographers.
Monuments of Hampi, Karnataka
Hampi is a UNESCO World Heritage Site situated in Karnataka, just on the bank of the Tungabhadra River.
Hampi used to be the capital of the Vijayanagara Empire during the 14th century AD, and in the 1500s, it transformed into one of India's richest cities.
After a long time of being invaded by the Mughal sultanates, Hampi became a place where there are ruins. These ruins still exist today.
Hampi is dry and moderate all year long, but it is the best time to visit it during the winter. Although it may be hot in the afternoon, mornings and evenings are not. You can explore this World Heritage Site during those times of the day.
Lotus Temple, Delhi
The Lotus Temple, a Bahá'í House of Worship in Delhi, is often referred to as one of India's most spectacular and unique buildings.
The temple was designed by Persian architect Fariborz Sahba who drew inspiration from flowers like lotuses and roses while designing it.
It also has 27 petals representing Baha'u'llah's message that all religions should unite on earth for peace, with 27 being the total number of letters in the Arabic alphabet used to write various languages such as English, Hindi etc.
This beautiful temple can accommodate over 2500 visitors and houses around 1000 pieces of art, including paintings, sculptures and tapestries.
Jaisalmer Fort, Jaisalmer
The Jaisalmer fort is located in the Indian state of Rajasthan. The fort was built by Rawal Jaitsi, ruler of Jaisalmer, during the 12th century, and it's a beautiful example of the Golden age forts in India with its sandstone walls surrounding the town.
They say that there are four gates to enter this impregnable fortress, but not all can be seen outside as some are hidden behind buildings.
Jaisalmer fort is one of the largest forts in the world. It is also very popular with tourists. One of the most exciting features of the Jaisalmer fort is that it houses a museum, shops, restaurants, hotels and residential accommodations.
There is a beautiful fort on the edge of Jaisalmer called Patwon-ki-Haveli, built by Jai Singh II and could be seen from miles away because it was constructed with white marble, stone inlays and gold foil.
Sanchi Stupa, Madhya Pradesh
Sanchi Stupa is an ancient Buddhist temple. It stands on top of a hill in a small town called Sanchi, India. This place is most well-known as Great Stupa. This is one of the oldest stone Buddhist monuments in India.
Sanchi has been protecting these beautiful and essential architectural wonders. These wonders have been protecting ancient history and art of the Mauryan period.
The many buildings, temples, and Ashoka Pillar have wowed people around the world. In fact, UNESCO has given us the status of World Heritage Site because of the Mahastupa.
Sanchi is an important Buddhist site. You can feel the awe that you felt when you were little and listen to stories about Ashoka. There are also other hidden Buddhist sites within 30km of Sanchi where people learn about Buddhism.
Hawa Mahal, Jaipur
Jaipur is rich in history and culture and especially popular for its iconic Hawa Mahal (Palace of Winds). Maharaja Sawai Pratap Singh commissioned this five story building.
The main reason behind the making of Hawa Mahal was to provide privacy to ladies while they observed outside life, glimpses of royal processions, hustles and bustles of the city. This gave women a sense of freedom without appearing in public.
The building has 953 windows or 'Jharokhas'. They are decorated with designs. There is a small museum in the complex of Hawa Mahal. It has famous items like miniature paintings and ceremonial armor.
Ajanta and Ellora Caves, Aurangabad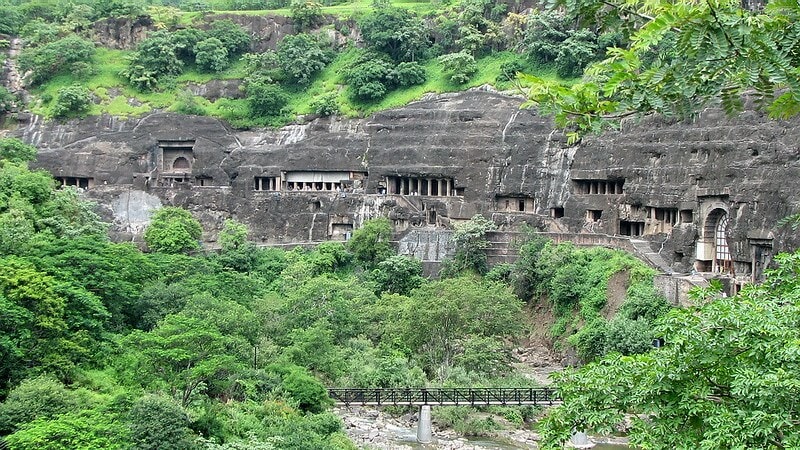 Ajanta and Ellora caves are some of the finest examples of ancient rock-cut caves located near Aurangabad in Maharashtra. Ajanta and Ellora caves include monasteries, temples, and other architectural wonders.
The Ajanta Caves are 29 in number. They were built from the 2nd century BC to the 6th century AD. The Ellora Caves is more spread out and has 34 caves made between the 6th and 11th centuries AD.
The Ajanta and Ellora Caves are designated as UNESCO World Heritage Sites and are pretty popular among travellers worldwide.
The Ajanta Caves are a series of Buddhist sites located approximately ninety-nine kilometres north of Aurangabad. Ellora is 15 kilometers west of Aurangabad. There are Hindu, Jain, and Buddhist sites here.
One of the best-known structures in the Ajanta and Ellora Caves is the Kailash Temple, which also happens to be the single largest monolithic monument.
Charminar, Hyderabad
Built-in 1591, Charminar is the heart of Hyderabad. The landmark was built by the fifth ruler of the Qutb Shahi dynasty. Charminar, a famous monument and mosque, is a model that celebrates the influence of Muslim Turkomans in India.
One of the top ten monuments of India, this is about the structure and its history. People believe that the four minarets are symbols of Islam's first four Khalifas.
Each minaret is four stories tall, and the floors are divided by beautifully carved rings around it. The mosque is on the top floor, and people can enjoy a short climb of 149 steps to get there.
City Palace, Jaipur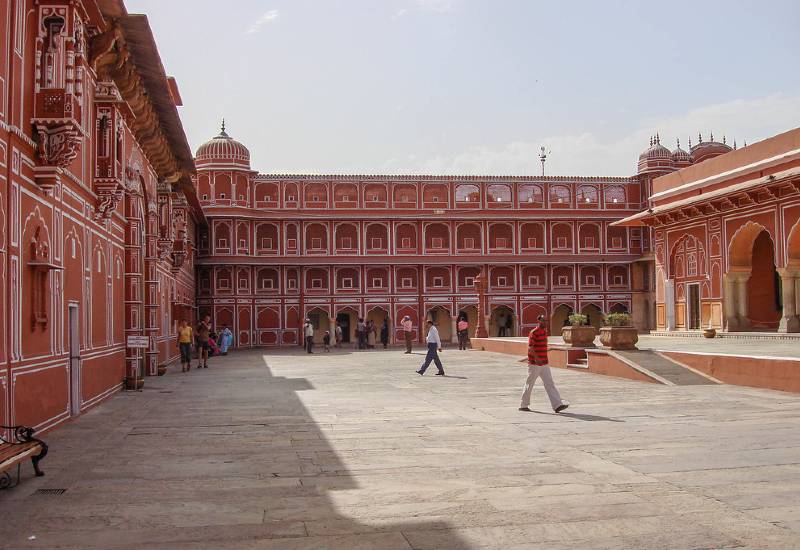 India is known for its variety of cultures and rich architecture, decorated with monuments such as palaces, temples, and churches. Jaipur city is one of them that takes you back in time to the Rajput era.
The city has many impressive buildings, which is why it gets many tourists all year. One such architectural delight is the City Palace in Jaipur, a symbol of the city's royal and regal days.
When you go into a palace, the beauty of the inside is impressive. You can see details that are stunning and look at all kinds of exciting things.
The City Palace used to be where the royal family of Jaipur lived. Later, it was divided into two parts – one with museums and courtyards, and the other where the royal family still lives.
City Palace was built by Sawai Jai Singh, who is a Rajput from the Kachwaha clan. He helped found the city of Jaipur.
Mysore Palace
An example of Indo-Saracenic architecture, the Mysore Palace, is located in Karnataka and is composed beautifully with an incredible amount of detail.
Also known as Amba Vilas Palace in Mysore was formerly the palace of the royal family of Mysore and is still their official home.
Mysore Palace was built in 1912 by the 24th King of the Wodeyar Dynasty. It is one of the enormous palaces in India.
The palace's facade is a harmonious fusion of Hindu, Muslim, Rajput and Gothic styles that give it a regal quality.
With the Chamundi Hills on its eastern side, the pride of Mysore Palace is an awe-inspiring sight to behold. It is the second most visited historical famous monument, after the Taj Mahal.
Now located in The Old Fort, Mysore Palace is famous for its light & sound show and vibrant Dussehra celebrations.
Basilica of Bom Jesus, Goa
An Indian church known for its exemplary baroque architecture is the Basilica of Bom Jesus Church in Goa. The Basilica of Bom Jesus Church is one of the only churches in India with admirable baroque architecture.
This church was built in 1594 and consecrated in 1605. Christianity came to India at this time. The church is in the town of Bainguinim, which is about 10 km from Panjim.
The Basilica of Bom Jesus is a place that has been recognized as a World Heritage Site by UNESCO. This church was not plastered outside, so it hasn't been changed over time.
The facade of the church is delicately carved with pillars which are inscribed with the initials 'IHS', an abbreviation for Jesuit emblem meaning Jesus, Saviour of Men.
The floor of the Basilica is a marble mosaic with precious stones, giving it a solemn appearance. The Basilica of Bom Jesus is a structure that was built 408 years ago and is open to the public every day.