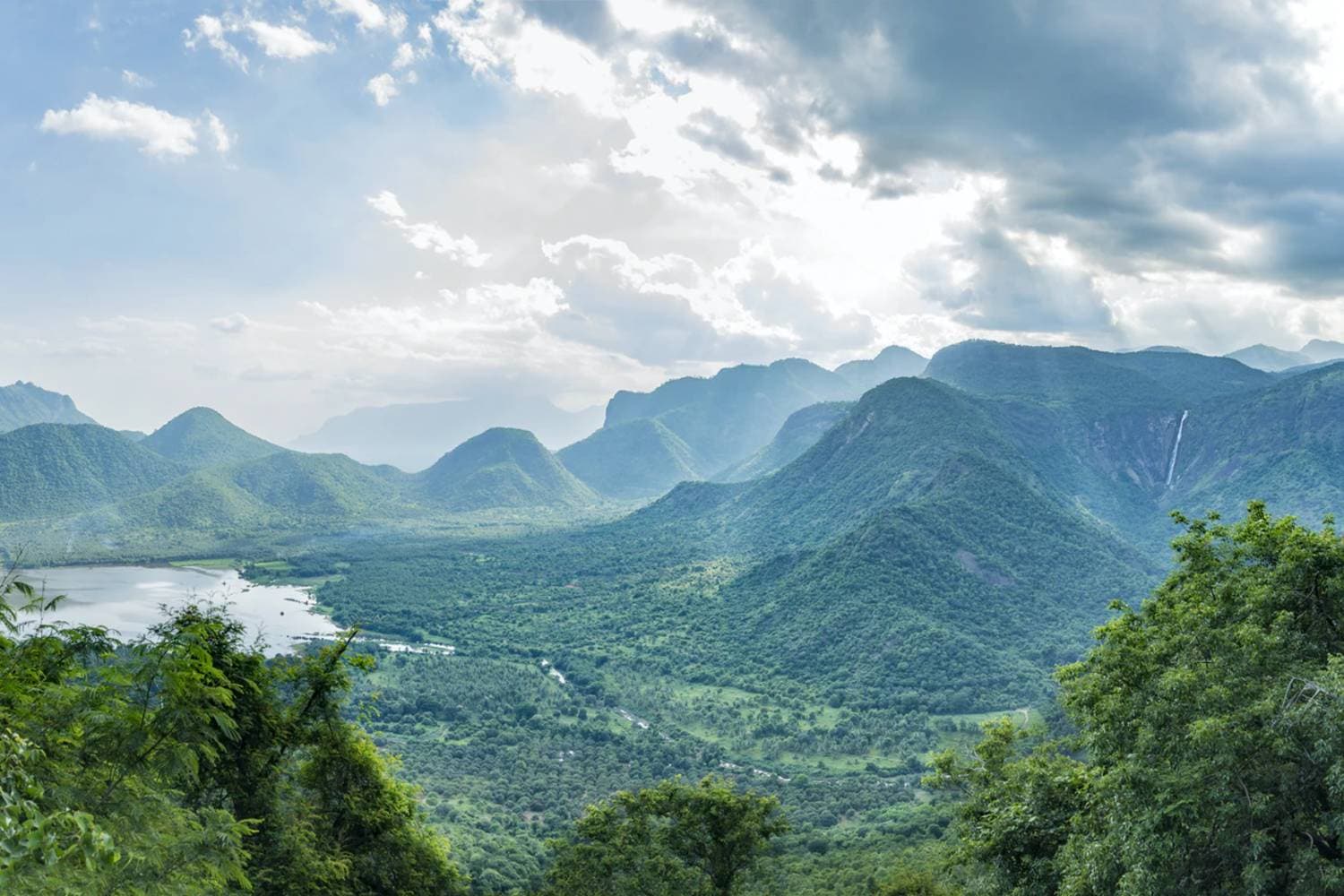 8 Popular Hill Stations in Tamilnadu: A Holistic Experience
Tamil Nadu is home to some of the most popular hill stations in India. Hills are famous for their greenery, natural beauty and pleasant weather.
From the lush greenery to the picturesque landscapes, these hill station destinations are a sight for sore eyes and offer everyone.
Tamil Nadu hill stations are popular destinations for tourists, and some people go there to have a relaxing holiday.
While some hill stations, like Ooty and Kodaikanal, pull in the masses with their extreme beauty, others deserve a close look because they offer an entirely different experience.
So pack your bags and head on over to one of these gorgeous hill stations in Tamilnadu:
8 beautiful hill stations in Tamilnadu
Kodaikanal
Kodaikanal is a small hilly town located on the western ghats of India, 7001 ft above sea level.
Buses and trains go up to Kodaikanal from Madurai. It is sandwiched between two valleys, the Parappar Valley and Gundar Valleys.
Kodaikanal is one of India's most famous hill stations, with its scenic views and relaxed vibe.
This village a destination of many exciting forests, amazing waterfalls and every surface is covered in lush green meadows.
A special type of flower, the Kurinji, is only in bloom every 12 years and is known for its beauty.
Kodaikanal Hill Station is a place where you can make a trip at any time or any season, as the weather remains consistent.
Ooty
Ooty is also known as Udhagamandalam, and it lies in the Nilgiris at an altitude of 7440ft above sea level.
Ooty, a hill station in Tamilnadu, is popular for its lush landscape and offers visitors panoramic views, beautiful lakes and other attractions.
The hills of India not only give the country its most arresting landscape, but they are also home to some of the best holiday destinations in the world.
Ooty Lake is one of the major attractions of Ooty. You can plan to simply relax and admire the magnificence of nature, or go for adventure activities like cycling and trekking.
The best part is you can enjoy an Ooty hill station holiday year-round.
Coonoor
Coonoor, at an altitude of about 1850 meters, enjoys lush, green tea plantations and a picturesque background that draws many tourists.
Placed in the Nilgiri region, Coonoor has earned a spot among the most popular hill stations of Tamil Nadu.
Hill stations in Tamil Nadu provide a chance for visitors to explore the Nilgiri Tea plantation.
The hill station was discovered by the British in the 19th century as a summer retreat. It is near Ooty, which has a scenic charm you cannot have surpassed.
Though the lower part of the place is a bustling area of local and tourist life, there's a contrasted peace up in the hills.
You can enjoy breathtaking views of the Nilgiris Mountain Range with a backdrop of the tranquil Blue Sea.
Coonoor is a place where people can go for a long walk. There are many birds to see there, and bird-watchers like it.
Coonoor has many places that attract tourists. There are waterfalls, botanical gardens, sunset points, forts and churches that people like to see.
Coonoor, famous for its expansive beauty and strolls, can make you feel like you're experiencing heaven with every step.
Yelagiri
Yelagiri is a hill station that has rapidly developed into one of the sole tourism destinations in Tamil Nadu, thanks to the contributions from the Tamil Nadu tourism board.
Located in the district of Vellore and close to the city Krishnagiri, Yelagiri has plenty of scenic landscapes perfect for relaxation.
The town is perched 920 meters above sea level on the Palamathi, Swamimalai and Javadi Hills plateau.
It is a good place for people to go when they want to spend their holidays. It's perfect for families, couples, and even adventure-seekers.
There are many things you can do at Yelagiris Hill Station. You can go to the forest, waterfalls, and temples.
Yelagiri was a private place before India's Independence. There was a family who had it. In the 1950s, it became government land.
This region is mainly inhabited by tribes who live in 14 villages that together make this hill station.
Topslip
Topslip is a place in the Annamalai mountain range. It is 76 km away from Coimbatore. It is 30 km away from Pollachi and 550 km away from Chennai.
This hill station is popular for its proximity to the wildlife sanctuary and national park.
The Topslip reserve is a small area of the larger Annamalai Tiger Reserve, separated from Tamilnadu's Nilgiri Hills by Palghat Gap in the north.
Hill stations in Tamil Nadu are a popular draw for locals and travellers alike for their ability to provide restful holidays.
Wildlife tourism and medical plant conservation are the main attractions of this hill station in Tamil Nadu.
It is a popular tourist destination that proves to be an excellent gateway for wildlife experiences.
The wild animals, exotic plants, and various bamboo species make Topslip a popular destination for tourists looking for an adventure.
Another great attraction for bird watchers is the MT Stuart block, situated 3 miles from Topslip.
There is an old forest bungalow that has a grave with the name Hugo Wood. a British officer said that for each tree that is cut down, one sapling must be planted.
Forest Department organizes trips into the sanctuary on elephant safaris and jeep rides. There is also a four-hour forest walk available with a guide. But for safaris, private vehicles are not allowed.
Topslip is the only entrance to Parambikulam Wildlife Reserve Forest, which falls under the state of Kerala.
The best time to visit Topslip is between November and April.
Valparai
Valparai Hill station is one of the best tourist destinations in Tamil Nadu, which is located on the Anamalai mountain range of Western Ghats at an altitude of 3500 feet above sea level – located 64 km from Pollachi and 102 km away from Coimbatore.
Valparai hill station in Tamilnadu offers many attractions to its visitors. It is pollution-free, full of tea estates and surrounded by Green Spread Mountains and beautiful forest.
Travelling between Pollachi and Valparai is an exotic experience.
There are a lot of tea and coffee estates in this place. Valparai's climate is best for tea, coffee, cardamom and cincona trees.
Chinna-Kallar, one of the points Valparai in Tamil Nadu, receives the highest rainfall in India.
To reach Valparai from the plains of Pollachi, you have to travel 40 steep that lead up the mountainside. The region is also known for its many elephants and leopards.
Valparai is also home to the Indira Gandhi Wildlife Sanctuary, which is one of Tamil Nadu's most prominent attractions.
Valparai is also a great place to see birds. The Great Hornbill, the Malabar Pied Hornbill and Grey Malabar Hornbill can often be seen in Valparai.
Ketti Valley
At 4 kilometres away from Ooty and 12.5 kilometres away from Coonoor, Ketti Valley View Point is a popular vantage point situated on the trail between the two towns of Nilgiris district in Tamil Nadu, India.
Ketti Valley hill station is a popular destination for tourists and one of the best places to explore in Ooty.
As the name suggests, this tourist spot provides a panoramic view of Ketti Valley, one of the largest valleys in the Nilgiris.
Ketti Valley is home to several tribes, including Todas and Badagas. There are more than 14 villages in this valley that belong to the tribes of Badagas. These tribal people cultivate fresh vegetables and fruits idyllically one with nature.
Ketti Valley is a picturesque destination and hill station for nature lovers. The view of Ketti from the viewpoint is majestic and often compared to views of Switzerland.
The Ketti Valley is most famous for the needle-making industry that originated there. Its atmosphere is pleasant enough to be used as a tourist destination.
Ketti town is connected to Nilgiri Express, and it lies between Coonoor Station and Ooty. There are taxis and autos available from the station to Ketti Valley.
Summers are the best time of year to go and visit a hill station.
Kotagiri
Kotagiri is a popular hill station located in the hills of Tamil Nadu. It enjoys a lofty height at 1985 metres above sea level, which gives it a pleasant mountain retreat feel.
Kotagiri, which means 'mountains of the Kotas' in Tamil. Nilgiri hills are where the Kota tribe originated in India.
Kotagiri is one of the oldest and beautiful hill stations in Nilgiris. The lush tea plantations cover the landscape.
A hill station is an ideal place for explorers to go on expeditions; most paths found in the hills lead to different sights that contrast with each other at a central point.
Kotagiri was first found during the British Raj by two officials looking for outlaws.
They found this hill station, and the officials said there was an area beyond the mountains after Kil Kotagiri. The hills are an excellent place for a vacation with their climate similar to Europe.