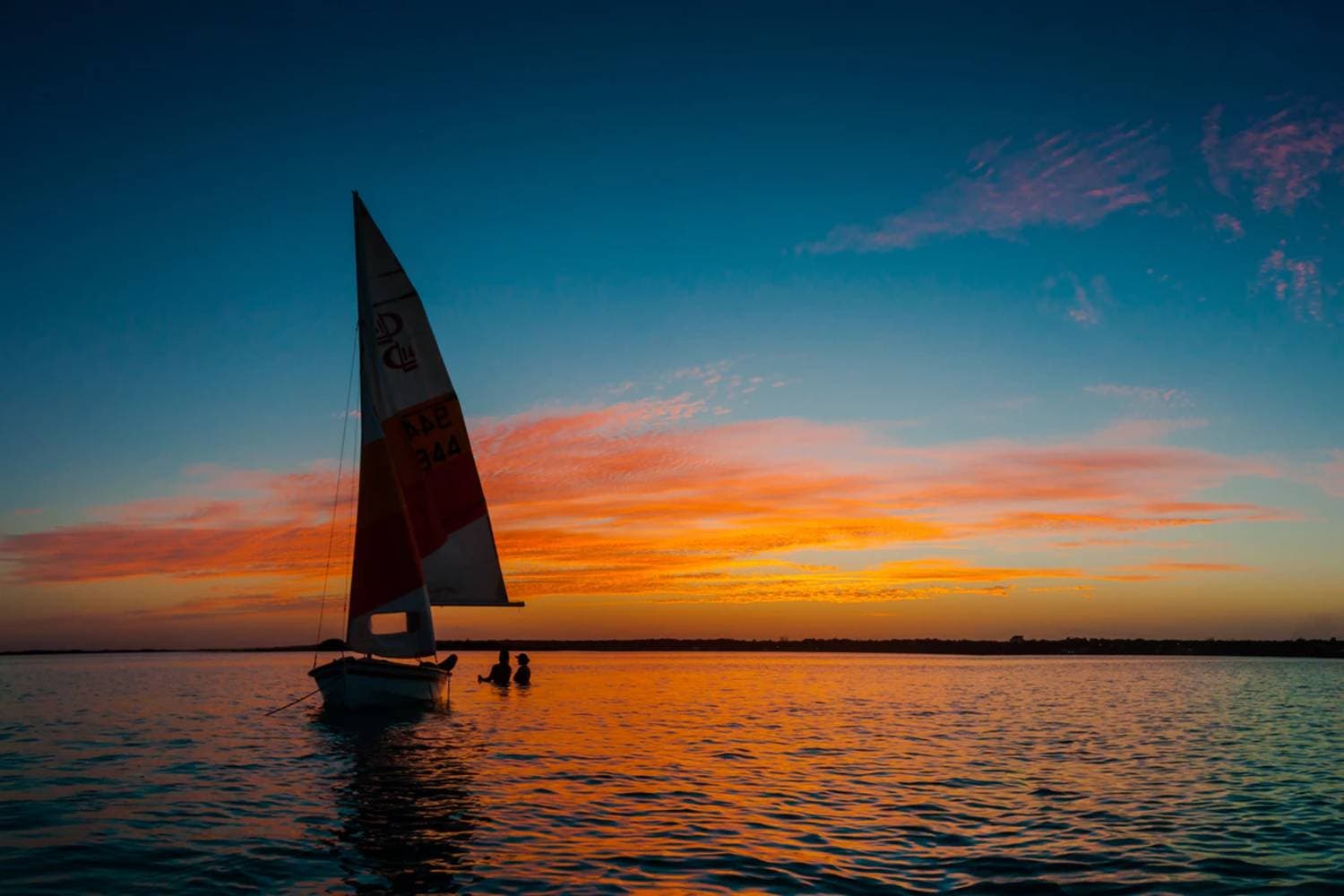 Bacalar Mexico 2021: Best Things to Explore
Mexico, a country rich in the diversity of people and cultures.
Cancun in Mexico, is ideal for travellers looking to relax and sip on margaritas by the beach.
For those looking for an exciting city that's filled with history, Mexico City is the perfect place to go.
You may want to spend some time in one of the captivating oceanfront resorts at Tulum.
No matter which getaway you choose for a vacation, you will be greeted with some of the best food in the world, colourful buildings, and friendly locals that want to help you experience what their nation has to offer.
If you've been to Cancun, Tulum, Playa del Carmen and want something new to explore – visit a few days in Bacalar, Mexico!
Where is Bacalar Mexico?
Bacalar is a small town in the Mexican state of Quintana Roo with only about 2,500 residents.
It's bordered on three sides by water and has an amazing coral reef just offshore.
The town is also known for its Mayan history and culture, which can be seen in many buildings throughout Bacalar.
Some people also use the town's name to refer to the whole body of water extending to both it's north and south, an enormous underground river that floods the surface via cenotes.
If you're looking for a great place to explore while visiting Mexico, then we recommend checking out this beautiful area!
Despite the absence of a beach, it is an awesome tourist town.
When you visit Bacalar freshwater Lagoon, you'll find the water has a mix of many different blue hues.
There are hills and forested flatlands here. There are cenotes and a mangrove-fringed coastline in this area, as well.
Bacalar in Mexico is becoming one of the most popular places for adventure tourists from North America.
Whitewater rafting and ziplining will get your heart racing.
When to visit Bacalar in Mexico?
The word Bacalar is derived from a Maya phrase meaning "place of strong waters," and that's precisely what Bacalar provides-strong currents, clear visibility and plenty of marine life to keep you entertained.
With those factors combined, Bacalar makes it one of the best places to visit when travelling in Mexico!
Think about timing your trip to coincide with the dry season. It falls from December through early April in this region of Mexico and typically sees less rain than other periods. You will also notice that temperatures during drier times are usually more relaxed, too.
One of the best times to be in Mexico in June and July. Prices will be more affordable during this time, but there may also be some rainy spells mid-day.
Do not go to Quintana Roo or the Yucatan during late summer or early fall. It is storm season, and it will be hard for you to travel there.
How to get to Bacalar Mexico?
Air – You can fly to Chetumal on domestic carriers, but there are not many connections, and they are at times when people work. So most travellers will fly to Cancun and then take a bus from there.
Car – Trying to explore this region by car is a good idea. It will take about 4 hours from Cancun Airport or Mérida city, and you can enjoy some interesting places also along the route.
Bus – ADO buses are the best way to travel in Mexico. They take about five hours, and they go from Cancun, Mérida, and Chetumal. To get from Cancun airport to Tulum or Playa del Carmen, it's just a 45-minute ride!
Things to do in Bacalar Mexico
Whether you spend a couple of days or a couple of weeks, there are plenty of things to do in Bacalar to keep you entertained during your stay.
1) Enjoy a sunrise or sunset in the lagoon
The breathtaking waters of Bacalar, redolent in all shades of blue from crystal clear to turquoise water, are the namesake for this town on Mexico's southernmost Yucatan peninsula.
The sunrise over the lagoon is one of the highlights of your day.
There are clear waters perfect for swimming and spectacular sunsets to enjoy in the evening.
Many accommodations around the city include private docks to have front-row views. But if the resort you are staying at does not offer waterfront views, visit a public dock found on Calle 14, 16, and 18.
If you prefer to watch this natural spectacle from the water, kayaking and sailing are great options.
2) Visit the nearby Cenotes
Bacalar has four cenotes near; the area is world-famous for its 6000+ such natural pools.
A cenote is a sinkhole, often formed by the collapse of limestone bedrock exposing groundwater to surface level. They are often seen as Mayan pilgrimage sites and sources of water for both locals and tourists.
One of the deepest cenotes in the Riviera Maya is Cenote Azul, where you can swim or explore by kayak.
With many restaurants, the area makes it an excellent place for families.
Cenote Cocalitos is a family-friendly location, surrounded by vegetation, camping sites and tours.
The deep blue waters of Cenote Esmeralda owe their name to the emerald colour of the water, which measures 230 feet in depth.
And the last one is Cenote de la Bruja or Witch Cenote, which is unique because of its dark water in contrast to the clear blue lagoon.
3) Visit a Spanish Fort
Bacalar is one of the oldest Mayan cities, which has had a long history.
Due to its location in the central area of the Mayan territories, Bacalar quickly became a place where people had an interest.
The Spanish arrived in 1543, conquering Bacalar and becoming the first territory they conquered.
It became a target for pirates during the 1600s. This is the reason why the Spanish built Fort San Felipe.
Now a historic site, you can visit the Fort ruins, which are in the center of town near the central Plaza, and you may even enter the museum to see a here unique exhibit of preserved artifacts.
4) Enjoy a Ziplining in the Mayan Jungle
Bacalar offers more than a relaxing day at the lagoon! A highlight for thrill-seekers is the Tirolesas Kankin.
Ziplines allow you to admire the beauty of a lagoon as well as local wildlife from above. You can visit Bacalar during your next vacation for an unforgettable experience.
The experience can last anywhere from two to four hours, depending on which lines you choose to enjoy.
5) Visit Mayan Ruins
For those looking for a more natural exploration of the past, you can visit Kohunlich, an abandoned Mayan city.
They are located nearby Bacalar. With buildings dating back to 200 BC, you will be able to explore the magnificent structures and impressive designs.
One of the most incredible things about this ancient city is how well preserved it remains. The city is still marked by homes untouched by time.
You will also be able to see and hear the calls of howler monkeys in the surrounding jungle.
6) Enjoy the food from the local area
The delicious Mexican food found in Bacalar is representative of the vibrant culture of the country.
Bacalar offers so many things to do, from hotels and restaurants to activities.
Seafood is a popular dish in the area; one restaurant you should try is La Playita which has an amazing beachfront patio and laid-back vibes.
A great spot for a vegan meal is Mango y Chile, located near the Fort.
And if you are looking for a great hotel with excellent views and delicious food, Los Aluxes is the best option for you.
7) At Bird Island, chirps were heard
One of the best attractions in Bacalar is Isla de los Pájaros, a bird sanctuary on the island in Lake Bacalar.
Bacalar is a popular ecotour stop with its rich, freshwaters. A highlight for ecotourists, wildlife photographers, and paddlers alike is the opportunity to take your boat tour out there.
8) Search for Bacalar's street art
Though many parts of the town are rundown, shops, schools, and houses have been decorated with vibrant murals.
Stroll down the street to explore some of these colourful pieces; it's one of the many free things to do in Bacalar.
The collection of art along the waterfront is excellent. If you take a walk, then you can see the paintings and murals on the walls.
A local said that they hold an art competition every couple of years where artists from all over Mexico come to create new masterpieces, so you won't be disappointed.
A Mexican local said that they hold an art competition every few years where artists from all over the country come to create masterpieces.