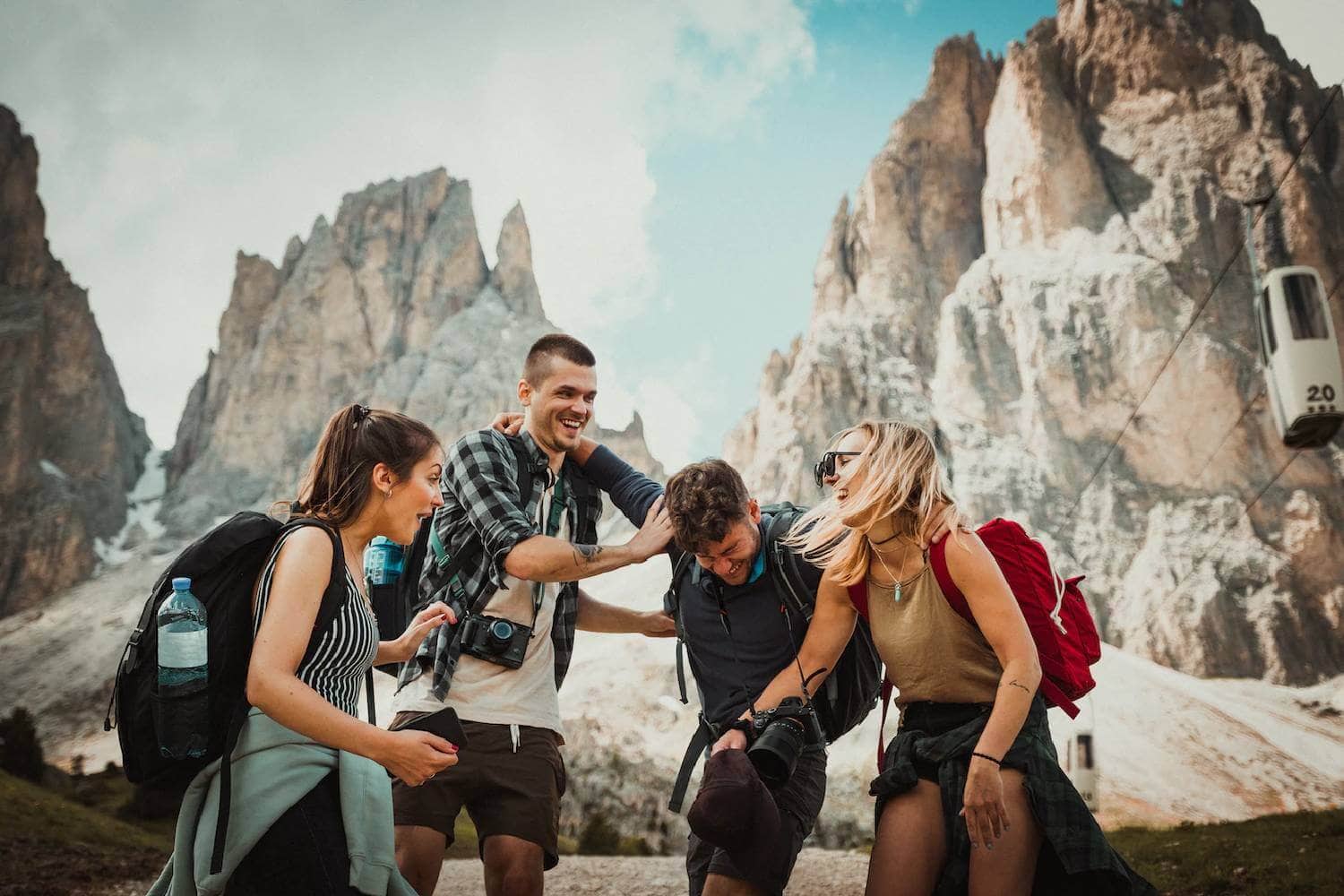 92 Best Travel Quotes With Friends That Will Inspire Your Next Adventure
Travelling with a friend is better than travelling alone. Friends make life better, so sharing new experiences enhances our journeys. Exploring new environments or revisiting favourite destinations is always good, and sharing those experiences with friends makes them even more enjoyable.
Before embarking on a trip with your bestie or group of pals, share some inspiring travel quotes for friends to get them excited.
Before your vacation, use these "Travel quotes with friends" and sayings for Instagram captions and group texts. Sharing them will increase your travel partner's excitement and help you stay connected leading up to the trip.
These messages work for any trip, whether it's a camping trip, a relaxing resort stay, and more. Your friends will appreciate your thoughtfulness and feel inspired.
Don't worry if you can't come up with travel quotes alone. We've gathered some of the best travel quotes for friends, from short to deep and meaningful.
Whether it's your first or fifteenth trip, these quotes will speak to the happiness and joy that travel brings. Pack your bags and prepare to create unforgettable memories and strengthen bonds that will last a lifetime.
Travel Quotes for Friends
"I have found out that there ain't no surer way to find out whether you like people or hate them than to travel with them."

Mark Twain
"Life was meant for great adventures and close friends."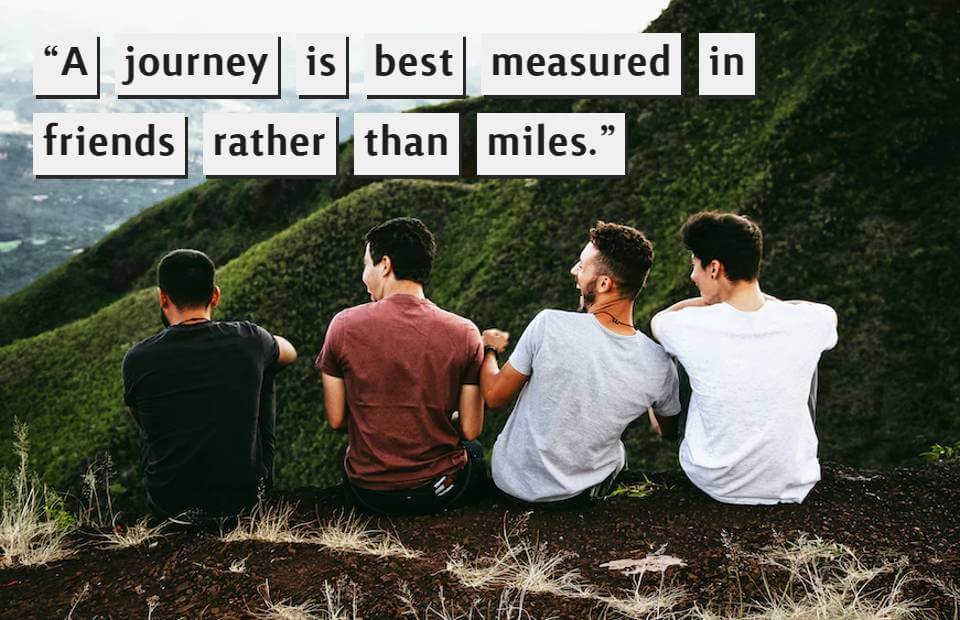 "A journey is best measured in friends rather than miles."

Tim Cahill
"There is a whole world out there. Pack your backpack, your best friend, and go."
"A good friend listens to your adventures. Your best friend makes them with you."
"Friends that travel together stay together."
"Sharing adventures means enjoying them 100% more."
"Sometimes all you need is a great friend and a thirst for adventure."
Having a great friend and a thirst for adventure can bring much joy and excitement. There's nothing quite like
exploring new places
and trying new things with someone you trust and enjoy spending time with.
"There is an unspoken bond you create with the friends you travel with."

Kristen Sarah
"True friends never apart maybe in distance never in heart."

Helen Keller
"Everyone needs this friend that calls and says, "Get dressed, we're going on an adventure."
"Travel is better with friends."
"As with any journey, whom you travel with is more important than the destination."
"Perhaps travel cannot prevent bigotry, but by demonstrating that all people cry, laugh, eat, worry, and die, it can introduce the idea that if we try and understand each other, we may even become friends."

Maya Angelou
"You and me, we are more than friends. We are like a small travel gang"
Being part of a traveling gang means having a shared passion for exploring new places, trying new things, and creating unforgettable memories. It's a reminder that life is meant to be lived to the fullest and that there's nothing quite like experiencing the world with the people you care about most.
"I get a friend to travel with me. I need somebody to bring me back to who I am. It's hard to be alone."

Leonardo DiCaprio
"If you want to go fast go alone. If you want to go far go together."
"When traveling life's journey, it's good to have a friend's hand to hold on to."
"Only the people you don't know well enough seem normal. Every person you know well enough is odd, weird, and different. This is called friendship."
"There are no strangers in this world, only friends I haven't met yet."
"We are all travelers in the wilderness of the world & the best we can find in our travels is an honest friend."

Robert Louis Stevenson
Some of the best gifts available are honest friends who stay present with us during our travels. These relationships help provide solace in knowing that they will always make it possible for us to remain connected on both a physical level as well as an emotional one.
"The more I traveled, the more I realized fear makes strangers of people who should be friends."

Shirley MacLaine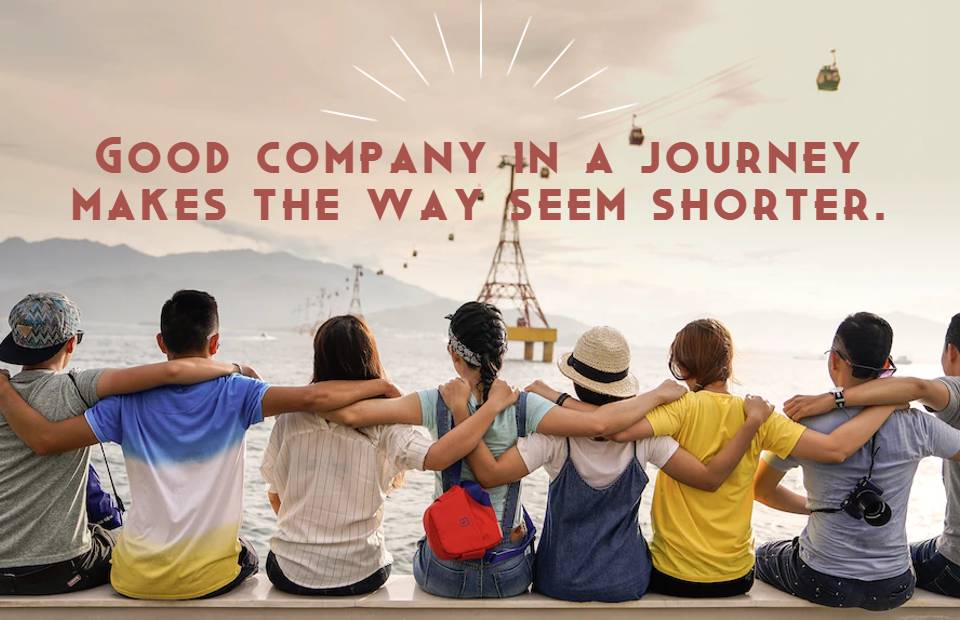 "Good company in a journey makes the way seem shorter."

Izaak Walton
"Life is about doing things that don't suck with people who don't suck."
Short Travel with Friends quotes
Travelling with friends is one of the most exciting and
memorable experiences
. And what better way to capture those moments than with travel quotes that perfectly encapsulate the joy and
adventure of exploring new places
with your best buddies?
From inspiring quotes about the world's beauty to funny quips about the challenges of travelling with friends, countless travel quotes can perfectly sum up your next adventure.
So, whether you're planning a road trip, backpacking through Europe, or just exploring your backyard, take note of some of the most inspiring and hilarious travel quotes with friends.
"As soon as I saw you, I knew an adventure was about to happen."

A.A. Milne, Winnie-the-Pooh
"Traveling with friends is always better."
"In life, it's not where you go – it's who you travel with."

Charles M. Schulz
"Life was meant for good friends and great adventures."
"The tans will fade but the memories will last forever."
"Wherever it is you may be, it is your friends who make your world."

Chris Bradford
"No road is long with good company."

Turkish proverb
"Exploring new places is always sweeter with your favorite people."
"Getting lost with you is a risk I'm always willing to take."
"A journey well shared is a journey well enjoyed."
"It was us against the world."

Burnell Glanzer
"Sometimes all you need is a great friend and a tank of gas."

Thelma and Louise
"A real friend is one who walks in when the rest of the world walks out."

Walter Winchell
"A good trip is an even better one with your bestie."
"Never go on trips with anyone you do not love."

Ernest Hemingway
"Good friends follow you anywhere."

A.A. Milne, Winnie-the-Pooh
"Just grab a friend and take a ride, together upon the open road."

The Goofy Movie
"People are always in good company when they are doing what they really enjoy."

Samuel Butler
"If you want to go quickly, go alone. If you want to go far, go together."

African proverb
"Good company on a journey makes the way seem shorter."

Izaak Walton
"No adventure is complete without you by my side."
"As soon as I saw you, I knew a grand adventure was about to happen."

Winnie The Pooh.
Heartwarming "Travel Quotes With Friends" for friends and loved One
"Travel should make friendships stronger and memories sweeter."

Paulo Coelho
"We are travellers on a cosmic journey, stardust, swirling and dancing in the eddies and whirlpools of infinity. Life is eternal. We have stopped for a moment to encounter each other, to meet, to love, to share. This is a precious moment. It is a little parenthesis in eternity."

Paulo Coelho
"Don't walk in front of me; I may not follow. Don't walk behind me; I may not lead. Just walk beside me and be my friend."

Albert Camus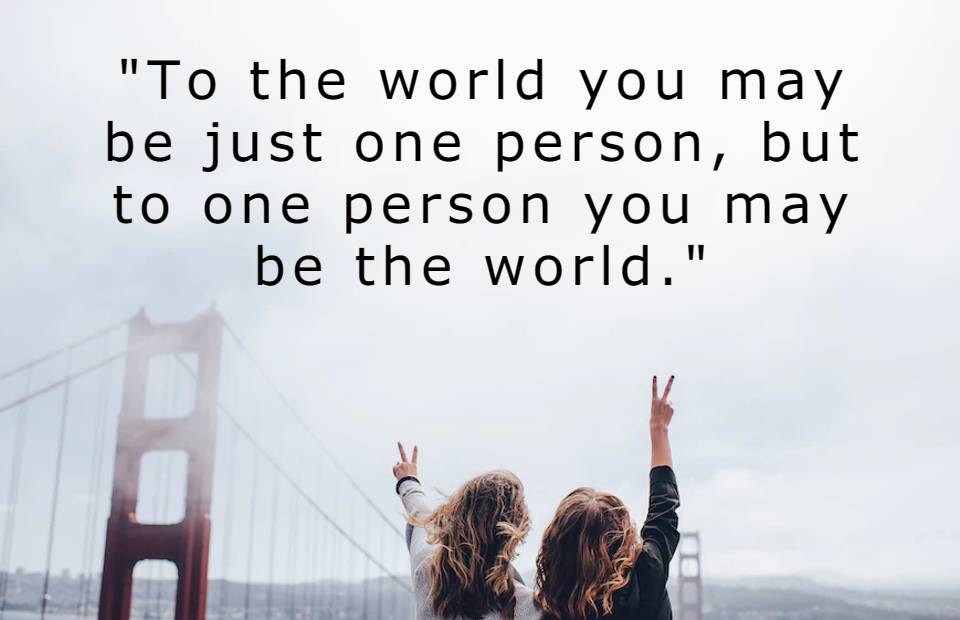 "To the world you may be just one person, but to one person you may be the world."

Brandi Snyder
"Having a best friend is like having your own little corner of the world to escape to."
"We are all travellers in the wilderness of the world, and the best we can find in our travels is an honest friend."

Robert Louis Stevenson
Quotes about making friends on the road
"There's not a word yet for old friends who've just met."

Jim Henson
"A journey is best measured in friends rather than miles."

Tim Cahill
"A friend may be waiting behind a stranger's face."

Maya Angelou
"There are no strangers here; Only friends you haven't yet met."

William Butler Yeats
"Perhaps travel cannot prevent bigotry, but by demonstrating that all peoples cry, laugh, eat, worry, and die, it can introduce the idea that if we try and understand each other, we may even become friends."

Maya Angelou
"One of the great things about travel is that you find out how many good, kind people there are."

Edith Wharton
"If you go looking for a friend, you're going to find they're very scarce. If you go out to be a friend, you'll find them everywhere."

Zig Ziglar
"You can't stay in your corner of the Forest waiting for others to come to you. You have to go to them sometimes."

A.A. Milne, Winnie-the-Pooh
"Friendship is the only cement that will ever hold the world together."

Woodrow T. Wilson
"Friendship is the golden thread that ties the heart of all the world."

John Evelyn
"Each friend represents a world in us, a world possibly not born until they arrive, and it is only by this meeting that a new world is born."

Anais Nin
"No friendship is an accident."

O. Henry, Heart of the West
"A good friend listens to your adventures. A best friend makes them with you."
"A good friend listens to your adventures. A best friend makes them with you."
"It doesn't matter where you're going — it's who you go with that makes it fun"
"You can pack for every occasion, but a good friend will always be the best thing you could bring!"
"We all have that one friend who is either on a road-trip or planning a road-trip or thinking about a road-trip or talking to people who are on road-trip or posting quotes about road-trip."
"It's the friends we meet along the way that help us appreciate the journey."
"You never know where life will take you, but it will always be better with friends."
"We are all travelers in the wilderness of the world, and the best we can find in our travels is an honest friend."

Robert Louis Stevenson
"When traveling life's journey, it's good to have a friend's hand to hold on to."
"If you want to go fast go alone. If you want to go far, go together."

African Proverb
"The more I traveled the more I realized that fear makes strangers of people who should be friends."

Shirley MacLaine
"Embarking on new adventures is a million times better with close pals."
"Adventure awaits — all you need is your best buddy to make it a reality."
"Away is a place where it's not about the money you spend. It's about the moments you share."
"I would like to travel the world with you twice. Once, to see the world. Twice, to see the way you see the world."
"Everyone needs this friend that calls and says, "Get dressed, we're going on an adventure."
"Getting to know new people and gaining new friends is one of life's greatest pleasures. So, conquer your fears and get out there."

Tony Clark
"As with any journey, whom you travel with is more important than the destination."
"At the end of the day, your feet should be dirty, your hair messy and your eyes sparkling."

Shanti
"May your adventures bring you closer together, even as they take you far away from home."

Trenton Lee Stewart
"I get a friend to travel with me… I need somebody to bring me back to who I am. It's hard to be alone."

Leonardo DiCaprio
"Never go on trips with anyone you do not love."

Ernest Hemingway
"We are travelers on a cosmic journey, stardust, swirling and dancing in the eddies and whirlpools of infinity. Life is eternal. We have stopped for a moment to encounter each other, to meet, to love, to share. This is a precious moment. It is a little parenthesis in eternity."

Paul Coelho
"Nothing makes a good trip more memorable than experiencing it with your best friends."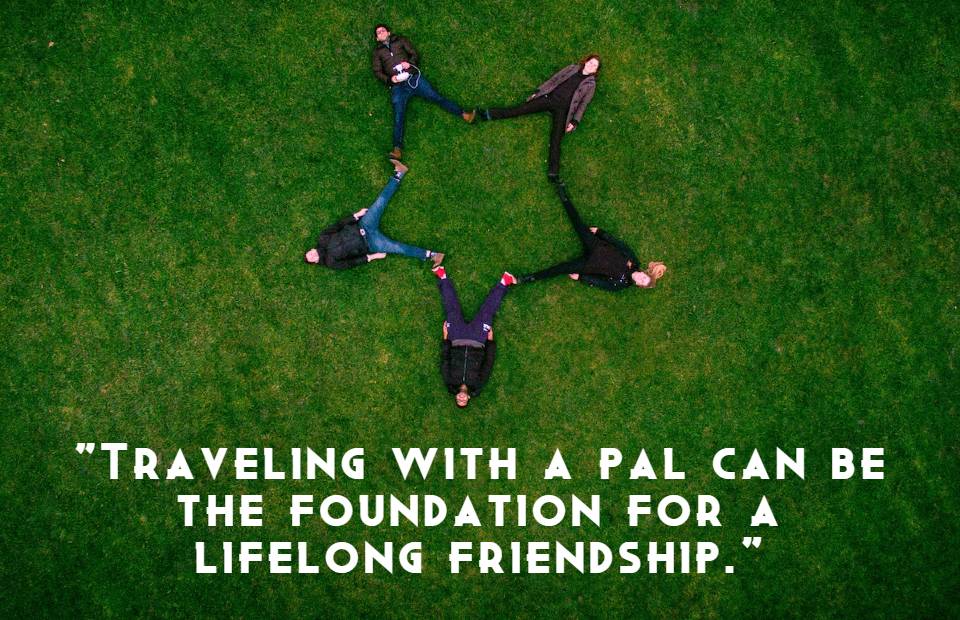 "Traveling with a pal can be the foundation for a lifelong friendship."
"Good times and crazy friends make the best memories."
"The best things in life are the people we love, the places we've been, and the memories we've made along the way."
"Don't be dismayed at good-byes. A farewell is necessary before you can meet again. And meeting again, after moments or lifetimes, is certain for those who are friends."

Richard Bach