India is known for welcoming and treating guests like royalty, and the luxury hotels in India provide an unforgettable experience.
The 7 star hotels in India are the perfect way to experience royal luxury and elegance.
These properties have been around for centuries, but now they are being transformed into 7-star luxuries that rival any other hotel you can find in the world!
These luxurious hotels are with large rooms, delicious food, and beautiful views.
The 7 star hotels in India are located near tourist attractions so that guests can enjoy everything these magnificent countries have to offer!
These premium hotels in India worth a royal stay that has hosted many important dignitaries and celebrities.
Here are some of the 7 star hotels in India:
1) Taj Umaid Bhawan Palace, Jodhpur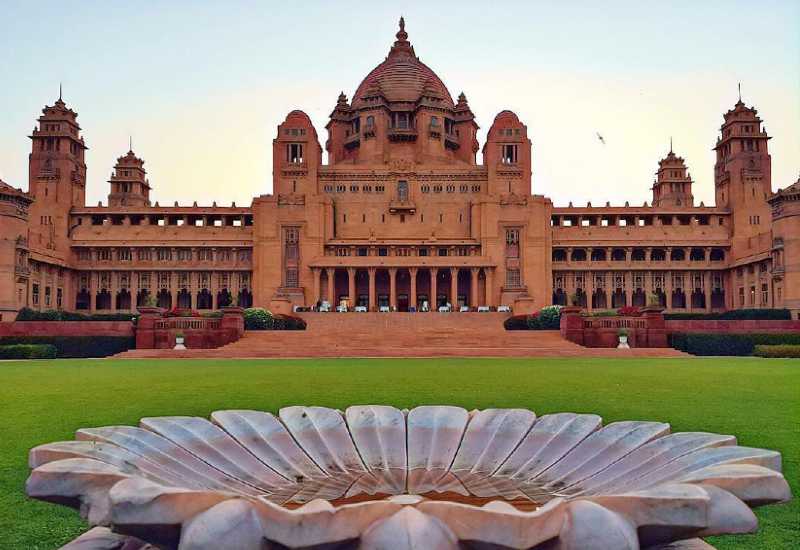 This royal hotel is located in the state of Rajasthan and has hosted many famous people, including Bill Clinton.
Built between 1928 and 1943, this yellow sandstone palace spreads over 26 acres of gardens.
Features art deco and renaissance design, the hotel offers 2 swimming pools and pampering treatments at the Jiva Grande Spa.
Their accommodations are elegant, with marble floors, a pool, and an outdoor terrace overlooking the city.
The hotel has 22 rooms and 42 suites categorized into Palace Room, Historical 1 Bedroom Suite, Royal 1 Bedroom Suite, Grand Royal 1 Bedroom Suite, Maharaja Suite, and Maharani Suite.
This 7-star hotel can be found in the capital city of Jodhpur, only a 15-minute drive away from the airport and 2.5 km from the railway station.
Major attractions and monuments like Mehrangarh Fort, Clock Tower Market, and Jaswant Thada are 9 km away.
The Umaid Bhawan Palace also offers guests access to Indian beauty therapies and hot tubs and steam rooms that let them relax after exploring India's ancient palaces for days on end!
For those active, health-conscious travellers, there are yoga studios and a gym.
The hotel offers onsite childcare, which provides babysitting and infant cribs.
Guests can access a wide array of services, such as 24-hour concierge and free Wi-Fi in all rooms.
Price range
Palace room starts from 19,500/- per night and there are Maharaja/Maharani suites available for INR 2,16,949/- per night.
Restaurants
Risala, a feast-worthy restaurant based on royal recipes in India's most luxurious hotels.
Pillars is a lovely open-air café with European and Mediterranean delicacies, drinks and snacks.
Trophy Bar offers a selection of drinks, wines, and cocktails along with appetizers.
2. Rambagh Palace, Jaipur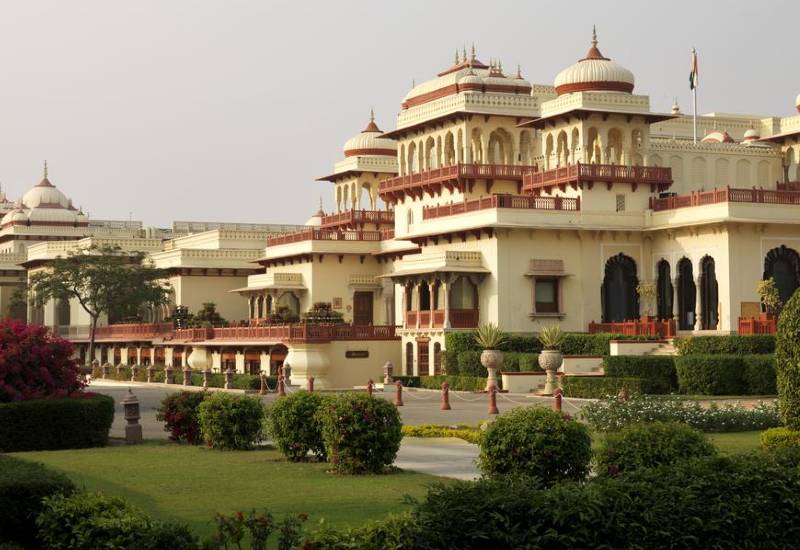 Rambagh Palace, Jaipur is a 7-star heritage hotel in India that has continuously hosted royalty for over 150 years.
Originally built in 1835, located near the Ram Niwas Garden on the outskirts of Jaipur, this palace features two wings and an impressive courtyard lined with trees.
Presenting manicured gardens and beautiful Indian architecture, the luxurious Rambagh Palace was the former residence of the Maharaja of Jaipur.
The Mughal Gardens are 12 acres filled with lush green lawns, fountains, ponds and walkways leading to several pavilions where guests can relax.
The hotel offers a variety of accommodation, including the Palace Rooms, Historical Suites, Royal Suites, Grand Royal Suites, Grand Presidential Suite and Luxury Room.
The building itself boasts marble floors throughout its sprawling ballrooms which have hosted some famous Rajasthani weddings and concerts from international artists like Stevie Wonder and Michael Jackson.
Known as the "Jewel of Jaipur," Rambagh Palace is about 2.2 mi from the City Palace, Hawa Mahal and Jantar Mantar. It is 6.8 mi from Jaipur Airport.
Price range
Palace room starts from 25,000/- per night and there are Grand Presidential Suite available for INR 2,16,949/- per night.
Restaurants at the property
Suvarna Mahal restaurant features dishes from Indian cuisine.
Steam is a bar where you can eat food from around the world. They have really good food, like wood-fired pizzas and also drinks that are made from beer.
Verandah Cafe serves light snacks from Indian and continental foods. You can have afternoon tea there
Rajput Room is a restaurant that serves breakfast, light food, and hot drinks all day.
Polo Bar offers an exclusive range of drinks. They have cocktails, whiskies and single malts in a bright atmosphere.
The Oriental serves foods from countries in the Asia region. The food tastes good and is served in a fancy setting.
3) Taj Lake Palace, Udaipur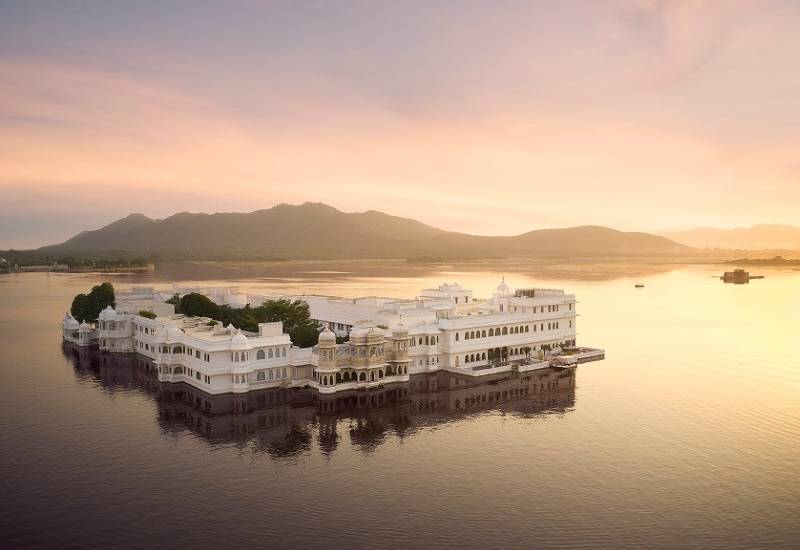 The Taj Lake Palace has become a luxurious 7-star hotel. The palace sits on the shores of Lake Pichola in Udaipur.
The hotel was built as an anniversary gift from Maharaja Sawai Man Singh II to celebrate his wife's love and marriage.
Today, the magnificent palace still stands overlooking the calm blue waters from its vantage point on the banks of Pichola Lake.
This place has been featured in James Bond Octopussy, Lagaan and Malgudi Days because of its location.
There are many amenities near the hotel, including pools, golf courses, scuba facilities nearby and more!
The Maharana Pratap Airport is 29.3 km from this property, and the Udaipur Railway Station is located 2.9 km away.
The hotel is 3.1 km away from the Udaipur Bus Station.
The property features 83 rooms and suites that display the royal grandeur of India.
We're not sure where you went in India, but they have got the best accommodations around.
Their 24-hour on-call butler service, pillow menus, coffee/tea makers, dry cleaning and minibar, among other amenities, so that you never have to leave your suite for anything.
Price range
Luxury Room starts from 23,500/- per night and there are Grand Presidential Suite available for INR 2,16,949/- per night.
Restaurants at the property
Neel Kamal restaurant is dinner only and it looks over the beautiful pond. The food is delicious and they use organic ingredients.
Jharokha restaurant specializing in multi-cuisine flavours and enjoy the lake view.
Bhairo restaurant is open only during the winter season. It has a beautiful view of the lake and the Aravalli mountains.
Amrit Sagar serves international wines, cognac, single malts and cigars at this bar.
4) Wildflower Hall, An Oberoi Resort, Shimla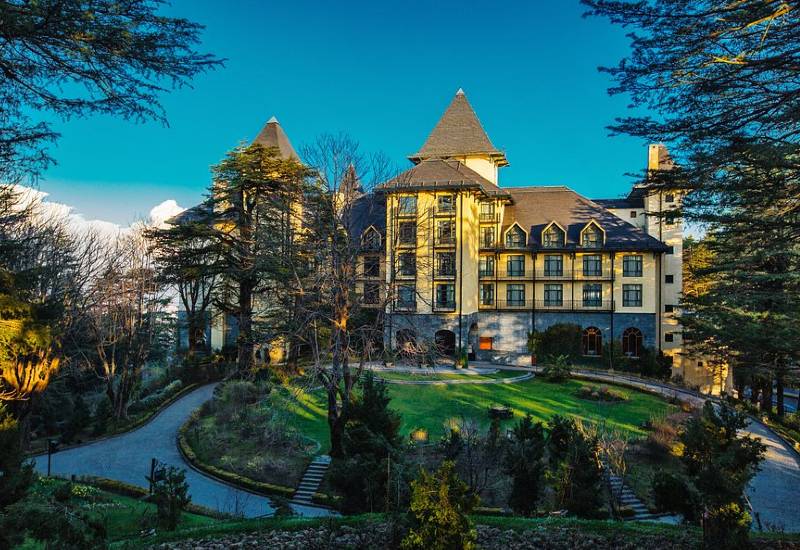 Another 7-star resort in India that is world-renowned for its astounding views and luxury, Wildflower Hall in Shimla is the epitome of Indian grandeur.
Guests are treated to a stay at this seven-star hotel, highlighting some of India's most stunning architecture with valley view rooms and suites.
This hotel is different from others because it has a pool outside. It's perfect for relaxing after you go on an adventure.
This place has a lot of things to do. You can play tennis, golf, and even go paragliding! There are also cars that will drive you around town all day.
Wildflower Hall features 83 rooms with superb mountain, valley and garden views. The rooms are furnished with luxury furniture and chandeliers from the colonial era.
There are 5 categories of rooms- Deluxe Suite, Lord Kitchener Suite, Premier Mountain View Room, Premium Garden View Room, and Deluxe Garden View Room.
Guest can take a swim in the indoor heated swimming pool to relax and unwind. The outside Jacuzzi, which has a view of the cedar trees and the snow-capped Himalayas, will help you relax.
The Shimla Airport is 31 kilometres from the resort. The nearest train station to the property is the Shimla Railway Station, which is 13 kilometres away.
Wildflower Hall Resort is more than 8000 feet above sea level, and it's nearby the Shimla Reserve Forest Sanctuary which is 1.2 kilometres away.
Price range
Deluxe Room starts from 25,500/- per night and there are Lord Kitchener Suite available for INR 1,20,000/- per night.
Restaurants at the property
The Restaurant has inside and outside area. It has a conservatory where people can sit and eat their food. The food is Asian or European.
The Cavalry Bar is precious, well-delineated old-fashioned bar has been inlaid with the original and local artwork and displays the finest assortment of wines, beers, and spirits.
Lutyens Hall restaurant only serves dinner and has a luxurious private dining area with crystal chandeliers and a view of the lush garden.
5) Taj Falaknuma Palace, Hyderabad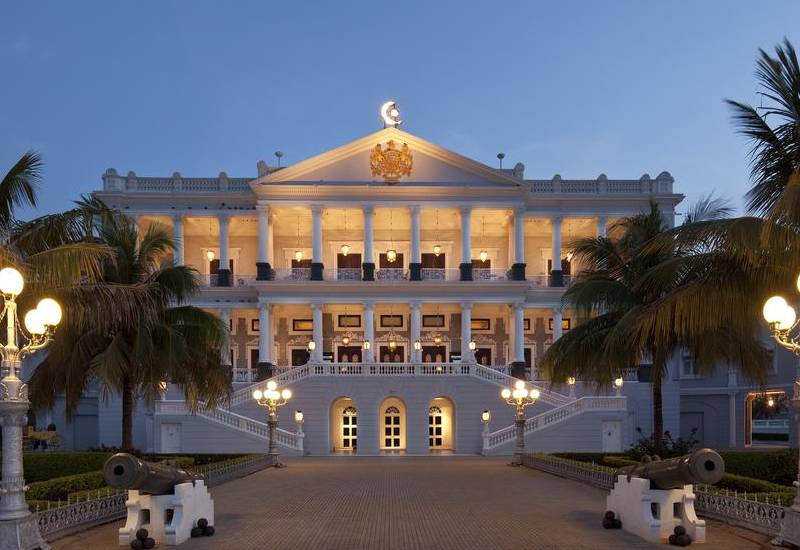 Taj Falaknuma Palace is a heritage property in India, and it's the only one from the Nizam era given 7-star hotel status.
The Taj Falaknuma Palace hotel is situated in Engine Bowl in the Falaknuma area of Hyderabad, India.
Perched on a height to offer guests amazing panoramic views of Hyderabad City, the exquisite hotel provides an alluring stay.
The property is spread across 32 acres and allows travellers to journey to the gilded ages, where luxury and excess are celebrated.
The 60 rooms and suites are elegantly refurbished and carefully restored by Princess Esra, the Nizam's Turkish wife.
Every room has a flat-screen TV and DVD player, electronic safe, mini-bar with snacks, iron, hairdryer and tea/coffee machine.
Bathrooms feature a separate shower with a rainfall head and comfy bathrobes, slippers and designer toiletries.
Price range
Palace Room starts from 19,000/- per night and there are The Nizam Suite available for INR 5,08,475/- per night. According to price, this is most expensive hotel in India.
Restaurants at the property
Celeste, The restaurant is open 24 hours and serves Italian and Mediterranean food. It is really good!
Adaa, The on-site restaurant specializes in food from Hyderabad that has a very authentic taste.
Hookah Lounge The lounge has special drinks. You can enjoy special Jasmine Sour Martini or the Orange Coriander Mojito here.
Jade Terrace, The on-site terrace cafe is a fantastic spot to enjoy afternoon tea with scrumptious treats.
You can go to the library on site and look at all the books! There are a lot of rare books.
At Jiva spa, you can get a happy time! They have the best spa and make you feel relaxed.
The closest airport is Rajiv Gandhi International Airport, located 17 kilometers from the resort and Falaknuma Railway Station, 2.5 kilometers from the resort.
6) Taj Madikeri Resort & Spa, Coorg
Nestled in the town of Madikeri, located in the beautiful hill station of India and overlooking cardamom plantations, Taj Madikeri Resort offers luxury accommodations.
Taj Madikeri Resort & Spa offers a wide range of accommodations to guest with different budgets: economical to expensive, luxurious suites.
The hotel features seven restaurants that offer international and regional cuisine, two outdoor swimming pools for guests' leisure time.
With its natural beauty encased by lush greenery all around, this hotel has become one of India's premier honeymoon destinations and promises a memorable getaway!
At an impressive 4,000 feet above sea level, this is a breathtaking location.
Price range
Superior Cottage starts from 15,400/- per night and there are Presidential Nirvana Suite available for INR 1,74,900/- per night.
Restaurants at the property
Fern Tree– This restaurant serve many different kinds of food. There are outdoor and indoor seating areas with a cozy atmosphere.
Nellaki– You can taste the food from Coorg made with locally grown ingredients at this restaurant.
Poolside Grill– A stylish grill restaurant located next to the outdoor pool providing breathtaking views of lush hills alongside tasty grilled delicacies.
Dew– The restaurant is well stocked with juice and salad options, perfect for anyone trying to stay on a diet.
Hive Bar- An extravagant bar features drinks, including handcrafted cocktails and a variety of liquors.
7) Taj Bekal Resort & Spa, Kerala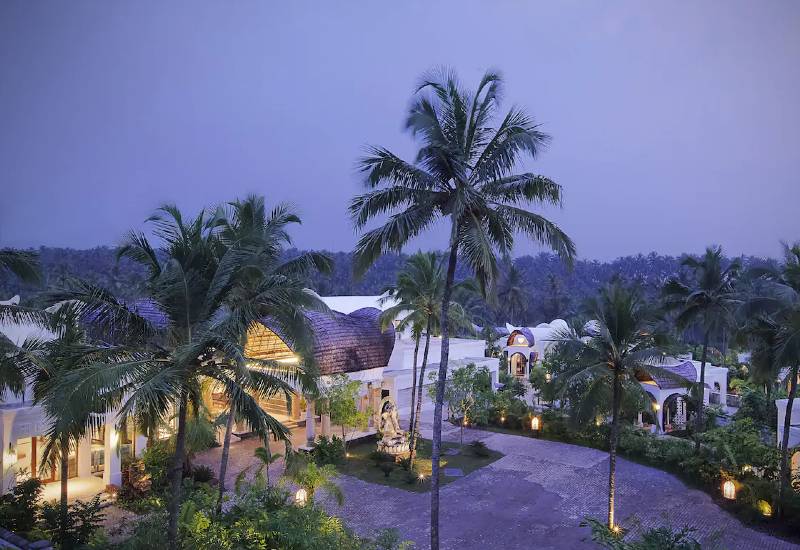 The Bekal Beach Resort & Spa is located on a pristine beach in Kerala, India. The property offers unparalleled access to Kappil Beach, less than a minute walks away.
Luxurious villas with private pools can be booked for exclusive use. The guestrooms at this hotel are spacious and airy. They have modern furniture that a local artisan makes.
The property has a total of 66 rooms and villas that are styled of Kerala's Kettuvallam houseboats.
You can enjoy a bike ride to the Bekal Fort, which is 10 minutes from the resort. Spend a whole day on a boat at the backwater. This is an excellent way to see many things. You will get a home-style lunch and evening tea.
To maintain your fitness regime while on vacation, the hotel provides a well-equipped fitness centre with free WiFi. The hotel is also pet-friendly, so you don't have to miss your furry friend!
Mangalore Airport is 72.5 km away from the resort. Kasargod Railway Station is 21 minutes away. Travellers like this property because it's close to the beach.
Price range
Superior room starts from 9,250/- per night and there are Presidential Suite available for INR 2,01,500/- per night.
Restaurants at the property
By the Bay– There is a restaurant that specializes in Coastal cuisine. You can taste the fresh catch of the day. The food is delicious and cooked in a coastal style.
Ivory Bar– At this bar, you can reminisce about your best moments and make new memories when enjoying their uniquely themed drinks.
Backwater Cafe– You can taste the food from different countries and try the local food in this restaurant.
Grill N More– A special restaurant that offers good food and a poolside view. They close the restaurant during the monsoon seasons because of rain.
8) The Oberoi Rajvilas, Jaipur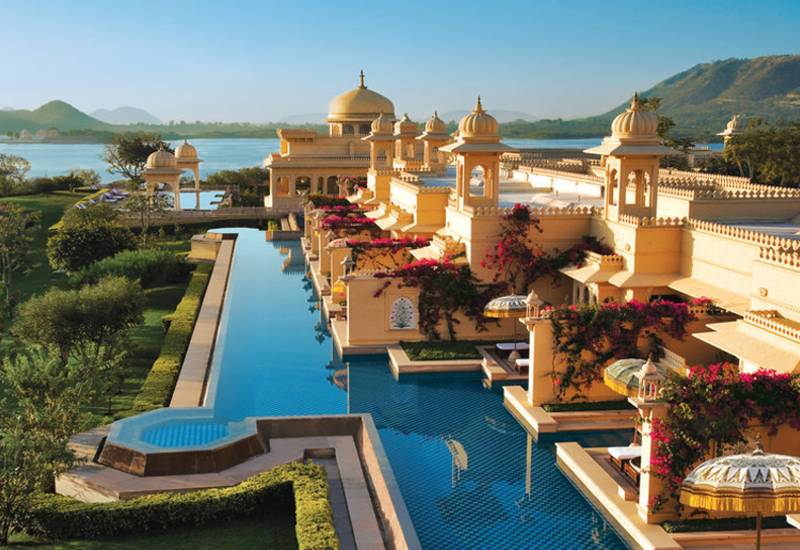 One of India's most popular seven star hotel in India, this luxury hotel has been featured on many television series and documentaries.
The Oberoi Rajvilas is spread out over 32 acres and features traditional Indian architecture.
At night Mashaal torches and reflection pools give the hotel grounds a romantic feel.
All rooms and villas offer glorious garden views with a sense of yesteryear.
The traditional architecture inspires room design from Rajasthan, which blends perfectly with modern conveniences.
The City Palace is the home of the former ruling family of Jaipur. The palace is 11 kilometres away.
Hawa Mahal is a beautiful palace. It is 10 km away. You can visit it and see many other cool things there too!
Price range
Premier room starts from 20,000/- per night and there are Royal Tent available for INR 1,35,000/- per night.
Restaurants at the property
Surya Mahal – Surya Mahal is a fine dining restaurant offering Western, Mediterranean, Asian and Indian cuisines.
Raj Mahal – Restaurant that specializes in local delicacies.
Rajwada Library Cafe – Offers a wide selection of drinks, including cocktails, single malts and mocktails.
9) The Taj Mahal Palace, Mumbai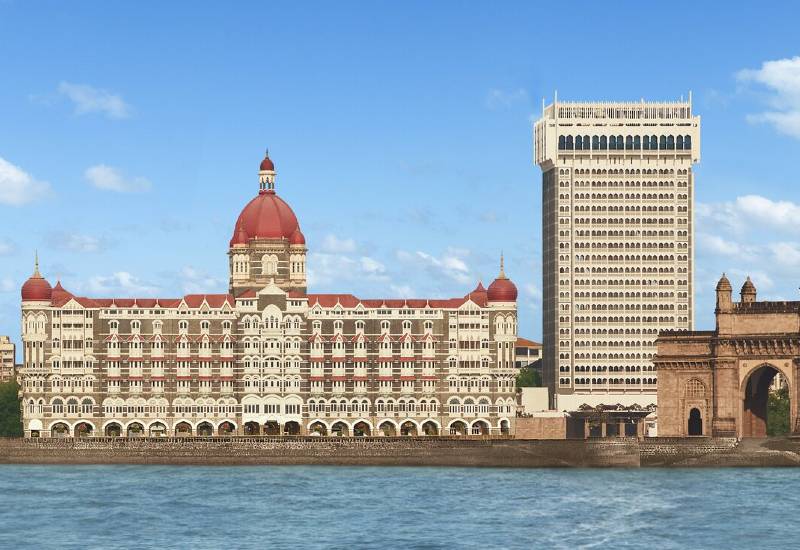 The Taj Mahal Palace, Mumbai, is one of India's finest examples of traditional Mughal architecture.
One of the best Taj hotels in India, this limelight Mumbai landmark has played host to kings, dignitaries and eminent personalities from across the globe.
Located in the center of South Mumbai, guests will find this luxurious heritage hotel adjacent to the landmark Gateway of India (located at one end) and next to the Arabian Sea on another side.
This 7 star hotel in Mumbai Located in the vicinity of Mumbai's famous Colaba Causeway, this hotel is close to popular destinations.
This Mumbai hotel offered 285 rooms and suites. The rooms are a combination of modern facilities and rich history, with every room being reminiscent of royal heritage.
The hotel features 11 hosting spaces that can accommodate up to 650 guests for significant events.
Price range
Luxury room starts from 12,500/- per night and there are Grande Luxury Suite available for INR 70,000/- per night.
Restaurants at the property
Masala Kraft is famous for its authentic Indian cuisine.
Golden Dragon is a place where you can enjoy both Sichuan and Cantonese food. You will have a unique experience because it's cooked in front of you.
The Shamiana offers an extravagant all-day dining experience that is known for offering international cuisines.
Wasabi by Morimoto is a award-winning restaurant. It has authentic Japanese food. Some ingredients come from Japan.
Sea Lounge is a good place to eat. They have English dishes, tea, coffee, and drinks with a view of the harbor. The music that they play also makes it better to eat there.
Aquarius is an outdoor poolside restaurant that provides appetizers, drinks and desserts.
Officially, there is no such thing as a 7-star rating in hotels but these are above the 5-star category because of its luxury and royal feel.
When a new hotel opened in Burj Al Arab, Dubai, the journalist who was there called it "7-star". Standard of these hotels are much higher than the regular five stars hotels.
That's why you will find these hotels listed as 5-star on online portals like MakeMyTrip.