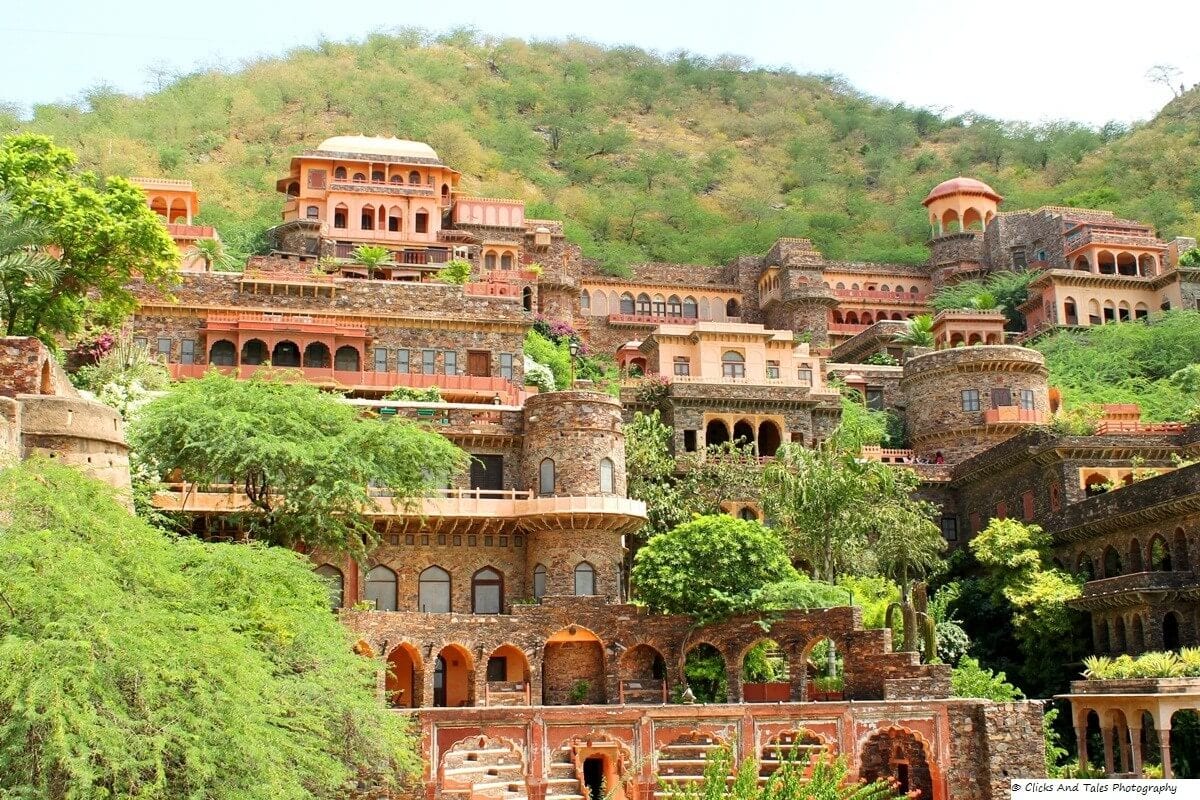 Hotels in Neemrana as a Best Weekend Getaway Destination
Neemrana town is a small and beautiful place located in Alwar in Rajasthan on the Delhi-Jaipur highway.
It's famous for its magnificent Neemrana Fort Palace; It was built in 1464 AD, a palace from where Rajput Maharaja Prithvi Raj Chauhan III reigned.
Neemrana Fort Palace is now a heritage luxury hotel converted from a historic building.
The fort has been completely restored and transformed to perpetuate the legacy of history.
If you want to spend a peaceful weekend, you can go to Neemrana. It is surrounded by nature and has a lot of history in it.
Neemrana is a popular place for people of Delhi as a weekend getaway destination. They go there to enjoy the resort and fun activities like zip-lining and swimming.
The town also has many hotels that offer comfortable accommodations to tourists from all over India and abroad.
This article will tell you about the best hotels in Neemrana.
Neemrana Fort Hotel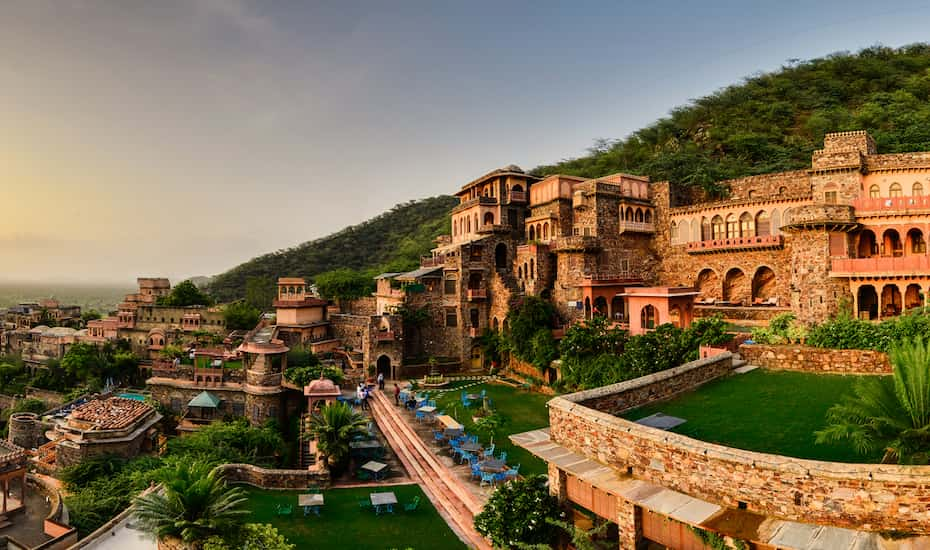 Neemrana Fort Palace, a 15th-century reconverted fort, features two swimming pools, landscaped gardens, and an outdoor fitness center. Neemrana Fort hotel is a 4-star property that offers 3 onsite dining options and free Wi-Fi throughout.
This is the best option for your weekend breaks. Neemrana Fort Palace is 3.5 km from the bus station and 40 km from Rewari Railway Station! If you need a break, it's just 63.3 KM away from the gorgeous Vijay Mandir!
The Sariska National Park is a 75.3 km drive from Neemrana, while Indira Gandhi International Airport is 109 km, and Bhangarh Fort is 143 km away.
All the air-conditioned rooms have a minibar, desk, and wardrobe. The bathrooms have a shower or bath. Some of the rooms come with a better view.
The property has a relaxing terrace for guests to use and offers luggage storage, ironing services, and laundry services. Additional games and activities can be arranged if you ask. And a tour desk is available for making arrangements.
Guests at Jalgiri Mahal can sit down for a meal; the Raj Mahal Bar offers refreshing drinks. Although it's called Jalgiri Hall, this dining space also serves Indian, Chinese, Continental, Italian, and Thai cuisines.
Days Hotel Neemrana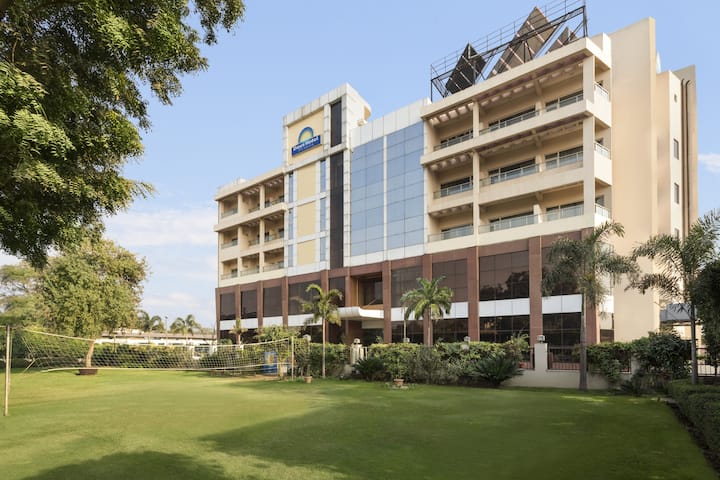 Days Hotel by Wyndham is a popular 3-star hotel situated in Neemrana, known for its magnificent Neemrana Fort Palace.
This vibrant state presents a unique blend of various cultures, including its rich history.
The hotel is 450 meters from Shahjahanpur Bus Stand, making it a prime location for staying the night.
The location of the hotel is perfect, providing guests with peace and serenity. The front desk is also very responsive to guests.
The rooms are modern in design, allowing you to get a luxury experience at an affordable price.
Clean bedding is provided in all rooms. In addition, each room has a TV, electronic safe, tea/coffee maker, Wi-Fi access, and a stocked mini-bar on site.
All the rooms have attached toilets with basic amenities and hot water. Guests can order room service from the staff at any time of day or night.
Ramada Neemrana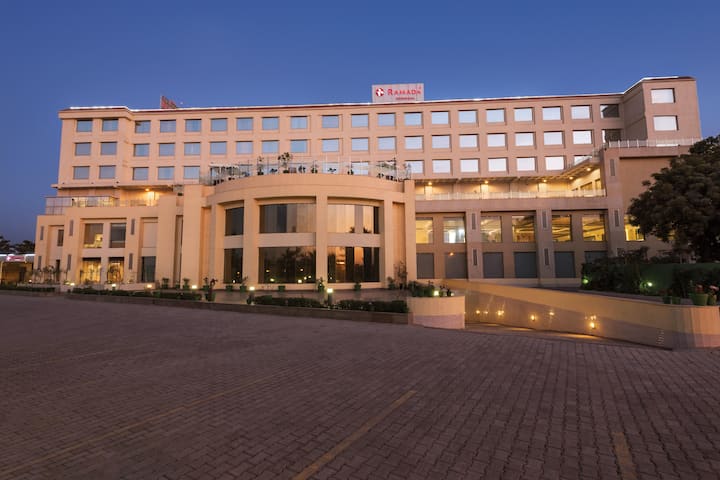 Ramada Neemrana offers an outdoor swimming pool, fitness center, and spa with a wellness center. It's located just off the Delhi-Jaipur Highway. The property features two dining options and free Wi-Fi access.
Rooms offer air conditioning, cable TV, and a seating and working area. The bathrooms also have amenities such as a hairdryer as well as slippers.
The Neemrana Fort Palace is 10 km from the Ramada property. The Shahjahanpur Bus Station is 1 km away. The Rewari Railway Station, 25 km away, and the Indira Gandhi International Airport have located 88 km from the hotel grounds.
Ramada Neemrana offers a restaurant, massage parlor, and sauna. Meeting facilities, a tour desk, luggage storage, and currency exchange are available as well. Car rental can be arranged too.
Tokio is an exclusive Japanese restaurant, while Cascade serves both Indian and Chinese dishes. Room service is available for private dining. There is also a 24-hour coffee shop.
Cambay Sapphire Neemrana
Cambay Sapphire Neemrana offers air-conditioned rooms, flat-screen cable TVs, and scenic desert landscape views.
It is home to a mini-golf course, fitness center, restaurant, and business center.
Cambay Sapphire is a 3-star budget hotel that features modern rooms with comfortable armchairs and wooden flooring. In addition, the comforts of an attached bathroom can be found, along with a safe and minibar.
The Cambay Sapphire hotel is a 15-minute drive from historic Neemrana Fort. It is 20 km from Behror and 30 km from Rewari Railway Station, and 130 kilometers from New Delhi International Airport.
Providing 24-hour reception, staff can also assist with travel and currency exchange needs. In addition, 24-hour in-room dining is available.
Grand Hira Resort
Enjoy a stay at Grand Hira Neemrana, which has offered an outdoor pool, indoor games, a mini-golf course, and panoramic views of the city.
The property is located just 71 km from Alwar, Rajasthan, on the Delhi-Jaipur highway. The nearest airport to the property is New Delhi Airport (105 km).
The Grand Hira resort is an opportunity to experience luxury amid natural beauty. Temples and wildlife sanctuaries surround it.
The property arranges trips to nearby attractions and provides an airport shuttle service at an additional cost.
The property offers 70 well-maintained rooms, categorized into Standard Rooms, Deluxe Rooms, Executive Rooms, and Suites.
You can enjoy several amenities at the resort, including an indoor gym with cardio equipment and weight machines, as well as an indoor pool and tennis court.
You can also enjoy treatments and relaxing massages at the onsite spa. Away from the hustle and bustle of day-to-day life, guests can enjoy playing mini-golf or billiards.
The Neemrana Fort is located 5 km away from the property.
Conclusion: Neemrana is a beautiful, small town in Rajasthan that's well worth the visit. It has history and nature all around it, making for an enjoyable stay. If you want to go somewhere peaceful this weekend, then head out to Neemrana!