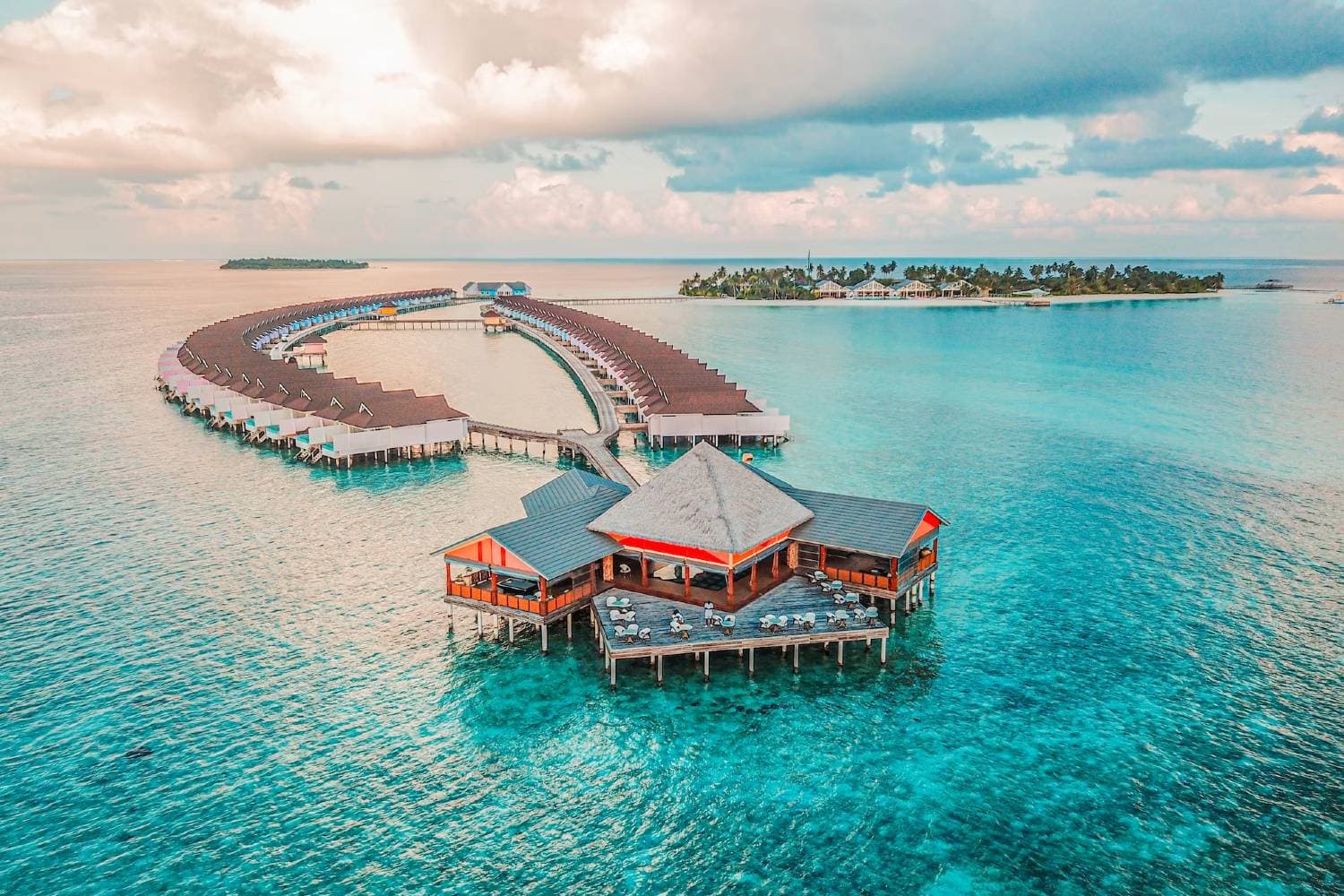 The Maldives: Luxury or Overpriced? Understanding The High Cost.
The Maldives is known for being a highly luxurious vacation destination. The Maldives is a small country in Asia made up of islands and atolls spread across the Indian Ocean. This location is recognized for its high cost as a vacation destination, placing it among the most expensive in the world.
The Maldives experienced a significant increase in international visitors following the emergence of tourism in the early 1970s. The main industry in the Maldives is tourism, which generates the majority of the country's income. The Maldives' islands primarily consist of luxury resorts that offer a combination of tropical island scenery and high-end amenities.
What are the reasons for the high cost of the Maldives? Luxury goods are typically associated with higher costs of your Maldives trip cost. This guide provides information on the necessary expenses for a trip to the Maldives, as well as tips for saving money.
Why is a Holiday to the Maldives So Expensive?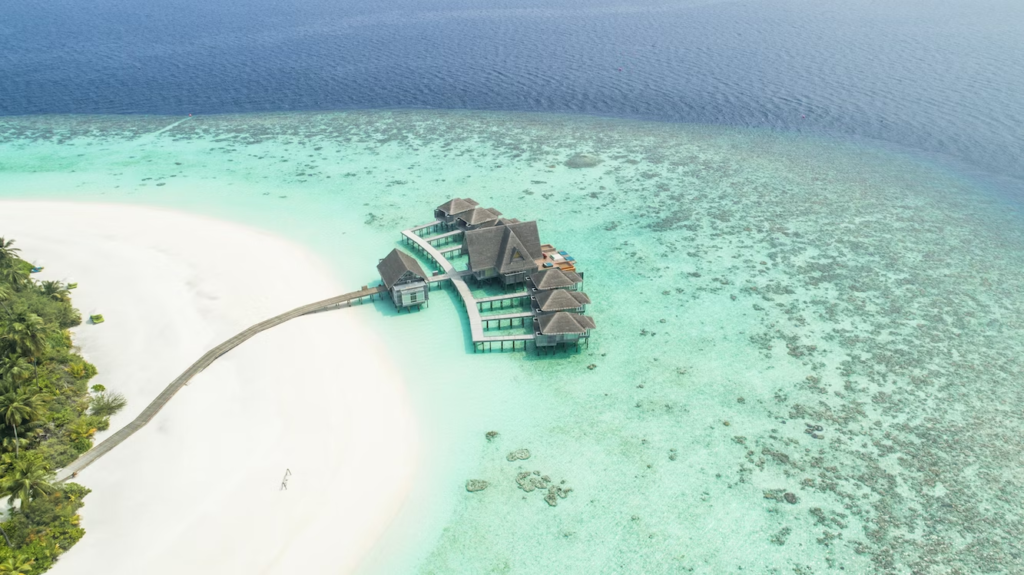 The cost of a vacation to the Maldives is high due to various factors. The Maldives are located in a remote area, and travelling to the country may be challenging. It is common for travellers to make at least one transfer to reach the Maldives. Upon arrival in the Maldives, visitors typically land in
Velana International Airport (MALE), may not be the specific island they have chosen for their stay. An additional transfer will probably be necessary to reach your final destination, either by speedboat or seaplane. The transportation expenses to get to the Maldives can be significant.
The Maldives is known for its high-end accommodations, reflecting its status as a luxury destination. The Maldives offers a large selection of high-end resorts for accommodations. These resorts offer a unique experience and accommodation, usually on one island with stunning surroundings. Additionally, they provide exceptional levels of luxury and service. Experiencing luxurious service on a private island comes at a high cost.
The high costs in the Maldives are due to the majority of goods being imported. The ingredients used in breakfast buffets and ocean-view cocktails often go through a similar journey as you do. The cost of sourcing high-quality goods is passed on to the guests of the resort, along with a considerable markup.
What is the cost of a Maldives Trip?
When considering a visit to a resort in the Maldives, it is important to note that the cost may be high (a beach villa or an overwater bungalow is more your style). The primary expenses of a holiday, including transportation and accommodation, must be considered before factoring in additional costs like dining and activities. The Maldives offers a range of resorts with varying price points, including some that are pretty expensive.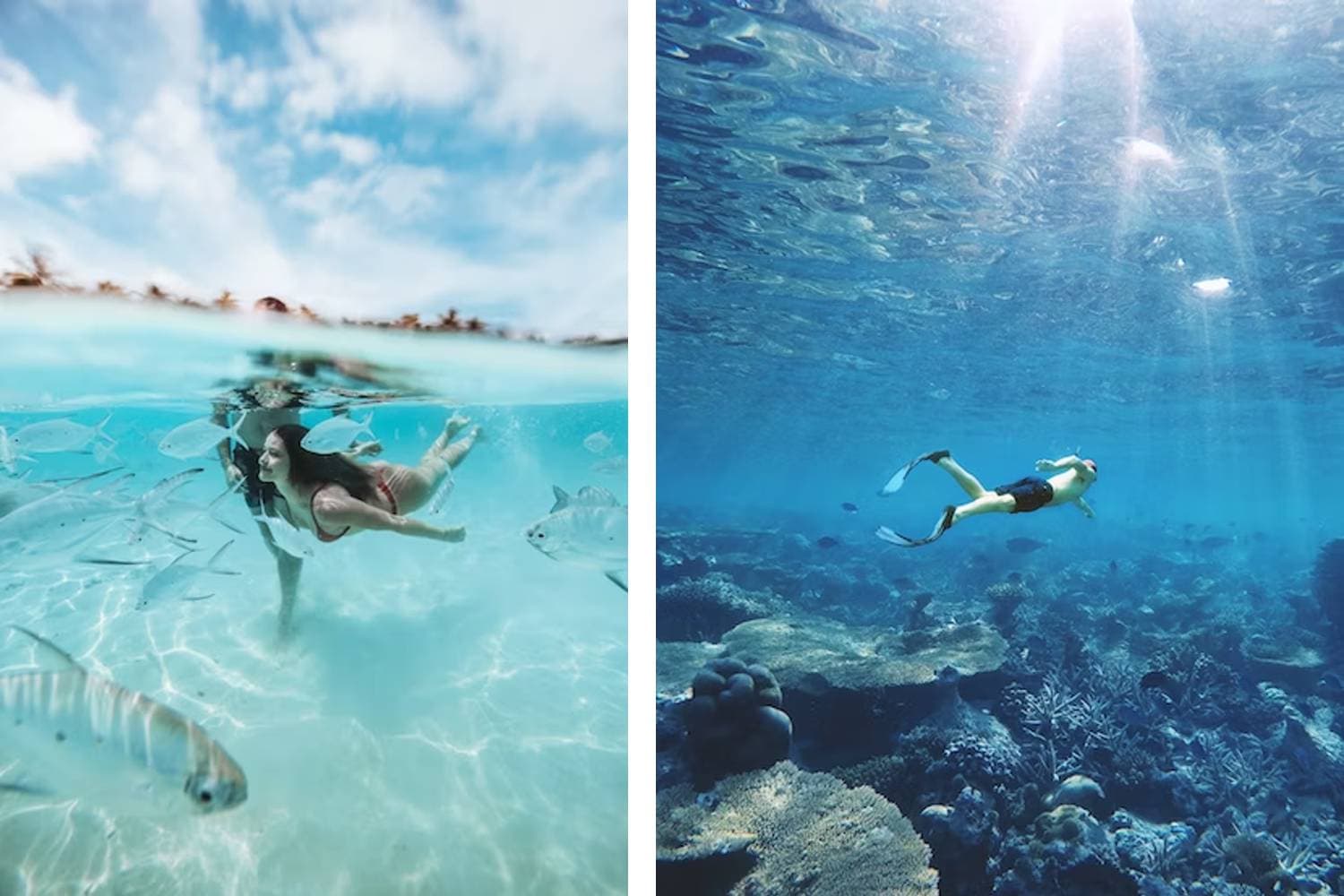 A package deal for two people sharing a room at a resort in the Maldives for one week can cost anywhere from $1500 to $6000 per person. The cost covers all expenses for a week's stay in the Maldives, including flights and accommodation. A week-long stay at one of the most luxurious resorts in the Maldives, including flights, can cost over $13,000 per person.
The Maldives trip cost can go up even further if you decide to spend more. For example, if you choose to upgrade your flights from economy class to business class or if you decide to upgrade your room or villa at the resort, then the final cost can be a lot higher.
Some hotels also offer a half-board, full-board and all-inclusive meal plan. These deals mean that some or all of your meals are taken care of at a significant additional cost.
Depending on the resort, the holiday cost may increase by $700 to $3000 when opting for an all-inclusive package. Opting for an all-inclusive package may be worth considering for those staying at a resort despite the added expense. There is a limited selection of dining options on most resort islands beyond the resorts' own restaurants. Choosing the all-inclusive option may be more cost-effective since dining at the resort's onsite restaurants without it could result in higher expenses.
When planning your trip, including the transfer factor from the airport to your hotel in your budget. This will help cover any unexpected costs that may arise.
The total cost of airport transfers may differ based on the destination and route. Transfers to resorts in the Maldives can be made by either speedboat or seaplane, depending on their proximity to the main airport in Malé. Most resort hotels offer transfer services, typically between $100 and $500 per person for a round trip. After considering all factors, it becomes clear that the Maldives is a pricey destination.
The cost of flights from Kuala Lumpur, Bangkok, and Dubai is frequently available at reasonable prices. It is possible to find cheap flights from these destinations at $200 to $300. This route may extend your journey but allows you to visit two countries in one trip.
What is the cost of resorts in the Maldives?
The Maldives has around 200 inhabited islands, 90 resort islands, and 900 uninhabited islands, providing a wide range of accommodation options and varying resort prices per night.
High-End Resorts in Maldives
The starting price for a stay at a high-end resort is approximately $1,000 per night, but rates may vary based on the duration of the visit.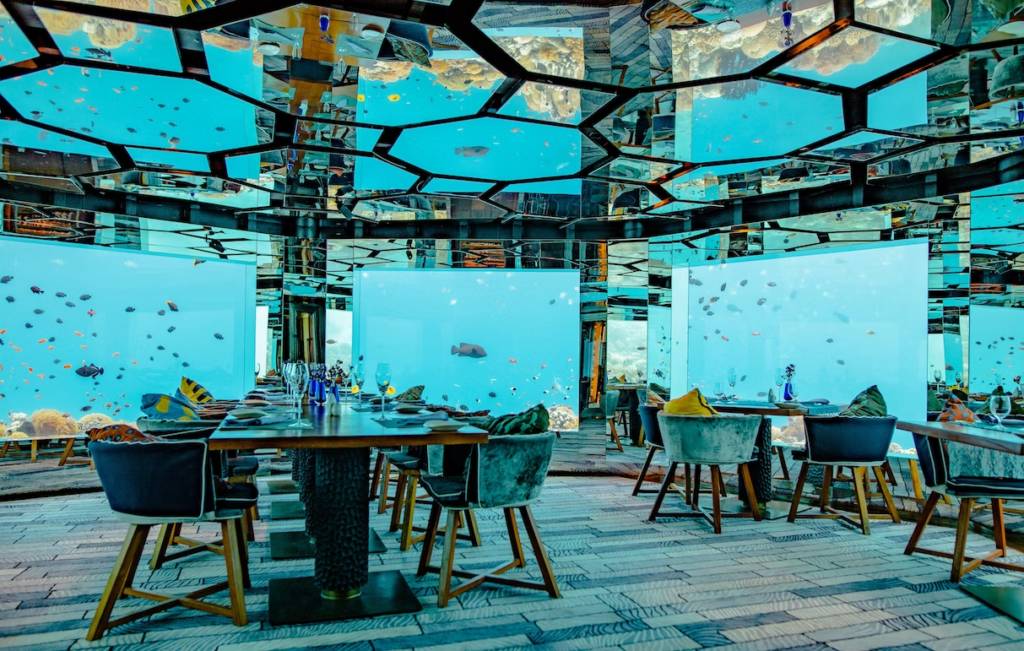 Siyam World is an all-inclusive resort recently introduced by Sun Siyam Resorts, featuring luxury amenities. This service provides a distinctive 24-hour experience. The Inclusive Plan at Siyam World offers a comprehensive and convenient holiday experience, including over twelve restaurants and bars, with various amenities continuously being added. One of the experiences available is the largest floating water park in the Indian Ocean.
Anantara Kihavah Maldives Villas is located in the Baa Atoll, a UNESCO Biosphere Reserve. The resort features 80 private pool sanctuaries and residences over water or along a private beach. The resort boasts a range of impressive attractions, such as the world's first underwater restaurant and wine cellar, an over-water dome observatory for stargazing, and a beautiful house reef.
Mid-Cost Resorts
For those who desire a luxurious experience while visiting the breathtaking Maldives, affordable options are available to ensure a comfortable and enjoyable stay without depleting one's savings.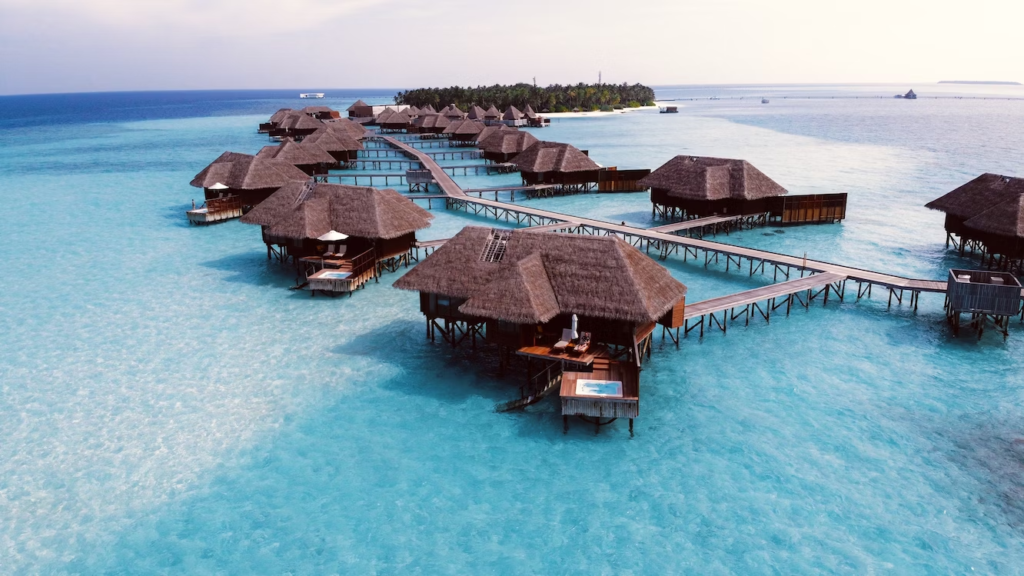 Innahura Maldives Resort provides 4-star lodging in Lhaviyani Atoll, offering amenities such as an outdoor pool, fitness centre, and garden with beachfront views. The 4-star resort offers free WiFi, a shared lounge, and a terrace. The accommodation offers a range of amenities, including a nightclub and concierge service. The resort offers a buffet breakfast for its guests to enjoy. The Innahura Maldives Resort features a restaurant serving various international dishes. This 4-star resort offers billiards, table tennis, and darts as recreational activities, with bike rentals also available
Villa Park at Sun Island provides 5-star lodging in Maamigili with amenities, including a fitness centre, garden, and terrace, all facing the beachfront. The 5-star resort provides air-conditioned rooms with private bathrooms, free WiFi, and a bar. The property offers room service, a 24-hour front desk, and currency exchange for guests' convenience.
Budget Accommodation
For those interested in experiencing the Maldives without staying in a resort, Airbnb offers various local accommodation options. Various accommodations, including apartments, villas, bungalows, and private rooms, are available at different prices depending on your dates and preferences, ranging from $25 to $100+ per night.
Airbnb offers apartments on various islands in the Maldives, providing options for beautiful accommodations regardless of which island you choose to stay on.
What is the most cost-effective time to travel to the Maldives?
The Maldives experiences two weather seasons – a dry season and a rainy season. The period from May to October marks the rainy season in the Maldives. During this time, you may find more affordable package deals.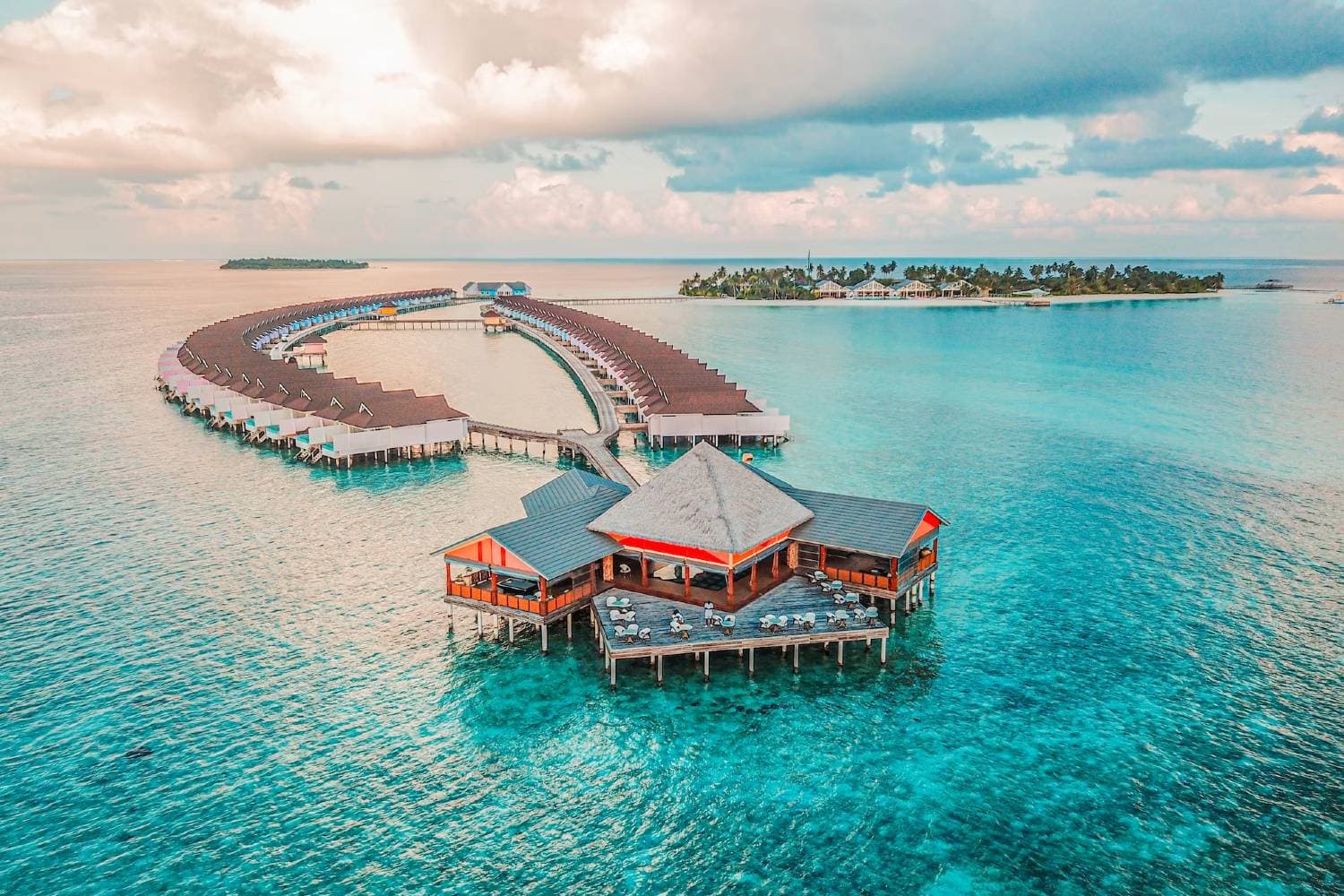 The cost of visiting the Maldives remains consistent throughout the year, with limited opportunities for significant discounts. During the peak tourist season in the Maldives, which is from November to April, prices tend to be higher, while outside of this season, prices are generally lower.
One disadvantage is that there is an increase in rainfall during this season. Storms occur with greater frequency, typically during nighttime hours. Although temperatures remain high and most days are sunny, there are occasional grey and cloudy weather periods.
What is the cost of food in the Maldives?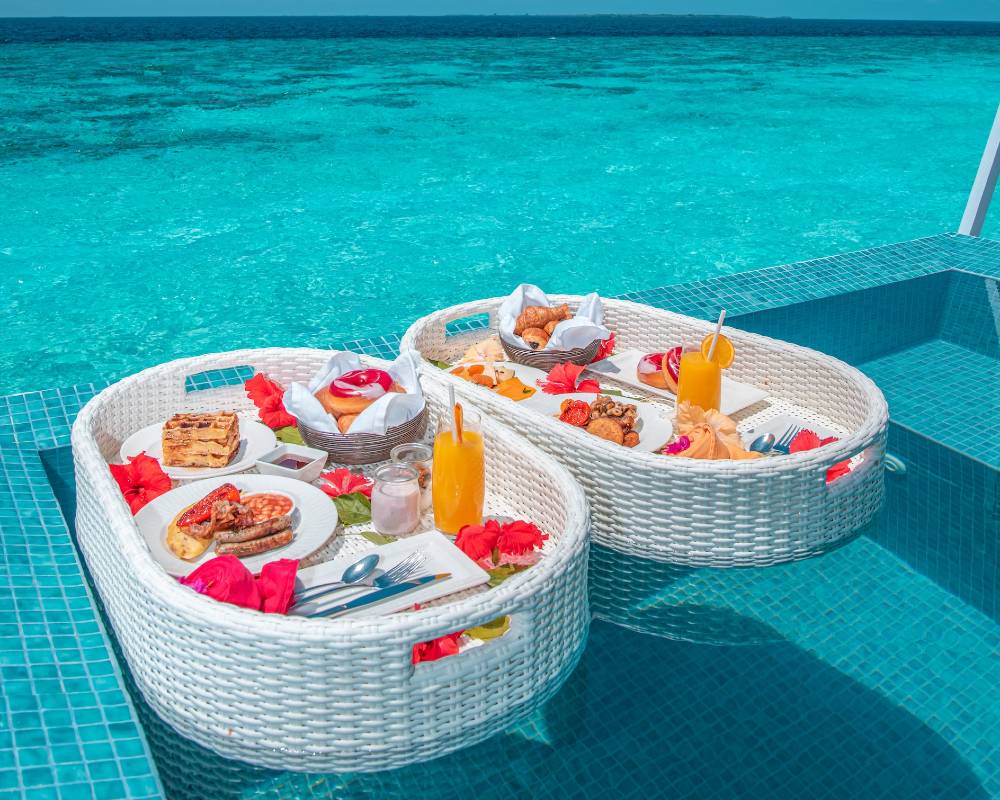 The food price in the Maldives is subject to variation based on the dining location. If the all-inclusive option is not chosen, dining at a resort restaurant can be costly. Typically, resorts offer various dining options, with an average of two to three restaurants available.
The dining options vary from casual to high-end restaurants focusing on haute cuisine. At some casual restaurants, a basic dish like pizza may have a price range of $15 to $20, a $5 water bottle and $10 soft drinks. Meals at the most expensive restaurants in resorts typically begin at around $100 per person. The cost of food in the Maldives can vary depending on individual preferences and choices.
If cost-saving is a priority, dining at any restaurant on inhabited islands in the Maldives could be a viable option. These restaurants offer affordable prices for their food that reflect real-world prices rather than luxury resort prices.
In Malé, numerous restaurants offer a diverse range of cuisine, including local Maldivian breakfast and dishes and regional and international options. The average cost per person for a meal is approximately $10. To cut down on food expenses while visiting the Maldives, it's recommended to dine at restaurants located on the inhabited islands outside of the resorts.
How much do activities cost in the Maldives?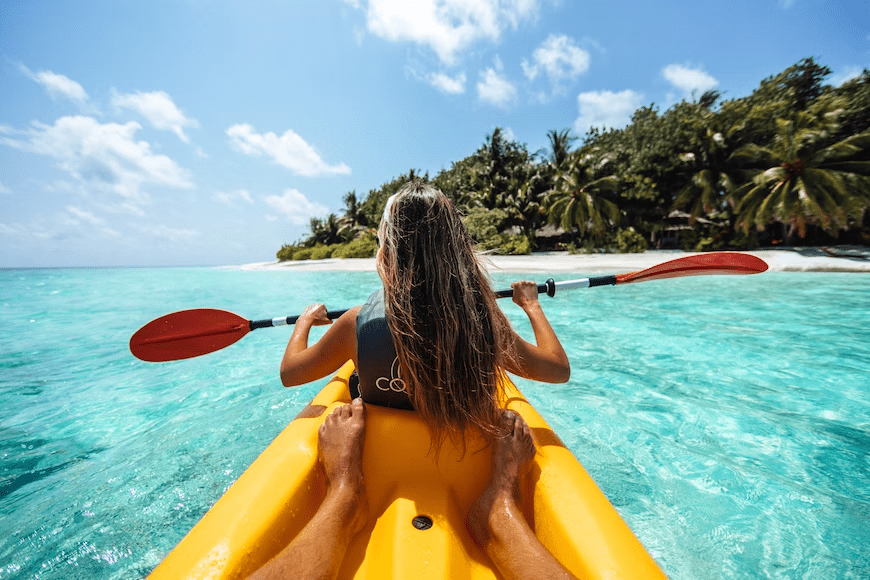 The cost of activities in the Maldives differs depending on the choice of vacation and hotel preferences. There are a variety of activities available in the Maldives, including surfing, jet skiing, snorkelling, sunset cruises, wine-tasting dinners, and private island experiences on sand bars, ensuring that visitors will not be bored.
Is it possible to find affordable lodging in the Maldives?
It is possible to save money on vacations in the Maldives by choosing accommodations that are not overly expensive. The main inhabited islands of the Maldives, particularly Malé, offer a wide range of affordable hotel options.
In 2009, the Maldivian government announced that residents of inhabited islands were permitted to establish guesthouses. As a result of the legal modification, the Maldives has become more economical for a larger number of travellers. Staying in a cheap hotel for a week can be more affordable than spending just one night in a resort.
Choosing to stay in a guesthouse while visiting the Maldives may offer a more budget-friendly option compared to experience luxurious accommodations. Guesthouses in the Maldives can be found for as little as $30 a night, allowing for a more extended stay with significant savings.
Although guesthouses in the Maldives offer independent travel options with comfortable accommodations, including Wi-Fi, air-conditioning, and breakfast, they differ significantly from resort offerings.
Apart from luxury hotels, the Maldives also offers a variety of unique Airbnbs for travellers to consider. The good idea is to spend most of your time in the Maldives staying at a guesthouse and then consider a resort for the final one or two days.
The answer varies depending on your budget.
If you can't afford to enjoy your trip to the Maldives because of travel and accommodation expenses, it's not worth it. Asia offers a plethora of tropical resorts and beaches that are comparable to those in the Maldives. Additionally, it is less expensive.
A 5-star resort in the Philippines, Malaysia, or the Caribbean can offer great value for your hotel or resort budget compared to the Maldives. Several South Pacific Islands provide similar overwater villa experiences, in case you're considering visiting the Maldives for this purpose.
If you have financially strong, a trip to the Maldives can be a luxurious and unforgettable experience. When visiting the Maldives, it is important to consider that most activities will likely be centred around resorts, so investing in higher-quality accommodation may be worth it.
These activities are designed for fulfilling your travel goals in the Maldives, considering it is an expensive destination and may only be visited once in a lifetime. Travelling to the Maldives on a tight budget may not be advisable, especially if it's your first visit.
The cost of a trip to the Maldives is high, but it is considered one of the most beautiful destinations and unique. The Maldives offers a unique experience with a blend of natural beauty and luxury that can make your trip memorable..