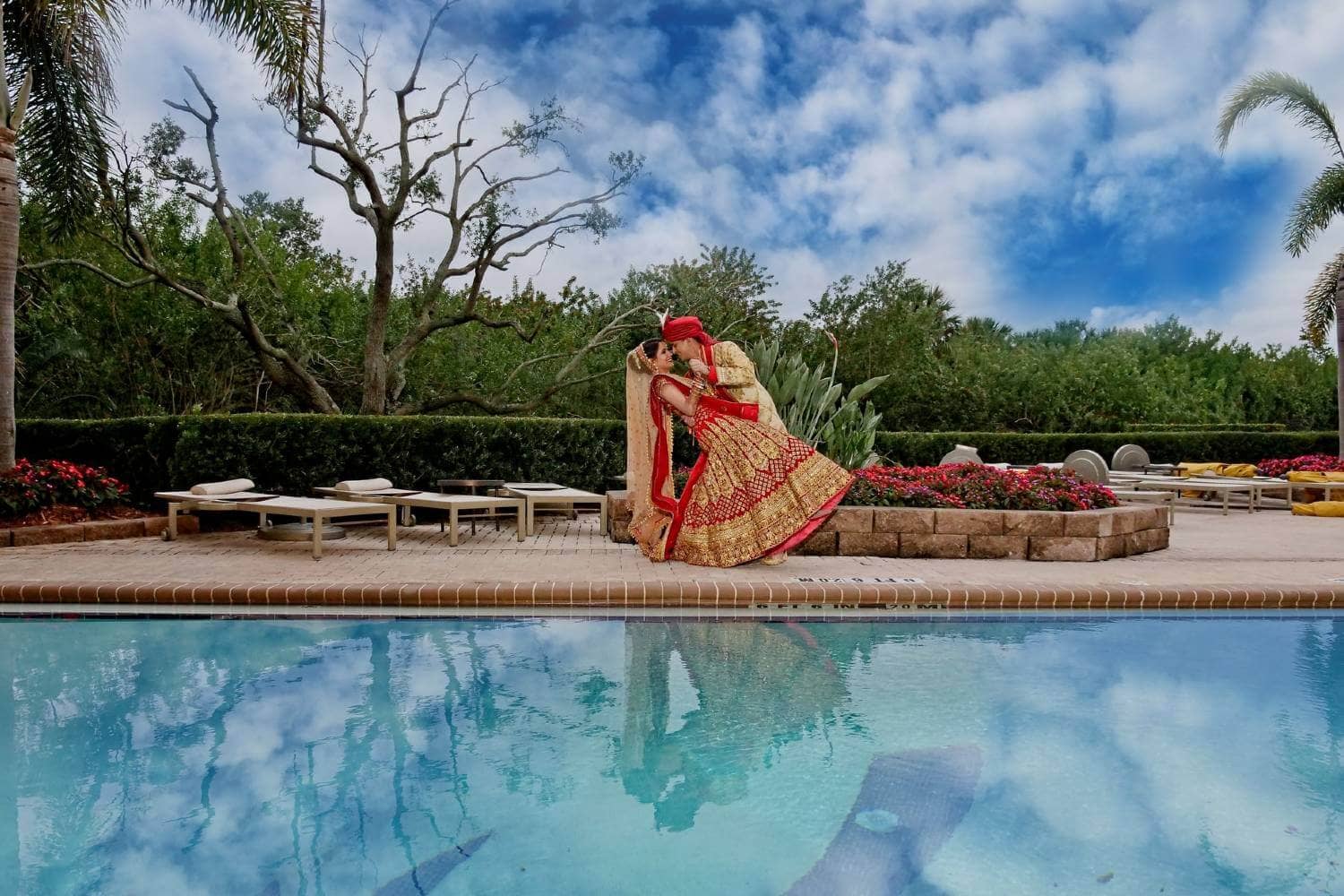 17 Best Places for Destination Wedding in India to Make Your Day Memorable
Planning an Indian destination wedding in India is the perfect way to make your wedding a memorable and grand affair.
The bride will have her dream dress; bridesmaids can wear their favourite colour saris while the groom prepares his traditional sherwani for an unforgettable Indian-style ceremony.
India is full of diversity and culture, perfect for destination weddings with friends and family.
Destination weddings can be more affordable than traditional weddings, depending on the cost and how well they are planned. With careful planning, a destination wedding can be a budget-friendly event.
Each place features its charm and special event location and invites you to plan an unforgettable destination wedding experience.
In this blog post, we list the 10 best places for a destination wedding in India are well known for their exotic locations, a large variety of cuisines, and warm hospitality.
Kerala – God's Own Country
Kerala is perfect for a beach wedding destination. The tranquil beaches, beautiful backwaters, and hill stations will make your big day unforgettable.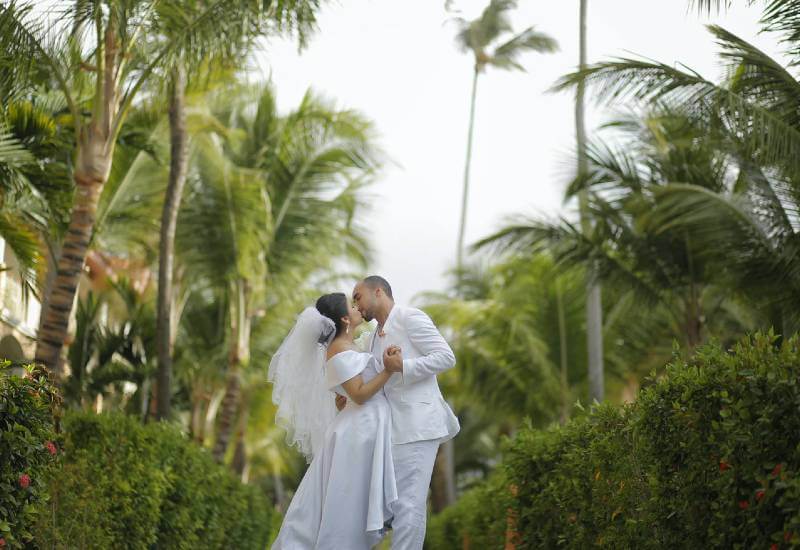 In Kerala, you can go to Kovalam or Kumarakom. These locations make it easy to find personalized options catering to your needs and interests with various activities and food for every taste; your guests won't be bored.
Kerala's inland water bodies are spread across the state. These backwaters are famous for their serene beauty and can be found all over Kerala.
Though destination wedding venues in Kerala are still novice, the idea of an Indian beach wedding on the shoreline of Kerala will be fantastic.
Best options: The Leela, located in Kovalam, is considered one of the top wedding resorts in India. Its stunning and luxurious amenities have the ability to captivate people instantly.
Best time: As Kerala experiences a heavy monsoon season, the months from October to March would be the most suitable time to plan a wedding at Kovalam, considered one of India's best dream wedding destinations.
Places to visit: Munnar, Alleppey, Kochi
Rishikesh, Uttarakhand – Spirituality and Relaxation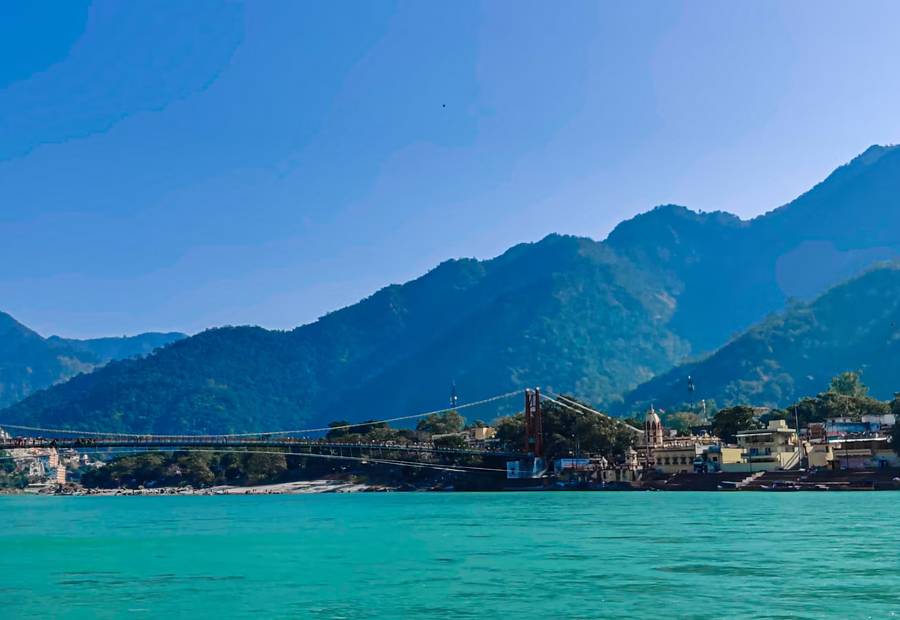 The spiritual town of Rishikesh is perfect for your destination wedding in India. It has something to offer from spirituality, adventure, and relaxation.
The town is an excellent place to live because it has many yoga resorts, meditation centers, and ashrams.
The most popular wedding spots are expensive where; you might have to spend a lot of money. So for a small and intimate wedding, consider one of these offbeat locations such as Rishikesh.
Best Options: Ganga Kinare is a beautiful destination wedding location located in Rishikesh. It offers stunning views of Rajaji National Park, making it a truly unique and memorable location for wedding celebrations.
Best Time: Rishikesh is a popular tourist destination throughout the year, but for weddings, the best time to visit would be from October to March
Places to visit: Lakshman Jhula, Triveni Ghat
Jaipur, Rajasthan – The Pink City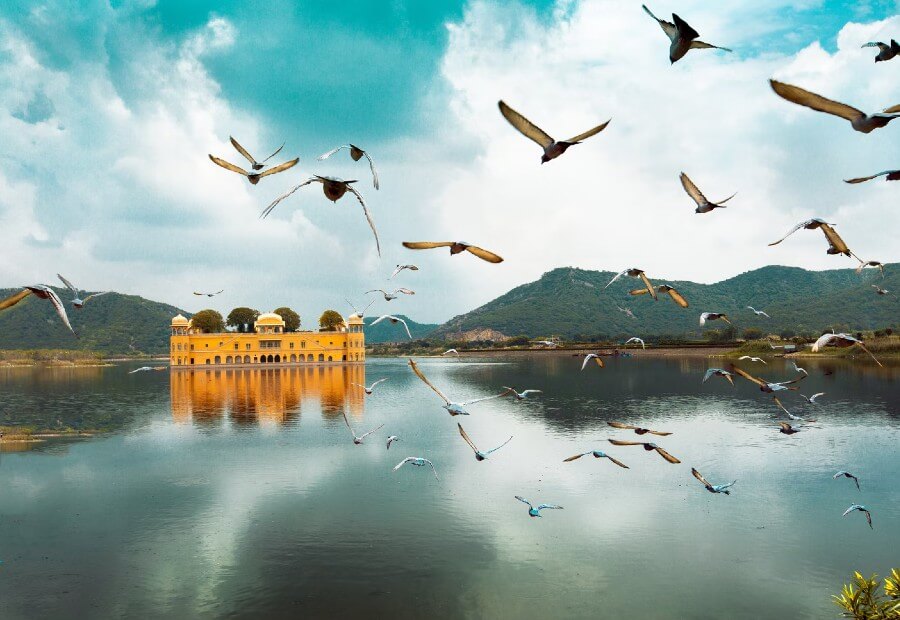 Jaipur is the capital of Rajasthan. In India, Jaipur is one of the first places people think of having a grand palace wedding.
Jaipur, the royal capital of Rajasthan, is renowned for its palace weddings. When it comes to hosting grand weddings, Jaipur's majestic venues are among the first choices.
A destination wedding in Jaipur is an excellent idea if you want an intimate affair. Jai Mahal Palace is among the best Indian wedding destinations in Jaipur.
Best Options for Destination wedding in Jaipur
Jai Mahal Palace: Jai Mahal Palace is an incredibly popular wedding resort in India. It's renowned for its elegant architecture, luxurious amenities, and impeccable service.
Chomu Palace: With a luxury destination wedding like the one at Chomu Palace in Jaipur, the importance of your big day can be doubled.
Le Meridien: Le Meridien Jaipur is one of the best wedding venues in Rajasthan. The hotel offers excellent location and service.
Best Time: Winters are considered the ideal time to visit Jaipur as the weather is pleasant and there are fewer tourists. Therefore, having a wedding in early November or late February would be suitable as many tourists would not interrupt it.
Places to visit: Amber Palace, City Palace, Hawa Mahal, Jantar Mantar
Udaipur, Rajasthan – Venice Of The East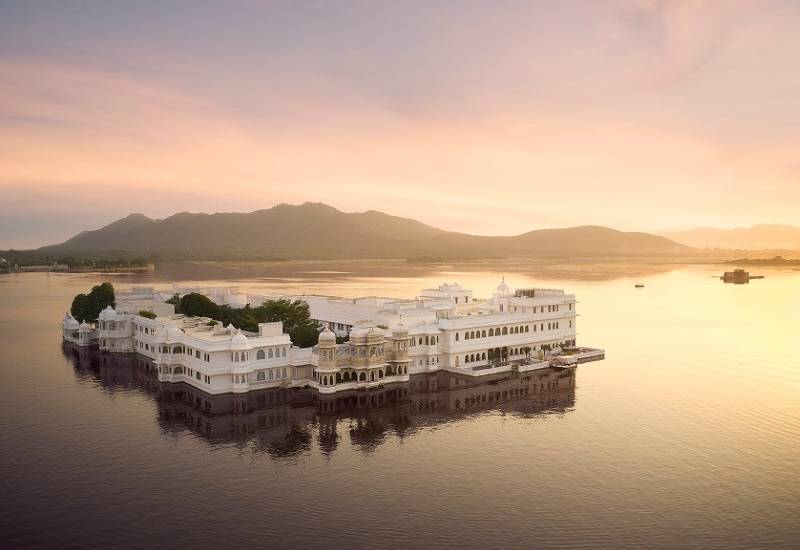 Udaipur is a city in Rajasthan, India. Udaipur is known for its royal weddings and is often called the "Venice of the East" because of its cultural heritage and stunning architecture.
Four lakes surround the city, adding to its romantic atmosphere and making it one of the most enchanting cities in India.
Best Options for Udaipur Destination Wedding
Leela Palace: Leela Palace is a highly recommended wedding venue in India. With its stunning view of Lake Pichola, the palace offers a regal and majestic setting for a destination wedding.
Taj Fateh Prakash Palace: The palace is on the eastern shores of the beautiful Lake Pichola. A wedding in this location might be perfect if you're looking for a fairytale-themed event.
Trident: Trident Udaipur is a good choice for people who visit Udaipur. They have many helpful things that improve your wedding, like a royal wedding.
Best Time: The ideal time to plan a destination wedding in Udaipur is October and March. The weather is mild and pleasant during this time, creating the perfect conditions for outdoor events and ceremonies.
Places to visit: Lake Pichola, Fateh Sagar Lake, Saheliyon Ki Bari, Jagdish Mandir
Neemrana, Rajasthan – An Ancient Historical Town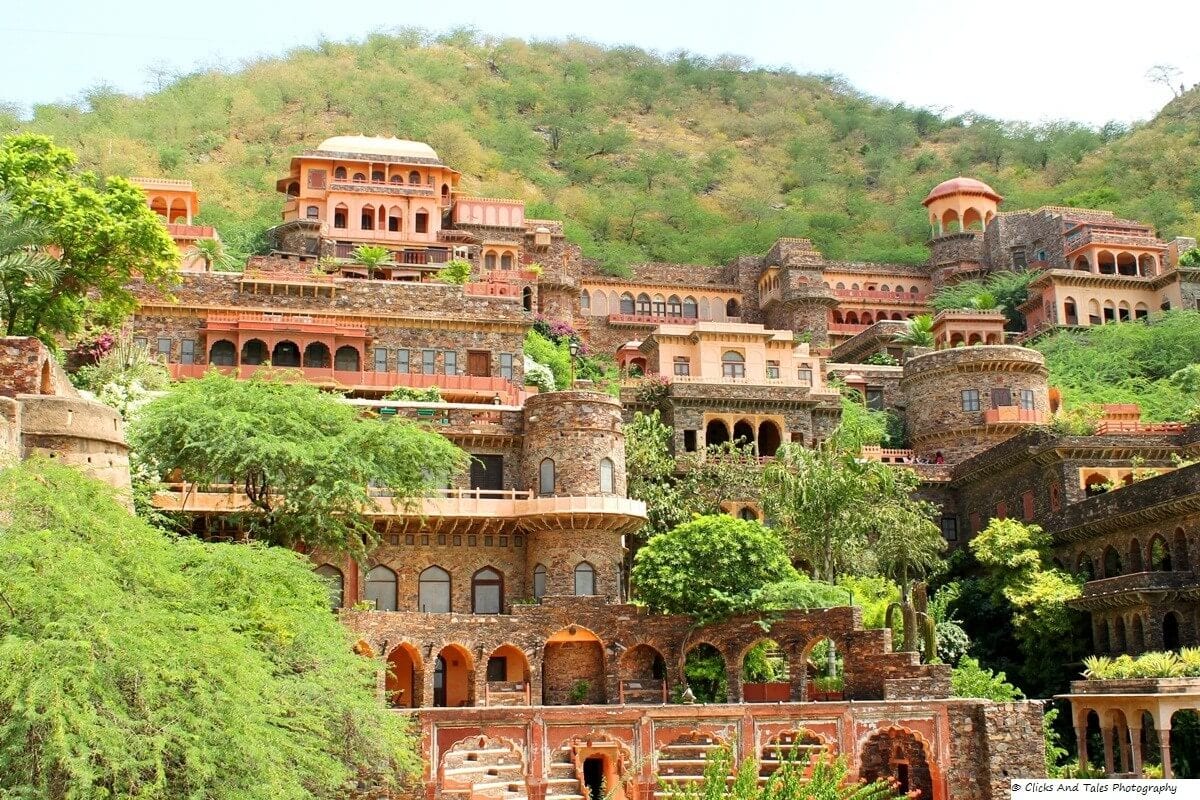 On the outskirts of Gurgaon, Neemrana Fort is known for its splendid architecture and picturesque sights.
Neemrana Fort Palace is amazing! Famous for its quiet and natural beauty.
A perfect place for photography, this ancient fort is also a famous wedding destination in India for people who crave a royal wedding.
Best options: Neemrana Fort Palace, Le Meridien
Best time: October to March is often considered the best time for a wedding because the weather is usually pleasant.
Places to visit: Alwar Fort, Siliserh Lake
Goa – Pearl of The Orient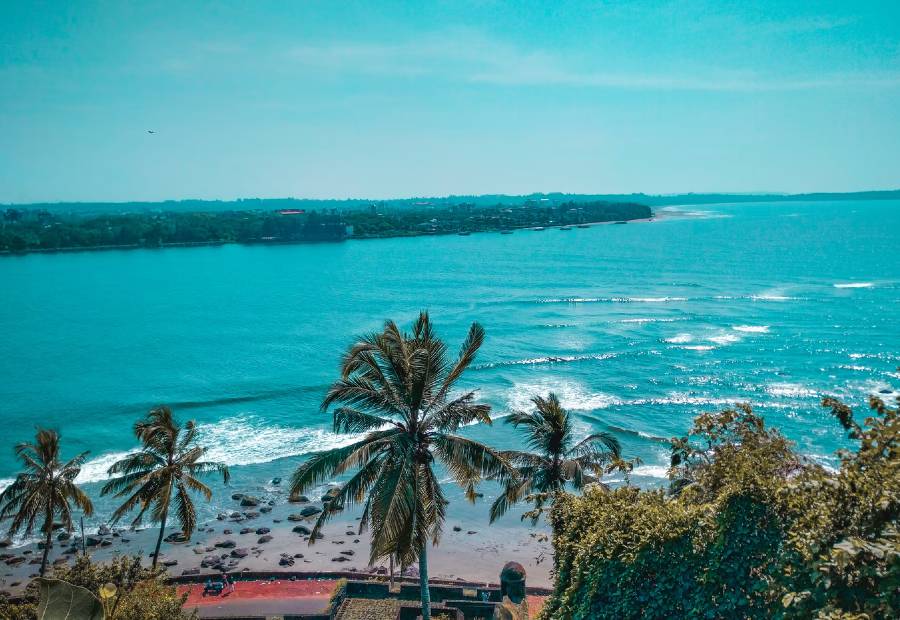 Goa is the perfect romantic city for a fun-filled wedding. There are many unique locations to have your special day, including Palolem Beach, which offers excellent backdrops and open spaces.
You can also get married at one of Goa's picturesque churches or even onboard a boat in the Arabian Sea!
Goa is the best place in India to get married because of its stunning Indian wedding decorations. These decorations create a tropical atmosphere that adds a special touch to the setup.
In addition, there are plenty of activities that you could do before or after the ceremony, such as barbecuing with family members, swimming in rivers lined by coconut trees, and going kayaking and elephant rides, among others.
The pristine beaches make this destination ideal for spending time with friends and loved ones and celebrating your marriage vows for life together.
Best Options for a Destination Wedding in Goa
Novotel Goa Resort & Spa: This property is an excellent place for families and couples to have fun. Both children and adults will enjoy the lush, green environment.
The Leela Goa: The Leela Goa is a hotel with beautiful landscapes and a fantastic view. You will see lagoons and a river with blue water.
Holiday Inn Resort Goa: Located on the beautiful Mobor Beach in South Goa, India. The Holiday Inn Resort has a traditional and modern blend of architecture.
Best Time: In Goa, the peak season is from November to February. Many events, such as the Sunburn Fest, occur during this time. The monsoon season occurs from June to September, leaving only late September to late October as a good time for weddings in a moderate climate.
Places to visit: Baga Beach, Arambol Beach, Bom Jesus Church
Gujarat – Jewel of Western India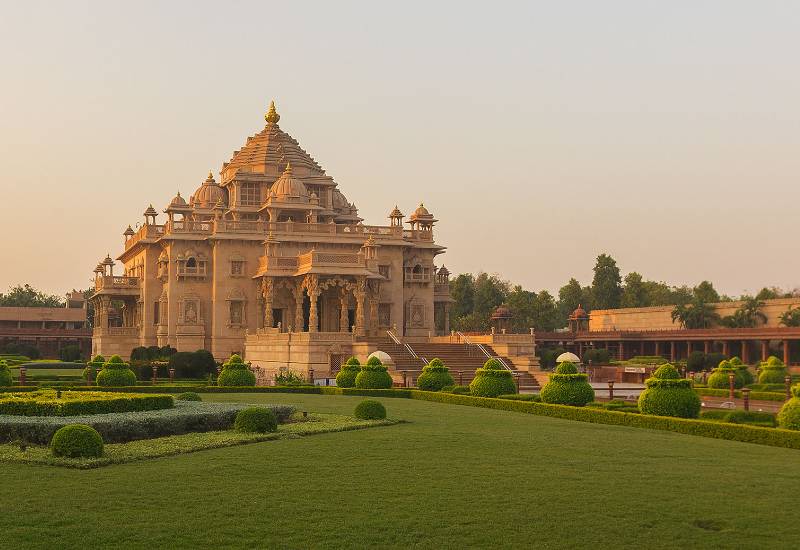 Gujarat has many destinations that can be chosen for your dream destination wedding.
Ahmedabad, Jamnagar, Kutch, or Rajkot are perfect wedding locations with the help of an experienced wedding planner to make your big day memorable.
Gujarat is known as the land of princes because of its rich cultural heritage. It is popular for those planning a royal wedding due to its majestic forts and lavish wedding venues. These venues provide a colourful and splendid backdrop for couples looking to tie the knot in the most royal way possible.
Kutch: This destination is perfect for a large and lavish wedding. There are many luxurious hotels with mesmerizing architecture and marvelous restaurants to cater to your food needs.
Rajkot: Rajkot also offers various options of destinations like Gota Lake Palace Hotel which has been popular among tourists worldwide because of its royal ambience, excellent service with first-class amenities available onsite for weddings.
Palitana: Palitana is the place to get married with a view of scenic beauty that will make your wedding day stand out. The serene environment and natural beauty on display here are perfect for an intimate destination wedding in India.
Best Options for Weddings in Gujarat
Laxmi Vilas Palace, Baroda: The three-centuries-old palace provides a stunning setting for a breathtaking wedding venue. It offers a picturesque backdrop for your special day amidst a beautiful, verdant lawn.
Aam Bagan, Ahmedabad: If you are considering a destination wedding in Gujarat, Aam Bagan offers luxurious amenities and stunning grounds to explore.
Best Time: November-February is often considered the best time for a wedding because the weather is usually pleasant.
Places to visit: Gir National Park, Sabarmati Ashram, Rani Ki Vav
Shimla, Himachal Pradesh – Queen of Hills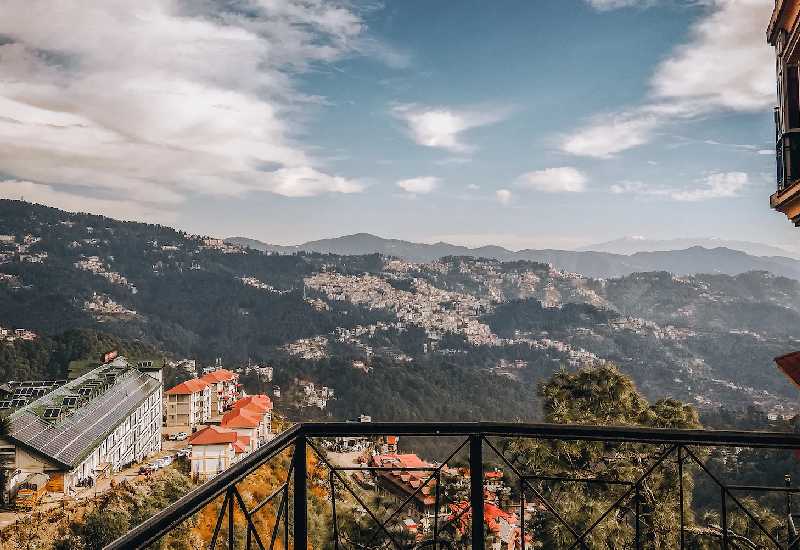 Shimla, known as the "Queen of Hills," is a popular destination for summer weddings in India. The city offers a breathtaking view of the Himalayas and some exciting landmarks, such as Christ Church, built in 1874 by British missionaries.
It offers beautiful lush-green landscapes, gigantic mountains, a peaceful environment, a pleasant climate, and snow-covered hills.
This beautiful hill station has numerous hotels and resorts where you can have a memorable wedding or celebration with your family. These resorts in Shimla offer comprehensive services to ensure a hassle-free ceremony.
Best Options at Shimla
Woodville Palace: Woodville Palace is a renowned resort in Shimla, India. It has become popular among Bollywood actors such as Rajesh Khanna, Rakhee, and Sanjay Dutt due to its luxurious amenities and divine cuisine.
Radisson Jass Shimla: Attached to a forest of cedar trees, the Radisson Jass Hotel is located at an altitude of 2200 meters (2.5 miles) over mean sea level and offers 67 suites and well-appointed guests rooms that overlook magnificent mountains, valleys, and pine forests.
Best Time: The summer months are the best time to plan a wedding in Shimla. The weather is usually pleasant and mild during this time, with temperatures ranging from around 15 to 25 degrees Celsius.
Places to visit: Mall Road, Jakhoo, Christ Church
Jim Corbett is known as one of the oldest national parks in India. Jim Corbett is truly one of the top destinations for weddings in India.
If you dream of a wedding surrounded by stunning river scenery, cool mountain air, and natural beauty, then Jim Corbett is the perfect place.
This destination offers a peaceful and serene ambience for couples to celebrate their special day away from the hustle and bustle of city life.
Not only will you have a memorable wedding, but your guests will also have a great time relaxing and enjoying the beautiful surroundings when they are not participating in the festivities.
Destination wedding packages in Jim Corbett can start as low as 10 lakhs.
Best Options for destination weddings in Jim Corbett
Namah Resort: An ideal venue to make your Jim Corbett wedding ultra-special, Namah Resort is a 4-star resort property encircled by natural bliss and lush greenery.
Tarangi Resort and Spa: This resort is one of the luxurious wedding venues in Jim Corbett, offering beautiful indoor and outdoor locations for a memorable wedding. The resort provides captivating settings that will make your special day truly unforgettable.
Best time: October to June is the best time to plan a destination wedding in Jim Corbett.
Andaman Nicobar – A Tropical Destination
If you are looking for a breathtaking location to have a destination wedding, Andaman Nicobar is the perfect place.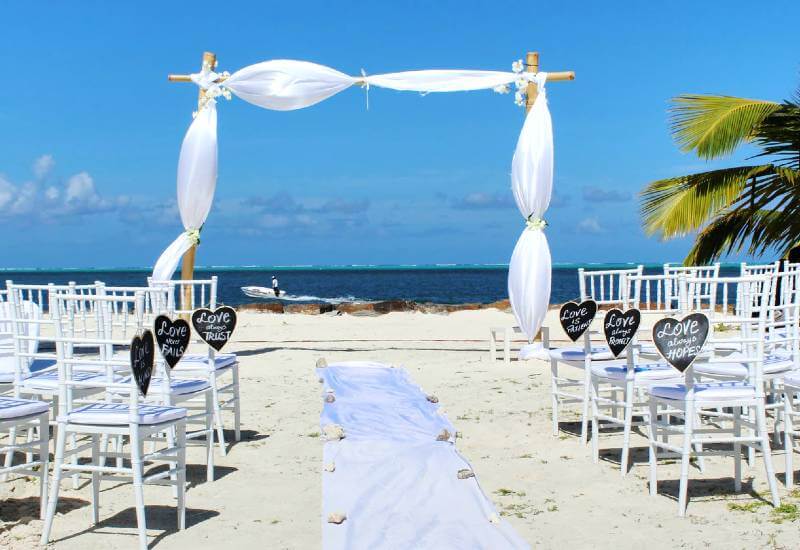 Andaman is a popular wedding destination in India with its serene ambience, clear waters, and refreshing vibes.
The luxurious resorts in Andaman offer exceptional hospitality and will surely make your special day even more memorable.
Best Options for destination weddings in Jim Corbett
Havelock Island Beach Resort: The hotel is perfect for hosting your pre-wedding ceremony and wedding. You will get to have a very nice view. They also offer very good hospitality.
Taj Exotica Resort and Spa: Taj Exotica Resort is located on Havelock Island, a place you would want to visit. The island is known for its stunning natural beauty, particularly the breathtaking Elephanta Beach. This beach offers a range of adventurous sports that can make your wedding memories even more exciting.
When you plan your destination wedding in India, make sure that you hire an experienced wedding planner to help with all the arrangements because these weddings are grand affairs and require expert planning.
Best time: September to May is the best time to plan a destination wedding in Andaman.
Jodhpur – Desert Capital Of India
The city of Jodhpur in India is known as the "Desert Capital" due to its vast deserts. However, in contrast to the desert landscape, the city is famous for its blue buildings.
This unique blue shade adds an iconic touch to weddings held in Jodhpur, giving them a distinct and memorable atmosphere.
Best Option for a destination wedding in Jodhpur
The Umaid Bhawan Palace in Jodhpur is a magnificent palace that exudes a sense of royalty. Its location on Chittar Hill, the highest point in Jodhpur, offers stunning views that take your breath away. Just the sight of the palace can make you feel like a king or queen from head to toe.
Best time: September is a wonderful time to visit Jodhpur, as the cooler temperatures of the monsoon season give way to the beginning of winter.
Hyderabad – Pearl City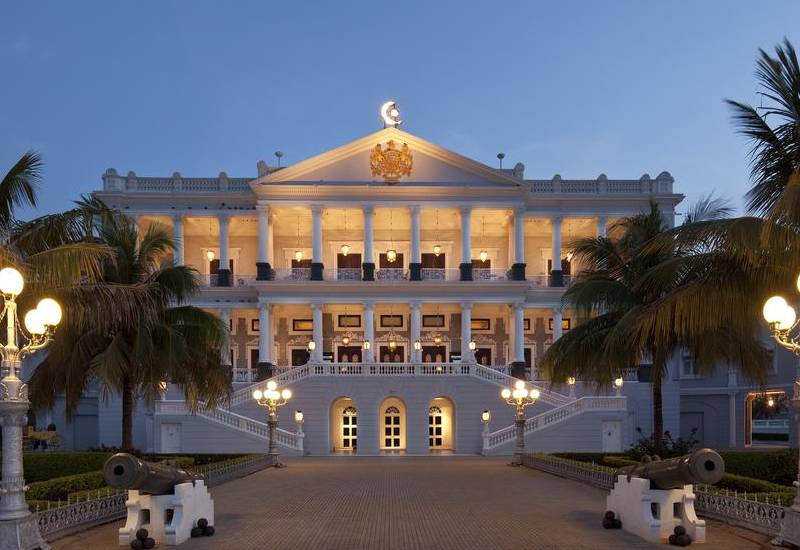 Hyderabad, known as the "Pearl City," is a vibrant destination with a rich history and beautiful landmarks.
The city has historical monuments, picturesque lakes, and magnificent palaces. It is also a haven for food lovers, offering various delicious cuisine.
With its enchanting atmosphere and affordable prices, Hyderabad is a popular choice for destination weddings under 15 lakhs.
Best Options for Destination wedding in Hyderabad
Taj Falaknuma Palace is a grand and luxurious palace known for its extensive lawns, beautifully adorned rooms, and captivating ballrooms. It is the perfect venue for hosting extravagant royal weddings. The palace offers a regal setting with its magnificent architecture and stunning interior design, providing the best arrangement styles for a memorable celebration.
The Taj Deccan in Hyderabad is a popular wedding venue known for its beautiful decoration and amazing structure. It is a spacious venue that is perfect for lavish-style weddings. If you are looking for a stunning location for a wedding shoot, the Taj Deccan is definitely worth considering.
Fort Grand: The lush green landscape makes this location a perfect spot for organizing a wedding. Its spacious area is perfect for hosting large gatherings and functions.
Best time: The best time to have a wedding in Hyderabad is typically from October onwards. During this time, the weather is generally cooler and more comfortable, making it easier for guests to enjoy outdoor ceremonies and celebrations.
Amritsar – Truly Punjabi
Amritsar, located in the heart of Punjab, is known for being one of the most beautiful cities in India.
It is home to the renowned Golden Temple, a popular wedding destination. The city is considered one of India's unique and less traditional choices for wedding venues.
The Golden Temple symbolises equality and brotherhood, representing the culture and heritage of the Sikh community. It is also well-known for hosting Sikh weddings in India. The temple is adorned with a dome covered with 750 kilograms of gold, adding to its grandeur and significance.
Best option: The Radisson Blu Hotel in Amritsar is excellent for hosting a perfect wedding. The hotel offers stunning and vibrant designs with various themes to suit every occasion.
Best time: Amritsar experiences extreme weather conditions during the summers, winters, and monsoons, so it is best to avoid planning celebrations. September to November and February to March are more suitable for hosting events and celebrations in Amritsar.
Agra – City Of Love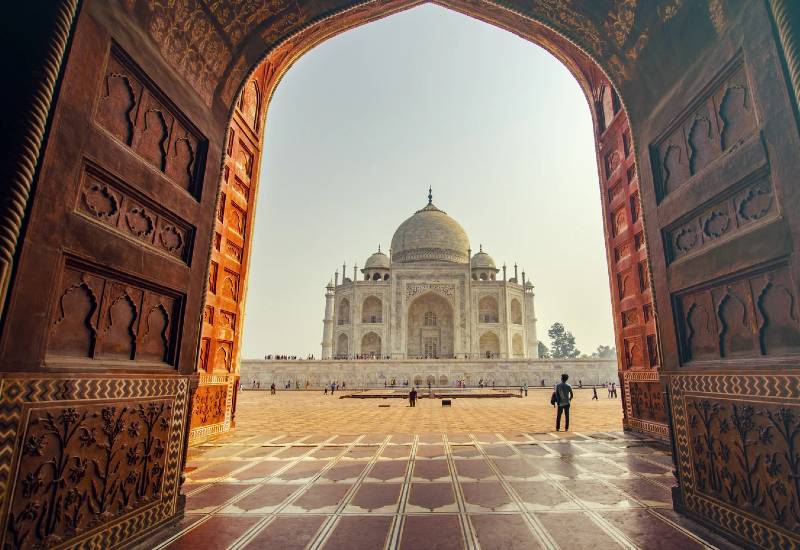 Agra is a well-known historical city and is often considered one of the best wedding destinations in India.
It holds a special place in people's hearts as it is the city of love. Many couples choose Agra as their wedding destination to create lifelong memories of their special day and enjoy a royal wedding in this historic city.
Best option: The Oberoi Amarvilas Hotel is just 600 meters from The Taj Mahal, making it the perfect destination for visitors who want a close-up view of the magnificent monument. The design and style of the resort have been influenced by Mughal architecture, adding to the overall experience and ambience of the hotel.
Best time: November to March is considered the best time for weddings in Agra because the weather is usually pleasant.
Jaisalmer – Glorifying Palaces
Jaisalmer is a fantastic destination for a wedding in India, especially if you want to experience the heritage and grandeur of a royal wedding.
The city offers stunning locations and scenic views for such a special occasion. Additionally, if you've always dreamed of having a palace wedding, Jaisalmer also has that option.
The city is rich in heritage and offers a treasure trove of palaces that can serve as the perfect backdrop for your wedding ceremony.
The best option for Destination Wedding venues at Jaisalmer
Surya Garh Palace: This hotel is regarded as one of the best in town and is particularly popular among honeymooners and destination wedding planners in Rajasthan. Its exceptional amenities, luxurious decorations, and beautiful exteriors featuring Rajput gardens and courtyards provide a wide range of venue options for a perfect wedding.
Marriott Resort & Spa: If you seek a wedding venue that exemplifies grace, luxury, and royalty, The Marriott Resort and Spa is the perfect choice. This stunning architectural masterpiece will captivate you from the moment you look at it, leaving no room for hesitation.
Best time: November to March are considered the best time to plan a destination wedding in Jaisalmer.
Mussoorie – Astounding Vistas
Mussoorie is the perfect destination for a hill wedding.
Couples often choose Mussoorie as their wedding destination for a unique and memorable experience. The town is nestled in the foothills of the Himalayas, offering breathtaking views of the mountains and valleys.
The lush green landscapes, cascading waterfalls, and charming colonial architecture provide a picturesque backdrop for wedding ceremonies.
Mussoorie offers a variety of venues for destination weddings, ranging from luxurious resorts and hotels to quaint heritage properties. These venues provide exceptional facilities and services to cater to the needs of the wedding party and guests.
The best option for Destination Weddings in Mussoorie
JW Marriott: JW Marriott Mussoorie Walnut Grove Resort & Spa is a scenic two-hour drive from the Jolly Grant airport. This luxurious 5-star hotel/resort is known as one of the top wedding destinations in Mussoorie.
Jaypee Residency: Jaypee Residency, a luxury 5-star hotel in Mussoorie, offers over 100 spacious rooms and expansive open areas, making it an excellent choice for hosting large events such as weddings. With their extensive experience in organizing and managing functions, Jaypee Residency is the perfect venue for a destination wedding in Mussoorie.
Best time: April to October are considered the best time to plan a destination wedding in Mussoorie.
Khajuraho – Artistic Ambiance
Khajuraho is a city that holds great significance in Madhya Pradesh. It is known for its numerous temples, which are a testament to the rich Indian architecture of the medieval period.
Destination weddings in Khajuraho allow couples to exchange vows in the presence of their loved ones while surrounded by magnificent temple complexes. The intricate carvings and sculptures on the temples create a romantic and ethereal ambience for the wedding ceremony.
Khajuraho has good railway connections to most major cities, making reaching the spot easy and comfortable.
Overall, a destination wedding in Khajuraho allows couples to celebrate their special day in a unique and enchanting location, creating memories that will last a lifetime.
Best option: The Kandariya Mahadev Temple is renowned for its exquisite architecture and is dedicated to Lord Shiva. It is a popular destination for tourists throughout the year and is also a great location for hosting wedding celebrations.
Best time: October to March is the best time to visit Khajuraho for celebrations. During this time, the weather is pleasant and suitable for outdoor activities. However, the weather is cooler from July to September due to the monsoon season.