Mykonos, the island of summer parties! Hailed as one of the most popular party destinations in Greece, Mykonos is an island that has been attracting tourists from all over the world to its white shores and turquoise waters for many years.
Paradise and Super Paradise Beaches provide clubs that play thumping music. Dance clubs attract famous DJs and they stay open as late as people want to party.
Since the 1920s, Mykonos has attracted tourists because it was used as a base to explore ancient Greek ruins on neighboring Delos by archaeologists and antique hunters.
Mykonos is recognized for its dry, windswept terrain, sandy beaches, and world-renowned nightlife!
This blog post explains, how to make your trip unforgettable with the best hotels in Mykonos.
Best hotels in Mykonos
Mykonos is famous for being one of the most visited Greek islands and for having a lovely charm. With a vibrant nightlife scene, it also offers much to see and do.
There are many hotels and resorts for people who love luxury. They can find them on the edge of the Aegean Sea, which is beautiful.
The Belvedere Hotel
Mykonos Blu
Mykonos Riviera
Bill & Coo Suites and Lounge
Cavo Tagoo, Mykonos
Katikies Mykonos
Rocabella Mykonos
Mykonos Grand Hotel & Resort
Semeli Hotel Mykonos
Kenshō Ornos Boutique Hotel & Suites
Panormos Village
Santa Marina, a Luxury Collection Resort, Mykonos
Nissaki Boutique Hotel
Myconian Ambassador Relais & Chateaux
Grace Mykonos
The Belvedere Hotel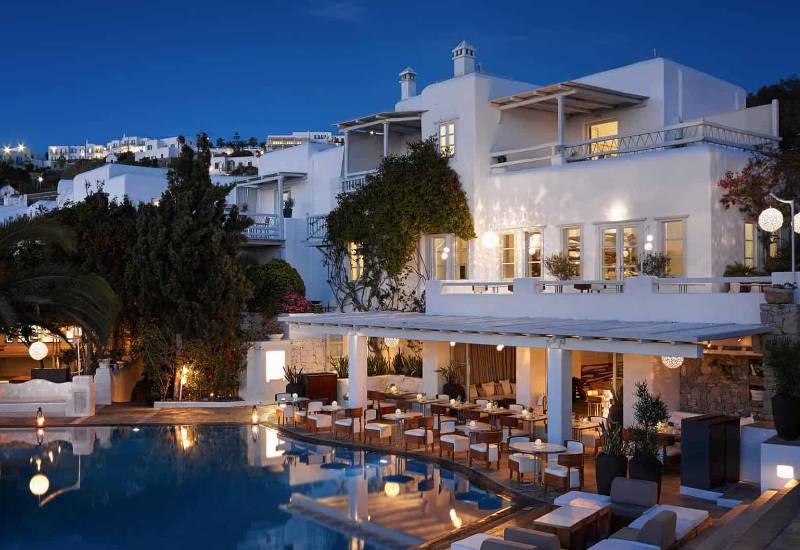 The Belvedere Hotel is located just outside of Mykonos Town, but it is still close enough to provide a taste of the city's cultural moods while being far enough away to offer solitude and exclusive luxury.
The Belvedere Hotel is one of the most luxurious hotels on Mykonos, with stunning sea views and a standard of service, comfort, and hospitality that is second to none.
The Belvedere Hotel has cultivated a reputation for being one of the poshest hotels on the beautiful Greek island of Mykonos.
Mykonos Blu Hotel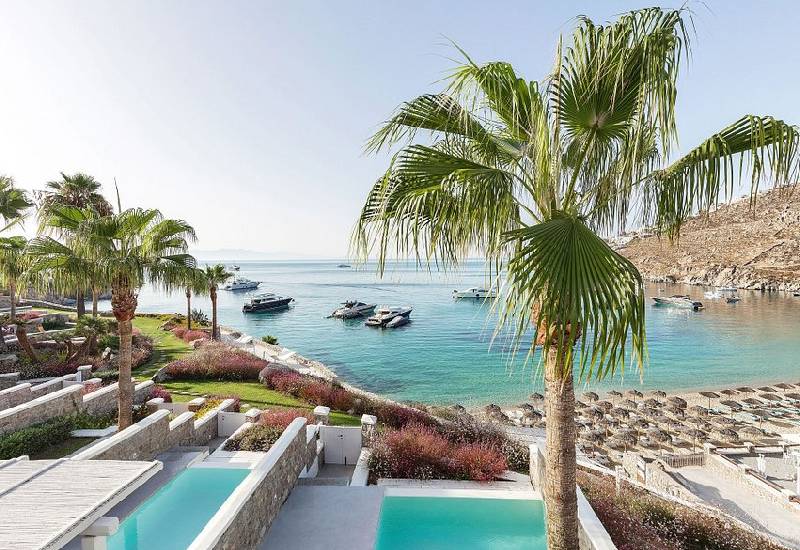 A popular honeymoon destination, Hotel Mavri Nissos is one of the most romantic hotels on Mykonos. It's both charming and trendy.
Near the lovely Psarou Beach, which is well-protected from the wind. Down the beach at Nammos, food, music, and dancing are available.
The beach and the great restaurants in Platis Gialos are a short walk away.
The free hotel shuttle takes you to Mykonos Town in under 10 minutes.
Mykonos Riviera (5-Star Hotel in Mykonos )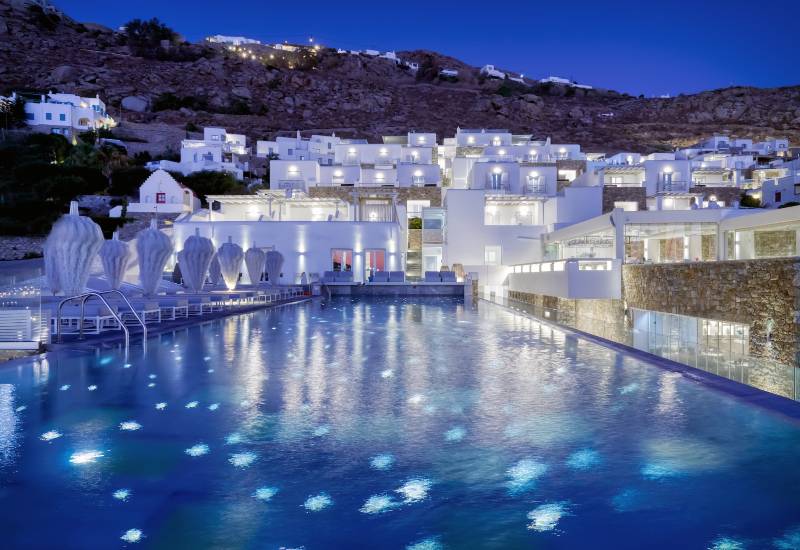 The hotel is near the New Port. It has a heated, salt water pool and an amazing spa with different treatments. There is also a restaurant that serves Lebanese food. The Pool Club serves food and drinks at night.
Each of the five types of rooms has a private terrace with marina and sea views, as well as a private jacuzzi or pool.
The hotel also offers round-trip shuttle service to Mykonos Town. You can also use the spa which has a Turkish bath and sauna.
Bill & Coo Suites and Lounge (Five-Star Hotel in Mykonos)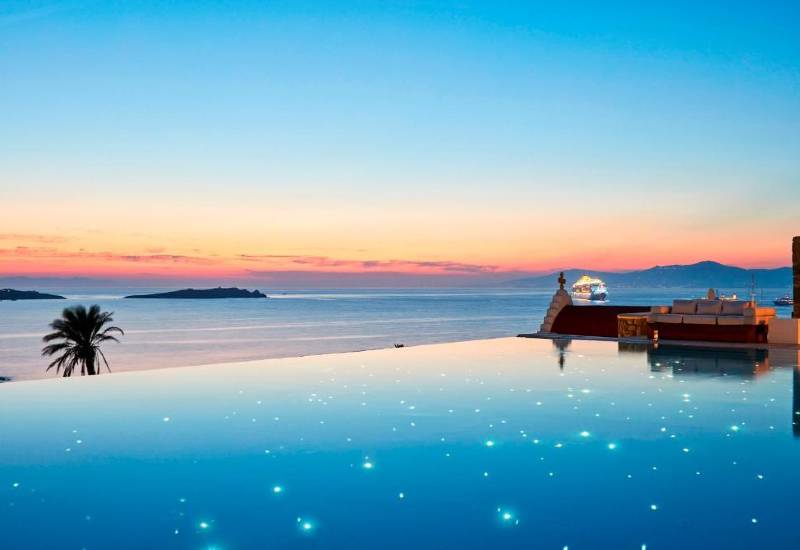 Bill and Coo is located on a spectacular hilltop with sweeping panoramic views of the sea, conveniently accessible to Mykonos Town.
The light and bright color scheme is enhanced by the chestnut furniture; this makes it look clean.
There are only 30 luxury suites to select from, and the top selections include their own swimming pools.
The main pool is a place to cool off when it is hot. Guests can eat seafood in the restaurant.
Cavo Tagoo Hotel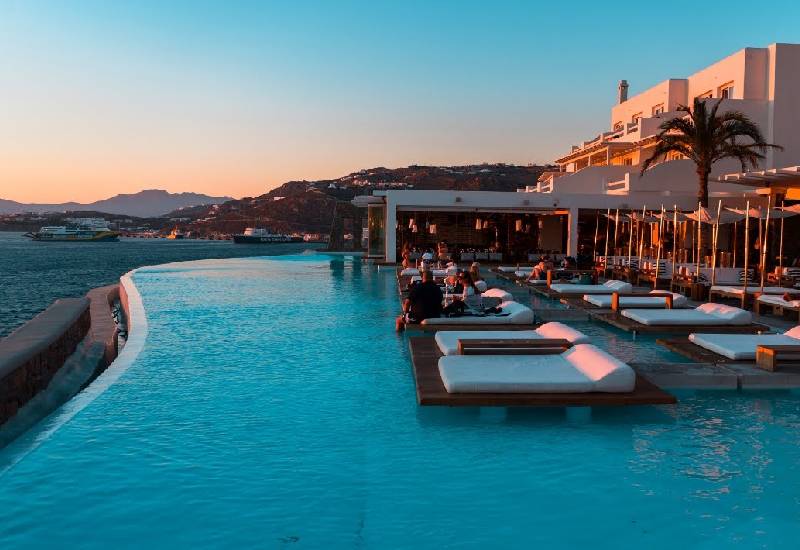 The Cavo Tagoo hotel is on top of a hill with an ocean stunning view. It is 500m away from Hóra, one of the most popular towns on Mykonos.
There are only 83 rooms and suites to choose from. If you want a place to stay, make sure that you reserve it early so that you can get a good spot for the pool.
People who stay in a villa will get their own pool or hot tub, and they will have all the extras in the room. If you like to eat sushi, there is also a sushi bar on site.
Katikies Mykonos Hotel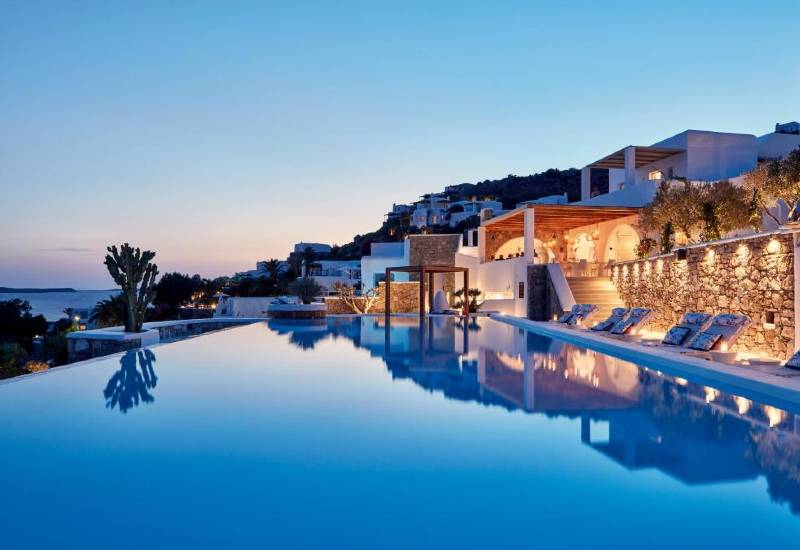 Adults-only hotel with two gorgeous infinity pools, a luxury spa, and panoramic sea views over Agios Ioannis Beach toward Delos Island.
The rooms and suites are all large, comfortable, and elegant, with spectacular views of the city or garden.
Mikrasia is a excellent restaurant with food that tastes good. The restaurant also has drinks. It is very popular because there is more than one waiter for each customer, so the service is better.
Rocabella Mykonos Hotel
This hotel is for people who like to stay in new, fancy hotels. It has a pool that goes into the ocean and rooms with jacuzzis.
The hotel has many great things to offer. You will have a lot of things to eat and drink at the pool bar throughout the day, and also at dinner time in their restaurant, Reeza.
Provides wine tasting, culinary courses, island picnics, and private dining in their exquisite culinary program.
Mykonos Grand Hotel & Resort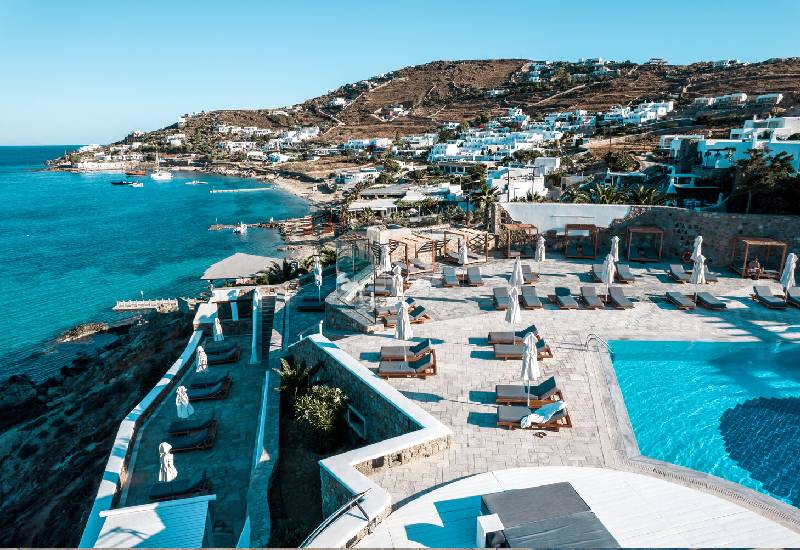 Mykonos Grand Hotel & Resort is a very nice hotel. It has only really been renovated recently. Guests will have access to the private part of the beach right outside their rooms, which is sandy and secluded.
This is a great place to relax and take care of yourself. You can do yoga and pilates in the amphitheater that overlooks the ocean. Or you can play tennis or squash.
There are approximately a dozen different styles of rooms to select from, but luxury seekers will appreciate the huge suites, which include their private infinity pools and steam cabins.
Semeli Hotel Mykonos
This luxury hotel is popular with honeymooners since it has enough services and facilities to ensure that visitors will never need to leave.
The swimming pool is one of the main parts of this hotel. Guests have a view from the infinity edge to see all of the ocean.
There are 64 rooms and suites. Most of the rooms are around the pool, and they have balconies with great views.
The hotel has a spa that people can use. It is there for people who want to relax and be taken care of.
Kenshō Ornos Boutique Hotel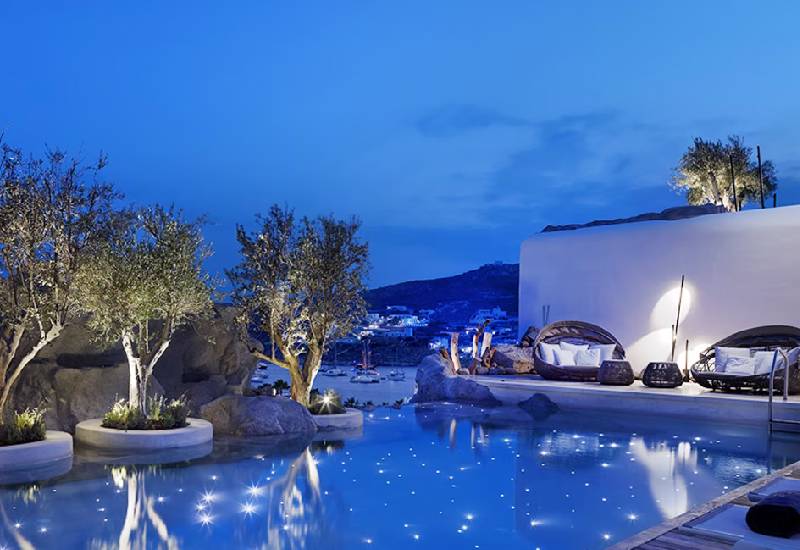 The stunning boutique hotel overlooks Ornos Beach and offers the ideal getaway for those who enjoy understated Asian elegance.
Guests at this hotel can enjoy the amazing views of two pretty coves when they eat in a fancy outdoor area or in their room.
From their comfortable and spacious private balcony, guests may choose between sea or mountain views, while the bathrooms provide a real treat with both bathtubs and rain showers.
People who want to eat the best Greek food will like the restaurant. You can exercise, which might make you hungry. Then you can go over to the restaurant and have some more food!
Panormos Village Hotel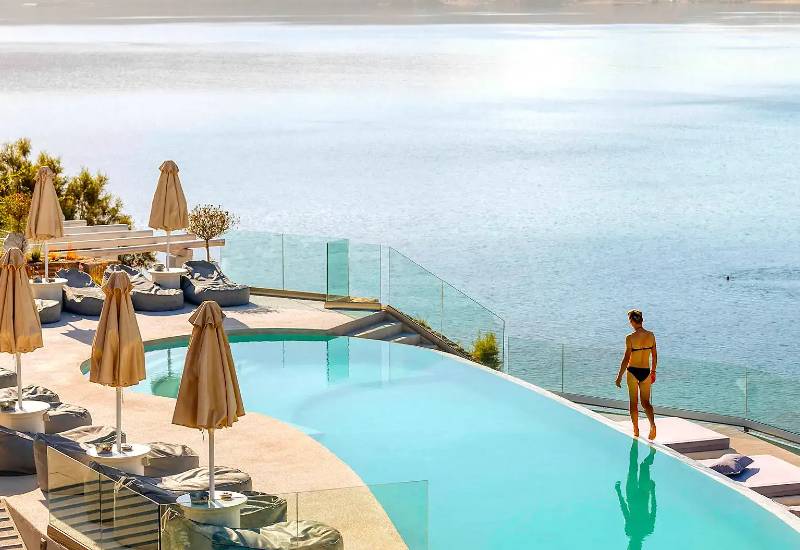 This lovely, compact hotel offers a 2-level cascading infinity pool with floating sunbeds, a laid-back Greek eatery, and easy access to Panormos Beach.
On-site, there is a wonderful Mediterranean restaurant that serves special dietary needs. The suites feature breathtaking Mykonian stone architecture dug straight into the hillside with private pools and plenty of seclusion.
On a tight budget, you may stay in one of the hotel's affordable rooms and flats with kitchenettes. On the other hand, these same cutting-edge services are available to all guests at no extra cost.
Santa Marina Hotel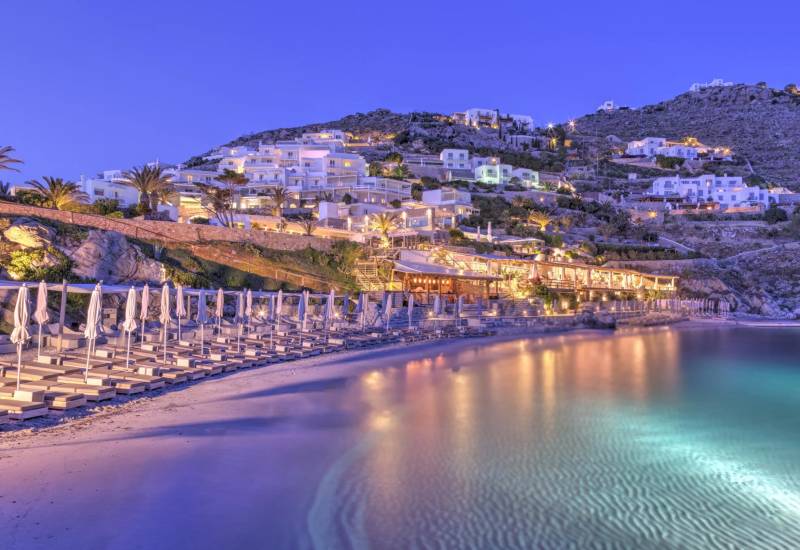 The Santa Maria is the perfect place for people who want to be alone and have lots of space.
People can stay at a hotel that is on a private beach. The staff can help you and make sure you are happy.
Each one of the hundred rooms is enormous and has been built to fully show off the breathtaking vista.
Rooms are split between several levels to provide visitors more solitude, and the Deluxe Sea View Pool Suite and Presidential Villa, which is simply elegant and spacious.
Nissaki Boutique Hotel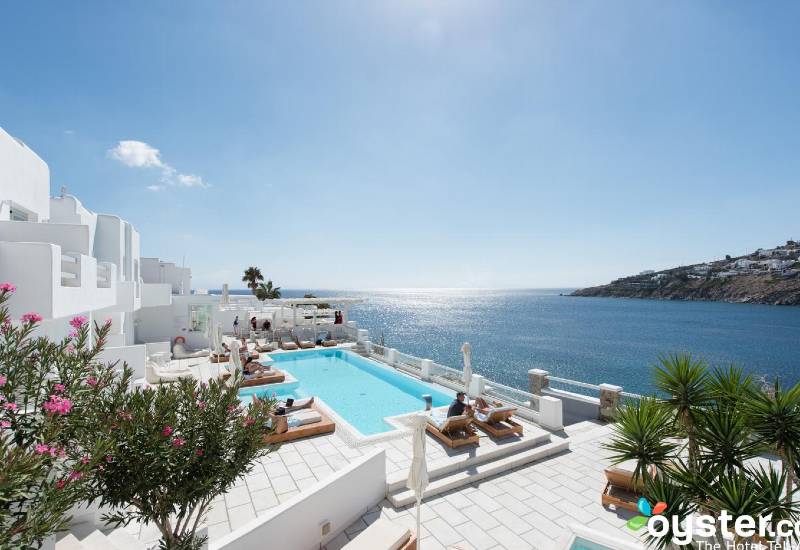 Nissaki Boutique Hotel has 4 saltwater pools, a spa, and delicious dining restaurant. This is a good place for families.
The rooms, suites, and villas are all big, with the biggest being a 3-bedroom, 2-bathroom home for 6 people. Indoor or outdoor private jacuzzis are included in all types of accommodation.
Nissaki is a good place to stay. It's near the beach and near the bus stop that goes into town. You can also take a water taxi to go even further east to beaches there.
Myconian Ambassador Hotel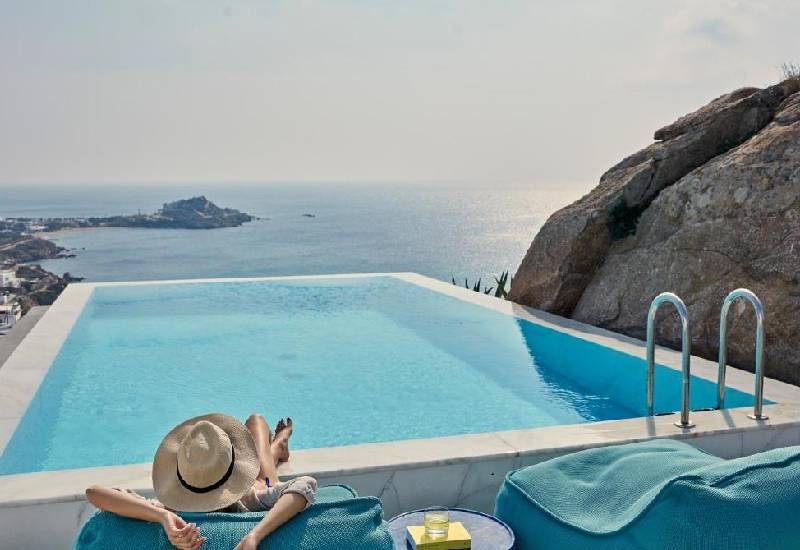 The Myconian Ambassador is a trendsetter and has helped to define the luxury hospitality industry, being known as the island's first five-star hotel.
The hotel is located just a three-minute walk from Platis Gialos beach, but guests never have to go very far to unwind in the water since each ocean-facing room comes with its own plunge pool.
There are 70 rooms in the hotel. People travel all over to stay here because it has plenty of space and sunlight. There is an on-site restaurant that offers good food too!
Grace Mykonos (4-Star Hotel in Mykonos)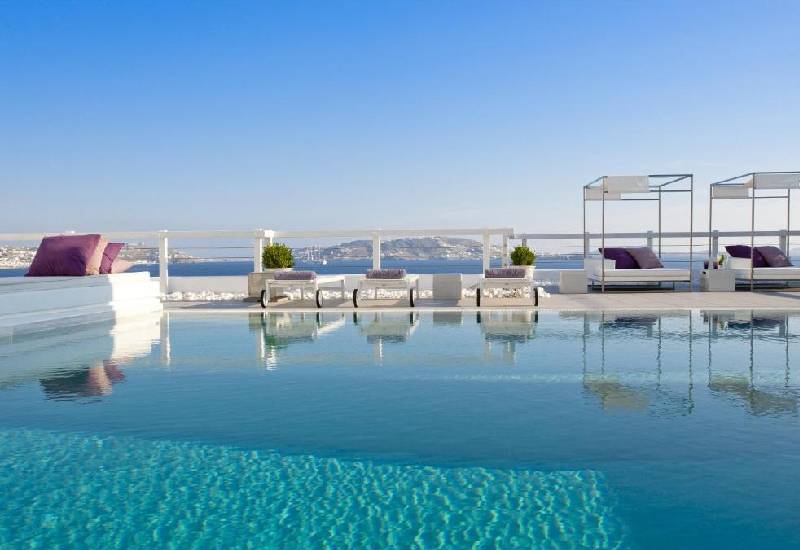 With a gorgeous sea view pool, peaceful spa, and all-day Greek restaurant and bar, this lovely retreat is ideal for families or groups of up to eight people.
Private plunge pools are available in many rooms and suites.
Grace is a highly visited location, with activities ranging from romantic picnics at the lighthouse to sailing excursions. It's also a popular spot for weddings and vow renewals.
This hotel is near a beach and by the port. They offer a shuttle to Mykonos Town.
What are the 10 best honeymoon resorts in Munnar? In this blog post, we will talk about them. There are many different types of resorts to choose from in Munnar, depending on what you want.
All of Munnar's resorts offer an array of amenities for guests to enjoy. Whether you're looking for a luxurious honeymoon or a more adventurous endeavour, there is something here for everyone.
There are plenty of hotels and resorts in Munnar to choose from for a honeymoon. - Tea County Munnar, Eastend Munnar, Elysium Gardens Hill Resort, Westwood Riverside Garden Resort, Abad Copper Castle Resort, Windermere Estate, Blackberry Hills Retreat and Spa, & more.
There is an endless supply of resorts throughout Munnar that are thoroughly equipped with all amenities to provide the best experience for travellers and be uniquely situated in the natural beauty and great weather.
The resorts in Munnar are mostly known for their adventure activities and luxurious services. If you are looking for a calm space to spend time with your loved one, these resorts in Munnar offer amenities like pools, spas and beautiful landscapes.
If you're looking for honeymoon resorts in Munnar, keep reading this article!
1) The Fog Resort & Spa Munnar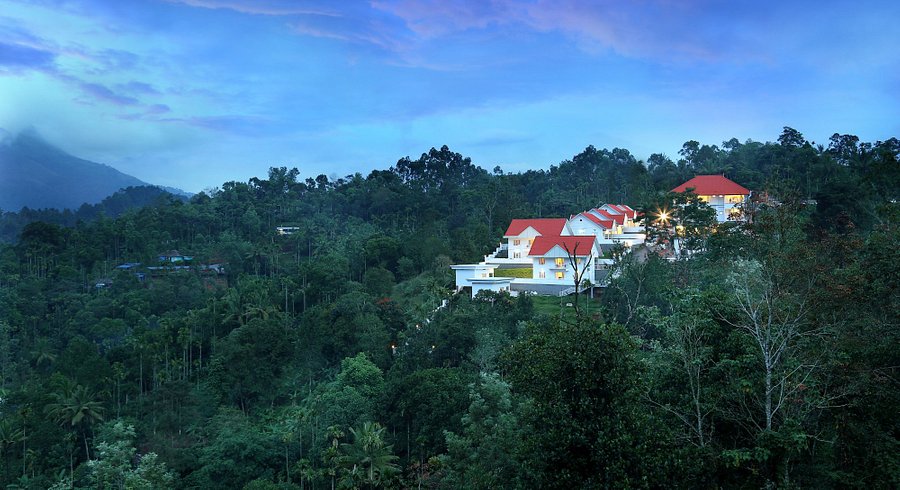 This magnificent 5-star resort is an inviting, luxurious abode with exquisite amenities and personalized service.
The Fog Resort & Spa is designed to treat you like royalty, and it makes for a perfect honeymoon environment.
The resort has a grand hall with conference facilities and accommodations, a health club, multi-cuisine restaurant with Arabic/Italian menus.
It also organizes activities for its guests, such as football, bicycle riding, basketball hoops and soft trekking. You and your partner can enjoy all the amenities at the resort, including a swimming pool.
One thing that guests love about this resort is the attentive service and activities available. Guests are constantly provided with live entertainment, billiards, chess, and cooking demonstrations.
Price: Starting from 6000 per person
Location: The Fog Resort and Spa, Eatty city Road,Chithirapuram, Munnar
2) Elixir Hills Resort, Munnar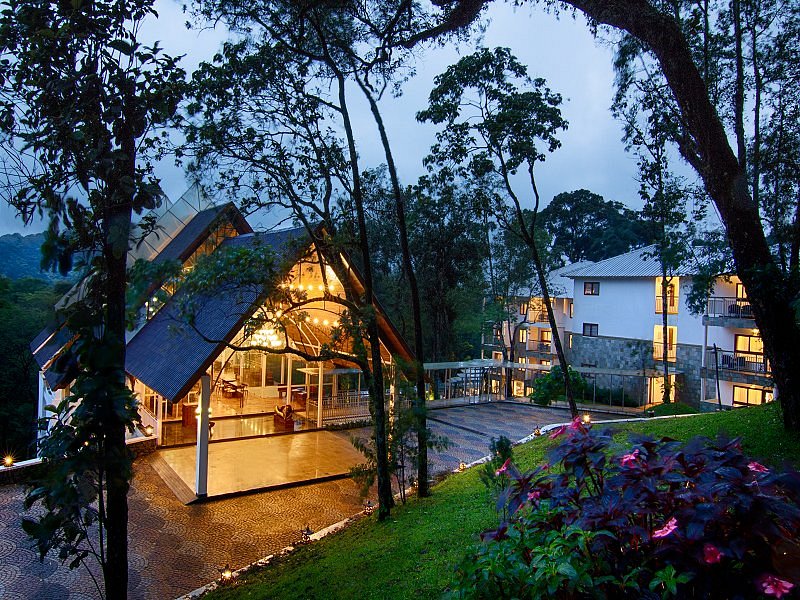 Elixir Hills Suites Resort and Spa and are located on Letchmi Tea Estate in Munnar. The resort surrounds you with the tall trees of the forested Munnar jungle.
The breathtaking scenery, wildlife and tea plantations make for a calming stay experience.
The resort's outdoor infinity pool sits among the beautiful scenery of this location. A sauna bath is also available for guests to enjoy, which is perfect for rejuvenation.
The lush, beautifully landscaped environment creates an inviting and romantic setting for couples to enjoy.
The resort has a big, expansive play area with an indoor games room for kids. There's also the in-house spa where you can enjoy authentic ayurvedic treatments.
Price: Starting from 7000 per person
Location: Near Letchmi Tea Estate, Mankulam, Munnar
3) Tea Valley Resort Munnar
Tea Valley Resort is the best honeymoon resort in Munnar because it has a private deck.
Nestled amid lush greenery and sprawling hills, Tea Valley Resort provides amenities with great hospitality. Once you have planned your Kerala tour, don't forget this beautiful place in Munnar.
Free high-speed internet is available all around the resort. The onsite meeting room can also be booked for business meetings and social events.
Cochin International Airport is located 102 km away from the property. Coimbatore railway junction is 166 miles away.
The resort is surrounded by a 6.5-acre tea plantation and can be easily reached from the town of Munnar. Its famous Pothamedhu View Point trails are 20 minutes' walk away from the resort.
Price: Starting from 3000 per person
Location: Bisonvalley Road,Pothamedu, Pallivasal,Munnar, Kerala, India.Pin Code - 685612
4) Chandys Windy Woods, Munnar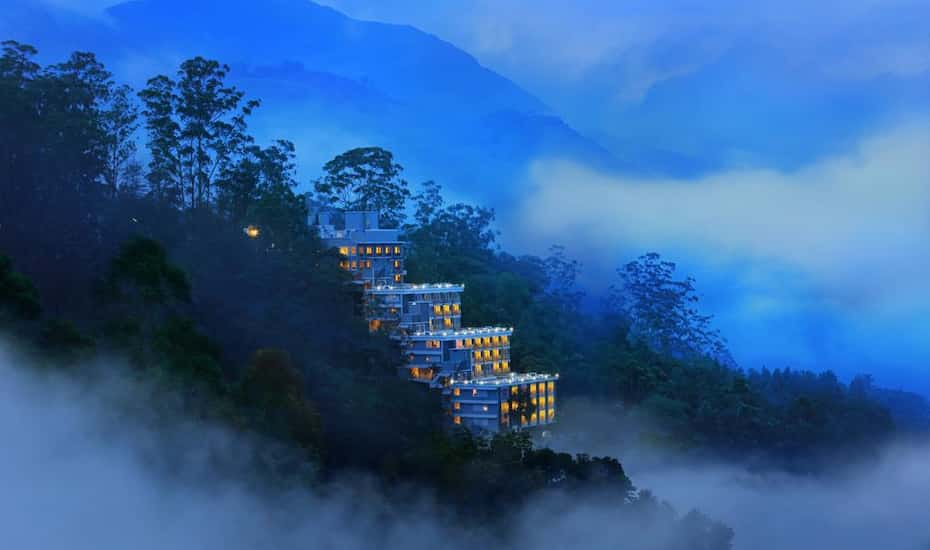 Chandy's Windy Woods hotel has rooms with splendid views. It also has spa treatments, forest tours, and traditional cuisine.
If you're looking for a 5-star hotel at Munnar, Chandy's Windy Woods is the place.
Windy Woods is surrounded by silver oaks and set on the slope of a Munnar hill. It is well-connected to Udumalaippettai Railway station (95 km) and Cochin International airport (99 km).
You can find major tourist attractions near the property. These include Chithirapuram (4 km), Attukad Waterfall (6 km), Pothamedu View Point (8 km) and Eravikulam National Park (17 km).
The resort features rooms categorized as Standard, Deluxe Rooms, Superior and Presidential Suites. The rooms contain ceilings-to-floor glass windows, balconies with awesome views and work areas.
One of the many amenities offered by Chandy Windy Woods is an exclusive swimming pool and spa. The hotel has conference and banquet facilities available for business meetings, as well as a games room.
The hotel provides many activities such as walking tours, bird watching, jeep safari and trekking to help guests experience the region's scenic beauty. The in-house restaurant offers multiple options for dining.
Price: Starting from 10,000 per person
Location: Pallivasal, 2nd Mile, Meencut P.O, Chittiarpuram, Munnar, Kerala 685565
5) Aranyaka Resort Munnar
Aranyaka Resort is located at an altitude of 4500-5000 ft. in eastern Kerala
It is a part of the Pullivasal Estate. It is the gateway to Tata Tea holdings in Munnar. This place is called "Three Rivers, Munnar" because three rivers meet there.
The services offered by the resort include free valet parking, a 24/7 front desk, private check-in and check-out, and baggage storage.
For every guest, there are countless services to offer. These include laundry, doctor on call and free internet. You can rent a bike from the hotel to get around the city.
Accommodations at Munnar offer a variety of amenities, including in-house restaurants serving tasty dishes and refreshing drinks. Guests can opt for a private table near the cottage or in the open, under the stars.
Price: Starting from 3000 per person
Location: Attukad Waterfalls Road, Pallivasal Estate Post, Pallivasal Estate, Munnar, Kerala 685612
6) Fragrant Nature Resort, Munnar
The fragrant Nature Resort hotel is located at Pothamedu in Bison Valley Road. This hotel is located 4.7 km from the Munnar Tea Museum and 3 km away from the Attukad waterfall.
This resort has a laundry service and dry cleaning services. And offers internet access as well as business services. This hotel has an indoor play area for children.
This hotel offers a restaurant known as Black Truffle that has a variety of dishes. A second restaurant is located in the hotel called "The Glass House" that offers grilled and steaks.
Price: Starting from 7000 per person
Location: Baisonvalley Road, Pothamedu
7) Nature Zone Resort, Munnar
The Nature Zone Jungle Resort is a beautiful property located in the lap of nature, only 20 minutes from Munnar town.
Beautiful scenery and a peaceful environment make it the perfect place for travellers seeking to escape the city din.
One of the best features of this resort is its accommodation units. Guests will also find 12 African safari tents and 5 bamboo/wood treehouses available. All are furnished with necessities and located in a serene environment to make your stay as memorable as possible.
This resort has a range of leisure activities from camping to soft trekking on its campus.
Moreover, outdoor activities like nature trails, bird-watching, rock climbing, trekking and camping can also be done.
The in-house restaurant serves authentic Kerala dishes next to Continental cuisine. So this resort in Munnar for Honeymoon provides a luxurious stay with many amenities.
Price: Starting from 8000 per person
Location: Pulippara, Pallivasal, Munnar
8) Spice Tree Resort Munnar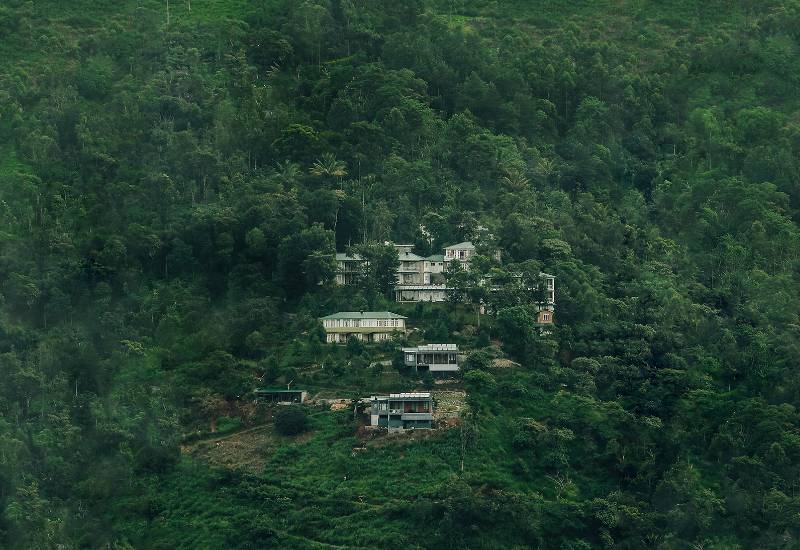 Spice Tree Munnar is located on the Periakanal-Muttukad Road, surrounded by the scenic beauty of Kanan Devan and Bison Valley Hills.
This one of the best resort from honeymoon resorts in Munnar. Travellers to this resort are provided with high-speed internet (Wi-Fi), free parking, and laundry service.
There are a lot of cool things in the resort. There's an infinity pool, a fitness centre, and also a library with books for you to read. And there is also a spa for when you need to relax.
Spice Tree Munnar provides luxurious accommodations, a multitude of recreational facilities and incredible dining options.
There are a variety of activities on offer at the resort to make your trip entertaining.
These activities include ethnic cooking classes, tea-tasting, soft treks, spa therapy, painting, yoga and meditation, reading at the library, or swimming.
Price: Starting from 11,000 per person
Location: Nadukkurissu, Muttukad-Periakanal Road, Nadukkurissu, Chinnakkanal P.O, Idukki, Munnar
9) Westwood Riverside Garden Resort, Munnar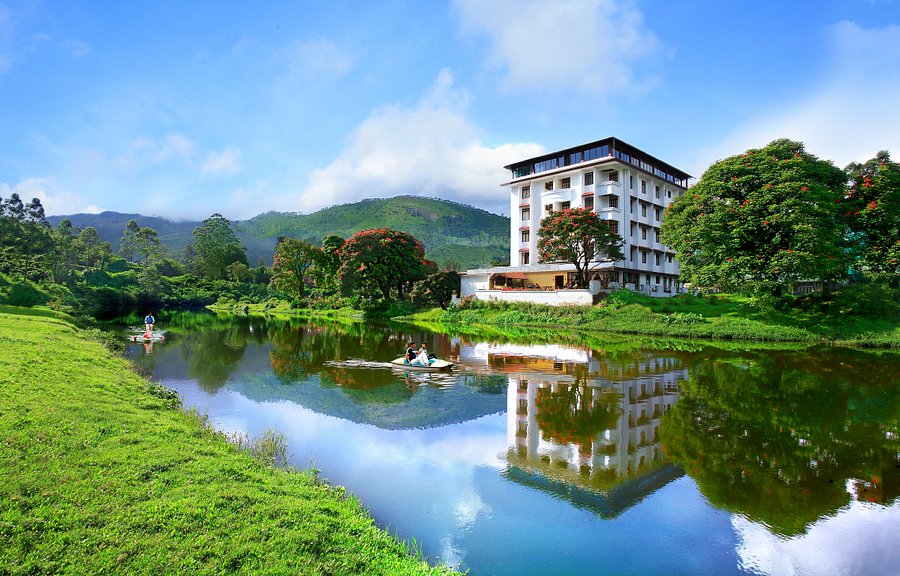 There are many premier resorts in Munnar, but Westwood Riverside Garden Resort, without a doubt, offers stunning views and facilities.
This ideal resort is located and provides the best of amenities to guests. Located in Munnar, this is the perfect place to explore the region by trekking and wildlife expeditions.
The hotel has a TV, wifi, a minibar and a spa with Ayurvedic massages. There is also a gym for you to relax after long days.
Many of the resorts in Munnar offer adventurous honeymooners, including outdoor camping, jeep safaris and sightseeing tours.
The resort caters to your every need with a multicuisine restaurant 'Wood n Spice' and an open riverside restaurant, Fire-Grill, serving barbecued vegetarian and non-vegetarian dishes.
For a day that starts leisurely, they offer kite making, glass painting, cookery classes and decorative jewelry making for the kids.
At night, different types of entertainment are offered, like a campfire with music, Kathakali performances, fire dancing and DJ Music.
Price: Starting from 3000 per person
Location: MSA Road, Old Munnar
10) Elysium Gardens Hill Resort, Munnar
This resort for couples in Munnar provides the best of the amenities to its guests. This is the best resorts for couples in munnar offers romantic views of rolling hill plantations and peace in comfy surroundings.
Elysium Garden guarantees a pleasant stay and an unforgettable experience with beautifully crafted honeymoon cottages, cozy interiors, and unmatched services.
This place is perfect for your honeymoon in Kerala. Guests can enjoy the resort's in-house wellness center, equipped with fitness enthusiasts.
The idyllic surroundings of the beautiful location offer a luxurious setting with the cozy ambiance of the home.
The easiest and most efficient route to the hotel is landing at Cochin International Airport and travelling about 75 km.
Located in Munnar, Kerala's lush Ikka Nagar is a popular destination for those looking for serenity.
The honeymoon resorts in Munnar are a comforting getaway for guests. The scenic beauty of tea plantations, mist-covered mountains and luxurious stay is always there to accompany you at any time of the day.
Price: Starting from 5000 per person
Location: Top Station Road , Munnar
Neemrana town is a small and beautiful place located in Alwar in Rajasthan on the Delhi-Jaipur highway.
It's famous for its magnificent Neemrana Fort Palace; It was built in 1464 AD, a palace from where Rajput Maharaja Prithvi Raj Chauhan III reigned.
Neemrana Fort Palace is now a heritage luxury hotel converted from a historic building.
The fort has been completely restored and transformed to perpetuate the legacy of history.
If you want to spend a peaceful weekend, you can go to Neemrana. It is surrounded by nature and has a lot of history in it.
Neemrana is a popular place for people of Delhi as a weekend getaway destination. They go there to enjoy the resort and fun activities like zip-lining and swimming.
The town also has many hotels that offer comfortable accommodation to tourists from all over India and abroad.
This article will tell you about the best hotels in Neemrana.
Neemrana Fort Hotel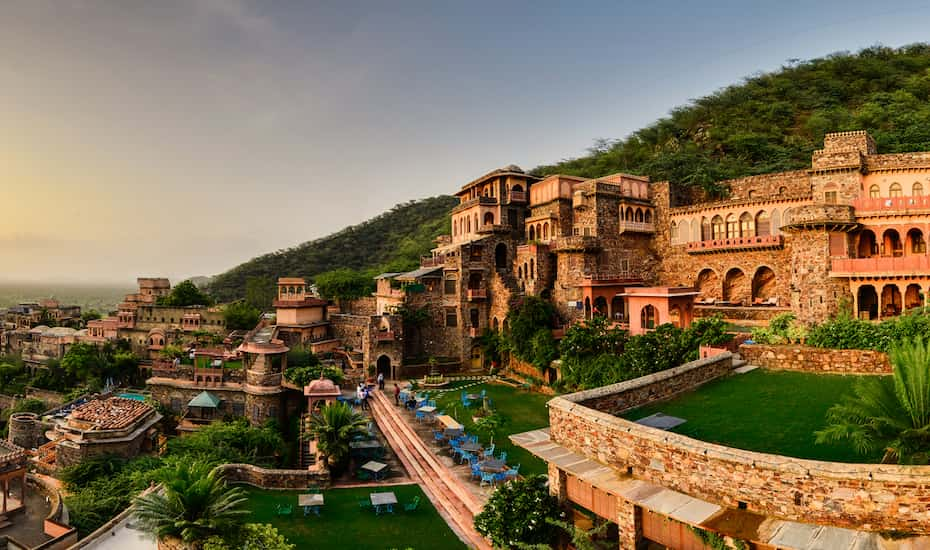 Neemrana Fort Palace, a 15th century reconverted fort, features two swimming pools, landscaped gardens and an outdoor fitness centre. Neemrana Fort hotel is a 4-star property that offers 3 onsite dining options and free Wi-Fi throughout.
This is the best option for your weekend breaks. Neemrana Fort Palace is 3.5 km from the bus station and 40 km from Rewari Railway Station! If you need a break, it's just 63.3 KM away from the gorgeous Vijay Mandir!
The Sariska National Park is a 75.3 km drive from Neemrana, while Indira Gandhi International Airport is 109 km, and Bhangarh Fort is 143 km away.
All the air-conditioned rooms have a minibar, desk, and wardrobe. The bathrooms have a shower or bath. Some of the rooms come with a better view.
The property has a relaxing terrace for guests to use and offers luggage storage, ironing services, and laundry services. Additional games and activities can be arranged if you ask. And a tour desk is available for making arrangements.
Guests at Jalgiri Mahal can sit down for a meal; the Raj Mahal Bar offers refreshing drinks. Although it's called Jalgiri Hall, this dining space also serves Indian, Chinese, Continental, Italian and Thai cuisines.
Days Hotel Neemrana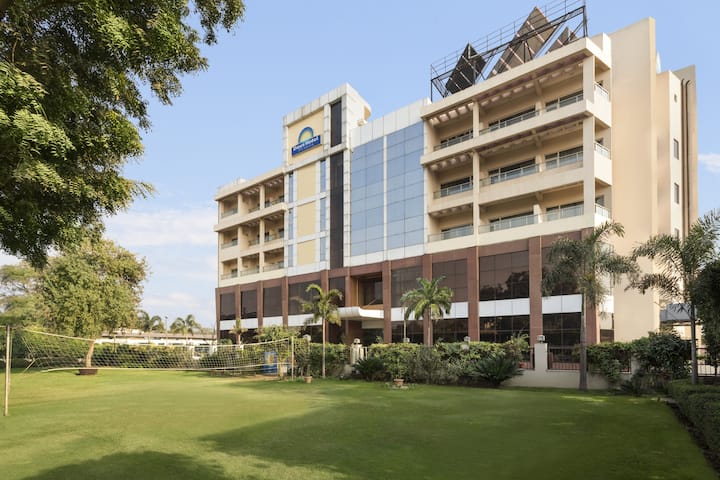 Days Hotel by Wyndham is a popular 3-star hotel situated in Neemrana, known for its magnificent Neemrana Fort Palace.
This vibrant state presents a unique blend of various cultures, including its rich history.
The hotel is 450 meters from Shahjahanpur Bus Stand, making it a prime location for staying the night.
The location of the hotel is perfect, providing guests with peace and serenity. The front desk is also very responsive to guests.
The rooms are modern in design, allowing you to get a luxury experience at an affordable price.
Clean bedding is provided in all rooms. In addition, each room has a TV, electronic safe, tea/coffee maker, Wi-Fi access and a stocked mini-bar on site.
All the rooms have attached toilets with basic amenities and hot water. Guests can order room service from the staff at any time of day or night.
Ramada Neemrana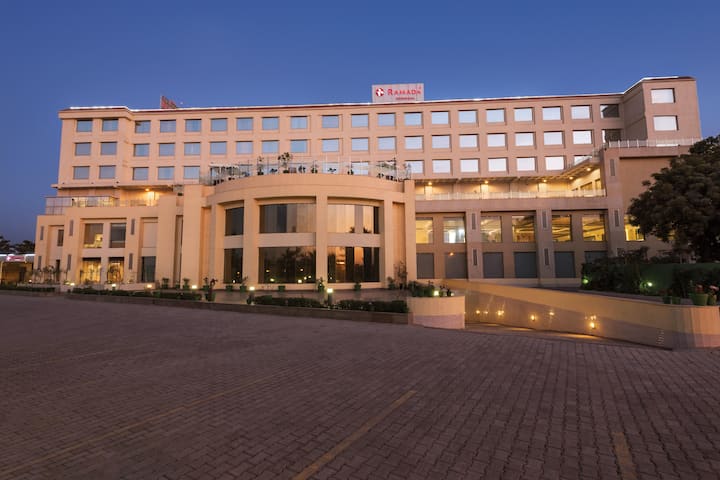 Ramada Neemrana offers an outdoor swimming pool, fitness center and spa with a wellness center. It's located just off the Delhi-Jaipur Highway. The property features two dining options and free Wi-Fi access.
Rooms offer air conditioning, cable TV, and a seating and working area. The bathrooms also have amenities such as a hairdryer as well as slippers.
The Neemrana Fort Palace is 10 km from the Ramada property. The Shahjahanpur Bus Station is 1 km away. The Rewari Railway Station, 25 km away, and the Indira Gandhi International Airport have located 88 km from the hotel grounds.
Ramada Neemrana offers a restaurant, massage parlour and sauna. Meeting facilities, tour desk, luggage storage and currency exchange are available as well. Car rental can be arranged too.
Tokio is an exclusive Japanese restaurant, while Cascade serves both Indian and Chinese dishes. Room service is available for private dining. There is also a 24-hour coffee shop.
Cambay Sapphire Neemrana
Cambay Sapphire Neemrana offers air-conditioned rooms, flat-screen cable TVs, and scenic desert landscape views.
It is home to a mini-golf course, fitness center, restaurant and business center.
Cambay Sapphire is a 3-star budget hotel that features modern rooms with comfortable armchairs and wooden flooring. In addition, the comforts of an attached bathroom can be found, along with a safe and minibar.
The Cambay Sapphire hotel is a 15-minute drive from historic Neemrana Fort. It is 20 km from Behror and 30 km from Rewari Railway Station, and 130 kilometres from New Delhi International Airport.
Providing 24-hour reception, staff can also assist with travel and currency exchange needs. In addition, 24-hour in-room dining is available.
Grand Hira Resort
Enjoy a stay at Grand Hira Neemrana, which has offered an outdoor pool, indoor games, mini-golf course and panoramic views of the city.
The property is located just 71 km from Alwar, Rajasthan, on the Delhi-Jaipur highway. The nearest airport to the property is New Delhi Airport (105 km).
The Grand Hira resort is an opportunity to experience luxury amid natural beauty. Temples and wildlife sanctuaries surround it.
The property arranges trips to nearby attractions and provides an airport shuttle service at an additional cost.
The property offers 70 well-maintained rooms, categorized into Standard Rooms, Deluxe Rooms, Executive Rooms and Suite.
You can enjoy several amenities at the resort, including an indoor gym with cardio equipment and weight machines, as well as an indoor pool and tennis court.
You can also enjoy treatments and relaxing massages at the onsite spa. Away from the hustle and bustle of day-to-day life, guests can enjoy playing mini-golf or billiards.
The Neemrana Fort is located 5 km away from the property.
Conclusion: Neemrana is a beautiful, small town in Rajasthan that's well worth the visit. It has history and nature all around it, making for an enjoyable stay. If you want to go somewhere peaceful this weekend, then head out to Neemrana!
India is known for welcoming and treating guests like royalty, and the luxury hotels in India provide an unforgettable experience.
The 7 star hotels in India are the perfect way to experience royal luxury and elegance.
These properties have been around for centuries, but now they are being transformed into 7-star luxuries that rival any other hotel you can find in the world!
These luxurious hotels are with large rooms, delicious food, and beautiful views.
The 7 star hotels in India are located near tourist attractions so that guests can enjoy everything these magnificent countries have to offer!
These premium hotels in India worth a royal stay that has hosted many important dignitaries and celebrities.
Here are some of the 7 star hotels in India:
1) Taj Umaid Bhawan Palace, Jodhpur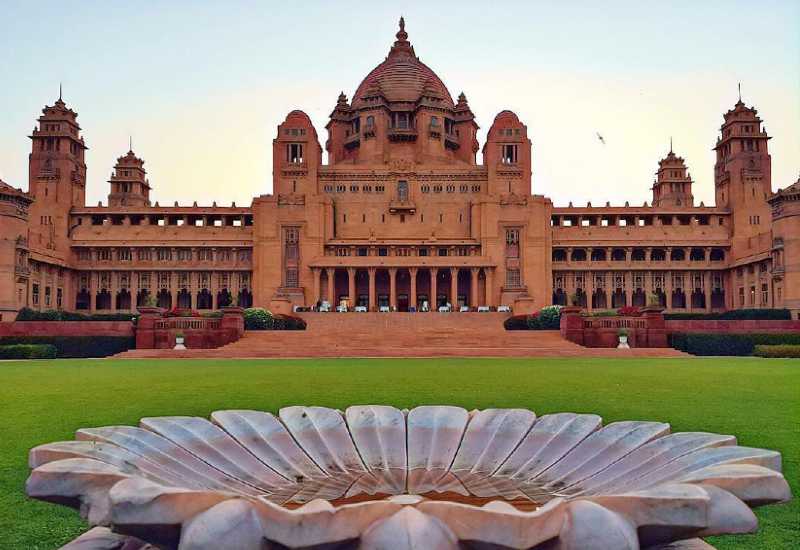 This royal hotel is located in the state of Rajasthan and has hosted many famous people, including Bill Clinton.
Built between 1928 and 1943, this yellow sandstone palace spreads over 26 acres of gardens.
Features art deco and renaissance design, the hotel offers 2 swimming pools and pampering treatments at the Jiva Grande Spa.
Their accommodations are elegant, with marble floors, a pool, and an outdoor terrace overlooking the city.
The hotel has 22 rooms and 42 suites categorized into Palace Room, Historical 1 Bedroom Suite, Royal 1 Bedroom Suite, Grand Royal 1 Bedroom Suite, Maharaja Suite, and Maharani Suite.
This 7-star hotel can be found in the capital city of Jodhpur, only a 15-minute drive away from the airport and 2.5 km from the railway station.
Major attractions and monuments like Mehrangarh Fort, Clock Tower Market, and Jaswant Thada are 9 km away.
The Umaid Bhawan Palace also offers guests access to Indian beauty therapies and hot tubs and steam rooms that let them relax after exploring India's ancient palaces for days on end!
For those active, health-conscious travellers, there are yoga studios and a gym.
The hotel offers onsite childcare, which provides babysitting and infant cribs.
Guests can access a wide array of services, such as 24-hour concierge and free Wi-Fi in all rooms.
Price range
Palace room starts from 19,500/- per night and there are Maharaja/Maharani suites available for INR 2,16,949/- per night.
Restaurants
Risala, a feast-worthy restaurant based on royal recipes in India's most luxurious hotels.
Pillars is a lovely open-air café with European and Mediterranean delicacies, drinks and snacks.
Trophy Bar offers a selection of drinks, wines, and cocktails along with appetizers.
2. Rambagh Palace, Jaipur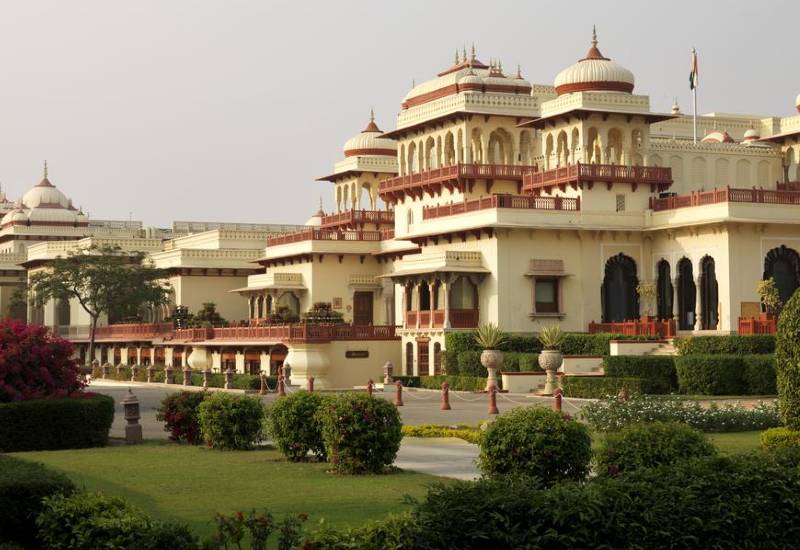 Rambagh Palace, Jaipur is a 7-star heritage hotel in India that has continuously hosted royalty for over 150 years.
Originally built in 1835, located near the Ram Niwas Garden on the outskirts of Jaipur, this palace features two wings and an impressive courtyard lined with trees.
Presenting manicured gardens and beautiful Indian architecture, the luxurious Rambagh Palace was the former residence of the Maharaja of Jaipur.
The Mughal Gardens are 12 acres filled with lush green lawns, fountains, ponds and walkways leading to several pavilions where guests can relax.
The hotel offers a variety of accommodation, including the Palace Rooms, Historical Suites, Royal Suites, Grand Royal Suites, Grand Presidential Suite and Luxury Room.
The building itself boasts marble floors throughout its sprawling ballrooms which have hosted some famous Rajasthani weddings and concerts from international artists like Stevie Wonder and Michael Jackson.
Known as the "Jewel of Jaipur," Rambagh Palace is about 2.2 mi from the City Palace, Hawa Mahal and Jantar Mantar. It is 6.8 mi from Jaipur Airport.
Price range
Palace room starts from 25,000/- per night and there are Grand Presidential Suite available for INR 2,16,949/- per night.
Restaurants at the property
Suvarna Mahal restaurant features dishes from Indian cuisine.
Steam is a bar where you can eat food from around the world. They have really good food, like wood-fired pizzas and also drinks that are made from beer.
Verandah Cafe serves light snacks from Indian and continental foods. You can have afternoon tea there
Rajput Room is a restaurant that serves breakfast, light food, and hot drinks all day.
Polo Bar offers an exclusive range of drinks. They have cocktails, whiskies and single malts in a bright atmosphere.
The Oriental serves foods from countries in the Asia region. The food tastes good and is served in a fancy setting.
3) Taj Lake Palace, Udaipur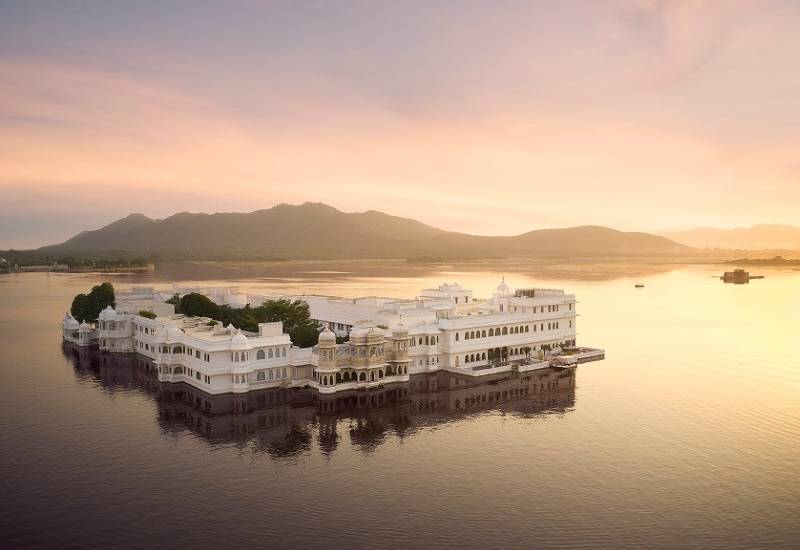 The Taj Lake Palace has become a luxurious 7-star hotel. The palace sits on the shores of Lake Pichola in Udaipur.
The hotel was built as an anniversary gift from Maharaja Sawai Man Singh II to celebrate his wife's love and marriage.
Today, the magnificent palace still stands overlooking the calm blue waters from its vantage point on the banks of Pichola Lake.
This place has been featured in James Bond Octopussy, Lagaan and Malgudi Days because of its location.
There are many amenities near the hotel, including pools, golf courses, scuba facilities nearby and more!
The Maharana Pratap Airport is 29.3 km from this property, and the Udaipur Railway Station is located 2.9 km away.
The hotel is 3.1 km away from the Udaipur Bus Station.
The property features 83 rooms and suites that display the royal grandeur of India.
We're not sure where you went in India, but they have got the best accommodations around.
Their 24-hour on-call butler service, pillow menus, coffee/tea makers, dry cleaning and minibar, among other amenities, so that you never have to leave your suite for anything.
Price range
Luxury Room starts from 23,500/- per night and there are Grand Presidential Suite available for INR 2,16,949/- per night.
Restaurants at the property
Neel Kamal restaurant is dinner only and it looks over the beautiful pond. The food is delicious and they use organic ingredients.
Jharokha restaurant specializing in multi-cuisine flavours and enjoy the lake view.
Bhairo restaurant is open only during the winter season. It has a beautiful view of the lake and the Aravalli mountains.
Amrit Sagar serves international wines, cognac, single malts and cigars at this bar.
4) Wildflower Hall, An Oberoi Resort, Shimla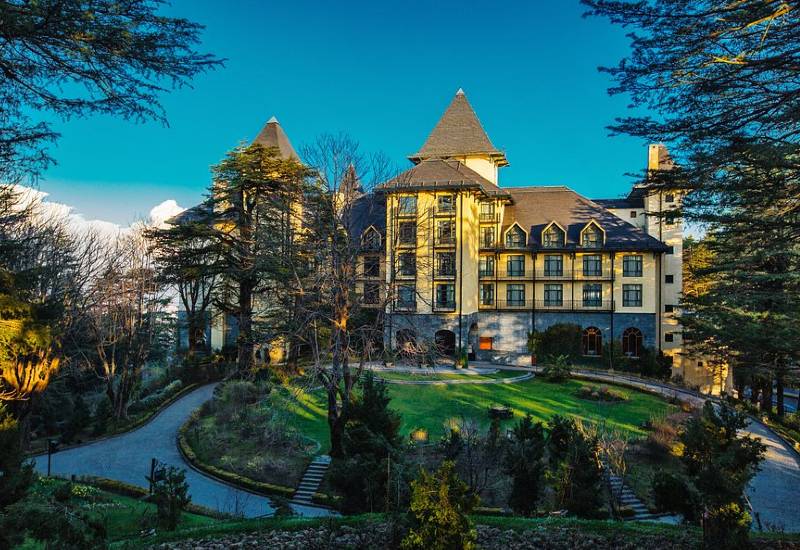 Another 7-star resort in India that is world-renowned for its astounding views and luxury, Wildflower Hall in Shimla is the epitome of Indian grandeur.
Guests are treated to a stay at this seven-star hotel, highlighting some of India's most stunning architecture with valley view rooms and suites.
This hotel is different from others because it has a pool outside. It's perfect for relaxing after you go on an adventure.
This place has a lot of things to do. You can play tennis, golf, and even go paragliding! There are also cars that will drive you around town all day.
Wildflower Hall features 83 rooms with superb mountain, valley and garden views. The rooms are furnished with luxury furniture and chandeliers from the colonial era.
There are 5 categories of rooms- Deluxe Suite, Lord Kitchener Suite, Premier Mountain View Room, Premium Garden View Room, and Deluxe Garden View Room.
Guest can take a swim in the indoor heated swimming pool to relax and unwind. The outside Jacuzzi, which has a view of the cedar trees and the snow-capped Himalayas, will help you relax.
The Shimla Airport is 31 kilometres from the resort. The nearest train station to the property is the Shimla Railway Station, which is 13 kilometres away.
Wildflower Hall Resort is more than 8000 feet above sea level, and it's nearby the Shimla Reserve Forest Sanctuary which is 1.2 kilometres away.
Price range
Deluxe Room starts from 25,500/- per night and there are Lord Kitchener Suite available for INR 1,20,000/- per night.
Restaurants at the property
The Restaurant has inside and outside area. It has a conservatory where people can sit and eat their food. The food is Asian or European.
The Cavalry Bar is precious, well-delineated old-fashioned bar has been inlaid with the original and local artwork and displays the finest assortment of wines, beers, and spirits.
Lutyens Hall restaurant only serves dinner and has a luxurious private dining area with crystal chandeliers and a view of the lush garden.
5) Taj Falaknuma Palace, Hyderabad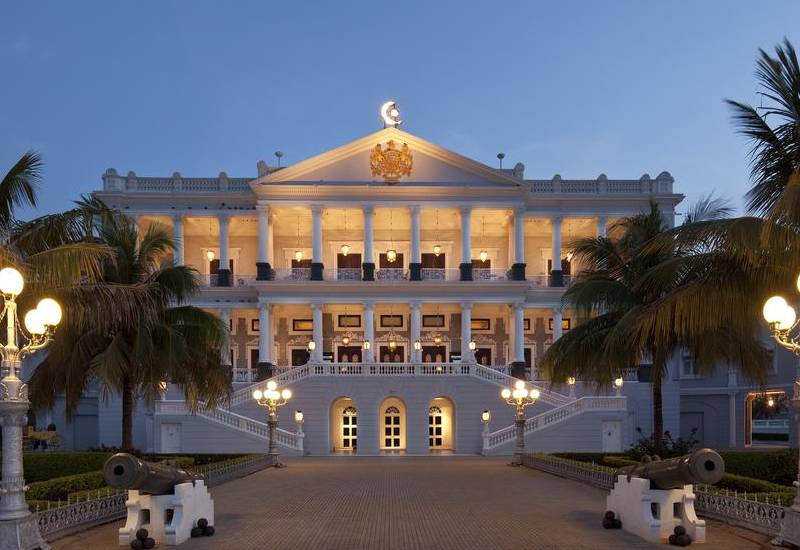 Taj Falaknuma Palace is a heritage property in India, and it's the only one from the Nizam era given 7-star hotel status.
The Taj Falaknuma Palace hotel is situated in Engine Bowl in the Falaknuma area of Hyderabad, India.
Perched on a height to offer guests amazing panoramic views of Hyderabad City, the exquisite hotel provides an alluring stay.
The property is spread across 32 acres and allows travellers to journey to the gilded ages, where luxury and excess are celebrated.
The 60 rooms and suites are elegantly refurbished and carefully restored by Princess Esra, the Nizam's Turkish wife.
Every room has a flat-screen TV and DVD player, electronic safe, mini-bar with snacks, iron, hairdryer and tea/coffee machine.
Bathrooms feature a separate shower with a rainfall head and comfy bathrobes, slippers and designer toiletries.
Price range
Palace Room starts from 19,000/- per night and there are The Nizam Suite available for INR 5,08,475/- per night. According to price, this is most expensive hotel in India.
Restaurants at the property
Celeste, The restaurant is open 24 hours and serves Italian and Mediterranean food. It is really good!
Adaa, The on-site restaurant specializes in food from Hyderabad that has a very authentic taste.
Hookah Lounge The lounge has special drinks. You can enjoy special Jasmine Sour Martini or the Orange Coriander Mojito here.
Jade Terrace, The on-site terrace cafe is a fantastic spot to enjoy afternoon tea with scrumptious treats.
You can go to the library on site and look at all the books! There are a lot of rare books.
At Jiva spa, you can get a happy time! They have the best spa and make you feel relaxed.
The closest airport is Rajiv Gandhi International Airport, located 17 kilometers from the resort and Falaknuma Railway Station, 2.5 kilometers from the resort.
6) Taj Madikeri Resort & Spa, Coorg
Nestled in the town of Madikeri, located in the beautiful hill station of India and overlooking cardamom plantations, Taj Madikeri Resort offers luxury accommodations.
Taj Madikeri Resort & Spa offers a wide range of accommodations to guest with different budgets: economical to expensive, luxurious suites.
The hotel features seven restaurants that offer international and regional cuisine, two outdoor swimming pools for guests' leisure time.
With its natural beauty encased by lush greenery all around, this hotel has become one of India's premier honeymoon destinations and promises a memorable getaway!
At an impressive 4,000 feet above sea level, this is a breathtaking location.
Price range
Superior Cottage starts from 15,400/- per night and there are Presidential Nirvana Suite available for INR 1,74,900/- per night.
Restaurants at the property
Fern Tree- This restaurant serve many different kinds of food. There are outdoor and indoor seating areas with a cozy atmosphere.
Nellaki- You can taste the food from Coorg made with locally grown ingredients at this restaurant.
Poolside Grill- A stylish grill restaurant located next to the outdoor pool providing breathtaking views of lush hills alongside tasty grilled delicacies.
Dew- The restaurant is well stocked with juice and salad options, perfect for anyone trying to stay on a diet.
Hive Bar- An extravagant bar features drinks, including handcrafted cocktails and a variety of liquors.
7) Taj Bekal Resort & Spa, Kerala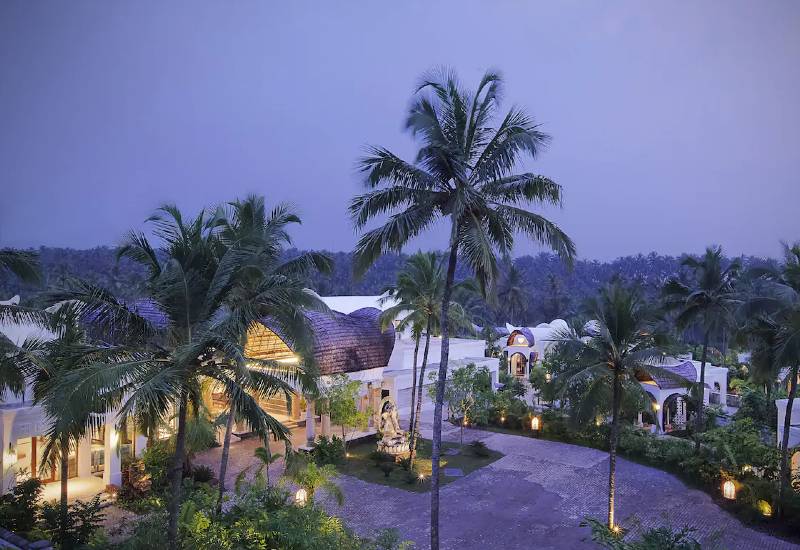 The Bekal Beach Resort & Spa is located on a pristine beach in Kerala, India. The property offers unparalleled access to Kappil Beach, less than a minute walks away.
Luxurious villas with private pools can be booked for exclusive use. The guestrooms at this hotel are spacious and airy. They have modern furniture that a local artisan makes.
The property has a total of 66 rooms and villas that are styled of Kerala's Kettuvallam houseboats.
You can enjoy a bike ride to the Bekal Fort, which is 10 minutes from the resort. Spend a whole day on a boat at the backwater. This is an excellent way to see many things. You will get a home-style lunch and evening tea.
To maintain your fitness regime while on vacation, the hotel provides a well-equipped fitness centre with free WiFi. The hotel is also pet-friendly, so you don't have to miss your furry friend!
Mangalore Airport is 72.5 km away from the resort. Kasargod Railway Station is 21 minutes away. Travellers like this property because it's close to the beach.
Price range
Superior room starts from 9,250/- per night and there are Presidential Suite available for INR 2,01,500/- per night.
Restaurants at the property
By the Bay- There is a restaurant that specializes in Coastal cuisine. You can taste the fresh catch of the day. The food is delicious and cooked in a coastal style.
Ivory Bar- At this bar, you can reminisce about your best moments and make new memories when enjoying their uniquely themed drinks.
Backwater Cafe- You can taste the food from different countries and try the local food in this restaurant.
Grill N More- A special restaurant that offers good food and a poolside view. They close the restaurant during the monsoon seasons because of rain.
8) The Oberoi Rajvilas, Jaipur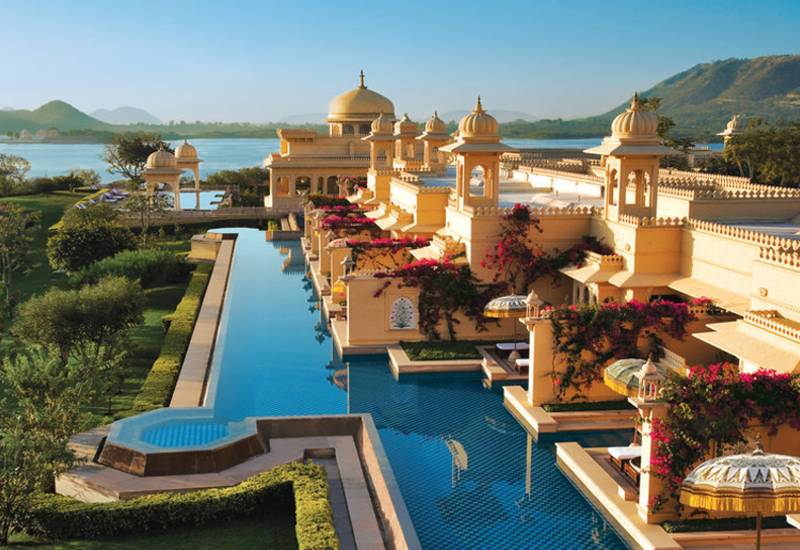 One of India's most popular seven star hotel in India, this luxury hotel has been featured on many television series and documentaries.
The Oberoi Rajvilas is spread out over 32 acres and features traditional Indian architecture.
At night Mashaal torches and reflection pools give the hotel grounds a romantic feel.
All rooms and villas offer glorious garden views with a sense of yesteryear.
The traditional architecture inspires room design from Rajasthan, which blends perfectly with modern conveniences.
The City Palace is the home of the former ruling family of Jaipur. The palace is 11 kilometres away.
Hawa Mahal is a beautiful palace. It is 10 km away. You can visit it and see many other cool things there too!
Price range
Premier room starts from 20,000/- per night and there are Royal Tent available for INR 1,35,000/- per night.
Restaurants at the property
Surya Mahal - Surya Mahal is a fine dining restaurant offering Western, Mediterranean, Asian and Indian cuisines.
Raj Mahal - Restaurant that specializes in local delicacies.
Rajwada Library Cafe - Offers a wide selection of drinks, including cocktails, single malts and mocktails.
9) The Taj Mahal Palace, Mumbai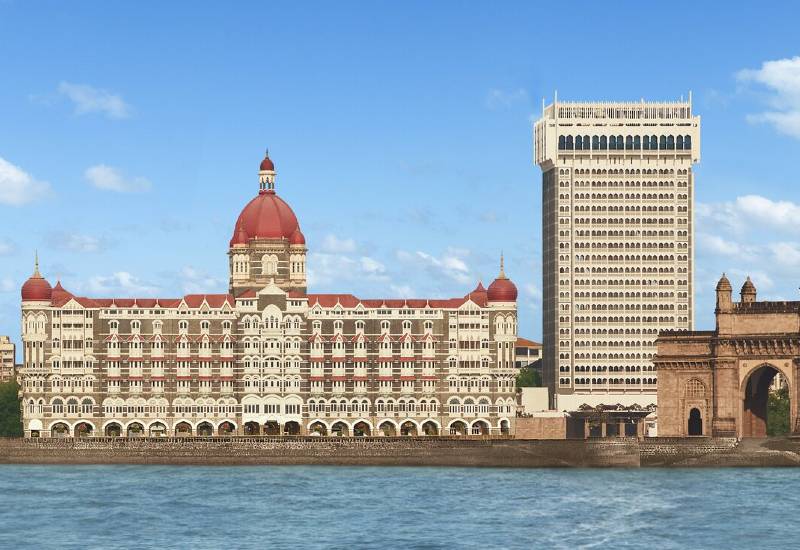 The Taj Mahal Palace, Mumbai, is one of India's finest examples of traditional Mughal architecture.
One of the best Taj hotels in India, this limelight Mumbai landmark has played host to kings, dignitaries and eminent personalities from across the globe.
Located in the center of South Mumbai, guests will find this luxurious heritage hotel adjacent to the landmark Gateway of India (located at one end) and next to the Arabian Sea on another side.
This 7 star hotel in Mumbai Located in the vicinity of Mumbai's famous Colaba Causeway, this hotel is close to popular destinations.
This Mumbai hotel offered 285 rooms and suites. The rooms are a combination of modern facilities and rich history, with every room being reminiscent of royal heritage.
The hotel features 11 hosting spaces that can accommodate up to 650 guests for significant events.
Price range
Luxury room starts from 12,500/- per night and there are Grande Luxury Suite available for INR 70,000/- per night.
Restaurants at the property
Masala Kraft is famous for its authentic Indian cuisine.
Golden Dragon is a place where you can enjoy both Sichuan and Cantonese food. You will have a unique experience because it's cooked in front of you.
The Shamiana offers an extravagant all-day dining experience that is known for offering international cuisines.
Wasabi by Morimoto is a award-winning restaurant. It has authentic Japanese food. Some ingredients come from Japan.
Sea Lounge is a good place to eat. They have English dishes, tea, coffee, and drinks with a view of the harbor. The music that they play also makes it better to eat there.
Aquarius is an outdoor poolside restaurant that provides appetizers, drinks and desserts.
Officially, there is no such thing as a 7-star rating in hotels but these are above the 5-star category because of its luxury and royal feel.
When a new hotel opened in Burj Al Arab, Dubai, the journalist who was there called it "7-star". Standard of these hotels are much higher than the regular five stars hotels.
That's why you will find these hotels listed as 5-star on online portals like MakeMyTrip.
Mumbai is a city that has lots of people and traffic. The city is filled with people who are chasing their dreams. They want to make a small home here at this place.
After a long week of work, everyone needs to take a vacation to relax. When you go on vacation, you will be refreshed and feel better.
If you need an escape from the hustle and bustle of your daily life, then head out on vacation! But it's not always easy to find the right resort that can offer all the luxuries of home with just as much excitement and adventure.
Mumbai has a lot of hotels and resorts for families and couples to stay in. The hotels are both luxury and budget. This will make your weekend getaway relaxing and rejuvenating.
In this blog post, we will discuss some of the best resorts near Mumbai where you can take life by the horns once again and enjoy yourself.
Luxury Resorts near Mumbai
1) Hilton Shillim Estate Retreat And Spa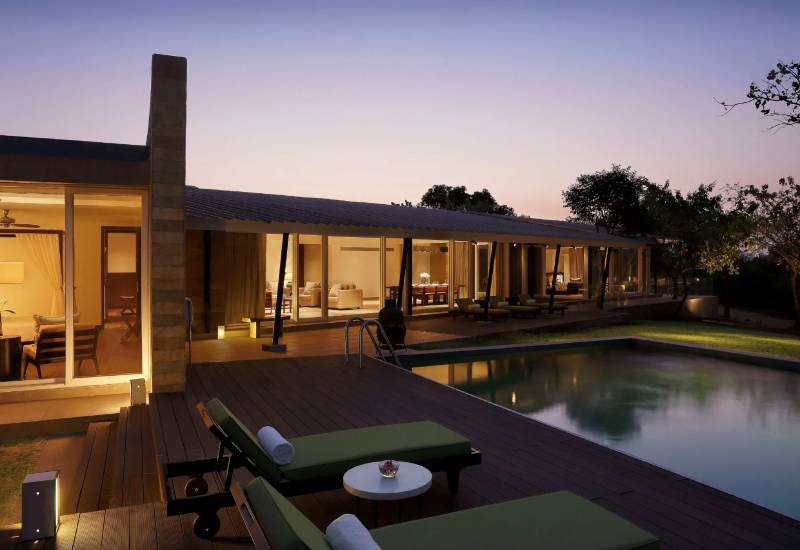 Located in the lap of Western Ghats, this luxury resort provides a good stay. It is not too far from Mumbai, and it offers some good options for rest.
You can get away from the busy city of Mumbai by driving for a few hours and entering this luxurious villa. There are many things to do, like organic food, meditation, and yoga. You will be peaceful here for the rest of your weekend.
Their kitchen has ingredients from the farms. They use organic food.
Location: Pawana Nagar, Taluka Maval, Shilimb, Maharashtra 410406
Approximate Distance from Mumbai: 110-115 km
Approximate cost for a night: Starts from INR 15,000
2) Aamby Valley City, Lonavala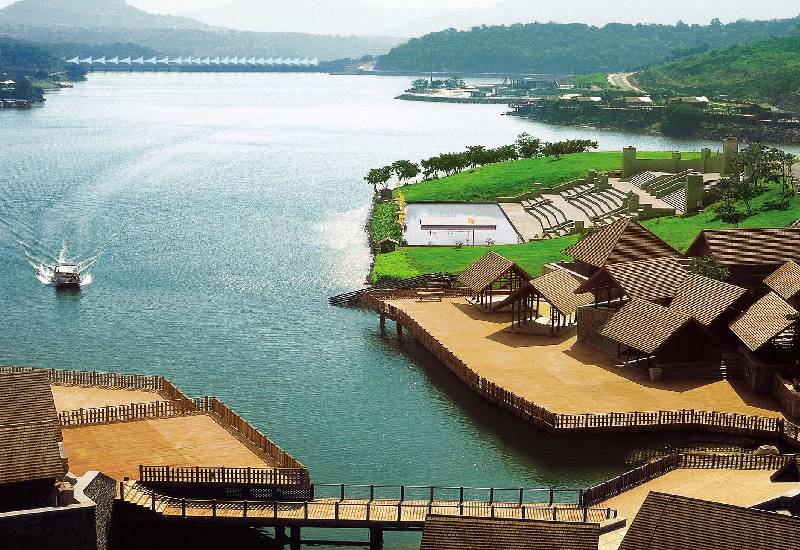 Aamby Valley City is a new Hill City. It will take up 10,600 acres (4,294 hectares) of land.
Aamby Valley is a place that says luxury. It is not far from Mumbai, and the drive there is filled with sharp valleys, great roads, and even monkeys!
You can pick a room from the Burmese suite or maybe you would prefer a Spanish-style room. Aussie Room is a house with a king-size bed. It has wood furniture, and it's big.
Wetlands at the resort offer a lot of water sports. Guests can enjoy them with their families and kids.
Woodpecker is the hotel's restaurant that offers food and drinks from all over the world. They are good, and they have a nice atmosphere. And Manuhaar is an Indian restaurant. It has a lot of different kinds of food. The decoration in the restaurant is really nice.
If you want to have a quiet evening, we recommend golf. If you want to be more adventurous, there are lots of things to do like rappelling or ziplining.
Location: Taluka Mulshi Lonavala, Aamby Valley City 410401 India
Approximate Distance from Mumbai: 105-110 km
Approximate cost for a night: Starts from INR 7,000
3) Amanzi Boutique Resort, Lonavala
Amanzi resort is a great place to refresh and recharge. They have 12 rooms, and space is spread over 4 acres.
This luxury resort is about two kilometres away from Pavana Lake. The Lonavala city centre (famous for Lonavala Chikki) is just 1.9 kilometres away.
The property has a place for kids to play outside. There is a seesaw and swings, as well. There are also board games like chess and carom.
Accommodation can be divided into different types: Garden Villa, Deluxe Villa, Premium Deluxe Villa, Cocoon and Luxury Suite.
Arches, The resort's restaurant offers a lot of good food. They have Indian recipes, South Asian coastal dishes, and other food too.
Location: 440 Tikona Peth, Pavana Dam, Gevhande Khadak, Maharashtra 410406
Approximate Distance from Mumbai: 120-125 km
Approximate cost for a night: Starts from INR 16,000
4) Radisson Blu Resort and Spa, Karjat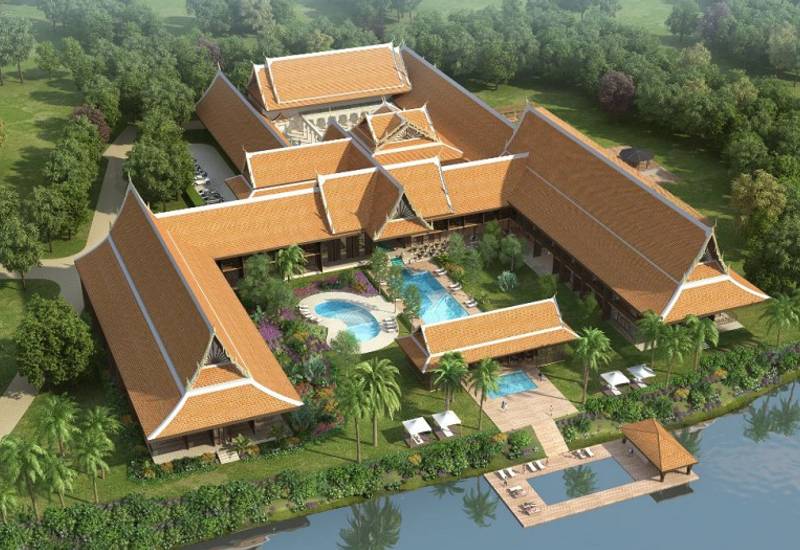 Radisson Blu Resort and Spa is in the middle of Mumbai and Pune. It is 4 km away from the Ulhas River, which has beautiful views.
The Chhatrapati Shivaji International Airport in Mumbai is 76 kilometers away. The Karjat Railway Station is 6.1 kilometres away from this resort.
The 5-star property has two floors with 102 rooms. They have air conditioning and have high ceilings, wooden floors, and contemporary lighting.
There are five rooms: Deluxe Room, Superior Room, Business Class Room, Suite and Suites with Two Bedrooms.
Spend time with your kids in the gaming area - play outdoor games like badminton and table tennis.
Palms - There is a restaurant that offers different foods. It has a buffet and also food to order.
Pool Bar and Grill - A pool-side bar with snacks and drinks.
Location: Village Khandpe Karjat, Karjat, Maharashtra
Approximate Distance from Mumbai: 70-75 km
Approximate cost for a night: Starts from INR 12,000
5) Le Méridien, Mahabaleshwar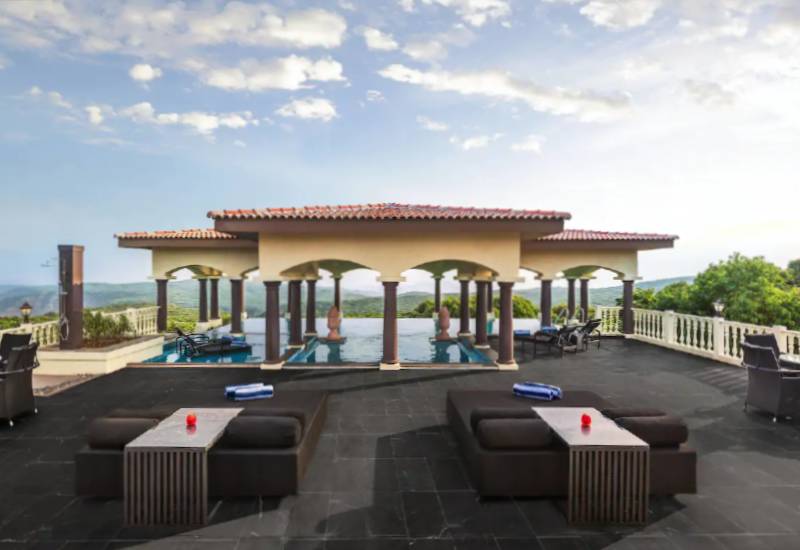 Le Meridien Mahabaleshwar Resort and Spa is a beautiful resort. It is near the city center on Satara Road in Maharashtra.
Le Meridien Resort & Spa is on 27 acres of land in Mahabaleshwar. It is a very nice place with lots of activities. This resort is pure magnificence, grandeur, and luxury.
The resort has a fitness center with the latest workout equipment. There are two well-maintained swimming pools for those that want to swim on a warm day and two big ballrooms which can be used as dance floors or even wedding ceremonies.
The resort offers modern rooms and suites, luxury facilities, deep soaking tubs, and private balconies with Western Ghats views.
The rooms are called Classic Forest King Room, Classic Forest Twin Room, Classic Valley King Room, Tranquility Suite and Sanctuary Suite.
It also has a luxurious spa section, where you can avail yourself of relaxing Couple Massages and Beauty Treatments.
The Mahabaleshwar temple is 7.7 km away, and the Lodwick Point is 5 km away.
It has a Chingari Restaurant with a rustic look and catering to North Indian, Awadhi and Hyderabadi cuisines.
Plunge Bar, located next to the infinity pool, serves mouthwatering beverages and snacks with a view of the hills.
Location: Satara-Medha-Mahabaleshwar Rd, Mahabaleshwar, Maharashtra 412806
Approximate Distance from Mumbai: 260-270 km
Approximate cost for a night: Starts from INR 15,000
6) Fort Jadhavgadh at Pune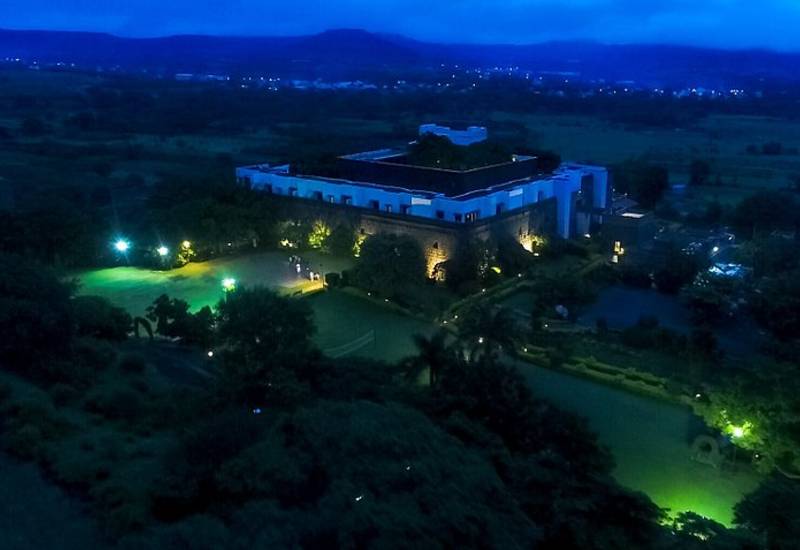 One of the best getaways in Maharashtra, Fort Jadhavgadh, provides a glimpse into Shivaji's reign. This resort has preserved its royal feel to generate a one-of-a-kind, majestic ambiance.
This area also includes a museum that displays artifacts from the Maratha period.
Accommodation options range from Maharaja suites to Royal tents.
The resorts offer adventure activities like bullock cart rides and treks around the fort for those looking for an adventure. Additionally, they also host martial arts shows as well.
Fort Jadhavgadh is an ideal getaway for a weekend away from the hustle and bustle of Mumbai. Ideally best for spending time with loved ones, the resort is 22 kilometres away from Pune.
Location: Hadapsar - Saswad - Jejuri Rd, Jadhavwadi, Maharashtra 412301
Approximate Distance from Mumbai: 190-200 km
Budget Resorts near Mumbai
1) Verandah in the Forest, Matheran
This is a big house that was built in the 1800s. It was originally for someone who was in the British army. A rich Parsi family owned it for a long time, too.
Matheran is located in the Sahyadri ranges of the Western Ghats at the height of 800 m above sea level.
The property provides a secluded location away from the crowded city of Mumbai. It gives you an opportunity to experience nature and get closer to your loved ones.
This property features 11 heritage-style rooms with modern amenities and private outdoor space.
With rooms in three categories, such as Heritage Rooms, Heritage Superior Rooms, and Elphinstone hotel suites, guests can find the appropriate accommodations.
The resort's restaurant 'The Verandah in the Forest' offers a range of dishes from Indian to European to Parsi.
Location: Charlotte Lake Road, Matheran, Maharashtra 410102
Approximate Distance from Mumbai: 80-85 km
Approximate cost for a night: Starts from INR 12,000
2) Monteria Resort, Khopoli
The Monteria resort is located four minutes from Nilishad Water Park. This resort has clean rooms with many other amenities to ensure visitors have a pleasant stay.
The Monteria Resort is a day trip destination where one can find respite and peace of mind away from the hustle and bustle of their busy lives.
In the distance, you'll see landmarks like the Gateway of India and the Prince of Wales museum.
Location: Adjacent to Nishiland Water Park Vinegaon, Khalapur, Maharashtra 410206
Approximate Distance from Mumbai: 55-60 km
Approximate cost for a night: Starts from INR 5,000
3) Eskay Resorts, Borivali
Eskay Resorts in Mumbai, is a luxurious hotel where you can rejuvenate while basking in the luxuriant greenery.
The resort is near religious sites, like the Kalavati Aai Mandir (located at a 5-minute drive), Eksar Gaon Devi Temple, New Life Fellowship Church and many more.
The resort, with its beautiful architecture and modern design, caters to any type of guest.
There are 36 well-appointed rooms with plenty of options: Tulip Room, Orchid Room, and Lotus Room.
The Samtem Kyil is a garden that has beauty and peace. It can be booked for various events to host its guests.
We recommend the Jade Bowl for authentic cuisines from Indo-Asian, Chinese, Thai, Burmese and Vietnamese styles.
Lotus Leaf is a restaurant with an impressive menu that will please any guest. Grab a cup of coffee or tea to unwind after a hectic day.
It's also located next to famous attractions like ISKCON and Bombay Exhibition Center.
The closest airport to the resort is Chhatrapati Shivaji Maharaj International Airport. The airport is 19 km away from the resort, and the Borivali station is 3.7 km away.
Location: The E-Hotel at, Eskay Rd, Resort, Mumbai, Maharashtra 400091
Approximate Distance from Mumbai: 25-30 km
Approximate cost for a night: Starts from INR 6,000
4) Zara Resort, Khandala
Khandala is a safe bet for a brief escape from the city. Leave the pressures of life behind and prepare to become one with nature at Zara Resort.
The well-manicured gardens and tile roofs will distract you from your life enough not to want to leave this place.
The resort offers various accommodation options - Deluxe Room, Super Deluxe Room, Vintage Room, Moghul Room.
The hotel features an outdoor swimming pool and offers a variety of refreshments to enjoy. The resort has a designated game room for guests to enjoy casual games.
Rajmachi Viewpoint is 500 meters from the resort, where it's possible to explore Rajmachi Fort across the valley on the opposite side. Chatrapati Shivaji built this fort.
The resort boasts about its taste tantalizing delicacies, providing authentic Indian flavours and cuisines worldwide.
Location: Pune-Mumbai Road Near D.C. High School, Khandala, Maharashtra 410301
Approximate Distance from Mumbai: 75-80 km
Approximate cost for a night: Starts from INR 5,000
Jim Corbett National Park is a vast jungle in northern India that offers endless possibilities for travellers.
Whether you're looking for some solitude, an adventure with the family, or luxury accommodation against a backdrop of natural beauty, Jim Corbett has something to offer every type of traveller.
About Jim Corbett National Park
Jim Corbett National Park is one of the most popular wildlife regions in India. It has many animals and plants, including tigers, elephants, leopards, and more.
Many tourists come to Jim Corbett Park with the prime objective of booking a jungle safari.
For a once-in-a-lifetime experience, try the Jeep Safari or the Canter Safari. These tours provide you with an opportunity to see wild animals in their natural habitat.
The natural beauty and abundance of wildlife attract many visitors each year - but what if you want to experience the best hospitality with something more than just nature?
If your answer is yes – then search no further! We have compiled a list of the best resorts in Jim Corbett that will make you feel like royalty as soon as you arrive.
Here are our favourite resorts set deep within the Park - luxurious lodges and hotels guaranteed to make your trip unforgettable!
Aahana Resort, Jim Corbett
Namah Resort, Dhikuli Road
Tarangi Resort
Paatlidun Safari Lodge, Mohaan
Lebua Corbett, Mohaan
The Solluna Resort, Marchula
Lemon Tree Premier Corbett, Mohaan
The Golden Tusk, Dhela
Brys Caves, Mohaan
Taj Corbett Resort & Spa, Near Garjiya Devi Temple
Corbett The Baagh Spa & Resort, Patkote
Corbett River Creek Resort & Spa, Marchula
Acorn Hideaway Resort & Spa
Corbett Riverside resort By Aahma
Aahana Resort, Jim Corbett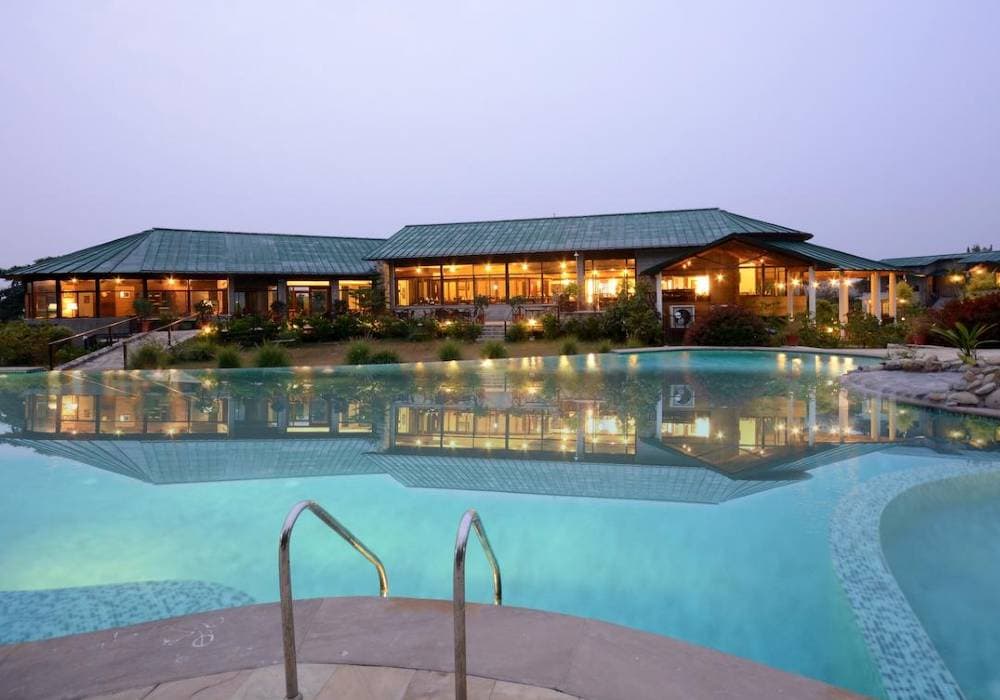 The Aahana Resort is located in Jim Corbett National Park, Ramnagar, Uttarakhand. The resort offers various amenities and beautiful gardens to make your stay as enjoyable and memorable as possible during your vacation in India.
Aahana resorts in Jim Corbett offer Organic Gardens, Accommodation, Activities & Excursions, Naturopathy Centre, Destination Weddings and conferences.
The resort offers five types of accommodation- Corbett Club, Jim's Retreat, Jungle Lore, Rangers Suite & Family Suite- all spread over a sprawling 11 acres at the southern edge of Corbett Tiger Reserve Uttarakhand.
Namah Resort, Dhikuli Road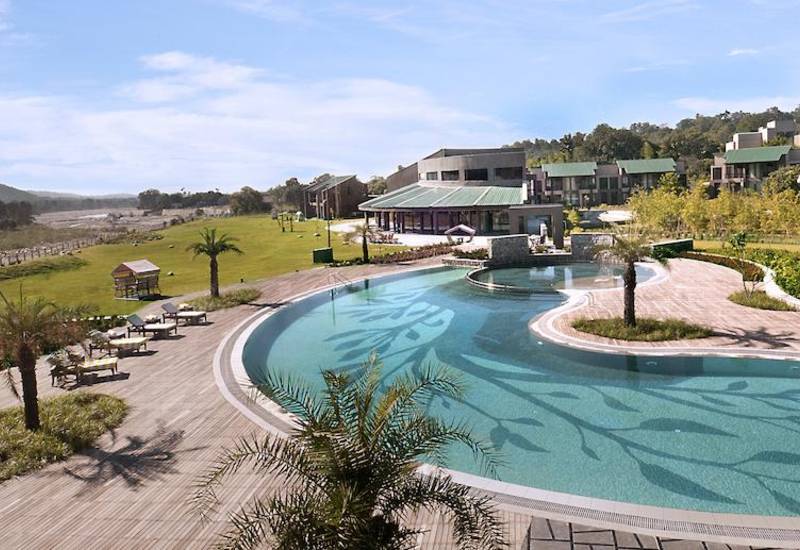 Namah Resort is one of the best from the list of best resorts in Jim Corbett. The resort offers gorgeous views of the surrounding jungles and forests, with the facilities of Spa, Gym, Recreation Activities, business centre and Swimming pool.
The resort organizes romantic wedding ceremonies set against the backdrop of beautiful mountains and the Kosi River.
Namah Resort offers accommodation options starting from Premium Room to Suite that are splendidly furnished and provide breathtaking views of the jungles around them.
Rooms have some of the amenities you would expect at a 5-star hotel, like a LED TV, laundry service, tea/coffee maker, free Wi-Fi, and a private sit-out area.
Tarangi Resort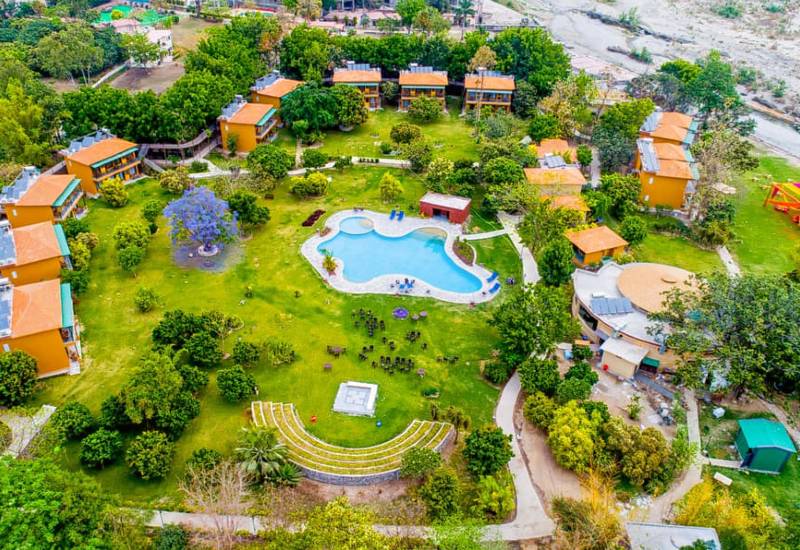 Set within the wildlife sanctuary with views of the river Kosi and Sitabani forest, Tarangi Resort and Spa is a serene getaway for nature lovers, photographers, couples, and families.
Greet nature in our verdant gardens and reflect on a fulfilling experience. The Spa provides personalized treatments using sparkling oils, herbs, flowers, leaves and other indigenous ingredients.
The hotel's rooms are classified into six categories: 1) Sarang, 2) Sarang Family, 3) Luxury Cottage, 4) River View Cottage, and 5) Jal-The Pool Villa, and 6) Whispering River View Villa.
Panorama is a multi-cuisine restaurant that serves a menu of Indian, Continental and Chinese cuisine with an unbeatable view.
Curley Chairs is another restaurant with outdoor seating that serves delicious grilled and barbecue dishes.
Paatlidun Safari Lodge, Mohaan
Paatlidun's Safari Lodge, jungle-style accommodations, help travellers to enjoy the sights and smells of Jim Corbett National Park.
This wildlife luxury hotel captures the essence of unspoilt nature and provides Kumaoni hospitality to guests.
This is the closest you'll get to the Corbett Tiger Reserve--the resort is located at the edge of the Park, which means guests often see tuskers and wild boars in their natural habitat.
Paatlidun resort offers 18 cottages that are categorized into three different levels of luxury - Bush Cottage with Jacuzzi, Luxury Cottage and Premium Luxury Cottage.
The resort has four types of restaurants for you and your family to choose from - Riyasa the Restaurant, Chakh the Bar and lounge, Bush Diner and Dhaba-Chah Pani.
Lebua Corbett, Mohaan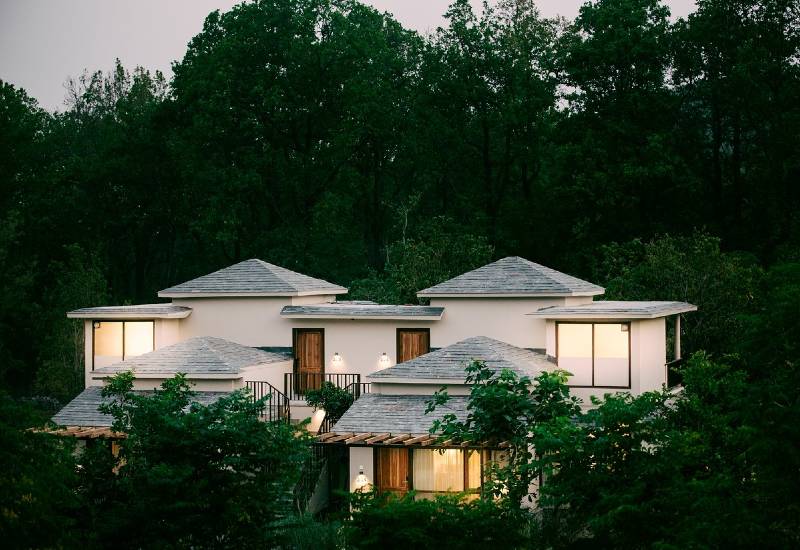 Lebua Corbett offers guests a rare and up-close encounter with nature at its most spectacular.
The hotel has 44 rooms and is spread out over 9 acres of land, of which the suites have a balcony to sit and enjoy clear views of the greenery, whereas residences have an additional terrace from where you can admire a breathtaking view of the night sky.
The resort offers bespoke jeep safaris, birding and nature walks, and guests are encouraged to explore the jungle either by vehicle or foot.
The property also includes two restaurants serving different types of food for travellers to enjoy authentic cuisine.
One restaurant is Azrak that serves dishes from the Kumaon and Garhwal cuisines cooked in their kitchen garden.
There's also an in-house bar with the name Saraca.
The Solluna Resort, Marchula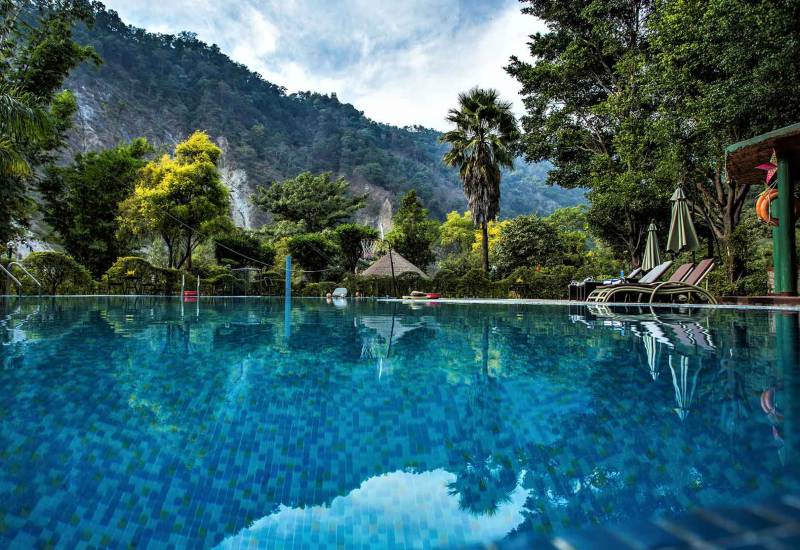 Solluna Resort is a perfect option for people who are looking for an exclusive and peaceful getaway to explore the beauty of Jim Corbett National Park with the excellent hospitality.
Whether it's bird watching or nature walks, guests can make the most out of their trip at this resort with its unique location in Marchula Valley.
The hotel offers luxury rooms that offer splendid views overlooking the Ramganga river and jungle surroundings.
Take advantage of excellent facilities like conference halls, coffee shops and recreational areas, including a library where you can sit back with a newspaper or book and enjoy pleasant serenity over tea.
The pavilion food court provides Indian, Chinese and Continental food that can be enjoyed, depending on the weather.
Dining at the Blue Lounge, a blue-lit restaurant with table settings for romantic dinners overlooking the gorgeous skies and pool.
Lemon Tree Premier Corbett, Mohan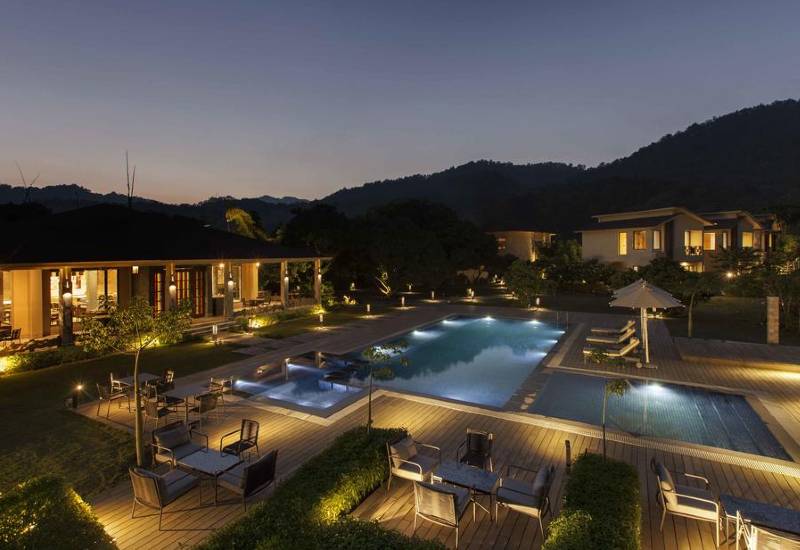 One of the best hotels in Corbett is Lemon Tree Premier, located on 5 acres of green space alongside Sal trees along River Kosi. It is a mere four kilometres away from the Dhikala Gate of Jim Corbett National Park.
The Lemon Tree resort features 68 suites with soothing decor and modern amenities. There are four room categories – Villas, Premier Rooms, Deluxe & Superior.
Rooms have amenities such as a LED TV, coffee maker, minibar and Wi-Fi.
Luxurious interiors are coupled with well-stocked minibars to ensure that every need is fulfilled at this premier Jim Corbett resort destination.
Kids at the resort can enjoy indoor games such as board games, pool table and table tennis or enjoy swings, slides, and monkey bars as the outdoor games.
The outdoor lawn can accommodate up to 500 people and is perfect for weddings and other social gatherings.
Citrus Cafe is a multi-cuisine coffee shop featuring authentic Indian, European, Pan-Asian, and American dishes. Pug Lounge is a snack bar with many drinks to choose from, such as juices, coffees and herbal teas.
Slounge is a recreational bar for those looking to relax and enjoy a drink or two. They offer many different beers, wines, cocktails, and other beverages and tasty Indian dishes in case you get hungry.
The Golden Tusk, Dhela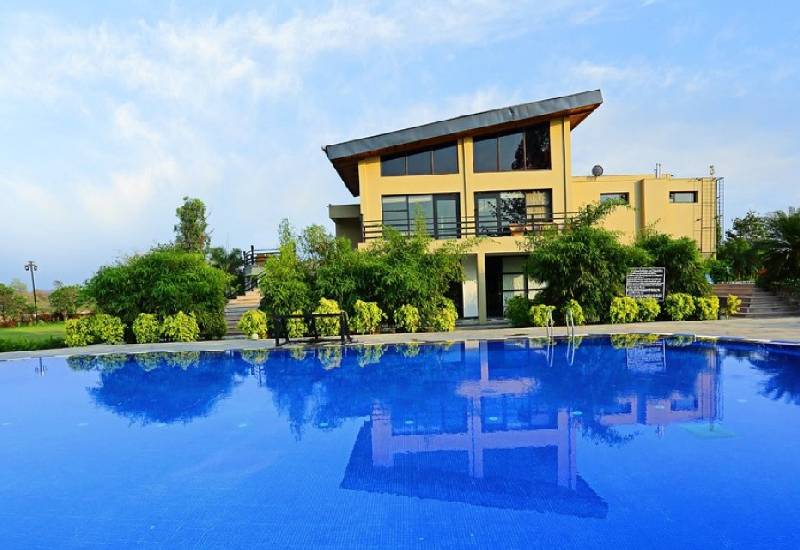 The Golden Tusk offers a stunning view of Jim Corbett National Park's lush foliage.
The Golden Tusk is a boutique resort that spans over 10 acres of meticulously landscaped estate. A short drive away from the Dhela and Jhirna Safari Zones, this venue offers guests an escape in India's most pristine forest with unmatched views and adventure opportunities.
The resort also includes an outdoor swimming pool and a gymnasium to keep you fit while on vacation.
The Golden Tusk provides travellers with options for modern hotel rooms and cottages, giving the added luxury of a breathtaking view.
Guests can choose from Country View Suite, Forest View Suite, Pool View Suite, Tiger Suite, Luxury Tents, Villa and Villa Grande with warm hospitality.
For an event, wedding or social gathering, the resort offers three rustic banquets.
Kumaoni cuisine is available upon request from the Golden Forest Restaurant, which also serves international delicacies.
The Deck - Grill and Barbecue is an open-air restaurant that offers a variety of mouth-watering grilled dishes.
The Gin Tree - You can order a drink at the Bar or enjoy music playing in the background.
So book your stay today to get deal on hotel packages.
Brys Caves, Mohaan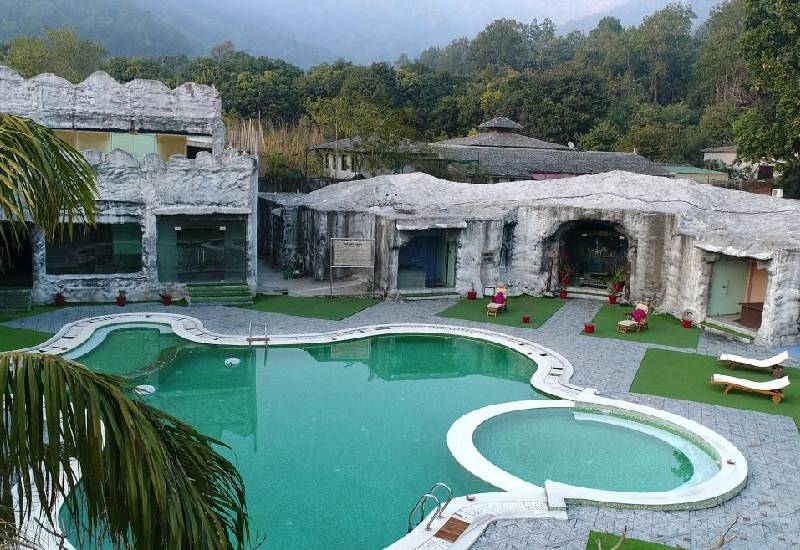 Brys Caves, Mohaan is one of the most Luxury Resorts in Jim Corbett near Ramnagar city.
This resort is designed on a cave theme, and it is a perfect place for an adventurous/romantic getaway. When you walk in, the place is cozily situated, with lush greenery around every corner.
The property offers a variety of 40 rooms or suites with dedicated options for single, double, and twin accommodations.
There are 16 Deluxe Caves, 16 Executive Suite Caves, 2 Family King Cave, 2 Family Shivalik Caves, 2 Family Queen Cave and 2 Family Tree House.
The Timberland restaurant is the on-site food provider for the guests of Brys Caves. Guests prefer to stay here because of the fantastic food they serve.
Taj Corbett Resort & Spa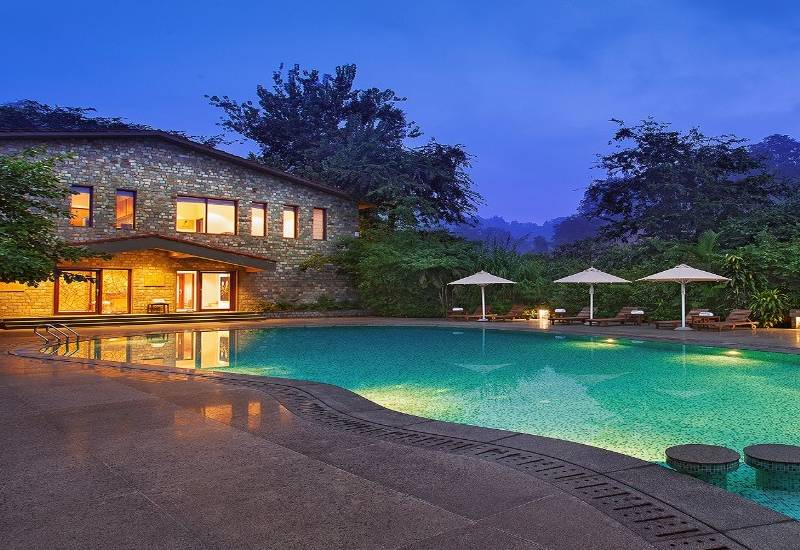 As one of the best resorts in Jim Corbett, Taj Corbett Resort & Spa offers travellers various experiences. This is the perfect place to escape from the hustle and bustle of everyday life.
Located in Jim Corbett National Park, this resort offers an authentic jungle experience with its lush gardens and wildlife. It's also close to Garjiya Devi Temple, one of India's most sacred Hindu temples.
Guests can indulge in rejuvenation and relaxation treatments offered at the resort; take an adventurous trip to explore different activities.
The resort features 61 rooms, including Superior Room, Deluxe Cottage, Premium Cottage, and the Corbett Suite.
The resort has a meeting room so you can host meetings or private events.
Outdoor pools are available at a five-star jungle resort for those wanting to indulge in a swim after a tiring day full of trips.
The on-site spa is perfect for soothing your jittery nerves and calming your soul.
Corbett The Baagh Resort & Spa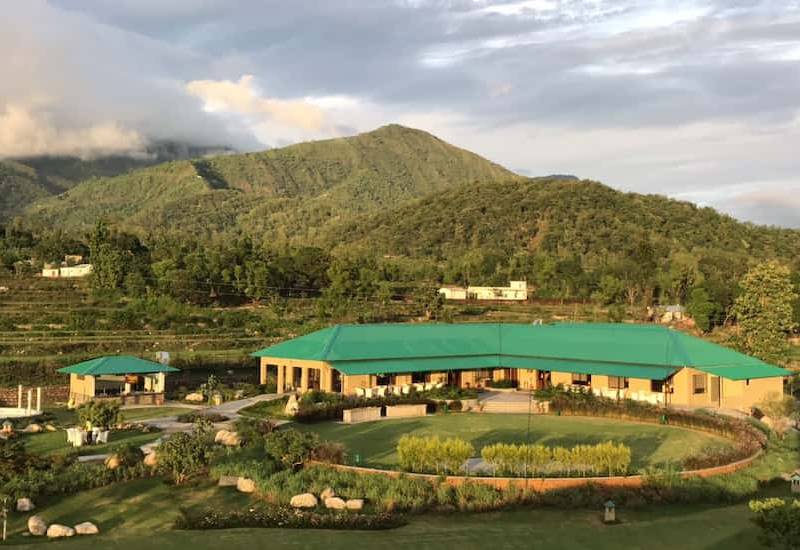 Corbett the Baagh Resort is a serene haven for nature lovers. You can enjoy all of the natural beauty and wildlife this area has to offer.
The resort offers plenty of amenities that will make your stay comfortable, including an outdoor pool with views of the forest canopy, spa treatments, games, sauna, horse riding and much more.
The Baagh Spa & Resort is perfect as a relaxing getaway to unwind in peace and tranquillity. Its elegant design features open spaces filled with natural light and flowing curves.
The resort offers 48 unique and unmatched rooms categorized into four themed areas: Jungle Cat, Leopard Cat, Leopard suite, and Baagh family.
Angar -The Grill Kitchen: The resort features a poolside restaurant with an open kitchen that cooks lip-smacking snacks and beverages using modern grilling techniques.
Corbett River Creek Resort & Spa, Marchula
The Corbett River Creek Resort & Spa is a 4-star luxury resort located in the northern periphery of the Corbett National Park. With its location on the bank of a beautiful Ramganga river and access to multiple jungle paths for exploration, this hotel fulfills vacationers' requirements for wilderness expeditions.
The rooms are spacious and well-equipped and have balconies that offer panoramic views of the surrounding forest and Ramganga river.
If you're looking for a perfect retreat deep within this beautiful region to explore the wildlife, forests, and river, then Corbett River Creek Resort will be a perfect choice.
With its private riverbank, this resort offers you an unforgettable experience with every stay.
The resort offers 32 luxurious rooms with modern bathrooms and amenities.
Resort offer a variety of indoor, outdoor and adventure activities like Rock Climbing, Rappelling, River Crossing, Flying Fox, Burma's Bridge.
The resort offers a range of luxury rooms, including Deluxe Room for single travellers or couples and Family Room for parents with children. Guests can also select from Luxury Rooms or Royal Room options.
Vadanya is a multi-cuisine restaurant with menus that include Indian, Chinese, and continental dishes. This restaurant uses only natural ingredients in its preparation.
Samara is a restaurant with an open-air dining area where guests can enjoy succulent kebabs amidst the green forest.
Book your stay today at Corbett River Creek Resort & Spa at best price!
Acorn Hideaway Resort & Spa, Jim Corbett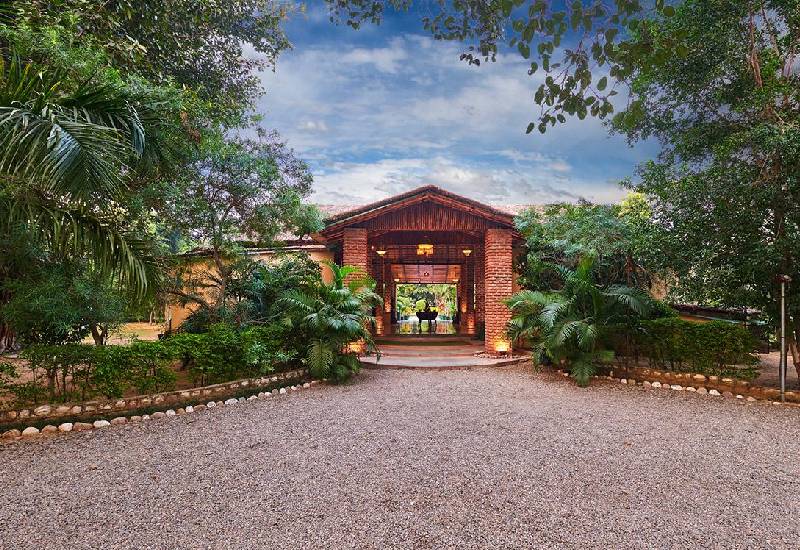 The Acorn Hideaway Resort and Spa in Corbett is a 5-star hotel that provides value for travellers because of the serene atmosphere.
Be surrounded by lush gardens, have an exotic outdoor pool, and be rustic with stone and wood interiors.
The outdoor swimming pool is perfect for refreshing laps in the morning.
The on-site gymnasium is best for fitness enthusiasts and Spa, offers a variety of Ayurvedic treatments and deep tissue massages.
This five-star hotel redefines the terms of luxury and indulgence with its luxurious grandiose lodging in each of its 43 soundproof rooms.
Rooms come in several variations, with Acorn Family Suites, Acorn Suites, Luxe Rooms, and Wilderness options. There is also an option for Luxury Tent Accommodation that falls more towards luxury than affordability.
You can experience the most delicious food and beverages at their poolside restaurant.
Corbett Riverside resort By Aahma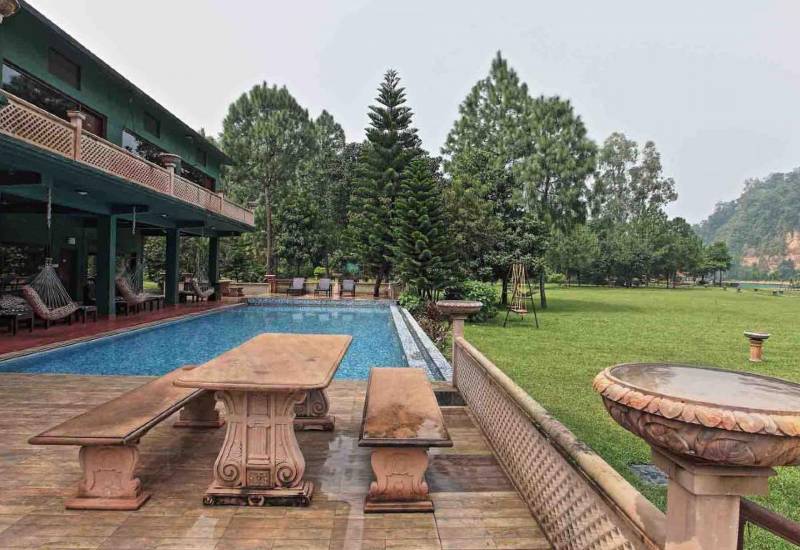 Riverside Resort is located next to the Kosi River and close to Jim Corbett National Park.
Facilities like spa treatments and a swimming pool make this resort the perfect place for relaxation and rejuvenation.
Riverside by Aahma offers comfortable accommodations and luxurious suites in several styles, including Standard, Deluxe, River View Room, and Tigers Den Suite.
The Wild side Alfresco Restaurant has live music, a beautiful atmosphere, and fantastic food.
Amongst other things, Riverside by Aahma offers horse riding, swimming, cycling, billiards, table tennis and spa treatments.