The Basilica of Bom Jesus is a Catholic Church located in old Goa and the state's oldest Church. It is recognized as a UNESCO World Heritage Site.
The construction of the Church is completed in the 16th century and stands for Portuguese colonial architecture with the style of Baroque architecture.
It is a faith-based monument located in Bainguinim, about 10 km from Panjim, and attracts visitors worldwide.
This oldest church in Goa is home to the relics of St. Francis Xavier, who was known for both his insight and healing abilities.
Even after 400 years of burial, the Church remains in good condition. It is one of the "Seven Wonders" of Portuguese origin.
'Bom Jesus' is a Latin term that translates to 'Holy (or Good) Jesus.'
The roof of the Church is triangular and contains the initials "IHS," which translates to Jesuit, meaning that Jesus is our saviour.
The Church's façade has a central altar with two other altars. There is a statue of Saint Ignatius Loyola looking over and helping Baby Jesus.
The museum has a lot of paintings and carvings that come from the Bible. It also has a gallery with oil paintings from 1973 and 1976.
The Architecture of Basilica of Bom Jesus
The Basilica of Bom Jesus features the best in Baroque architectural style.
This monument is constructed from black granite (precious stone) and mixes Corinthian, Doric, and Composite styles.
The Basilica is 61 feet tall and has columns carved out of basalt intricately.
The church's interior design was inspired by Mosaico-Corinthian architecture and consists of two structures in front.
The entire structure consists of an altar flanked by two chapels and a bell tower located at the back.
The right side of the church has a sculpted statue of St. Anthony and on the left is equally grand, an ornate sculpture of St. Francis Xavier.
Within the intricately designed architecture of Basilica of Bom Jesus lie two galleries.
The museum has oil paintings depicting various verses in the Bible, designed by some notable artists from 1973 to 1976.
These paintings mostly follow the traditional conventions of Italian art and indicate Italian culture and Roman Catholicism.
The top-level of this tomb is an art gallery, which is home to many rare works by Dom Martin, a Goan painter.
History of the Oldest Church in Goa
A long time ago, in 1594, the Church's foundation was put in place. It took a long time to finish, but it was finally done in 1605.
The body of St. Francis Xavier was first preserved in Portugal but was then shipped to the Basilica. He had been known to have therapeutic healing powers, as well as some amazing insights.
His body is still in an ornamented coffin and kept at the Basilica.
How to Reach Basilica of Bom Jesus
The Basilica of Bom Jesus is about a 10-kilometre drive from Panjim.
One of the simplest ways to get around is by hiring a taxi. Alternatively, renting a motorbike will allow you to explore the farther city.
It takes about 25 minutes to reach the Church from Panjim.
The distance between Goa International Airport and the Church is 24.1 km.
From the airport, you can take a cab or auto to your destination. You can also rent a scooter or bike for the day then go to the Church.
Best Time to Visit Basilica of Bom Jesus
The Basilica of Bom Jesus is best seen from September to March.
The glory and beauty of the church are best seen in the monsoon. The rain cleans the surroundings, so they look good, but it also leaves a pattern on the church's exterior.
Besides that, the church is also most visible during winters, complementing the bright sunny days with some of its parts glimmering on top.
Do you know that this is the country's most ancient minor basilica?
The Jesuit church is India's first minor basilica, and many consider it to be one of the best examples of Portuguese Colonial architecture in India.
Located in Chhattisgarh, India, The Guru Ghasidas National Park is a protected reserve with an area of 1440.71 square kilometres.
It was established on December 30th, 1984 and named after Guru Ghasidas, a saint-poet belonging to the Kabir Panth.
The Guru Ghasidas National Park is a must-visit when travelling to the state of Chhattisgarh. It is located in the Koriya district of Chhattisgarh and was a part of Sanjay National Park in Madhya Pradesh.
The park was renamed when the district of Chhattisgarh was formed. 60% of the park is in Koriya or Guru Ghasidas National Park.
Guru Ghasidas National Park is in the middle of streams that are very different. There are many flowers and animals there.
The park has lots of trees, and it is quiet. It also has fun safari rides. And you can have a picnic inside the park with a choice of where to sit and eat it.
Guru Ghasidas National Park (Sanjay national Park)
Guru Ghasidas National Park is one of Chhattisgarh's most essential and unique protected areas. This National Park is a part of the formerly-known Sanjay national Park.
When Chhattisgarh became an autonomous state, Guru Ghasidas National Park was established from 60% of previously held grounds in the Koriya district.
The Guru Ghasidas National Park is a beautifully protected site covering 1440.71 square kilometres of the Koriya district in Chhattisgarh, India. This area has several small rivers and streams that provide lush green forests, which become a perfect habitat for some of the most diverse wildlife collections on the Deccan Plateau.
History
Before the formation of Chhattisgarh, it was part of Sanjay National Park in Madhya Pradesh, which was divided by the new state boundaries during the creation of Chhattisgarh, and most of it went to a new state.
This more extensive part of Sanjay Park was renamed Guru Ghasidas National Park by the government.
In June 2011, the then Minister of State for Environment and Forests Jairam Ramesh proposed to Chhattisgarh Chief Minister Raman Singh that Guru Ghasidas National Park be declared a tiger reserve.
Geography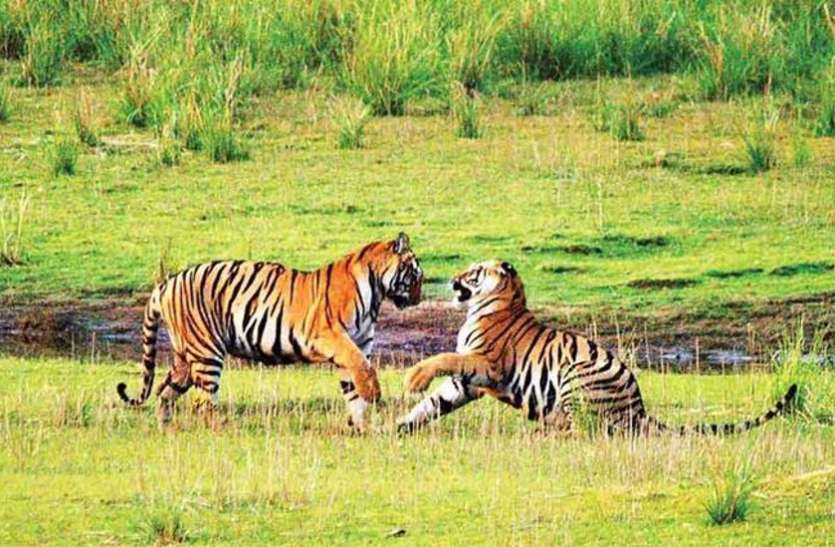 Guru Ghasidas National Park is a beautiful reserve of forested land that stretches over 1440.71 square kilometres.
The park exhibits a Tropical climate zone. The dense forest in the Guru Ghasidas Tiger Reserve is home to a mixture of subtropical vegetation and deciduous trees with teak, sal trees and bamboo dense.
The graceful hills and flat sandy terrain make for an ideal habitat in the Guruguhas National Park. Streams running throughout are perfect for cooling off during hot days, so pack your bathing suit!
This national park is home to the Banas River. The river's water flows through the western side of the park and provides an essential water source to animals in this protected area.
The Bijore Nala, which is a northern flowing stream in reserve, also retains water pools during the summer months.
The Guru Ghasidas national park lies between two essential tiger reserves- Bandhavgarh Sanctuary (Madhya Pradesh) and Palamau (Jharkhand).
The Guru Ghasidas National Park is situated between two important tiger reserves- the Bandhavgarh National Park in Madhya Pradesh and the Palamau Tiger Reserve in Jharkhand.
The park's altitude varies from 327 to 736 metres. The maximum Temperature of Guru Ghasidas National Park is 400 C, and the Minimum Temperature is 110 C.
Flora
The wide variety of plant species growing on the Guru Ghasidas National Park's premises are old, new, and diverse.
The dense forests of the Guru Ghasidas National Park are primarily composed of Teak, Sal and Bamboo trees.
This park offers protection for a variety of different plants and animals. Though the plant life differs throughout the conserved area, you may find variants like Gurjan, Palas, Tendu, Mahua and small plants and shrubs in forests.
Fauna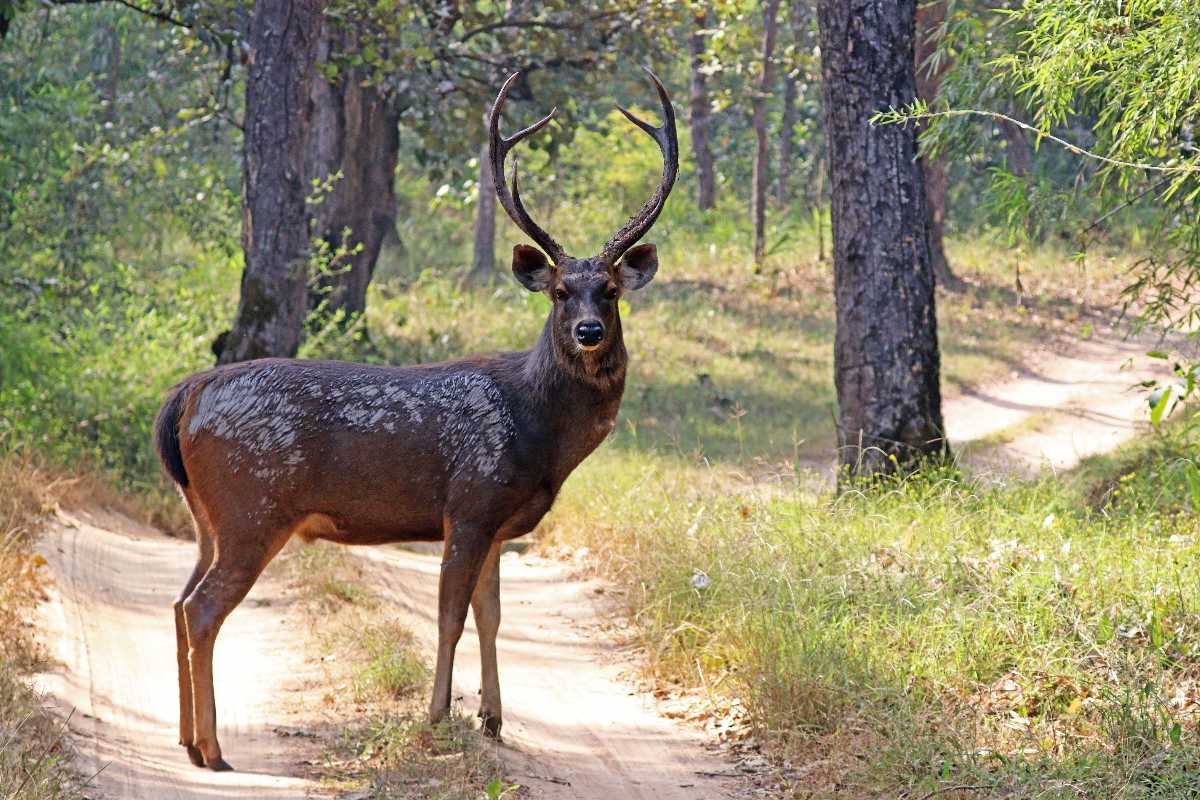 The Guru Ghasidas National Park is full of animals and insects, including large varieties.
These species live in their natural habitat. They are cared for and provided with an adequate supply of water from the rivers and streams.
The safaris in the Guru Ghasidas National Park will take you through forests and are sure to reveal these wild animals.
Some of the animals in reserve include tigers, leopards, jackals, barking deer and spotted deer, and wild boars and sloth bears. As for snakes, there are cobras and pythons.
In addition to being home to various vegetation and wildlife, the park is also known for having a flourishing bird population.
Some of the many birds that come to this area are Kingfishers, Bulbuls, various Vultures, Halcyonides and woodpeckers.
How to Reach
By Air – The nearest airports are Jabalpur and Ranchi. They are about 200 Km and 250 KM from the Ghasidas National Park. These airports have good connections by road and rail to the Ghasidas National Park.
By Rail – The closest railway station is Jaora, about 20 kilometres from the Ghasidas National Park. It is connected to the park by roads.
By Road – The Ghasidas National Park is well-connected to major Indian cities and towns, owing to the extensive road network that joins it. Several governments and privately operated vehicles can transport you from your town directly to The Ghasidas National Park.
Best Time to Visit
The Guru Ghasidas National Park spans 1440.71 sq kilometres, which falls under the tropical climatic zone. Apart from this, the park is also located at 327 to 736 meters above sea level.
You can find weather extremes in this forest, which include rain during the monsoon season and hot summers.
After the monsoon season, which has an average rainfall of 1400mm, winter starts to cool things down. The temperatures can be as low as 11 degrees Celsius.
Winter months of November to April the best time to visit Guru Ghasidas National Park.
Hyderabad's most famous attraction, Golconda Fort, is an outstanding example of brilliant engineering and magical architecture.
The fort, which was built in the 16th century, overlooks the modern city of Hyderabad. It is one of India's finest monuments to both Mughal and Hindu architecture.
This magnificent structure is 9 km away from Hyderabad's most popular tourist attraction, Hussain Sagar Lake.
Some people say that the fort has sheltered the Kohinoor diamond in the past. If you clap your hands at the bottom of a fortress, the echo will be felt even if you are up top.
The classic architecture, rich history and mysteries of the fortress make it a popular place for tourists.
The best feature of Golconda Fort is its awe-inspiring glamour. The sturdy walls of the fort, coupled with the highly refined architectural style, leave any visitor spellbound and impressed in no time at all.
The fort also offers an incredible sunset view from the highest point of the fort. One of the best ways to experience the beauty and grandeur of Golconda Fort is via photography.
In addition to its brilliant engineering and fairytale architecture, the highlight of Golconda Fort is a beautiful sound and light show.
Exhibition brilliantly and magically showcases the story of Golconda Fort Hyderabad
Architecture of Golconda Fort
Standing at 400 feet high hill, Golconda Fort is a product of brilliant engineering and combines Islamic and Hindu styles in architecture.
The fort has 87 bastions with 8 gates, each measuring 60 feet high.
The fort houses the beautiful and spacious resting chambers of the princesses and queens.
Golconda Fort has become famous for its parade grounds, royal apartments, mosques and halls.
Golconda Fort has 8 magnificent gates: the most important being Fateh Darwaza as Victory Gate Aurangzeb marched through it after his victory.
Located in Golconda Fort Hyderabad and measuring 25 feet long by 13 feet wide, the Gate of Steel spikes is an example of brilliant engineering and magical architecture.
The next gate of importance is the Balahisar Darwaza. This gate has a Nawabi style, and it is only open on one side at this time.
Sound and Light Show at Golconda Fort
One of the primary attractions of Golconda Fort is the sound and light show. The show is presented in English, Hindi and Telugu.
English version of the show can be watched every day. Hindi version can be watched on Tuesday, Thursday, Saturday, and Sunday. On Mondays, Wednesdays, and Fridays, locals can visit the show in Telugu.
The sound and light show is held around the lovely Rani Mahal. This show is presented twice daily in two languages, and the timing of each performance varies based on the month.
The showtimes during March to October are 7:00 and 8:15.
History of Golconda Fort
The Golconda Fort area was allegedly discovered by a shepherd who had come upon an idol.
King Kakatiya, who resides close by, ordered that a fort be constructed around the idol.
After the building was built, people called it "Golla Konda," which means Shepherd's Hill.
The fort became popular in the sixteenth century during the reign of the Qutb Shahi Dynasty.
Eventually, the mud fort became a big building with an outer wall around 10 kilometres long.
In 1687, Mughal emperor Aurangzeb conquered a fort. Right now, Golconda Fort has a few different mosques and palaces. Many of them are in ruins. The beauty and elegance of the fort are famous all over the world.
The outer fort is a sprawling 7 square kilometres, and the inner fort is a more intimate 3 square kilometres.
How to reach Golconda Fort
Reaching the Golconda fort is easy because it is connected by road to the rest of the city. The fort is about 11 km away from the center of Hyderabad.
Travellers can also use the nearest metro station, Peddamma Temple Metro Station and Jubilee Hills Check Post Metro Station on the Blue line.
If you want to get to the fort, you will need to take a taxi or an auto-rickshaw. This will take around 20 minutes.
There are many ways to get places. One of the best is to hire a taxi and explore these tourist destinations.
Best Time to visit Golconda Fort
You can visit the fort anytime, but it is better to come during the September-March months.
The weather in Hyderabad is usually hot during the summer. When you explore this majestic fort, it can be a little uncomfortable because there are many stairs and walking.
You can also visit the fort at nighttime. After exploring, you can watch a sound and light show.
It is also recommended to visit other places that are near Golconda. These are the Qutub Shahi Tombs and Taramati Baradari.
Attractions near Golconda Fort
Naya Qila
As an extension to Golconda Fort, Naya Qila can be found approximately one kilometre away.
This monument was built by Qutb Shahi and is essential to tourists in Hyderabad. It is open from 9 AM to 5 PM, so people can visit.
Qutb Shahi Tombs
Qutb Shahi Tombs are a collection of mausoleums and mosques that were built during the time of the Qutb Shahi Dynasty. They are about 1.6 kilometers from Golconda Fort.
The tombs are dome-shaped and they are on a raised platform. They were made by the Qutb Shahi dynasty. You can visit these tombs from 9:30 AM to 4:30 PM, except on Fridays.
Taramati Baradari
Taramati Baradari is a cultural hub that houses a big auditorium, an air-conditioned theatre, a decent restaurant, and a spacious banquet hall. It is about 4 kilometres from Golconda Fort.
The auditorium and the theatre can hold a lot of people. There are 1600 in the auditorium and 500 in the theatre.
Enjoy Boating at Hussain Sagar Lake
The lake is a short way from Golconda Fort. It has clear water that people can go boating in.
This lake is popular because it is the largest man-made one in Asia. People can enjoy fishing and other water sports there.
Seek Blessings at Birla Mandir
This temple is 13.1 km from Golconda Fort. A lot of people come to this temple and pray to Lord Venkateshwara.
The temple offers a peaceful place for people to pray, meditate, and feel better.
Other Information About Golconda Fort
Location: Khair Complex, Ibrahim Bagh, Hyderabad, Telangana 500008
Timings: Golconda Fort is open all day. People can come from 8 AM to 5:30 PM.
Entry fee: The price for Indian people to enter Golconda Fort is INR 15, and INR 200 for foreigners.
Visitor's Facility: There are many restaurants near the fort. They give you food for a good price. In addition, there are many good hotels near the fort for tourists to stay in and relax.
Parking Facility: There is a parking space for the Golconda Fort, but be aware that it is designated as small.
The Bandra Worli Sea Link is one of Mumbai's most iconic landmarks. Opened in 2009 for the public, the bridge spans the city's coast and connects two important suburbs, Bandra and Worli.
It was built to reduce traffic congestion on other bridges that were becoming overcrowded due to population growth in Mumbai.
The bridge has a total length of 5.6 km, which makes it an 8-lane cable-stayed bridge!
The Bandra Worli Sea Link is a cable-stayed bridge with pre-stressed concrete and steel viaducts that holds it in place.
This bridge handles around 37,000 vehicles per day, and the travelling time between Bandra and Worli has been drastically reduced.
This bridge is praised as one of the most magnificent pieces of architecture constructed by Mumbai officials. In addition, the Bandra-Worli Sea Link reduces travel time between the two areas during peak hours from 20 to 30 minutes.
The blue waters of Mumbai look beautiful next to the beautiful architecture. The Bandra Worli Sea Link is a famous tourist attraction because of the stunning views it offers.
Bandra Worli Sea Link is a beautiful bridge with natural beauty and man-made marvels. The Bandra-Worli Sea Link is seen from Mahim beach.
While driving over the bridge, you will see beautiful scenery and feel the sea breeze. A place is an excellent place for photographers. They can take pictures of the beautiful things here and put them in their cameras.
The Bandra Worli Sea Link was also the famous bridge in the Bollywood film Jaane Tu Ya Jaane Na. This is one of Mumbai's modern architectural landmarks that should be on every traveller's list.
The Bandra Worli Sea Link is a bridge over Mahim Bay. It would be an alternative road to the Mahim Causeway.
How do I get to Worli Sea Link?
You can use the Western Express Highway to get to Bandra Worli Sea Link. People coming from Bandra should take that road and go towards Worli in South Mumbai.
For people who are coming by train, it is best to get off at Bandra Station. Then take a taxi to Bandra Worli Sea Link. Another way to reach Lower Parel Station is to take a cab over the Sea Link. It is 5.6 km from the station.
How long is Bandra-Worli Sea Link?
The length of Bandra Worli Sea Link is 5.6 kilometres long, and it goes from Bandra West to Worli.
Can we walk on Bandra Worli Sea Link?
Bandra Worli Sea Link is not open to pedestrians or bicyclists for safety reasons.
Are buses allowed on Bandra Worli Sea Link?
Yes, Buses on Bandra Worli Sea Link are charged 145-215, and a monthly pass costs Rs. 7250.
Where is the Bandra Worli sea link located?
The Bandra Worli Sea Link is over the Mahim Bay in Mumbai and connects Bandra to the Western Suburbs. It can also be a part of the Western Freeway, which will go from the Western Suburbs to Nariman Point in Mumbai.
What's the best way to see Bandra-Worli Sea Link?
According to travellers, Mumbai City Tour is the best way to experience Bandra-Worli Sea Link as this bridge covered in Mumbai Sightseeing.
The Eastern Ghats are a range of mountains that goes along the eastern coast of India. It is not a continuous mountain range, but it is still made up of many different mountains.
About Eastern Ghats
Even though the Eastern Ghats are a range of small hills, they're not your average ones - one highest peak is 1690 meters tall!
The Eastern Ghats are older then Western Ghat and have a complex geologic history related to the assembly and breakup of ancient supercontinents.
The Eastern Ghats can be found in Odisha, Andhra Pradesh, and Tamil Nadu. It also goes through a little of Karnataka and Telangana.
There are many different species that live on these mountains. They might be animals you have never heard of before.
The Eastern Ghats are the source of many small and medium rivers that run through South India.
Godavari
Kaveri
Krishna
Mahanadi
Subarnarekha
Tungabhadra
Peaks of Eastern Ghats:
Jindhagada Peak in Andhra Pradesh has a height of 1,690 meters
Arma Konda (1680 meters)
Deomali (1670 meters)
Gali Konda (1643 meters)
Sinkram Gutta (1620 meters)
Shevaroy hill (1628 meters)
Nilakottai (1350 meters)
This blog post is about the highest peak in Eastern Ghats to visit and what makes each special.
Jindhagada Peak - Highest Peak in Eastern Ghats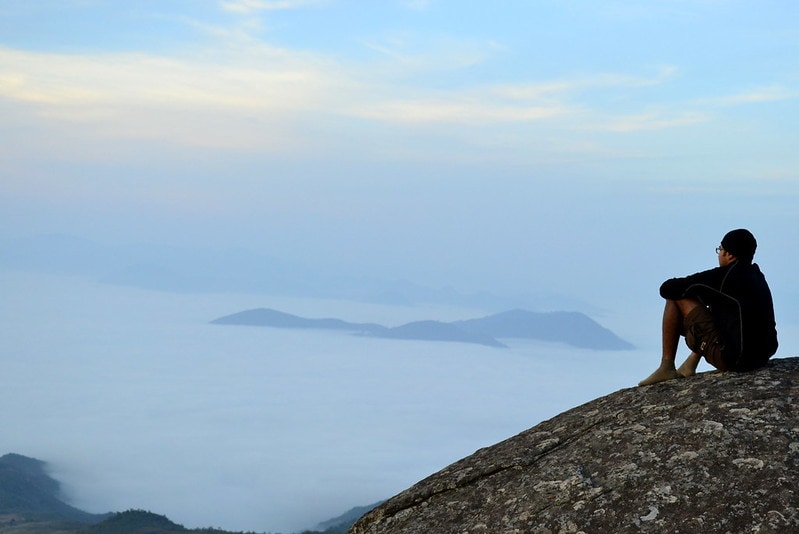 The highest peak of this non-continuous range is Jindagada Peak. It is located in Andhra Pradesh, and it has a height of 1690 meters.
The journey of Jindhagada Peak is a approx. 5-kilometre walk from the road. And the view from the top is beautiful.
You should go to the top of a mountain if you love beautiful places and like an adventure.
This Jindhagada trekking trail is in Araku Valley.
Araku Valley is a beautiful place. People come to visit because they want to see natural beauty and also the coffee plantations.
It's not unusual for people to come from India to visit this place, but it's one of the less explored places in India.
This Eastern Ghats trekking destination has a view of green spread over the valley. You can see this after you cross the difficult, wedged passage.