India is a beautiful country with so much to offer. From the beautiful Taj Mahal to the historical cities of India and its delicious food, it's no wonder people want to visit this country.
If you're looking for a fantastic vacation spot but are unsure which state in India you should visit first, then look no further!
Here are 10 beautiful states in India that you need to see before your next holiday.
Kerala
The beautiful state of Kerala is often called God's Own Country.
The beautiful countryside is best experienced on a bike ride through the backwaters, vast stretches of land with beautiful water and serene backdrops.
Kerala is arranged along the coast, full of beautiful wildlife sanctuaries, including one that houses tigers and elephants.
It is home to some of the country's most beautiful beaches, including Kovalam, Muzhappilangad, Varakala and many more. As the sun sets in Kerala, a beautiful kaleidoscope of colours fills the sky.
Add beautiful backwaters and beautiful wildlife sanctuaries to this picturesque state, and you have one of the world's most beautiful states.
To truly experience Kerala's beautiful nature, it is best to explore it on two wheels from beautiful cycling tours in Kerala.
It also boasts breathtaking hill stations, gripping waterfalls, a plethora of historical places and monuments, and a host of national parks.
Kerala is the most peaceful state in India. Kerala's literacy rate is high and its employment index is also high.
For those who are searching for a calm mountainous retreat, Kerala's Munnar can never disappoint. No matter the case, Kerala is always a peace-filled location that will astound visitors.
Rajasthan
Rajasthan is one of the beautiful state as most cultural state in India, and it is home to some of the country's most scenic landscapes.
Rajasthan offers beautiful flora, wildlife and rich cultural heritage.
Nicknamed 'The Land of Kings' and 'The Thar Desert,' this beautiful state in India is well worth examining if you want to visit somewhere beautiful but different.
Rajasthan is a state where many stories of wars and victories, romance, misfortunes and glories are written.
Located on a hilltop, Amer Fort is the principal tourist attraction in Jaipur. This old fort overlooks Maota Lake, which is the primary source of water for the Amer Palace.
These folkloric tales reflect many monuments, magnificent palaces and forts that dot its landscape with a colourful history.
If you visit Rajasthan, one of the things to do is go see a folk dance performance. There are different types, including Ghoomar, Kalbeliya, Bhavai, Kathputli.
And these folk dances perform in local and religious festivals.
It is no wonder that the state has been voted one of the world's top travel destinations by National Geographic Traveller for its beautiful historic towns, colourful culture and vast landscapes.
Goa
Goa is one of the beautiful states in India. It is located on the west coast with a population of over 3.56 million, with the beaches in Goa being beautiful and serene.
One of the highlights of travels across India is a visit to Goa, known for its beautiful beaches.
One of the best things about visiting India is sunsets at golden-sand beaches that you'll never want to leave.
This most famous state in India has some beautiful beach resorts frequented by beautiful people from all around the world since it is also home to some of India's most beautiful people.
Travellers who come to Goa can enjoy many water sports, such as windsurfing and water-skiing.
This is India's smallest state, but it has an old town and a unique ethnicity and culture.
This beautiful state in India should be a must-visit for anyone who wants to experience the country's beauty.
When wandering around the state of Goa, you will come across Hindu temples, Portuguese churches and wildlife sanctuaries.
Goa also offers several scenic walks and beautiful mountains that make it an all-around gorgeous place to visit.
Punjab
Punjab, one of the beautiful states in India, is situated on the country's northern border with Pakistan.
Punjab is known for its rich cultural history, its diversity in languages and the lip-smacking Punjabi cuisine.
Punjab, the home of the iconic Golden Temple and a variety of tasty dishes, is perfect for those looking to experience local culture with some historical background.
Travellers to Punjab should seriously consider heading to one of the traditional villages. They're best able to experience the culture and see its inhabitants in their day-to-day lives.
Another great way for travellers to witness this is by attending a flag-lowering ceremony at Wagah Border.
Himachal Pradesh
The beautiful state of Himachal Pradesh is also located in the northern part of India.
It's home to several beautiful snow-capped mountains and some beautiful national parks, where you can spot many beautiful animals, including bears, leopards and monkeys.
I am sure that by now I have convinced you why this beautiful state in India should be your next travel destination!
Himachal Pradesh offers lot of things as one of beautiful states in India. There are forests with flowers and mountains with views. It is one of the best places to visit in India because there are so many different things to do here.
A traveller who visits Himachal Pradesh can take beautiful walks around the state's villages and traditional markets.
It is also home to some beautiful religious sites, including temples, mosques and churches that are worth visiting for their beauty alone!
Uttar Pradesh
The beautiful state of Uttar Pradesh is home to the Taj Mahal, one of India's most beautiful and iconic buildings.
The city itself boasts a rich culture dating back centuries and some impressive architectural landmarks like the Jama Masjid mosque, which was built in 1648.
You'll also find plenty of beautiful lakes here at your leisure, such as Chambal Lake or Sheshnag Lake, where you can enjoy water activities and marvel at its natural beauty.
Located along the Ganges river, Varanasi is India's oldest city.
Uttar Pradesh can be proud to show off its natural beauty alongside its major historical and religious destinations.
In addition to ancient Ayodhya and Allahabad, Uttar Pradesh is home to two of Hinduism's most important pilgrimage sites.
Gujarat
Gujarat is a beautiful and perfect destination in India to see ethnic diversity and the many festive rituals celebrated with great joy throughout the year. The capital of Gujarat is Gandhinagar.
Gujarati cuisine consists mainly of vegetarian dishes.
Some popular Gujarati snacks include Dhokla, a steamed cake made from rice flour and mashed lentils; Bajiya - fried spicy vegetables in gram flour batter; Thattai - Deep-fried crêpes made from split black gram (urad dal) or semolina doughnuts soaked in sugar syrup;
Khaman dhokla: A savoury snack that includes chana/chickpea flour as the main ingredient, deep-fried and then dipped into chutney.
Located on the west coast of India, millions of tourists visit Gujarat each year to take in its culture and history while visiting archaeological sites, beaches, and temples.
Gujarat boasts the only Asiatic lions in Asia, a distinction that makes it one of the world's most protected wildlife sanctuaries. It is also famous for being Gandhi's birthplace.
Jammu and Kashmir
Jammu and Kashmir is the best state in India. This beautiful state is home to the beautiful Dal Lake, which is famous for its floating gardens.
Locals often refer to this beautiful area as heaven on earth. It's also well known for its unique handicraft, called shawls and carpets.
You can find these at Longobard's Tribal Shop in Srinagar City.
The Jammu region of Kashmir Valley has a rich history with many ancient temples, dated back more than 2000 years ago!
One such temple is Raghunath Temple, situated about 11km from downtown city center Leh-Ladakh, welcoming visitors daily with traditional Ladakhi food and tea.
It becomes a snow-laden mountain kingdom during the winter months where you have options like skiing, snowboarding, and other winter outdoor activities.
The beautiful glacier valleys of Ladakh are the ultimate destination for any adventure seeker! You can enjoy horse riding or cycling in beautiful landscapes all year round with your friends and family.
Every corner of Kashmir is beautiful, so it's hard to choose just one to point out as a favourite, but if you're looking for a region with it all - beauty, history, culture- Jammu & Kashmir will be a perfect choice!
Karnataka
Karnataka is a beautiful state with lush green jungles, snowy peaks and beautiful waterfalls.
It's home to the only elephant reserve in India, which was established in 1977 at Periyar Tiger Reserve.
The best time to visit Karnataka is during October- February when temperatures range from 20°C - 22°C (68°F - 72°F).
You'll find it hard not to fall in love with this beautiful region!
It's located on the Konkan coast covering 191,791 square kilometres making Karnataka the 7th largest state by land size.
This state has got many things you'll never get bored of, including its ancient temples, beautiful beaches along the Arabian Sea coastline and beautiful waterfalls.
The beautiful city of Mysore is the capital and largest metropolitan area in Karnataka, which was under foreign rule from 1799 to 1947.
It's home to many beautiful palaces, temples and gardens like the famous Nandi Hills Temple that offers stunning views of Mysore Palace in its background!
Apart from these beautiful sights, you can also experience several other things while visiting this state, such as exploring underground caves at Badami or go on safari tours around Bandipur National Park!
Karnataka's name means "the land of black soil." India's most prosperous states are known for their agriculture production and IT industry, with six Fortune 500 companies based here, including Infosys.
West Bengal
West Bengal is a beautiful state in India with the capital Kolkata.
Kolkata has a culture that is diverse and deep-rooted, reflected by its monuments such as Dhakuria Palace, Marble Palace, Indian Museum, Howrah Bridge etc.
The city also possesses beautiful architectural marvels like Victoria Memorial Hall and Writers' Building - which are must-visit places for tourists to get an idea about this beautiful Indian State!
The most famous tourist attractions in West Bengal include Sundarbans National Park - home to the mangrove forest; Dakshineswar Kali Temple - one of the ancient temples dedicated solely to Goddess Durga (the Divine Mother).
Home to a plethora of grand and elaborate mansions, it's no surprise that West Bengal's state capital, Kolkata, is known as the 'Cultural Capital of India,' the 'City of Palaces, ' and the 'City of Joy.'
The city also houses a vibrant art, film and theatre scene that never stops surprising.
Srirangapatna is a small town in Karnataka, India. It has immense historical and religious importance with its rather interesting mix of tourist attractions like temples, tombs, military warehouses and palaces.
The town Srirangapatna gets its name from the Sri Ranganatha Swamy temple built by the Ganga dynasty in the 9th century.
The Temples In Srirangapatna are the most popular tourist attractions of this tiny town. Situated 18 km from Mysore town, this little gem is a perfect spot to explore architectural marvels of the Hoysala and Vijayanagar styles.
Temples like Sri Ranganatha Swamy Temple (also known as Big Temple), Lord Venkateshwara Swamy Temple or Balaji temple and Lakshmi Narasimha temple are well worth visiting if you want to explore the rich history of this place.
The Western Ganga Dynasty established the town in 849, and it has served as a base for various empires throughout history.
These rulers left their mark on the town in a variety of ways. Palaces, temples, tombs and military warehouses can all be found in Srirngapatna.
Though the temples have religious importance, they are also architectural gems straight out of the past.
If you're spiritual or a fan of ancient architecture, these temples in Srirangapatna are the perfect place for you.
The four temples in Srirangapatna are particularly worth visiting for those who love temple culture.
1) Sri RanganathaSwamy Temple
The Sri Ranganathaswamy Temple is one of the most well-known and captivating Hindu temples in the world.
In the heart of Srirangapatna, this temple is revered as the world's largest functioning Hindu temple and hosts the most visitors in India.
It is also known by other names with religious and historical importance, such as Thiruvaranga Tirupati, Periyakoil, Bhogamandabam.
Ranganathaswamy Temple, one of Srirangapatna's beautifully carved temples, is located in the southwestern state of Karnataka, India.
The temple is dedicated to Lord Ranganatha, an avatar of the Hindu god Vishnu. The temple is surrounded by the River Cauvery, creating beautiful scenery.
The town's main attraction is the ghats on the river,, and many locals come here for a dip before entering the temple. It's important to take your shoes off, as this area is so holy.
Sri Ranganathaswamy temple in Srirangapatna is considered important as per Hinduism, one of the five most sacred shrines for Lord Vishnu.
Srirangapatna is a popular place of attraction with its rich history and diverse tourist attractions. It falls under the Archeological Survey of India.
2) Nimishamba Temple
"Nimisha," meaning minute, Goddess who resides in this temple and petitions her devotees for their wishes to be granted in a minute.
Nimishamba is a form of Goddess Parvathi. It is located on the banks of the Kaveri river.
The temple was built in the time of Mummadi Krishnaraja Wodeyar around 400 years ago.
There is a Sree Chakra imprinted in stone. It is placed in front of the Goddess. Nimishambha temple has a small entrance tower that is 7 stories high.
The temple is 2 km from Srirangapatna, 125 kilometres from Bengaluru, and 17 kilometres from Mysore.
If you want to visit this place, you can get here by taking the KSRTC buses from Mysore and Bengaluru. You can also drive here in your car.
6:30 AM to 8:30 PM. The temple opens at 4:30 AM on special occasions.
The temple is open to visitors from 4:30 AM until 8:00 PM.
3) Kshanambika Temple
This temple is one of the oldest temples in Srirangapatna, Karnataka State, India. The temple is also known as Jyothirmaheshwara Temple and Vedhanayaki Temple.
Kshanambhika is more powerful than Nimishmbha because she can make the devotees' wishes come true in a second.
Upon entering the gate of this temple, one might be surprised to see a large temple quadrangle and on the right-hand side stands the main temple called Kshanambika Sri Chakaradevi.
On the same property as the Kshanambika temple is Sri Dandapani Subramanyeshwara's shrine; next to that is Sri Jyotirmaheshwara Swamy temple.
Sri Chakra's uniqueness in Srirangapatna is the beejaksharas or seed syllables are carved on the Sri Chakra.
Just 4 km from here is the Nimishamba Devi temple, just a short walk, and it provides blessings and boons for visitors in less than a minute.
Many other points of interest, such as a beautiful statue of Gayatri Devi, are placed in front of the Subramanyeshwara shrine.
4) Karigirivasa Temple
Srirangapatna is not just a small town with historical and religious importance, but it has astonishing views worth checking out.
One of the ancient temples in Srirangapatna is Karigirivasa. Karighatta means 'black hill' in Kannada.
The temple devoted to Srinivasa, a form of Vishnu, is located atop Karighatta hill. One of the ancient temples has an idol called the bairagi Venkataraman.
The deity idol is carved from black stone. The temple has several interesting features worth visiting. For example, on one side is the shrine of goddess Padmavati, consort to Lord Srinivasa.
A statue of Lord Vishnu's vehicle, Garuda, faces the main temple, and there is a Garudasthamba in front.
Devotees have to climb about 450 steps carved into the hill from the base. They make it to a flat hilltop that has the temple at the top of it.
There is a nearby viewpoint that offers spectacular views of the island town and the river Kaveri.
Hyderabad's most famous attraction, Golconda Fort, is an outstanding example of brilliant engineering and magical architecture.
The fort, which was built in the 16th century, overlooks the modern city of Hyderabad. It is one of India's finest monuments to both Mughal and Hindu architecture.
This magnificent structure is 9 km away from Hyderabad's most popular tourist attraction, Hussain Sagar Lake.
Some people say that the fort has sheltered the Kohinoor diamond in the past. If you clap your hands at the bottom of a fortress, the echo will be felt even if you are up top.
The classic architecture, rich history and mysteries of the fortress make it a popular place for tourists.
The best feature of Golconda Fort is its awe-inspiring glamour. The sturdy walls of the fort, coupled with the highly refined architectural style, leave any visitor spellbound and impressed in no time at all.
The fort also offers an incredible sunset view from the highest point of the fort. One of the best ways to experience the beauty and grandeur of Golconda Fort is via photography.
In addition to its brilliant engineering and fairytale architecture, the highlight of Golconda Fort is a beautiful sound and light show.
Exhibition brilliantly and magically showcases the story of Golconda Fort Hyderabad
Architecture of Golconda Fort
Standing at 400 feet high hill, Golconda Fort is a product of brilliant engineering and combines Islamic and Hindu styles in architecture.
The fort has 87 bastions with 8 gates, each measuring 60 feet high.
The fort houses the beautiful and spacious resting chambers of the princesses and queens.
Golconda Fort has become famous for its parade grounds, royal apartments, mosques and halls.
Golconda Fort has 8 magnificent gates: the most important being Fateh Darwaza as Victory Gate Aurangzeb marched through it after his victory.
Located in Golconda Fort Hyderabad and measuring 25 feet long by 13 feet wide, the Gate of Steel spikes is an example of brilliant engineering and magical architecture.
The next gate of importance is the Balahisar Darwaza. This gate has a Nawabi style, and it is only open on one side at this time.
Sound and Light Show at Golconda Fort
One of the primary attractions of Golconda Fort is the sound and light show. The show is presented in English, Hindi and Telugu.
English version of the show can be watched every day. Hindi version can be watched on Tuesday, Thursday, Saturday, and Sunday. On Mondays, Wednesdays, and Fridays, locals can visit the show in Telugu.
The sound and light show is held around the lovely Rani Mahal. This show is presented twice daily in two languages, and the timing of each performance varies based on the month.
The showtimes during March to October are 7:00 and 8:15.
History of Golconda Fort
The Golconda Fort area was allegedly discovered by a shepherd who had come upon an idol.
King Kakatiya, who resides close by, ordered that a fort be constructed around the idol.
After the building was built, people called it "Golla Konda," which means Shepherd's Hill.
The fort became popular in the sixteenth century during the reign of the Qutb Shahi Dynasty.
Eventually, the mud fort became a big building with an outer wall around 10 kilometres long.
In 1687, Mughal emperor Aurangzeb conquered a fort. Right now, Golconda Fort has a few different mosques and palaces. Many of them are in ruins. The beauty and elegance of the fort are famous all over the world.
The outer fort is a sprawling 7 square kilometres, and the inner fort is a more intimate 3 square kilometres.
How to reach Golconda Fort
Reaching the Golconda fort is easy because it is connected by road to the rest of the city. The fort is about 11 km away from the center of Hyderabad.
Travellers can also use the nearest metro station, Peddamma Temple Metro Station and Jubilee Hills Check Post Metro Station on the Blue line.
If you want to get to the fort, you will need to take a taxi or an auto-rickshaw. This will take around 20 minutes.
There are many ways to get places. One of the best is to hire a taxi and explore these tourist destinations.
Best Time to visit Golconda Fort
You can visit the fort anytime, but it is better to come during the September-March months.
The weather in Hyderabad is usually hot during the summer. When you explore this majestic fort, it can be a little uncomfortable because there are many stairs and walking.
You can also visit the fort at nighttime. After exploring, you can watch a sound and light show.
It is also recommended to visit other places that are near Golconda. These are the Qutub Shahi Tombs and Taramati Baradari.
Attractions near Golconda Fort
Naya Qila
As an extension to Golconda Fort, Naya Qila can be found approximately one kilometre away.
This monument was built by Qutb Shahi and is essential to tourists in Hyderabad. It is open from 9 AM to 5 PM, so people can visit.
Qutb Shahi Tombs
Qutb Shahi Tombs are a collection of mausoleums and mosques that were built during the time of the Qutb Shahi Dynasty. They are about 1.6 kilometers from Golconda Fort.
The tombs are dome-shaped and they are on a raised platform. They were made by the Qutb Shahi dynasty. You can visit these tombs from 9:30 AM to 4:30 PM, except on Fridays.
Taramati Baradari
Taramati Baradari is a cultural hub that houses a big auditorium, an air-conditioned theatre, a decent restaurant, and a spacious banquet hall. It is about 4 kilometres from Golconda Fort.
The auditorium and the theatre can hold a lot of people. There are 1600 in the auditorium and 500 in the theatre.
Enjoy Boating at Hussain Sagar Lake
The lake is a short way from Golconda Fort. It has clear water that people can go boating in.
This lake is popular because it is the largest man-made one in Asia. People can enjoy fishing and other water sports there.
Seek Blessings at Birla Mandir
This temple is 13.1 km from Golconda Fort. A lot of people come to this temple and pray to Lord Venkateshwara.
The temple offers a peaceful place for people to pray, meditate, and feel better.
Other Information About Golconda Fort
Location: Khair Complex, Ibrahim Bagh, Hyderabad, Telangana 500008
Timings: Golconda Fort is open all day. People can come from 8 AM to 5:30 PM.
Entry fee: The price for Indian people to enter Golconda Fort is INR 15, and INR 200 for foreigners.
Visitor's Facility: There are many restaurants near the fort. They give you food for a good price. In addition, there are many good hotels near the fort for tourists to stay in and relax.
Parking Facility: There is a parking space for the Golconda Fort, but be aware that it is designated as small.
India is a land of dazzling beauty. It is a place where one can find natural and man-made wonders, such as the Taj Mahal and the Red Fort.
Travellers worldwide come to India for its rich history, diverse culture, ancient monuments, and architectural marvels.
Monuments of India are not just historical buildings or sculptures; they also represent an era when people were still discovering themselves while defining their future through artistry.
From the north to south, east and west you can find many different kinds of buildings. In each region, there are mosques, forts, museums, mausoleums and more.
The historical monuments in India are a significant part of Indian culture. They can also be an important tourist attraction.
This article aims to provide you with an overview of some such historical sites in India and their significance.
List of top Monuments of India
Taj Mahal, Agra
Red Fort, Delhi
Qutub Minar, Delhi
Agra Fort, Agra
Golden Temple, Amritsar
Konark Sun Temple, Odisha
Khajuraho Group of Monuments, Madhya Pradesh
Amber Fort, Jaipur
Gateway of India, Mumbai
Monuments of Hampi, Karnataka
Lotus Temple, Delhi
Jaisalmer Fort, Jaisalmer
Sanchi Stupa, Madhya Pradesh
Hawa Mahal, Jaipur
Ajanta and Ellora Caves, Aurangabad
Charminar, Hyderabad
City Palace, Jaipur
Mysore Palace
Taj Mahal, Agra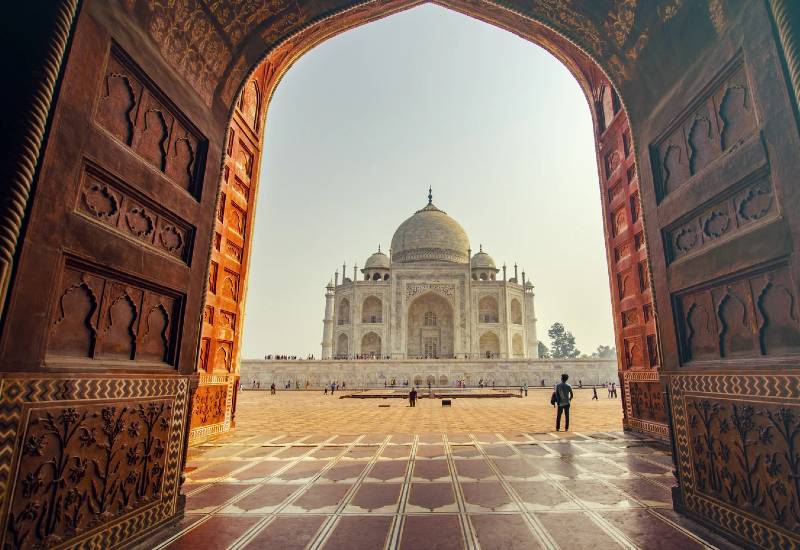 Located in Agra, Uttar Pradesh, the monument was built by Shah Jahan for his wife, Mumtaz. It is a symbol of love, and one can find its reflection in India's architecture even today.
The white marble mausoleum stands on a square plinth, and it has four minarets at each corner.
The dome of the building offers stunning views of the city below, but the entry to the tombs is restricted now; you can walk around the grounds of the Indian monument and look at all the beautiful designs on the mosque.
The Taj Mahal is located on the southern bank of the Yamuna River. This monument of India is one of the Seven Wonders of the World.
Red Fort, Delhi
The Red Fort is a historical fort in the city of Delhi in India. It was used as a house by Mughal Emperors.
The Red Fort of Delhi, a UNESCO World Heritage Site, is testimony to the power and glory of the Mughal Empire and one of the best monument of India.
The Mughal emperor, Shah Jahan, ruled for 11 years in Agra. He then decided to move to Delhi and started building the Red Fort.
The fort has been through many battles but still stands as one of India's most impressive buildings till date.
Every year on August 15th, the Indian prime minister hoists the national flag at the Red Fort. Then he gives a speech from its ramparts.
Qutub Minar, Delhi
Qutub Minar, also known as a victory tower. It is the tallest brick minaret in the world, and it's the highest one in Asia. The Qutub Minar is 72.5m high.
Although many natural disasters have destroyed it over the years, the tower still attracts tourists.
A UNESCO World Heritage Site, it is located in Mehrauli, Delhi. It was first built in 1192 by Qutb Ud-Din-Aibak, who founded Delhi Sultanate.
Later, various rulers built the tower. Seeing this tower reminds you of the rich history of India.
Agra Fort, Agra
The Agra Fort is a historical fort in the city of Agra, India. It was the home of the emperors of the Mughal Dynasty. But in 1638, they moved to Delhi.
Before the British captured it, it was ruled by Indians. The last people to rule before the British were the Marathas.
The Agra fort was inscribed as a UNESCO World Heritage site in 1983.
The fort is 2.5 kilometres northwest of the more famous sister monument, the Taj Mahal. It can more accurately be described as a walled city than just a fort itself.
Golden Temple, Amritsar
Amritsar is world-famous for the beautiful and highly revered Golden Temple or Sri Harmandir Sahib, one of the country's most famous spiritual sites.
A large holy lake surrounds the temple, and people come from all over the world to experience its peaceful surroundings.
Konark Sun Temple, Odisha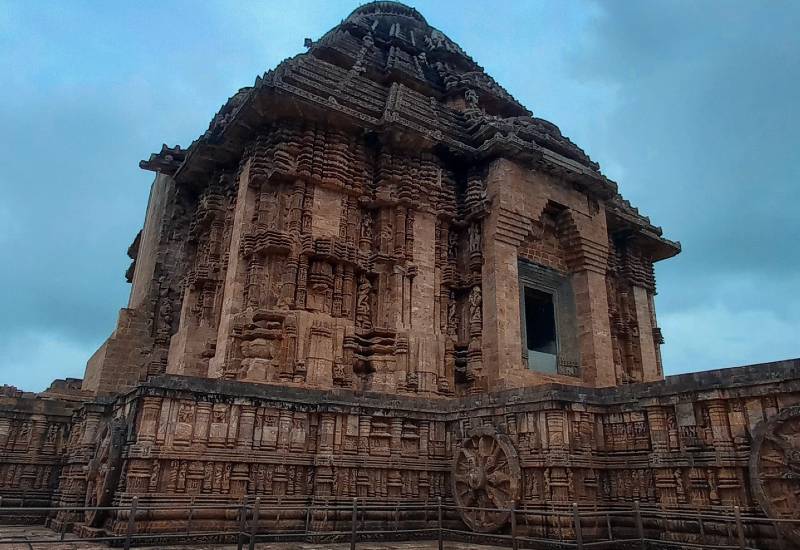 Konark Sun Temple is one of the most famous temples in India, dedicated to the sun god. The temple is shaped like a giant chariot. The whole temple is covered with beautiful carvings.
The Konark Sun Temple in Orissa is the most popular tourist destination. It has been a World Heritage Site since 1984. It is located in Konark village, which is 35km north of Puri.
The walls of the temple are decorated with reliefs, many of which are small and very detailed.
This temple follows the style of Kalinga architecture. It is oriented to the east so that the first rays of sunlight will hit it.
Khajuraho Group of Monuments, Madhya Pradesh
The Khajuraho Group of Monuments is a group of Jain temples and Hindu temples. They are in Chhatarpur district, Madhya Pradesh, India.
The Khajuraho Group of Monuments (Temples) in Madhya Pradesh is an impressive group of buildings that are all made from stone. People come from many places to see them.
These temples have a history of 1000 years and are an example of India's artistic and cultural heritage.
Erotic sculptures in these temples are some of the finest in the world and fascinating for their incredible architecture.
Undoubtedly, Khajuraho is one of the country's top heritage monuments.
Amber Fort, Jaipur
Amer Palace Fort is a tourist attraction in Jaipur. It's located on top of a hill that is about 11 km away from the city.
Amer Fort is an enormous palace made of sandstone and marble. It is in pale yellow and pink. The fort is divided into four different parts that each have a courtyard.
There are a number of places to visit at the Amer Fort, including the Diwan-e-Aam; these include Mandir and Sheesh Mahal.
Amer Fort is also home to some tunnels that connect it to Jaigarh Fort. A part of these tunnels has been restored and is open to the public.
The Amer Fort is an excellent example of Rajasthani architecture. You should visit this place. The sound and light show at the Amer Fort are lovely. People can see the history of the fort.
Gateway of India, Mumbai
One of India's most iconic landmarks is the Gateway of India, which stands in Mumbai. Located on the southern end of the city, the gateway overlooks the splendid Arabian Sea.
This wonderful famous building was built to honour King George V and Queen Mary when they visited India in 1911.
It was designed by George Wittet and took around 13 years to complete. It was inaugurated on December 4th, 1924. This building has been made using yellow basalt stones.
The Gateway of India has an archway that is 26 meters high. The Gateway of India is one of the most popular places in Mumbai, and it's a favourite among historians, tourists, and photographers.
Monuments of Hampi, Karnataka
Hampi is a UNESCO World Heritage Site situated in Karnataka, just on the bank of the Tungabhadra River.
Hampi used to be the capital of the Vijayanagara Empire during the 14th century AD, and in the 1500s, it transformed into one of India's richest cities.
After a long time of being invaded by the Mughal sultanates, Hampi became a place where there are ruins. These ruins still exist today.
Hampi is dry and moderate all year long, but it is the best time to visit it during the winter. Although it may be hot in the afternoon, mornings and evenings are not. You can explore this World Heritage Site during those times of the day.
Lotus Temple, Delhi
The Lotus Temple, a Bahá'í House of Worship in Delhi, is often referred to as one of India's most spectacular and unique buildings.
The temple was designed by Persian architect Fariborz Sahba who drew inspiration from flowers like lotuses and roses while designing it.
It also has 27 petals representing Baha'u'llah's message that all religions should unite on earth for peace, with 27 being the total number of letters in the Arabic alphabet used to write various languages such as English, Hindi etc.
This beautiful temple can accommodate over 2500 visitors and houses around 1000 pieces of art, including paintings, sculptures and tapestries.
Jaisalmer Fort, Jaisalmer
The Jaisalmer fort is located in the Indian state of Rajasthan. The fort was built by Rawal Jaitsi, ruler of Jaisalmer, during the 12th century, and it's a beautiful example of the Golden age forts in India with its sandstone walls surrounding the town.
They say that there are four gates to enter this impregnable fortress, but not all can be seen outside as some are hidden behind buildings.
Jaisalmer fort is one of the largest forts in the world. It is also very popular with tourists. One of the most exciting features of the Jaisalmer fort is that it houses a museum, shops, restaurants, hotels and residential accommodations.
There is a beautiful fort on the edge of Jaisalmer called Patwon-ki-Haveli, built by Jai Singh II and could be seen from miles away because it was constructed with white marble, stone inlays and gold foil.
Sanchi Stupa, Madhya Pradesh
Sanchi Stupa is an ancient Buddhist temple. It stands on top of a hill in a small town called Sanchi, India. This place is most well-known as Great Stupa. This is one of the oldest stone Buddhist monuments in India.
Sanchi has been protecting these beautiful and essential architectural wonders. These wonders have been protecting ancient history and art of the Mauryan period.
The many buildings, temples, and Ashoka Pillar have wowed people around the world. In fact, UNESCO has given us the status of World Heritage Site because of the Mahastupa.
Sanchi is an important Buddhist site. You can feel the awe that you felt when you were little and listen to stories about Ashoka. There are also other hidden Buddhist sites within 30km of Sanchi where people learn about Buddhism.
Hawa Mahal, Jaipur
Jaipur is rich in history and culture and especially popular for its iconic Hawa Mahal (Palace of Winds). Maharaja Sawai Pratap Singh commissioned this five story building.
The main reason behind the making of Hawa Mahal was to provide privacy to ladies while they observed outside life, glimpses of royal processions, hustles and bustles of the city. This gave women a sense of freedom without appearing in public.
The building has 953 windows or 'Jharokhas'. They are decorated with designs. There is a small museum in the complex of Hawa Mahal. It has famous items like miniature paintings and ceremonial armor.
Ajanta and Ellora Caves, Aurangabad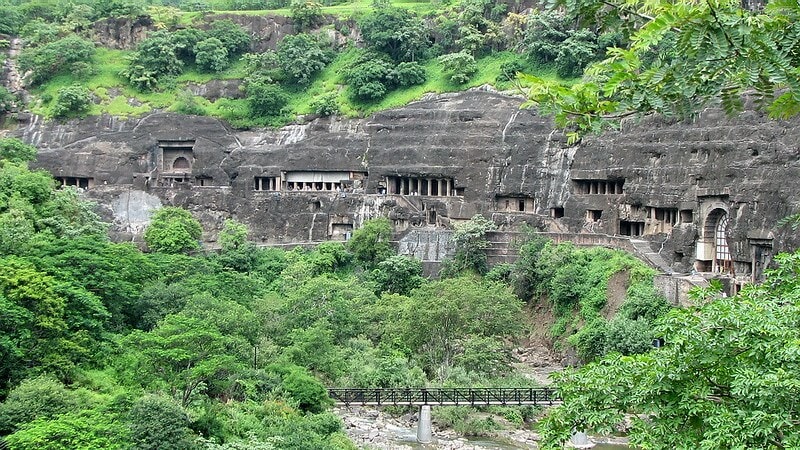 Ajanta and Ellora caves are some of the finest examples of ancient rock-cut caves located near Aurangabad in Maharashtra. Ajanta and Ellora caves include monasteries, temples, and other architectural wonders.
The Ajanta Caves are 29 in number. They were built from the 2nd century BC to the 6th century AD. The Ellora Caves is more spread out and has 34 caves made between the 6th and 11th centuries AD.
The Ajanta and Ellora Caves are designated as UNESCO World Heritage Sites and are pretty popular among travellers worldwide.
The Ajanta Caves are a series of Buddhist sites located approximately ninety-nine kilometres north of Aurangabad. Ellora is 15 kilometers west of Aurangabad. There are Hindu, Jain, and Buddhist sites here.
One of the best-known structures in the Ajanta and Ellora Caves is the Kailash Temple, which also happens to be the single largest monolithic monument.
Charminar, Hyderabad
Built-in 1591, Charminar is the heart of Hyderabad. The landmark was built by the fifth ruler of the Qutb Shahi dynasty. Charminar, a famous monument and mosque, is a model that celebrates the influence of Muslim Turkomans in India.
One of the top ten monuments of India, this is about the structure and its history. People believe that the four minarets are symbols of Islam's first four Khalifas.
Each minaret is four stories tall, and the floors are divided by beautifully carved rings around it. The mosque is on the top floor, and people can enjoy a short climb of 149 steps to get there.
City Palace, Jaipur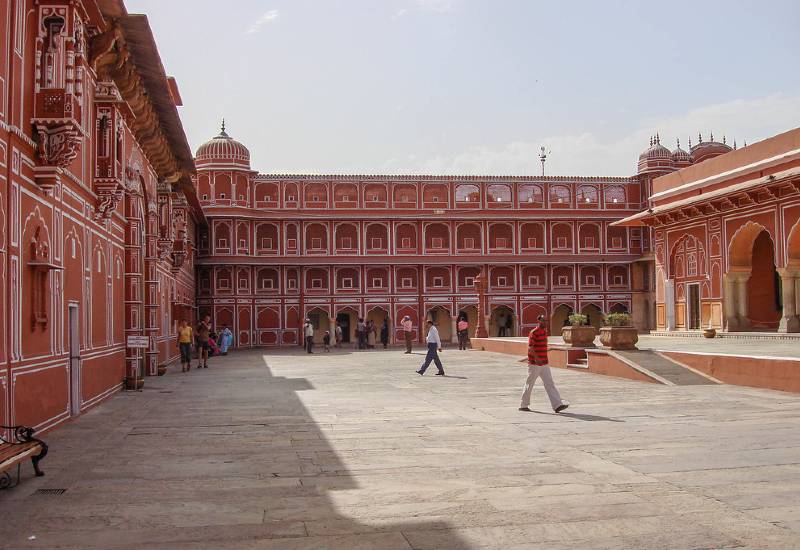 India is known for its variety of cultures and rich architecture, decorated with monuments such as palaces, temples, and churches. Jaipur city is one of them that takes you back in time to the Rajput era.
The city has many impressive buildings, which is why it gets many tourists all year. One such architectural delight is the City Palace in Jaipur, a symbol of the city's royal and regal days.
When you go into a palace, the beauty of the inside is impressive. You can see details that are stunning and look at all kinds of exciting things.
The City Palace used to be where the royal family of Jaipur lived. Later, it was divided into two parts - one with museums and courtyards, and the other where the royal family still lives.
City Palace was built by Sawai Jai Singh, who is a Rajput from the Kachwaha clan. He helped found the city of Jaipur.
Mysore Palace
An example of Indo-Saracenic architecture, the Mysore Palace, is located in Karnataka and is composed beautifully with an incredible amount of detail.
Also known as Amba Vilas Palace in Mysore was formerly the palace of the royal family of Mysore and is still their official home.
Mysore Palace was built in 1912 by the 24th King of the Wodeyar Dynasty. It is one of the enormous palaces in India.
The palace's facade is a harmonious fusion of Hindu, Muslim, Rajput and Gothic styles that give it a regal quality.
With the Chamundi Hills on its eastern side, the pride of Mysore Palace is an awe-inspiring sight to behold. It is the second most visited historical famous monument, after the Taj Mahal.
Now located in The Old Fort, Mysore Palace is famous for its light & sound show and vibrant Dussehra celebrations.
Basilica of Bom Jesus, Goa
An Indian church known for its exemplary baroque architecture is the Basilica of Bom Jesus Church in Goa. The Basilica of Bom Jesus Church is one of the only churches in India with admirable baroque architecture.
This church was built in 1594 and consecrated in 1605. Christianity came to India at this time. The church is in the town of Bainguinim, which is about 10 km from Panjim.
The Basilica of Bom Jesus is a place that has been recognized as a World Heritage Site by UNESCO. This church was not plastered outside, so it hasn't been changed over time.
The facade of the church is delicately carved with pillars which are inscribed with the initials 'IHS', an abbreviation for Jesuit emblem meaning Jesus, Saviour of Men.
The floor of the Basilica is a marble mosaic with precious stones, giving it a solemn appearance. The Basilica of Bom Jesus is a structure that was built 408 years ago and is open to the public every day.
Ahmedabad is a city that has many beautiful locations to spend your day. Here are many places for one day picnic near Ahmedabad that are perfect for spending your holidays with friends or family members.
Many people prefer picnics over dinners or lunches because they are usually less formal occasions where family members get together to enjoy each other's company while enjoying nature at their own pace.
If you are looking for one day picnic near Ahmedabad, then we have compiled the best places for you! or some of the places to visit near Ahmedabad within 100 kms.
These historic, cultural, and architectural picnic spots close to the city of Ahmedabad are well known for their significant contributions within Gujarat.
13 best places for one day picnic near Ahmedabad
1) Maniar's Wonderland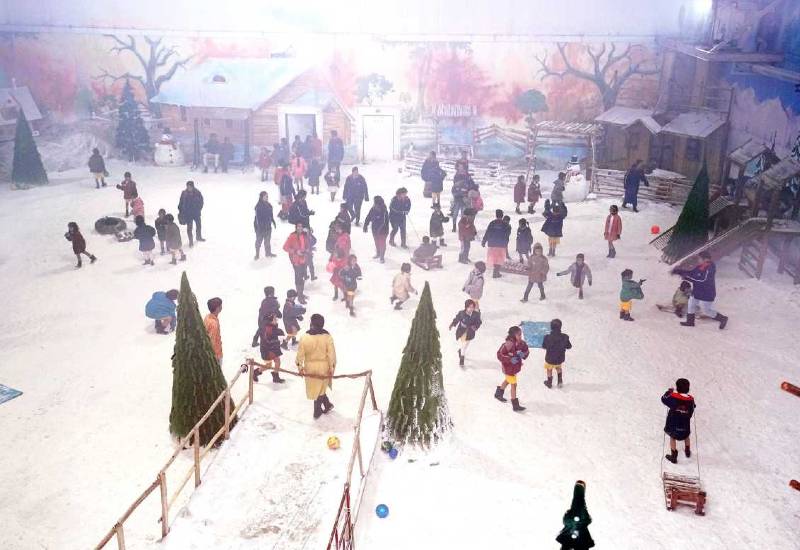 Situated on the Sarkhej Sanand Highway in Ahmedabad, Maniar's Wonderland is a perfect place for kids and an ideal spot for adults.
Maniar's Wonderland is one of the best theme parks near Ahmedabad. It includes a Snow Park and a Family Water Park along with an amusement park.
Gujarat has many outdoor amusement parks, but Maniar's amusement park is one of the largest outdoor amusement parks.
The waterpark has slides, rides, and pools appropriate for all age groups. The waterpark serves as a great place that can entertain both young and old.
Maniar's Wonderland has these Rides to enjoy - Aqua Roller, Aqua Ball, Aqua Splash, Slingshot, Zipline, Buggy Ride, Wonder Chair, Desert Bike Rides such as ATV, Bumping Cars and more.
At Wonder Food Restaurant, you can enjoy some good cuisine with your family.
2) Adalaj Ni Vav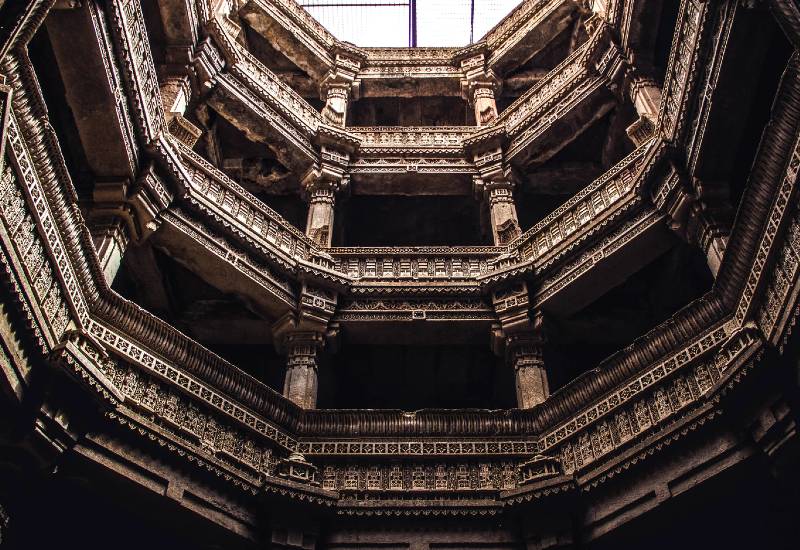 One of the most famous heritage sites in Ahmedabad is Adalaj Ni Vav (Adalaj Stepwell).
Vav is a Gujarati term for stepwell, and Adalaj stepwell, in particular, is well-known for the photo walks.
Not only among the locals but this beautiful heritage of Ahmedabad has attracted travellers from elsewhere.
Rana Veer Singh built five stories deep, this historic building in the 14th century.
It provided water to those living in the dry region who had to walk for miles for water. It also served as a historical and cultural landmark that would bring respite to travellers.
Adalaj stepwell, nearly 400 years old, is a marvel of our ancient craftsmanship.
Adalaj ki Vav is a stepwell near Ahmedabad, Gujarat, telling the story of love and sacrifice.
Adalaj ni Vav has an open time from 6 am to 6 pm with no entry fees.
3) Indroda Nature Park (Indroda Dinosaur and Fossil Park)
Indroda Nature Park is a great picnic spot near Ahmedabad for nature lovers and animal enthusiasts.
The Indroda Nature Park spans 400 hectares and is the second-largest hatchery of dinosaur eggs in the country, popularly known as the Jurassic Park of India.
Travellers who are visiting Ahmedabad with children should check out Maniar's Wonderland and Indroda Nature Park.
The park encompasses a zoo, a botanical garden with massive sea mammal skeletons like blue whales, and a theater.
The Dinosaur Museum, the only such museum in this country, is run by the Gujarat Ecological Education and Research Foundation (GEER).
4) Akshardham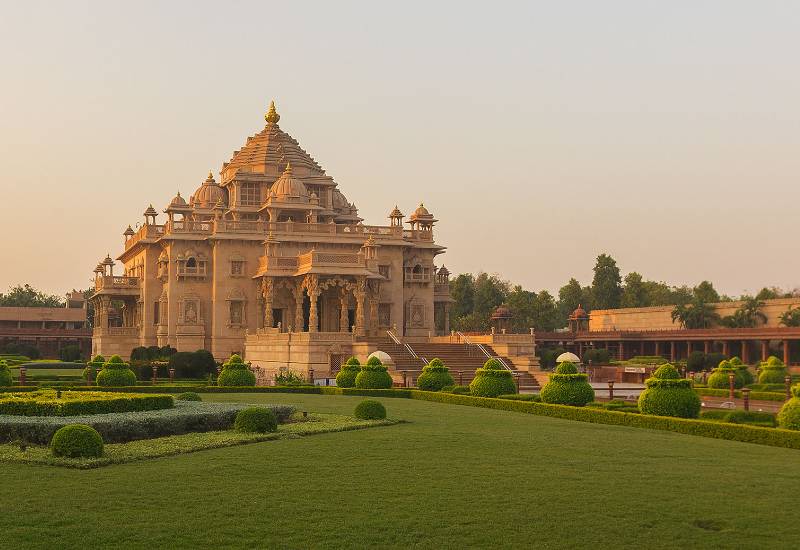 One of the largest temples in Gujarat, Akshardham Temple, is dedicated to the Hindu Lord Swaminarayan. Spread across 23 acres of land, this majestic temple is made from 6000 tons of pink sandstone.
The temple is a blend of art, culture, education, devotion and exhibition.
The Akshardham in Ahmedabad is the same as the Akshardham in Delhi. They are both Akshardham. There is an intricately carved structure of Lord Swaminarayan in sprawling gardens.
There are many episodes and anecdotes from Hinduism's rich history that can be seen in sound and light form. The show dives into various facets of Hinduism.
These picnic spots are known for their historical, cultural, and architectural significance.
The Akshardham Temple is surrounded by a garden called Sahajanand Van that offers children rides, swings, and games.
5) Thol Lake Bird Sanctuary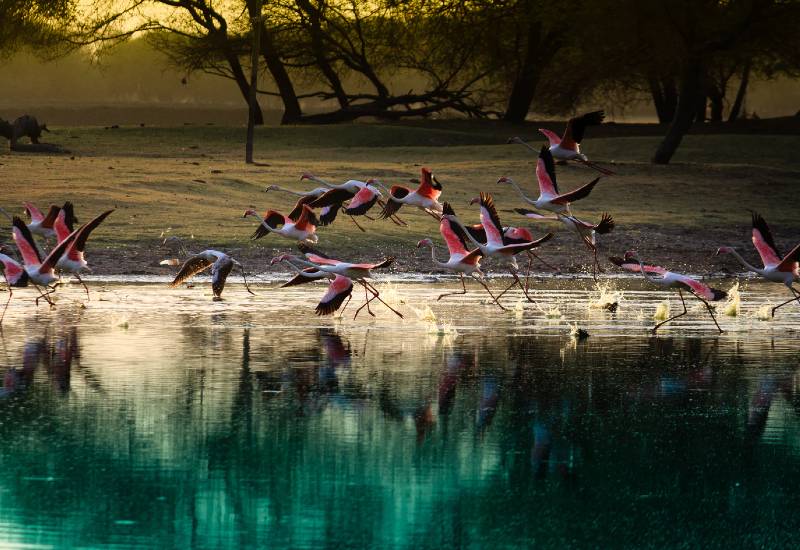 The Thol Lake Bird Sanctuary, which is around 40 kilometres away from Ahmedabad, has become a popular place to visit for the people of Ahmedabad.
The area is about 7 sqkm and has been a constant intrigue for nature lovers, especially those interested in bird watching.
The lake also offers scenic views, owing to its fresh and sweet-tasting water and the lush surrounding.
The beautiful surroundings and picturesque site make it a popular picnic spot. If you come here on a sunny day, you can see many types of birds, including flamingos, geese, herons, whistling teals and sarus crane.
Thol Lake Bird Sanctuary is one of the most visited places near Ahmedabad in any season, but Monsoon season is the perfect time to visit these picnic spots with friends and family.
6) Nalsarovar Bird Sanctuary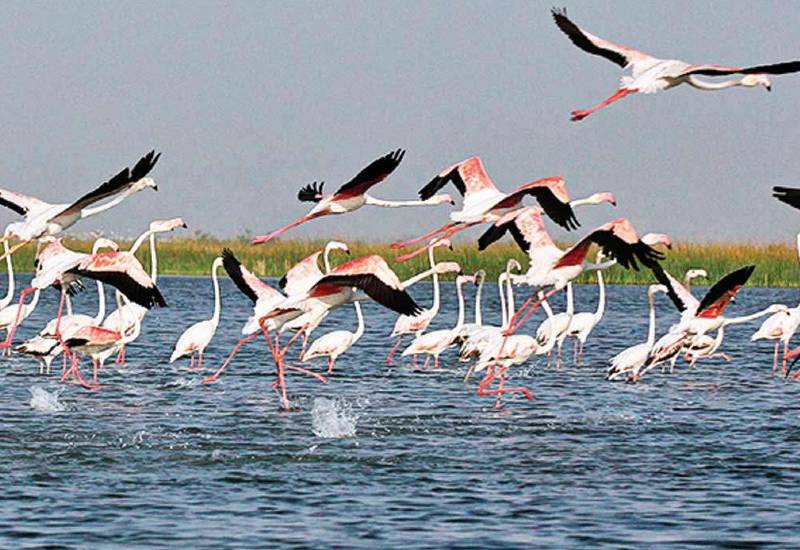 The Nal Sarovar Bird Sanctuary is one of the most important tourist attractions in Ahmedabad.
Situated 69 km from Ahmedabad, Nalsarovar Bird Sanctuary is a protected bird sanctuary at Nalsarovar Village in Gujarat.
One of India's most significant wetland bird sanctuaries, Nalsarovar, is mainly inhabited by migratory birds during their winter season.
With small ponds on its periphery and marshy areas, this beautiful bird sanctuary is home to many migratory birds, including rosy pelicans and herons.
If you are travelling around Ahmedabad, why not take a break at Nal Sarovar Bird Sanctuary and experience a better world of natural life. This is an excellent place for parents to take their children while travelling in the Ahmedabad area.
The best time to visit Nalsarovar is between late November and early April.
Timings: 6 AM to 6 PM
Entry Fee: Rs. 75 for Person on weekdays, Rs. 85 for Person on weekends & Rs. 200 for Camera
7) Zanzari Waterfalls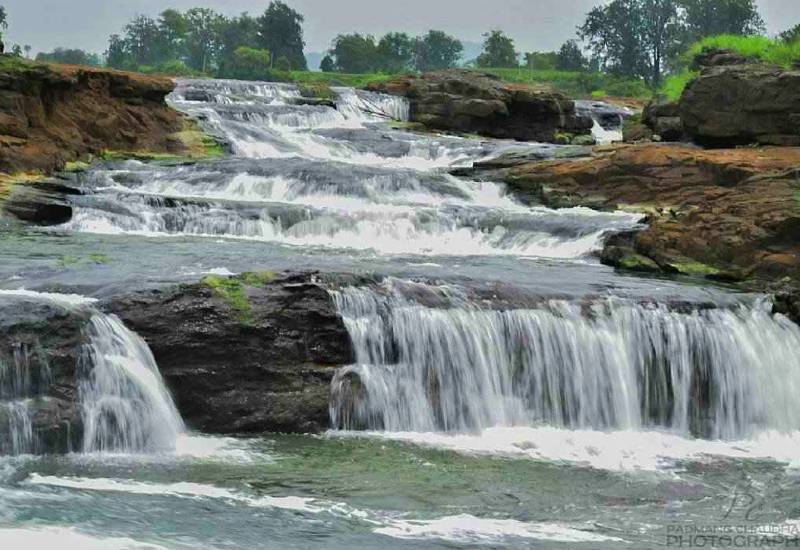 The Zanzari waterfall is on the Vatrak River, the former having a waterfall 25 feet high.
This is the ideal place to spend a sunny day with friends and family. Zanzari waterfall doesn't always have water flowing but is a frequent visitor in the monsoon season.
During the summers, the river reduces to a stream that's just perfect for a picnic.
This one day picnic place in Gujarat worth checking out. If you're into photography, go for breathtaking shots here!
8) Tirupati Rushivan Adventure Park
If you are looking for something exciting, the Tirupati Rushivan is an entertaining avenue to explore.
Derol is a small town in Gujarat known for its water park, which sits next to its amusement park.
One of the best weekend picnic spots would be Tirupati Rushivan Park with friends and family.
This Picnic Park cum Water park cum Amusement Cell is an enjoyable place. This is balancing recreational activities with natural areas, which is an essential part of a healthy environment.
This waterpark has rides such as the cyclone, multi-land, and rain dance. There are several additional attractions around the grounds, including frisbee, Columbus and merry-go-round.
9) Lothal
There has been a lot of controversy about this heritage place in Gujarat. While some are keen to visit it, others find themselves bored stiff because it has no beautiful carving or monuments like others.
Lothal's ruins of the Indus Valley Civilization are essential for understanding how people lived in that area. Lothal lies between the Sabarmati river and its tributary, Bhogavo, in the Saurasthra region.
It is a historic site in Gujarat known as "mini-Harappa." There are many things that the people of early Persia did. They made beads, cooked rice husks, and played chess. There is evidence from this place.
10) Polo Forest
Polo Forest is perfect for nature lovers and thrill seekers.
Anyone travelling to Ahmedabad should take the time to enjoy the many unique picnic spots in and around the city.
Polo - one of Gujarat's most ancient historical sites - is also well known for its beautiful surroundings, serving as a refuge for an abundance of fascinating flora and fauna.
This is a Bird Watcher's Delight. It is a sanctuary for over 200 species of Rare Birds.
The jungles are home to many different animals, including leopards and bears. There are also spiders and pythons, though these are rarely seen as they reside deep in the jungle.
It is 150 km from Ahmedabad, 70 km from Himmatnagar and 120 km from Udaipur.
11) Sant Sarovar Dam
Sant Sarovar Dam is a water conservation place which was made on the Sabarmati River in Gandhinagar.
If you are looking to take some time for yourself, this is an excellent place to go with friends and family.
During monsoons, the dam's view of the river flowing with all its force is enthralling.
12) Statue Of Unity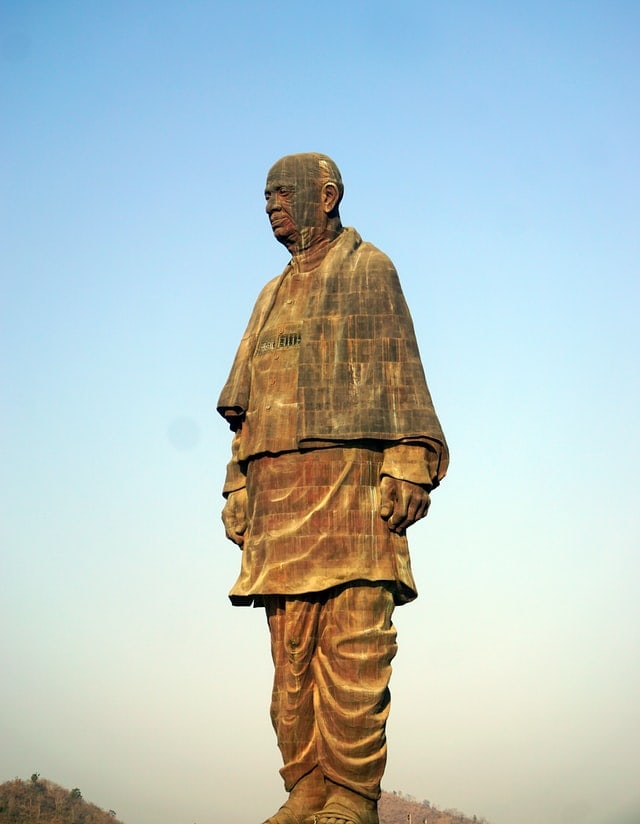 Statue of Unity is recently inaugurated by the country's Prime Minister Narendra Modi; this is the world's tallest statue - it stands 182 meters tall.
The Statue of Unity was built as a tribute to the iron man of India, Sardar Vallabhbhai Patel. Sardar Vallabhbhai Patel is behind in the integration of different parts of India under one government after Independence.
The distance of the Statue of Unity is 200 km from Ahmedabad.
The Statue of Unity overlooks the vast surrounding area of the Narmada River and Sardar Sarovar dam. This is one of the best places to go for a day trip from Ahmedabad.
13) Kankaria Lake
One of the biggest attractions in Ahmedabad is Kankaria Lake, an artificial water body that has been an integral part of the city's identity for over 500 years.
This lake is located in the south-eastern part of the city. It was constructed way back in the 15th century.
Today, it is best known for its recreational offerings, such as boating and train rides.
It's worth booking a hotel close to Kankaria Lakefront in advance as it can be challenging to get anywhere else on the weekend.
When you are going on a honeymoon, the first choice comes to mind is to go to some romantic destination. However, choosing the best honeymoon places in India for the first time can be a little tricky, especially if you have never been to that place or haven't planned a honeymoon trip before.
The most important things to focus on are the sun, sea, sand, and shopping for some travellers. For others, it's the history and culture. Some prefer to go for a quiet, romantic getaway, while others prefer a more action-packed destination complete with theme parks and sports.
It is believed that in India, with its rich cultural heritage, the place you choose for your honeymoon would not fail to fulfill your dreams of love and romance. So, are you ready to create the first unforgettable memory of your married life that you will cherish forever?
Several places in India can be visited for a honeymoon trip, which includes a variety of options.
Explore this list of the best honeymoon places in India worth considering.
Goa
Goa is one of the excellent honeymoon destinations in India with a land of beauty with pristine beaches, rich historical background and a lot more to offer. There's more to Goa than just its beaches, as it's also home to many historic sites like temples, churches and forts.
It is located on India's West Coast and is surrounded by the Arabian Sea. Many other places of interest are worth exploring.
Best Experiences of Goa
Beaches, Water Sports, Scuba Diving & Cruising etc.
Best time to visit Goa
The best time to visit Goa is from November to February.
Andaman
If you and your partner want to have an unforgettable honeymoon in a dreamlike tropical paradise, you should consider visiting the islands of Andaman. At first glance, it's easy to see why Andaman is such a popular honeymoon destination.
The pristine beaches, colourful coral reefs, and amazing marine life are just some reasons that the Andaman Islands are considered one of India's top exotic honeymoon destinations.
Best Experiences of Andaman
Scuba Diving, Sea Walking, Mangrove Kayaking, Havelock Island, Cellular Jail National Memorial, Radhanagar Beach
Best time to visit Andaman
Andaman is a year-round destination, where temperatures stay pleasant throughout. The best time to visit Andaman is between October and May. Monsoons are not always recommended at Andaman.
Jaisalmer
On the banks of the majestic desert land stands the city of Jaisalmer. The town has been winning hearts with its enchanting beauty. The city is known for its rich culture, amazing dunes and royal forts.
Every year, Jaisalmer tops the list of most preferred honeymoon destinations. A typical Jaisalmer tour would involve exploring the city for a few days before visiting the incredible Jaisalmer fort that rises above the town and offers beautiful sights.
The fort is known for its intricately carved halls and palaces. One can also go on a camel safari to explore the sand dunes. So, how are you planning to visit Jaisalmer for a honeymoon?
Best Experiences of Jaisalmer
Jaisalmer Fort, Boating at Gadisar Lake, Bada Bagh, Gadi Sagar Lake, Desert safari & camping, Desert jeep safari, Camel safari
Best time to visit Jaisalmer
November to March is an ideal time to visit Jaisalmer.
Udaipur
Udaipur is a city in Rajasthan, and it's known as the City of Lakes. The city is located in the southwestern part of the state. It was once the capital of the Mewar Kingdom. Lakes, hills, and palaces surround the city. The city is one of the most visited places in India.
The city offers a great experience, and it is a great destination for a honeymoon trip. The city has many places to see, and it is a beautiful place to visit.
Udaipur City Palace is one of the architectural marvels of Rajasthan, located peacefully on the banks of Lake Pichola.
Best Experiences of Udaipur
Udaipur City Palace, Lake Palace Udaipur, Dharohar folk dance show, Lal Ghat, Haldighati, Ranakpur Jain Temple, Monsoon Palace.
Best time to visit Udaipur
The best time to visit Udaipur is the winter season. The temperature remains comfortable and is apt for visiting the monuments and other places of interest in Udaipur.
Alleppey
Alleppey is among the fascinating Honeymoon Places in South India and welcomes every newly married couple to spend some time in one of their private houseboats.
Alleppey is also popularly known as the "Venice of the East", and this is on the list of most Romantic Places in India. The Alleppey backwater region is one of the most beautiful backwaters of Kerala. This place is a must-visit destination for everyone.
The Alleppey backwaters are situated on the Arabian Sea coast, and they are well-connected by the network of canals.
Best Experiences of Alleppey
Houseboat Stay, Beaches of Alleppey, Ayurvedic massages, Backwater village etc.
Best time to visit Alleppey
November to February (winters) is the best time to visit Alleppey as the weather is mild and pleasant.
Sikkim
Sikkim is in the best Honeymoon Places in India Colorful Buddhist Monasteries, mesmerizing views of Mount Kanchenjunga, snow-covered landscape of Yumathang and Nathu La Pass.
As a preferred destination for honeymooners, Sikkim has numerous hotels and resorts located in remote areas.
And the numerous trekking and hiking options make Sikkim holidays one of the perfect honeymoon destinations in India.
Sikkim honeymoon packages starting from Rs.20000 - Rs.25,000 for an ideal honeymoon.
Best Experiences of Sikkim
Rumtek Monastery, Sip Temi's tea, Tsomgo Lake, Camping, Trekking, National Parks(Wild Side Of Sikkim), North-Eastern Delicacies, Handicrafts
Best time to visit Sikkim
Here are the two best seasons to visit Sikkim, one between March to May, and the other is October to November.
Munnar
Munnar is a hill station in Kerala, South India. Munnar is a good honeymoon destination for those who are looking for a relaxing getaway.
It is famous for its tea plantations and breathtaking scenery. Rolling hills, sprawling tea plantations, beautiful lakes, cascading waterfalls and verdant valleys make Munnar a tourist hotspot.
You may book Kerala honeymoon packages for yourself because it has a lot in store for couples. The nearest airport is at Cochin International Airport.
Best Experiences of Munnar
Forest trekking, Rock climbing, Wildlife sanctuaries (Eravikulam National Park), Waterfalls, Adventurous activities, Kundala Lake, Ayurvedic therapies and Spa, Street shopping.
Best time to visit Munnar
Munnar is an ideal holiday destination almost throughout the year.
Shimla
Honeymoon is a special time for every couple. If you are looking for a nice place to start your married life? Try Shimla. In the lap of the Himalayas, Shimla is visited by thousands of tourists every year.
Shimla is the capital city of Himachal Pradesh and It is one of the most beautiful hill stations in India. There is no denying the fact that this place is simply stunning.
It offers some of the most panoramic views of the mountain ranges, and the weather is always pleasant. In peak summers, it is always a delight to escape to a cooler place.
If you want to enjoy the sun in nice and beautiful surroundings, Shimla is the place to go.
Best Experiences of Shimla
Toy Train Ride, Kufri, Kiala Forest, Tara Devi Temple, Kali Bari Temple, Christ Church, The Ridge, Jakhoo Hill and Temple
Best time to visit Shimla
March to June is a popular tourist season in Shimla (quite pleasant weather and perfect for outdoor activities).
Kasauli
Kasauli is a hill station in the state of Himachal Pradesh, India. Kasauli is a scenic town nestled in the Himalayan foothills.
It is surrounded by verdant green hills and offers awesome views of the snow-capped peaks of the Himalayas. While it is popular with tourists all year round, it is a popular destination for a honeymoon.
The Kasauli is blessed with nature at its pristine beauty and offers various exotic and serene locales for your memorable honeymoon trip.
The town is located at an altitude of 2,000 metres (6,600 ft).
Best Experiences of Kasauli
Trekking to Monkey Point, Timber Trail, Kalka trek, Shopping at Mall Road, Authentic Tibetan Food, Gilbert Trail
Best time to visit Kasauli
The best time to visit Kasauli is during the summer season.
Kasol
Kasol is a beautiful valley situated in the foothills of the western Himalayas of Himachal Pradesh. Kasol is also known as 'mini israel'. Kasol is a perfect destination for holidaymakers to spend their honeymoon.
There are many points of interest in Kasol. The best time to visit Kasol is from May to October.
The best way to reach Kasol is from Pathankot. Kasol is one of the best offbeat honeymoon destinations in India.
Best Experiences of Kasol
Parvati River, Kheer Ganga trek, Israeli Food and shopping, Manikaran Sahib Gurdwara, Malana Village, Hype Music Festival, Massage.
Best time to visit Kasol
Kasol has mild and pleasant weather throughout the year. But the best months to visit Kasol are from October to June.
Coorg
Coorg is an ideal honeymoon destination in India and is also known as the Scotland of India. It is located amidst the Western Ghats of South India and is well connected by rail, road and air.
The climate of Coorg varies from tropical to temperate, and the terrain consists of hills and forests. The place is famous for its coffee plantations and scenic beauty of Western Ghats.
The place is the home of a number of different plants and animals. The most popular place to fall in love is the Kodagu district of Coorg. The place attracts nature enthusiasts and honeymooners for the best honeymoon experience from all over the world.
Best Experiences of Coorg
Dubare Elephant Camp, Trekking, Kaveri River, Wildlife Safari, Bird Watching, Misty Rainforest, nisargadhama forest park, Golden Temple
Best time to visit Coorg
The best time to visit Coorg is during the summer months between March and June.
Jaipur
India is a land of tourist attractions, and Jaipur is one of the best heritage city known as "Pink City. The city of Rajasthan has many tourist destinations.
Jaipur is the land of colourful culture and traditions. The city is a land of royal culture. It is a city of abundant history, culture and art. The city is well known for its architecture and beautiful forts.
The city is also famous for its wonderful shopping destinations. The climate is hot and dry during this period. The best time to visit Jaipur is during the months of January to March.
You can avoid the burning heat of the summer and enjoy the city.
Best Experiences of Jaipur
Jal Mahal, Lohagarh Fort Resort, Nahargarh Fort, Chokhi Dhani, Rajasthani Cuisine, Ranthambhore National Park, Amer Fort, Jantar Mantar, Birla Mandir, World Trade Park, Jaipur Market for shopping
Best time to visit Jaipur
The best time to visit Jaipur is winter during the months of November to January.
Gulmarg
There are many destinations in the world that are famous for ideal honeymoon, but this unique destination will surprise you with its amazing snow-covered mountain ranges.
Known as the Kashmir Valley, this destination is one of the best beautiful honeymoon destinations in India. Over here, the weather remains cold during the months of December, January and February.
The best time to visit here is in June and July when the weather is pleasant, and the sun is out in full force. The views are incredible, and the environment is full of life.
The best part is that it is not very expensive, and it is within a reasonable distance from the major cities such as Jammu and Srinagar. The nearest airport is at Srinagar Airport.
Best Experiences of Gulmarg
Gulmarg Gondola, Alpather Lake, Children's Park, Biosphere Reserve, Ningle Nallah, Shiva Temple, Saint Mary's Church, Shrine of Baba Reshi, Adventure Sports in Gulmarg
Best time to visit Gulmarg
The best time to visit Gulmarg for Snowfall is just after peak winter – January and February.
Ooty
Ooty is a beautiful hill station that is located in the Nilgiri Biosphere Reserve of the Western Ghats and is a popular honeymoon destination in India. Ooty offers a wide variety of activities to both couples and families looking to spend their vacation together.
It is set amidst a vast expanse of blue sky, fresh air and sparkling water, making it a perfect honeymoon spot for honeymooners.
Best Experiences of Ooty
Nilgiri Hills, Mountain Toy Train, Botanical Gardens, Dolphin's Nose, Doddabetta Peak, Summer Festival Of Ooty, Pykara, St. Stephen's Church, Upper Bhavani Lake, Honey And Bee Museum, Catherine Waterfall, Emerald Lake, Pine Forest and Bird-watching.
Best time to visit Ooty
Ooty is a year-round destination, but the ideal time to visit is between the months of April to June and September to November.
Nainital
Nainital, in Uttarakhand, is a popular Indian honeymoon destination for couples who want to enjoy nature amidst the glittery city life. Nainital is in some of the best places for a honeymoon in summer in India.
The lake is the defining characteristic of Nainital, beautiful serene water surrounded by grassy hills. The lake is complemented by the forested hills surrounding it, creating an incredible view for all who visit.
If you want to explore wildlife, then you may visit Jim Corbett National Park. The Distance between Delhi to Nainital by road is 315KM.
Best Experiences of Nainital
Mall Road, Boating at Naini Lake, Sattal, Tiffin Top, Snow view point, Naina Devi temple, Hanuman Garhi, Bhimtal, Khurpatal Lake & more.
Best time to visit Nainital
The best time to visit Nainital is from March to June, the summer/spring season.
Leh And Ladakh
The idyllic Ladakh is a beautiful Himalayan hill station in the state of Jammu and Kashmir. It is home to mysterious monasteries, beautifully carved wooden houses and monolithic temples.
The place is surrounded by the Himalayas, with snowy mountains and high altitude lakes. This region is not only rich in natural beauty but boasts of a rich cultural heritage too.
Besides, this destination is a great place for those looking for a destination wedding that is away from the convenient locations frequented by the couple on their wedding day.
Best Experiences of Leh And Ladakh
Trekking, Camel Safari, Adventurous Roads, Zanskar Valley Tour, Chadar Trek, Shanti Stupa, Sunrise at Pangong Tso, Zorawar Fort, Destination Wedding
Best time to visit Leh And Ladakh
April to June is one of the best times of the year to visit Leh. The sun shines bright and keeps the day temperatures warm.
Auli
Auli is a beautiful hill station situated in the Pauri Garhwal district of Uttarakhand. It is a perfect destination for honeymooners. The weather is pleasant, and the destination is not very crowded.
Tourists love to come here in winters as it is a very cold place. Auli is famous for its natural beauty and is also known for adventure activities like Skiing, Camping, Ropeway Ride, Trekking etc.
Best Experiences of Auli
Skiing, Auli Ropeway Ride, Kuari Pass Trek, Auli Artificial Lake, Chattrakund, Joshimath, Narsingh Temple, Auli Chair Lift
Best time to visit Auli
Auli can be visited all through the year. And the best time for it is during the months of November to March.
Mussoorie
Mussoorie, popularly known as "The Queen of the Hills," is a great destination for honeymooners in India. The breathtaking beauty of its mountainous landscapes and the proximity to the city of Dehradun make it a must-visit location.
There are some great resorts in Mussoorie that provide a great ambience to celebrate love and romance. In addition to all the natural splendour that Mussoorie has to offer, you can also visit the nearby towns of Rishikesh and Dehradun.
Mukteshwar
Mukteshwar is a hill station located in Uttarakhand, India. It is noted for its natural environment and views of the Himalayas.
Mukteshwar is the most popular hill station in the Kumaon region and the most visited tourist destination as well (apart from Nainital). The main tourist season is from May to October.
The beautiful valley of Mukteshwar is surrounded by the Panchachuli ranges, which provide a spectacular view of the Himalayan mountains. You can enjoy nature walks along the scenic paths in Mukteshwar.
Lakshadweep
Lakshadweep is one of the most beautiful islands in India. It offers spectacular vistas of its beaches, clear blue waters, and pristine coral reefs.
It is not a secret that Lakshadweep is a heaven for nature lovers. It is also a heaven for those who want to escape the hustle and bustle of the city for some peace and quiet.
It is a gift from nature to couples who are looking for a dream honeymoon destination full of romance and adventure.
Darjeeling
Darjeeling is a famous hill station in the state of West Bengal in India, and its picturesque beauty and pleasant climate make it a popular honeymoon destination.
This town is known for its tea plantations, and you can enjoy a delightful Darjeeling tea while taking in panoramic views of the Kanchenjunga mountain range.
Manali
Manali is a very popular tourist destination for honeymooners as well as young couples. Manali has much to offer to its visitors, including its beautiful natural scenery and a range of adventure activities.
It is a great honeymoon destination as it provides serenity and tranquillity and is a great place to be in to spend quality time with your spouse.
Khajjiar
From the beautiful rolling green hills and refreshing lakes to the snow-capped mountain ranges and the picturesque flora and fauna, it's no surprise that Khajjiar is in the most amazing honeymoon places in India.
In addition to the stunning natural beauty, Khajjiar also offers a range of exciting activities to enjoy with your new spouse.
With a wide range of hotels, resorts, guest houses and holiday homes on offer, Khajjiar is an ideal honeymoon location for anyone looking to spend a few idyllic days.
Golden Triangle India route is a well-known tourist circuit among people in and around India because of its incredible cultural insights and deep heritage understanding.
Golden Triangle tour is a triangular-shaped trip route with a total of 720 kilometers that starts from Delhi to Agra, Agra to Jaipur, and then back to Delhi.
As this is one of the most popular routes among tourists, it gives them an incredible spectrum of India's different landscapes and traditions.
The journey starts in Delhi as tourists get to see a handful of places that shows the historical events or architecture, which is a delight.
Then we move on to the city of love that is Agra which is worldwide famous for two things, i.e. Taj Mahal and their local speciality "Petha" which is a sweet dish mainly favourite there and the last destination of this fantastic tour is "Jaipur" which is known for its historical castles and palaces along with the traditional food and clothing line too.
Delhi - History of India
Delhi, the capital city of India is known for its heritage, vast variety of cultures, museums, and much more.
Delhi, the capital of India is one developing city and is also considered as one of the most famous tourist attractions too as most of the tourists fly all the way from other continents to Delhi. It is a great place to start your trip because of the preserved monuments and museums.
If you have plenty of time or a day before your golden triangle tour you can visit plenty of places in Delhi but sometimes it gets a bit hectic due to the hustle and bustle in this megacity. Delhi will give you a great start of this beautiful tour for sure.
Top 5 tourist spots to visit in Delhi
Red Fort
The Red Fort is an important stronghold in the city of Delhi (in Old Delhi) in India that filled in as the primary living arrangement of the Mughal Emperors. Sovereign Shah Jahan. This is one of the must-visit tourist attraction in the heart of India.
Jama Masjid
The Masjid-i Jehan Numa popularly known as the Jama Masjid of Delhi is one of the largest mosques in India situated. The Majestic Mosque for Indian Muslims is a delight to visit as this is one of the oldest and most prestigious places to visit.
Humayun's Tomb
Maqbara-i Humayun also known as Humayun's Tomb is the tomb of the Mughal Emperor - Humayun in Delhi which gathers many tourist visits regularly.
This place is a blend of historical pieces of evidence along with a touch of our beautiful nature. If you want to get a bunch of amazing photographs to show your friends, this place bags it all with its stunning views and history.
India Gate
India Gate is one of the most esteemed monuments as this is a war memorial of over 70,000 soldiers who died in between first world war.
This place has a special place in the heart of citizens of India. One can visit India Gate in night too because of its amazing night life and lighting which acts as a cherry on the cake.
Qutumb Minar
Qutub Minar is a tall monument situated in the Mehrauli Region of Delhi, this a part of the famous Qutub complex which is declared as a World Heritage Site by UNESCO.
This place has a charming aura with some stunning views which a person would not only capture through their camera but will capture it as a memory too.
Agra - 'Taj' City
The next stop of our golden triangle India tour comes to a halt at Agra also known as the city of love due to its past events and history.
This state is bliss as tourists get to watch a number of historic and cultural scenes that are totally different than that of Delhi.
There are some special highlights of this city too, if you are a shopping spree you'll get a number of pure leather items you would like to buy along with an amazing food cuisine which will help you explore more about some of Agra's mouth-watering dishes.
Overall a 2 days stay at Agra will make you fall in love with this city and its wonders.
Top 5 Famous Places to Visit in Agra
Taj Mahal
Taj Mahal is one of the 7 wonders of the world that is an ivory-white marble architecture built near the southern bank of river Yamuna in Agra.
This place has its charisma and is also known as a status of love due to its history. Spending time at the Taj Mahal always generates curiosity to know more about its architecture and history.
Agra Fort
Agra Fort is one of another tourist spot a number of visitors get attracted to. This place not only gives you a great insight into its historic architecture but a museum inside this wonderful place also gives a great exposure to the traditional outfits and ancient tools as well as weapons. This is a worth visit place if you ever step in Agra.
Tomb of I'timād-ud-Daulah
Tomb of I'timād-ud-Daulah is another place one should visit after coming to Agra, this place also gathers attention because of its beautiful architecture as well as encrusted walls with semi-precious stone decorations such as onyx, topaz, and jasper, etc. Mark this place on your list if you are visiting Agra.
Fatehpur Sikri
Fatehpur Sikri is another historic place tourists would like to discover on their visit to Agra. This place sends a unique ancient vibe with some splendid and breathtaking scenery along with a number of things such as traditional insights with a lot of key points from the divine history of this place.
Mehtab Bagh
This garden area lies in the north of the Taj Mahal and helps tourists get another great view of the Taj Mahal along with a slight touch of nature.
This place is a total bliss for photography lovers as well for nature lovers. Therefore, this place also makes it to the list of places you should visit as soon as you visit Agra.
Jaipur - Pink City of India
The last stop of the golden triangle India tour is the city of palaces and luxury or well known as Pink City – Jaipur. Jaipur has a lot of moments marked in India's history.
From large castles to its mind-wobbling traditions this city never fails to attract a large sum of tourists but it also makes this city worth visiting.
A 2-3 days visit will help you explore a number of things about this city, from breathtaking sightseeing to a deep vision of one of its own cultures Jaipur creates a special place in the mind and hearts of the tourists.
City Palace
This place owns a number of evidences from the ancient times of Maharaja Sawai Jai Singh II which are a delight to see.
From royal household areas to traditional clothing line, everything here will take visitors to the time when this palace was also the location of religious and cultural events, as well as a patron of arts, commerce, and industry.
Jantar Mantar
Jantar Mantar holds a valuable significance in the history of Jaipur. This place is also declared as a World Heritage Site by UNESCO due to its nineteen architectural astronomical instruments built by the Rajput King, Maharaja Sawai Jai Singh I.
This place has some fantastic sites to see along with the world's biggest stone sundial which is a must-watch.
Amber Fort
Amber Fort or also known as Amer Fort again tops this list because of its architectural style and vivid range of traditional and foreign styles bend into this palace.
This palace facilitated all the luxurious at a part of the time but now it is one of the most popular tourist spots in Jaipur.
Nahargarh Fort
Nahargarh Fort is a palace on the edge over Aravali hills which gives tourists some fantastic sceneries that urges them to click photographs until they don't get tired!
The fort provides a great look at Jal Mahal and the rest of the city from a quite good distance and this look gets mesmerizing during the evening. You must not forget this fort if you are planning to travel to Jaipur.
Hawa Mahal
Hawal mahal is an architecture made of pink sandstone and colorful glass combination that gives this palace a bright yet royal look. The tourist spot also never fails to get the attention of tourists from in and around India.
This place is built from the inspiration Kehtri Mahal due to its uniqueness and both the places are built by Maharaja Sawai Raj Singh.
This is also a must-visit place surrounded by a full-fledged market that helps you shop all the traditional attires or an antique item one would like to take his/her home.
You must have heard a lot about the Pink City of India, and their beautiful best places to visit in Jaipur.
And I love to break it to you, that you heard it all correctly. The richness of culture, the beauty of architecture, and the essence of freedom that the pink city carries with itself are remarkable and uncomparable.
I have not visited many places in my lifetime yet, but from all that I have, I find Jaipur preserving its history in ways so extraordinary, like no other.
Let me give you a small glimpse of this hypnotizing terrain, with my experiences reflected in the next few words. It is like entering a whole new world if you ask me.
How to reach this wonderful place?
Like all other 'big cities' of India, this one has many ways of commuting, including, trains, buses, flights etc.

Being a major tourist attraction, It also has an International Airport if you reside outside India, which is just greaaat!
I personally choose Train as my way of commuting to the city because of being closely connected to it. For the residents of the city of Madhya Pradesh, Rajasthan is just a neighbor.
Being a resident of Indore city in Madhya Pradesh, I preferably traveled a few times to Jaipur by either Indore Jaipur Express (12973) or Ranthambore Express(12465).
If you live anywhere else in India, it still is quite reachable existing in almost the heart of India.
For train reservations, you can log onto www.irctc.co.in
IRCTC also provides the facilities for flights and ticket booking.
There are many other places over the internet to do the same.
Jaipur is lovely and worth that travel. I recommend you to make your arrangements ASAP.
An Overall View - 13 Best Places To Visit In Jaipur
Not a metro city yet, Jaipur still has a huge area covered under its pledge. In fact, it is a metro in the building.
From the heart of it which is all pink, to the nearby places like Nahargarh, Jaipur preserves its history and heritage in ways incredible.
Let us take a walk around its edges and take a short tour to this embodiment of culture and succinct down to earth environment.
4 days is what is required for you to witness the richness of this marvelous place. Let us begin?
Day 1
Albert Hall Museum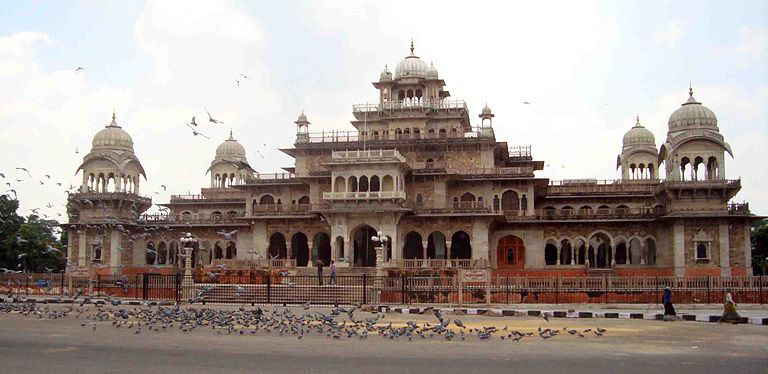 Let us avoid the historical background of the place here, even when it is an irony.
All you need to know about this place's history is that it was approved to be set as a museum by Maharaja Sawai Madho Singh 2 to display the artifacts of local craftsmen.
A few words are not sufficient to describe this place. The beauty of the 19th century has been captured in so many brilliant ways, it simply leaves you with awe.
From 'Madina Containers', to big swords with intricate craftsmanship, this place will leave you wide-eyed and with your heart filled with appreciation if you love art and history.

The Albert Hall opens twice on a weekday,
09:00 am - 05:00 pm | 07:00 pm- 10:00 pm
I would recommend you to visit it in the morning, at around 10:00 p.m., as the fares are quite high during the evening. Also, the fares for foreign tourists are more than that of local Indian tourists.
You will also get some equipment and other facilities while you visit Albert Hall, I recommend you to take them as you shall get to understand things better.
I personally spent 3 hours in this Museum, although people don't usually spend more than 1 hour here. The call is on you.
Oh and hey! The pigeons here like to talk. There will be numerous of these beautiful birds spread out of the building.
They are less scared and more free. That is something respectable 🙂
City Palace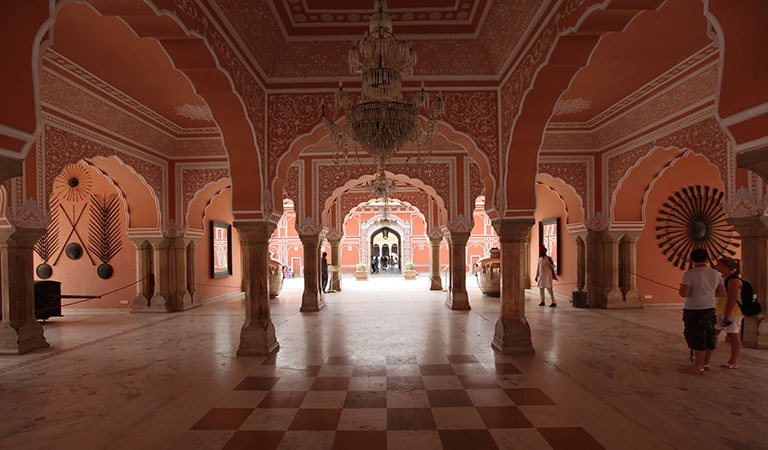 This beautiful Royal Palace was constructed by no other than Maharaja Sawai Jai Singh II.
I am a little bit in love with this ruler. The kind of constructions and reforms he has embarked on are exceptional and everlasting.
You might spend around 2 hours traversing through this place. If there was a nomination for the 'palace of the century', you would not want to miss out on the City Palace.
It is a fusion of Mughal and Rajput architecture. Enough said, if you enter Jaipur, do step into the city palace. Do not miss out!
It also is about 2.4 km from The Albert Hall Museum, so you won't have to travel much on this day.
Visit the places nearby and enjoy the richness of culture and history all along.
Jantar Mantar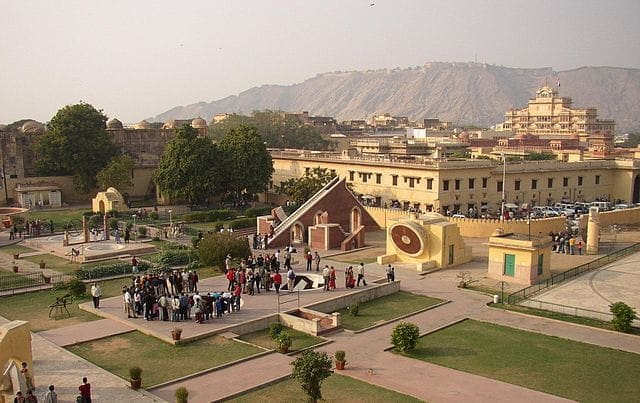 At about 1 minute distance from the City Palace, Jantar Mantar is another explicit monument by Maharaja Sawai Jai Singh 2.
He constructed overall 5 Jantar Mantar monuments, one of which (obviously) is in Jaipur. Why is Jantar Mantar so special? Well, Wikipedia can tell you in a better way. https://en.wikipedia.org/wiki/Jantar_Mantar
All I can tell you is, it is simply beautiful and mesmerizing.
Constructing something like this with such obsolete tools is not only impressive but also tells us how the ruler at the time, Maharaja Sawai Man Singh 2 respected science and always had a purpose of trying things the new way.
You might spend a little time here as compared to other places, but it is still worth a visit. Just go here!
Hawa Mahal
Again in the radius of 2 km is our next stop, Hawa Mahal. Built out of red and pink sandstone, this place is a major attraction for the people of Jaipur to simply walk in for dawdling.
Wikipedia explains all about it very nicely. Here is the link https://en.wikipedia.org/wiki/Hawa_Mahal
I only saw Hawa Mahal from the outside, as it wasn't 'that special'. I was wrong. It certainly is special and unique. Maybe you can visit here and tell me your story about this.
Birla Mandir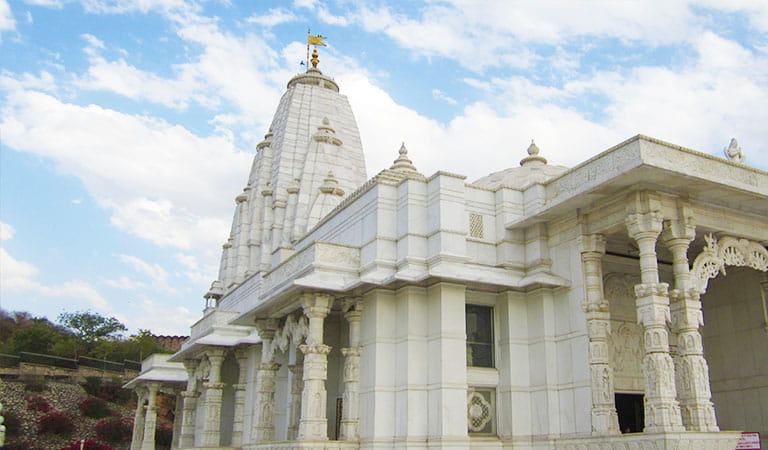 There is no better to end your first day at Jaipur than to visit the beautiful and alluring Birla Mandir. The Aarti starts at somewhere around 7, and you don't want to miss this.
People from all countries find peace here. It is a soulful place that leaves you in awe. All white and beautiful and amazing.
Simply Amazing. Don't even think of checking it out from your list. Also, you won't be allowed to click photographs, unlike other places, so better put the camera inside.
Day 2
Amer Fort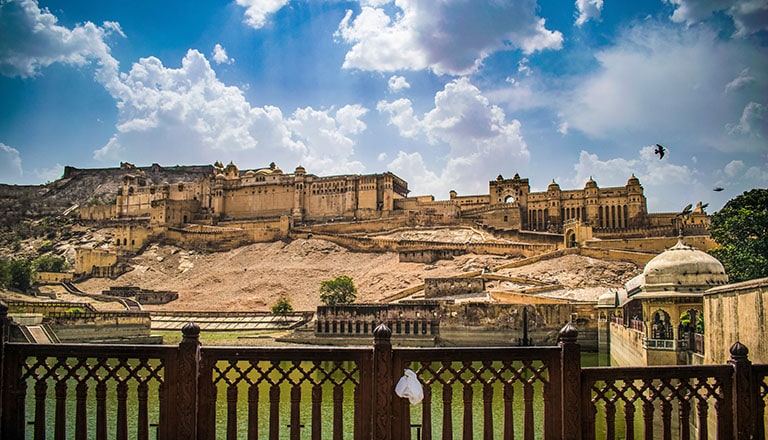 The best time to visit Amer would be in the morning. No, not the 10'o clock. I meant early morning.
You want to reach here before the sunrise, to see the sunrise above this extraordinary architecture with grace.
This fort is one of the most famous tourist attractions of Jaipur. You must have already heard all of that, so would say no more.
Jaigarh Fort
It is adjacent to Amer Fort or Amer ka Kila, as they call it locally. I would want you to note that, these forts open at 9 a.m.
You can roam around the outside of the Architecture as much as you wish to before that, and it is totally worth it. It is so lovely, that you feel like staying there forever.
The Heart of the Pink City
The afternoon and the evening if not spend wandering around the local and literally pink part of the city, would make an incomplete trip.
The shops, the squares, the houses, everything is pink. The name comes from the ancient architectures, the heart of the city is literally justifying everything.
From Johari Bazaar to other local markets, it is a beautiful place to shop. Just go out there and wonder. The pink city is waiting for you.
Day 3
Nahargarh Fort
Just like Amer, you would want to travel to Nahargarh early in the morning. I left Jaipur (Mansarovar) at 5 to reach here before sunrise during the month of April.
You want to travel here by car, like traveling by any kind of two-wheeler is pretty unsafe. Accidents happen and they never turn out to be good ones.
Yes, Nahargarh Fort is the same place where the famous scene from Rang De Basanti was shot and there is one good reason for it.
This place is just brilliant. It combines the intellectual insights of Maharaja Sawai Jai Singh 2, with the marvelous beauty that it encompasses within itself.
This whole huge fort in Nahargarh was constructed to harvest rainwater!! Can you imagine the kind of ruler that he was? I am in love with him. Yes, I am.
Once you visit this place, you sure will be too.
Also, Nahargarh is famous for its esteemed and inexpensive collection of jewellery and a lot many things.
Retailers in the similar business buy stuff from here. You could try doing that too. Just saying. 😉
Jal Mahal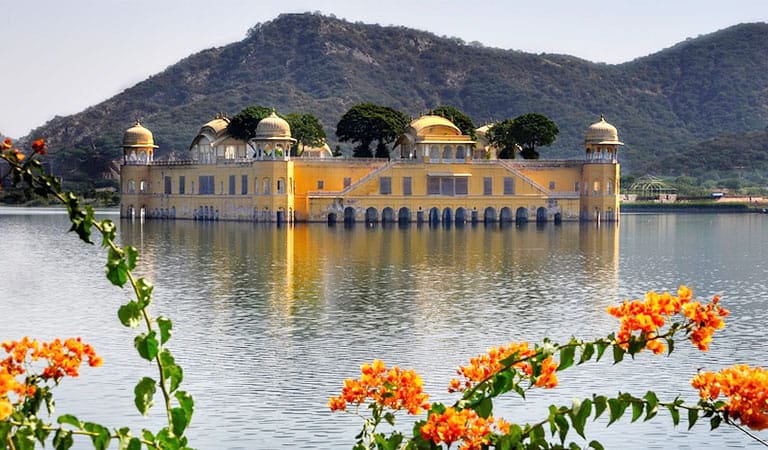 This pretty palace is built right in the middle of Man Sagar Lake in Jaipur city itself.
While returning from Nahargarh to Jaipur, you will pass through Jal Mahal on your way into the city. Do not forget to stop by and marvel at its excellence.
Although, people respect beautiful things only when they can carry those things with them. I visited it in mid-April.
I saw a lot of waste being thrown into the lake and it certainly was disappointing. It is tragic how we exploit our environment.
Anyway, that is a totally different domain to discuss. Do go here and don't throw any waste into the lake. Let it be beautiful 🙂
Akshardham
This temple is located more in the city. Vaishali Nagar is the place. As one of the major tourist attractions, this place justifies its magnificence with the alluring idols and architecture.
It is a beautiful place, it is. All the sculptures mainly depict Lord Narayan. Do pay a visit to the Hindu Gods here. You and them, both are going to love it.
Day 4
Birla Planetarium
Want to see the stars? Want to learn about the galaxies and far off asteroids and planets? Go to Birla Planetarium, but don't.
To be completely honest, I have been very disappointed by this place.
Although, it is a good experience to see a planetarium once in your lifetime, so I would recommend you to go here if you have never visited a planetarium before.
Else, you may skip this place. Learn more, here - http://birlaauditoriumjaipur.com/birla-planetarium-jaipur.htm
Jaipur On the ground level
As I mentioned earlier, there is nothing like the local Jaipur. With the tinge of Rajasthani, the place always feels like home.
I have always found the birds more free and brave here. There is a small place, a small square, where, in the middle of the road, you will find many pigeons crowded up.
They are least scared of the car and bike horns. I won't tell you where it is. Do find it. It gives peace.
Jaipur on its basic level is one of the most heart touching places. Some roads are literally made into the old castle.
Like, when you drive, you are driving into the castle. There is a lot more to it. Just go out there and explore!
Jawahar Circle
It's a public garden at Jawahar square, Jaipur. There can be no better way to end your day than to be here with friends or family.
Very beautifully constructed, and very large when it comes to spacing, this garden hosts a small little fountain show every evening at around 8.
Not that the fountain show would be way too unique, but it surely will be fun-filled and relaxing. Do visit this garden to marvel at its beauty and congratulate it on its huge size.
World Trade Park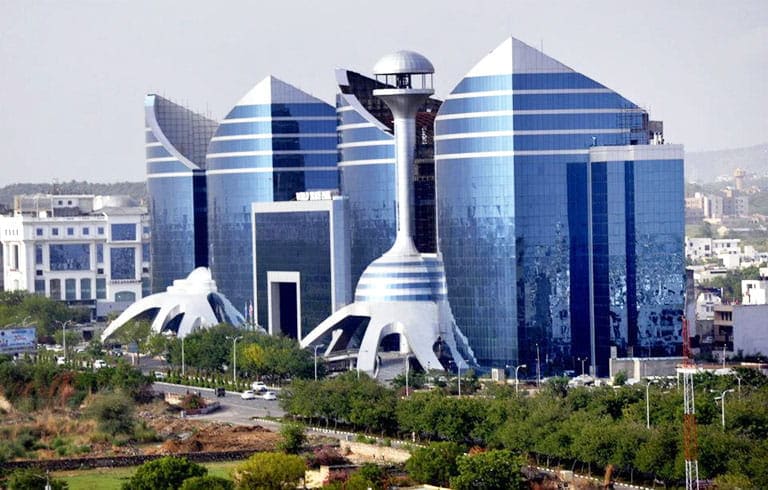 So this one is our final destination. You could visit WTP before Jawahar circle if you are to attend the fountain show.
You can call World Trade Park as an exceptionally constructed super mall. Its architecture is one of the main attractions of Jaipur.
Although, the prices of products are pretty high over here as compared to any other market, so I won't recommend you to shop from here.
You can always stroll through shops buying nothing, especially when the shops are so beautiful. Do visit here. At night, the lights add the nuts to the ice cream.
So that's that. It was a pleasure informing you about Jaipur and things to do in Jaipur, the extraordinarily pink city 😛
Hope your journey is pleasant. I will be signing off now.
Enjoy !!